Details
NextFit Convertible Car Seat - Passion
Promotions
Special Offer
Discount only applied to qualifying products and will be automatically calculated at the time of checkout. Offer is only available at Chiccousa.com. Offer valid only while supplies last and not applicable due to canceled orders or due to out-of-stock merchandise. Discount does not apply to taxes, shipping and handling charges, or other similar charges. Discount not applicable with returned merchandise; total discount will be deducted from the value of any returned item to which the discount applied. Cannot be combined with any other promotional offer nor is this offer valid on previous purchases. Customer is responsible for all shipping costs for returned merchandise. Chiccousa.com reserves the right to modify this offer without prior notice.
Details
Additional Information
Features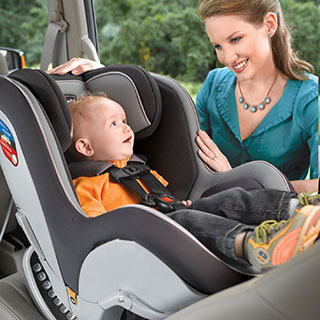 Rear-Facing
Accommodates newborns and growing toddlers in rear-facing position (5-40 lbs)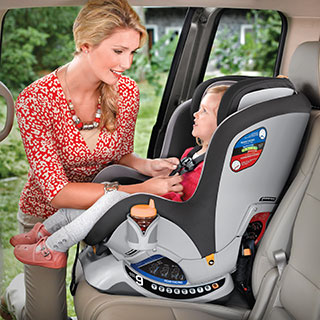 Forward-Facing
Converts to accommodate older children in forward-facing position (22-65 lbs)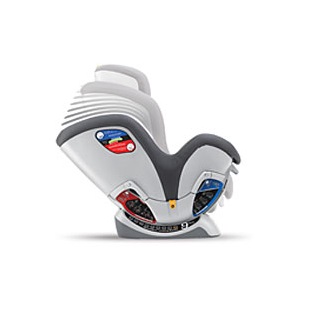 9 Recline Positions
Fits a wider range of vehicles in both rear-facing and forward-facing modes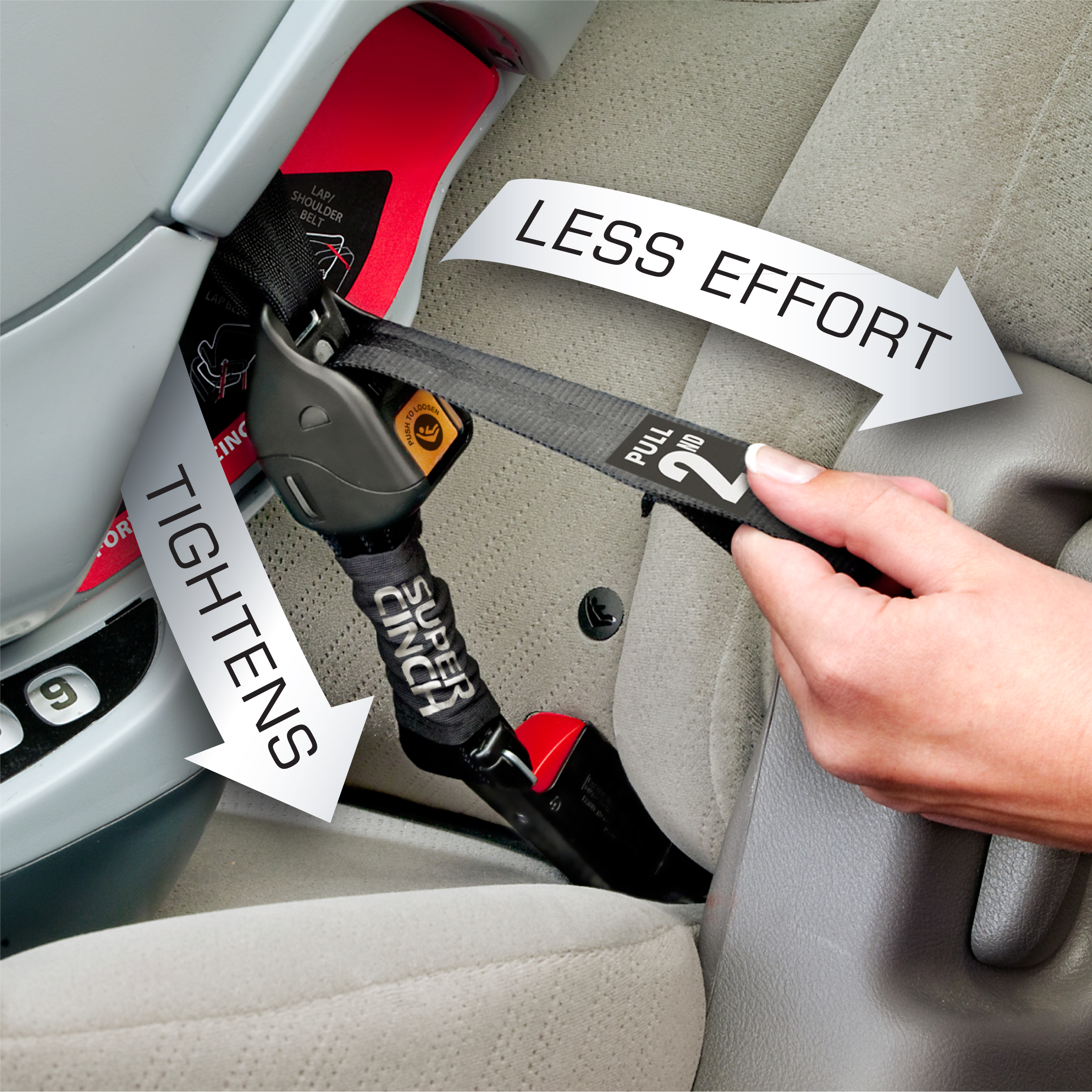 SuperCinch Tightener
Force-multiplying LATCH tightener helps achieve a tight fit with less effort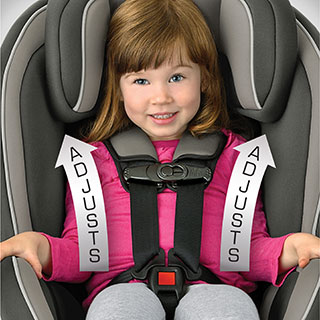 6-Position Headrest
Adjustable headrest and no-rethread harness provide room to grow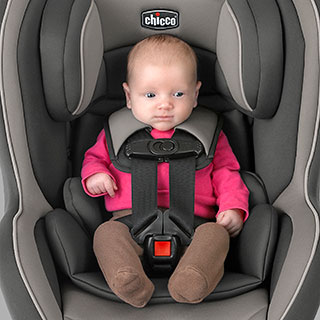 Infant Insert
Removable body support accommodates newborns starting from 5 lbs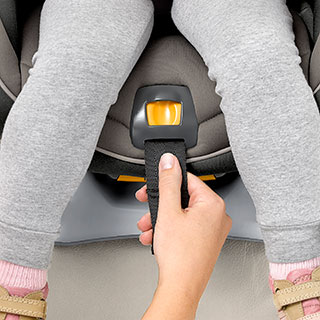 One-Pull Harness
5-point harness can be tightened securely with only one hand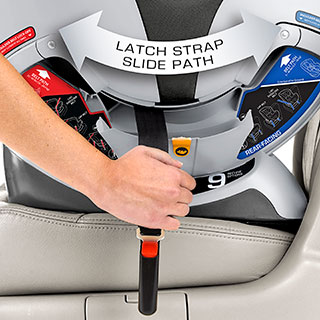 Converts Easily
LATCH strap is easy to reposition when it's time for forward-facing
Videos
Description
The #1-rated Convertible Car Seat in America!
The NextFit® is engineered with innovative functionality to fit your vehicle and your child simply, accurately, and securely.

Easiest to Install Correctly
NextFit® features a 9-position ReclineSure® leveling system and RideRight® bubble level-indicators to help achieve and verify proper angle in the vehicle seat. Premium LATCH connectors and a SuperCinch® force-multiplying tightener help achieve a secure installation with a fraction of the effort. (When it's time to switch from rear-facing to forward-facing, the LATCH strap passes easily through the built-in slide path for proper repositioning.) NextFit® also has integrated belt lock-offs for alternate installation with the vehicle seat belt.

From Newborn through Preschool
NextFit® is built for growth with a removable infant insert and a six-position headrest. As the headrest is raised, the shoulder strap position also raises and widens to accommodate growing children without re-threading. The harness also features a one-pull tightener and removable, machine-washable shoulder pads.
NextFit® has a steel-reinforced frame and is lined with EPS energy-absorbing foam for superior side-impact protection.
ReclineSure® 9-position leveling system for an accurate fit in a wider range of vehicles
Dual RideRight® bubble level-indicators verify seat angle in both rear-facing and forward-facing modes
Premium connectors and a SuperCinch® tightener help achieve a secure installation with LATCH
Integrated belt lock-offs for alternate installation with vehicle seat belt
6-position headrest and no-rethread harness with one-pull tightener
Removable infant insert accommodates infants from 5-11 lbs
Integrated slide path to reposition LATCH strap when converting from rear-facing to forward-facing
Removable cup holder for use on either side of the seat
Steel-reinforced frame with EPS energy-absorbing foam is side-impact tested for superior protection
Usage:
- Rear-facing 5-40 lbs
- Forward-facing 22-65 lbs

Care and Maintenance:
Fabrics may be spot cleaned. Hand wash using mild soap and water, or machine washed in cold water on delicate cycle using mild detergent. Do not use bleach, hang to dry. For plastics, sponge clean using warm water and mild soap: towel dry.
Fashion
Fresh and clean, the Passion fashion features a cheery pop of color. Pairing a cherry red with a deep charcoal and silver accents, Passion delivers a delightful combination that is sure to turn heads.
Specifications
Assembled Product Dimensions: 21" x 19" x 29.2"
Assembled Product Weight: 25 lbs.
Ship Weight: 31 lbs.
Carton Dimensions: 20.75" x 19.4" x 26.5"
Product Manuals
---
Reviews
NextFit Convertible Car Seat - Passion
is rated out of
5
by
52
.
Rated

5

out of

5
by
KatieC
from
love this!
I love the extended rear facing factor and ease of installation the most. My seat was made after Nov 2013 so the straps are easily tightened. I would buy it again, for sure! I only wished it rear faced longer than 40 pounds.
Date published: 2014-08-20
Rated

5

out of

5
by
Drew
from
super easy seat to put your child in!
This is an excellent seat. It's so easy to adjust and so easy to get your child in. My daughter likes to twist and roll when she doesn't want to get in the car. And with how the harness straps and pads stay in place make so much easier then our other seat. I love the harness pads personally. People you just need a little common sense when using them. Yes the pads stick to the belt, but that's a blessing. What happens is whe you loosen the seat belts you pull them through the pads. When putting your child back in just slide the pads down on the belt before tightening them. It's so easy and quick. Unfortunately these days people are to quick to complain and leave bad reviews rather then taking a minute to learn how something works.
Date published: 2014-07-26
Rated

5

out of

5
by
Sarah1231
from
Love this seat!
I purchased this seat for my 1 yr old daughter. She was previously in a keyfit 30 infant seat. I read several reviews of this seat, britax and graco my size. This seat far out weights the others. I do not have issues with the straps or installing this seat. Its by far the easiest seat to install. My daughter loves it. Its very heavy but I have moved this seat from my Mazda CX5 to my husbands Fusion, to my sisters Acadia, and other familys Lexus and sorento. Its so easy. Just change the recline position. As I said the straps are not an issue. I've never needed a towel or pool noodle. I have not installed forward but i'm just I will be just as happy.
Date published: 2014-06-18
Rated

3

out of

5
by
Carolina
from
Car seat too hot
I just bought the next fit car seat and we are really happy with it unfortunately the is a big problem the car seat is too hot the baby is always really wet when we remove him from the car. This dot not happen with our previous car seat. Is there a summer cover we can buy ?
Date published: 2014-06-15
Rated

5

out of

5
by
Estevermer
from
Love it
This seat is so easy to install. My son loves it, he never fusses when we put him in it. Way better the the Graco garbage we had before. Worth every penny! Our next kid will get a Keyfit, no more Graco carriers! The seat is heavy, but once it is in your car, it is very easy to adjust and tighten. I also love how easy it is to adjust the height of the straps, and the crotch buckle!
Date published: 2014-06-09
Rated

4

out of

5
by
Jojo28
from
easy for first newbies to install
Due to the experience we had with the Keyfit 30 - Magic it was an automatic consideration for another Chicco product when looking for the next step/size up. I've had this seat since December 2013 and so far I like it. Everything is well labeled which makes it so easy for me to install without the help of my husband. Many people may complain about the weight but I mean how often do you take it in and out of the car, so that doesn't bother me much. The color options are great. The seat isn't too bulky or takes up too much space in back of a Honda Accord. You can still seat two people on either side comfortable minus the cup holder just in the way but that's a good thing that it is detachable. Be sure to check the different stores that carry this product as they have different colors for certain retailers. Maybe they do it so you can't get price adjustments?!?! I love how the cushion is so comfy. Yes, the seat is a little deep which makes it just a tad bit hard to get the bottom buckle out from underneath baby but that doesn't bother us. I mean with all other seats the buckles are always going to be in the way anyway. I like the shoulder straps, how it's not bulky but providers protection on the neck and the little cut out part so you know where to place your top buckle for the extra security and safety of child. The disappointments for me were the quality of the fabric. Not even a month or two after purchase the fabric started to fray around the adjustment button for the straps as that is where my son's feet rested. I believe it was due to his shoes rubbing against it but come on now, for the price I expected better quality?!?! At least a year or two into the seat I'd expect some normal wear and tear. So far, I haven't had any fraying anywhere else around the seat just that part. The other problem for me is getting the fabric back on (after wash) around the adjustment buckle. I had to use a flathead screw driver to help tuck it back in and some tugging of course. Which that may have caused some scratches on the plastic piece around the adjustment button. I don't know if it shrunk or what, but I air dried it. Overall... I am pleased with this seat and am getting a second one or perhaps looking into the zip one and I hope the fabric won't fray.
Date published: 2014-05-30
Rated

5

out of

5
by
Batfan
from
This seat saves lives. Literally!
We chose the Chicco Kefit 30 for our new baby and were so happy with the ease and quality of Chicco we of course chose the NextFit when she was ready to move up. It would turn out to be our best decision, ever. My family and I were hit at 65 mph by a driver busy sending a text message. He hit on the rear passenger side door, where my 12 month old was asleep in her Chicco. This seat did not budge an inch! She came out of this horrific accident, which totaled our vehicle and sent us all to various hospitals for medical attention, with a few minor scratches. Thank you, Chicco. You saved my precious cargo! Jaime Luermann
Date published: 2014-05-23
Rated

5

out of

5
by
Esme13
from
Chicco for life
I have the travel system version of this and I knew I wanted Chicco again. I saw it at the store and immediately saw it was great quality. I don't want cheap and cute I wanted safe and top notch Chicco brings it. My daughter is so comfy in it and loves it. Every time we drive off I feel at ease knowing my daughter is in the safest seat. I Love Chicco!!!
Date published: 2014-05-22
Rated

2

out of

5
by
atliz
from
Straps and Tightening is Unacceptable
I realize that they have now replaced the shoulder pads, but the first generation shoulder pads are so unacceptable they should be replaced for free. I have such a struggle tightening the straps in rear-facing position that I am daily frustrated with the seat. I'm on the search for a replacement The keyfit 30 was so easy to tighten and loosen, I am shocked the nextfit is so difficult. For a $280 carseat, it should be a breeze. Really disappointed. Also, even in the 1 position rear facing, the seat sits too upright in my Lincoln MKX. I hate having to deal with towels and pool noodles so I am disappointed about that.
Date published: 2014-05-21
Rated

3

out of

5
by
meggamix
from
Nice Seat, Bad Straps
I was super excited to buy this seat once my baby grew out of the Keyfit, but like many others, I've had a hard time tightening the straps once my baby is in the seat (he's rear facing now). In fact we almost took it back because we thought something was wrong with it. Another weird thing is that we bought 2 of the same seat...one has those HUGE shoulder pads with the rubber and the other one has smaller ones without the rubber....those are much better. The rubber ones are way too big on my little man and make tightening the already difficult straps even harder (glad to hear it might get easier as we switch to front facing). I was just surprised to see the difference in the 2 seats. But the good news is that my baby loves his seat and seems to be comfortable! And I still feel like I'm getting a great product with the Chicco brand. I didn't want any other seat!
Date published: 2014-05-07
Rated

5

out of

5
by
AmyGreene
from
Great features! Easy to install! Easy, Easy, Easy!
This car seat is very easy to install, adjust, and clean! We love how comfortable our daughter is and with a push of a button, we can sit her up or lay her back.
Date published: 2014-04-28
Rated

3

out of

5
by
Ambevie
from
Terrible pull strap!
I have had this car seat for about 5 months now. I like the chicco brand had the infant car seat so decided to pay the extra money to get the NextFit. My son loves the seat and it is great for our long trips. I hate the pull strap to tighten the harness. It is so hard to pull, sometimes I wonder if I can even tighten it good enough for him to be safe. I wish there was a way to fix this strap because the quality of this car seat is great besides the pull strap to tighten the harness.
Date published: 2014-03-31
Rated

4

out of

5
by
lritchie
from
Original vs. newest product
I purchased the Nextfit convertible car seat for my 7 mo. old in February 2014. The store I purchased it from installed it in my vehicle and I loved the way it fit in my Kia Sorento also the way by son fit in the seat. Now, that we are regularly using the seat for daily commutes to and from daycare, etc. I seem to have a difficult time putting him into it. When I put him in the seat, the straps are always underneath him, which makes if difficult to pull them out and buckle him. I'm discouraged to see that they have already come out with a newer model the "zipfit" seat, which has all the same features (that I love about the seat) but newly features - a more flexible, child ready seat straps. Apparently this seat is always kid ready, so you don't have the problems of the children sitting on the straps. I wish they had this just 2 months ago, when I purchased the seat I did. I'm happy with the product, other than the strap issues I have. If I knew they were coming out with the new "zipfit" I would have waited to purchase the seat I did to get the newest version. Companies are always coming out with new and improved products, for the better, but it's a shame of the timing with this one. A little too late...
Date published: 2014-03-28
Rated

1

out of

5
by
KelBell
from
Spend your money elsewhere
We have always used Britax with our past 2 children, for our third I went back to the research and choose to use the NextFit. I loved all the features, the material, and basically fell for all the bells and whistles. Boy did I make an EXPENSIVE MISTAKE!! It is VERY difficult to tighten the straps when rear facing, and with them changing the time a child should be rear facing I'm just extending my frustration even longer. I don't feel that I can get my child secure consistently without taking a lot of yanking and pulling on the straps. The middle strap the buckle is attached to is so short that as my daughter gets bigger she just looks uncomfortable. It's very big and bulky. But with that I feel she would be very protected if we were in a crash. That's the most important thing right? So I'll live with the bulkiness. Transferring it to another car out of my Camry is a huge pain. It buckles in fine and is secure, but physically getting it in and out is difficult. We can't even use it in my parents Infinity. Which it may be the car, but still a buyer should try installing it in their car before they purchase. I have even gone as far as telling the retailer where I purchased this car seat my frustrations. It was a new item for them and they had never really sold the Chicco line before. I have heard nothing but wonderful things about their carrier and their strollers. We even own a highchair and that product is great. It's just a big miss in my book on this particular car seat. For the money I expected to have a different experience. Seriously thinking of spending the money and going back to Britax.
Date published: 2014-03-14
Rated

2

out of

5
by
Dana
from
Great, but not thought through all the way...
Pros -cushioned for comfort -good quality -includes cup holder -multi-angle recline -I like the sides that come up higher for protection Cons -hard to tighten the harness (better forward facing but I'm trying to keep him rear facing until 2) -hard to adjust headrest (easy when the car seat is out of the car, awkward when already installed -our easy latch connectors are not working super easily so we've been using the seat belt installation -YOU CANNOT REMOVE A SINGLE PART FOR CLEANING Yesterday the stomach bug that's been going around hit my 15 month old. He threw up EVERYWHERE. He has been a spit-upper his whole life so this seat had already been "cleaned" with wipes many times, but this time wipes weren't going to do the trick. I had to use a hose in the backward. I'm sure I voided some warranty because everything got soaking wet, but when there are layers of overlapping absorbent fabric I just don't know what else I could have done. Hopefully it is dry by this afternoon because I have to go to the grocery store. I just cannot imagine who in their right mind would design something where NOTHING comes apart. I understand the harness for safety reasons, but the Keyfit's cover is removable and machine washable. Did it several times so I know. Didn't have a single complaint about the key fit. I think the nextfit needs a redesign. I had hoped this seat would last through several children but unless I hose it down every once in awhile it will be so filthy and smelly that we won't be able to use it for that long.
Date published: 2014-03-06
Rated

4

out of

5
by
Britty
from
Fantastic convertible seat!
I love this seat. We've only had it for about 2 weeks, and it fits wonderfully in our Camry. My son is much more comfortable in this seat. I love how plush it is. It's super comfortable for him. It's super easy to get a proper install. The only problems are the strap covers on the ones that were made before the announcement that they can be taken off. They make it difficult to tighten the straps. Also, the strap covers are bulky and we had a hard time making sure the straps were at an appropriate level for him. Other than that, it is a fantastic seat. Thankfully this will get him to at least 2 rear facing.
Date published: 2014-02-25
Rated

4

out of

5
by
momx3
from
Great Buy! Fits great in my 4door sedan!
I've had this seat for about a week now, and so far I love it. Disclaimer: I've only used it in rear-facing. I did lots of research as far as reading customer reviews and comparing features. I wanted something that I could compare in store as well, so I pretty much had my selections narrowed down to the Chicco Nextfit, Britax Marathon, and Graco (65 i think, I already forgot the exact one). My concerns were safety, comfort for my 8 month old for rear & forward facing, fitting in my car & how much room it would take up, easy transferring from one vehicle to another, ease of strapping my son in, easy cleaning, & looks. Things I like: The Latch system makes it easy to transfer from car to car. Following the instructions provided in the manual, I was able to install this seat within about 30 minutes. The hardest part was finding a comfortable recline position for both the carseat & the passenger seat because I kept readjusting them until I was happy with both. I was automatically attracted to the looks of the Nextfit compared to the others, but I wanted to make sure I was buying a quality seat, and not just something "pretty". In the store, the seats mentioned above didn't even compare to the Chicco on multiple levels. The Chicco is very soft & plush, and the others were hard & seemed uncomfortable. I could feel the plastic through the cloth on the others. The Chicco's fabric seemed to be much better quality than the others (It seemed that the others would fade or look worn a lot quicker than the Chicco). I drive a 4 door Honda Accord & this seat fits great. I have 2 older kids & I needed something that wouldn't take up too much room in the backseat. I read so many reviews of other car seats being too large while they were rear-facing, but with the Chicco I was able to put my passenger seat in the farthest position back & still recline it to a comfortable position for the passenger (I had the carseat reclined a little to make it more comfortable for my baby, but I'm pretty sure my passenger seat can recline more if I sat the carseat at the most upright position). This seat actually fits better than the Chicco Keyfit 30 because I don't need that extra space behind the passenger seat to reach the latch each time I take him out. Also, this seat is not as wide as the others in the store, and my 7yr old & 15yr old fit fine in the back. Some complaints about this seat that I've read in other reviews: The strap covers were bulky & non-removable: They must have changed this because the ones on my seat are removable (They have velcro). The harness is difficult to tighten in rear facing: It's a little difficult to pull the strap at the bottom to tighten the shoulder straps, because it hits against the vehicle's seat making it hard to pull, but I have my carseat reclined & pull straight up to tighten the shoulder straps & it works fine. It's not the MOST convenient thing... but it's not that bad either. The crotch buckles fall back & have to dig for them: I can see where this could be annoying, but I've never had a seat that didn't require digging for them, so I'm used to it. The chest clip can be unclipped by older children: My son isn't old enough yet, but if I come across this problem, I would make sure that he learns to leave it alone. Children need to be taught about safety & following rules as soon as possible. I've had 2 other kids & this have never been an issue. My complaints: I wish it had a handle in the back to make it easier to carry from car to car, and the head rest is a little difficult to move up & down because I can't seem to easily get a good grip on it. It's a little pricey, but I see it as an investment, because I plan to use this seat until my son outgrows it & I've read reviews about children walking away from accidents with no complaints. So basically, the pros to this seat FAR out way the cons, in my opinion, compared to the other seats I saw & read about!!! I know it's a long review, but I hope it helps other parents out there! :) I can't give it 5 stars until I use it in forward facing.
Date published: 2014-02-13
Rated

5

out of

5
by
Candace
from
Wonderful!
We used the Keyfit 30 infant seat, so when the time came to look for a new convertible seat, I automatically looked into the Nextfit. I'm so glad I did! It came highly recommended by car seat techs, and though others who had used it said they had trouble with the shoulder pads and ease of tightening, I wanted to try it myself. I've never had a problem with the shoulder pads. They do not bother my son at all. The ease of tightening was different, there was definitely a learning curve with that. But it didn't take long, and now in and out is super easy peasy. It's a very comfy seat, and the ease of installation is WONDERFUL! It's literally "snap snap, pull pull, done". And no need for a towel to adjust the recline.... the 9 levels offered guarantees the right fit. I love this seat so much, we are looking at purchasing a second one for my husbands car... though we wanted to try and go cheaper for the less used model, I just can't... I love the Nextfit!
Date published: 2014-02-12
Rated

5

out of

5
by
LukeC
from
Easy to Install
My wife and I just bought this convertible car seat and we really like it. Our son seams to find it very comfortable. He falls asleep in this faster than he does in the Keyfit 30. He can also see a lot more and still be rear facing. The only thing that I would change to this seat would be to make it swivel to get our son in and out of the car a little easier. We also liked that the head support was much strong then other brands. After bending and just light testing I'm comfortable that our son's head is well protected.
Date published: 2014-02-03
Rated

5

out of

5
by
Nikki
from
Love this car seat!
My husband and I bought this car seat when our daughter outgrew her KeyFit 30 car seat and we love it! We bought two, one for each car. The carseat is very sturdy and safe. The seat padding is great, very cushioned! So glad that Chicco came out with this carseat!
Date published: 2014-01-30
Rated

4

out of

5
by
katie365
from
Sadly Disappointed again
I'm searching for a new carseat as we are going to be having another little one soon. I'm looking for a carseat that will fit in compact area rf and ff, will fit newborn -3.5 year old+, and that my son is comfortable in (and hopefully new little one will love too). Upon putting my (18 month old, 31") son in I could not get the chest clip high enough because of the bulky chest harness covers/pads. And unfortunately my son is never comfortable in a carseat without chest harness covers/pads. Also, they could redesign the headrest adjustment so that there is somewhere you can grip....there just isnt anywhere clear or to pinch the yellow adjusment bar to raise/lower like other brands.
Date published: 2014-01-29
Rated

2

out of

5
by
KateB
from
Disappointed
I had purchased this seat for my 8 month old as he had outgrown his Chicco KeyFit 30 (which we loved and used for all 3 of our children). I could not be more disappointed. It is difficult to get him in & out of the seat rear facing (I drive a Chrysler Town & Country) the side walls of the seat are very high and it's extremely awkward and cumbersome to get him in & out. The fabric is already pilling at the bottom of the seat due to his feet rubbing, we've only had the seat for about a month and I only have him in it around 4 times a week. The straps are nearly impossible to pull tight. EVERY time I put him in the seat it takes all of my strength to tighten the straps, and even then I'm not certain they are tight enough and I worry that he isn't safe in the seat. I was so pleased with our KeyFit that I jumped at the chance to buy a convertible seat from Chicco, I had purchased a convertible seat for my other two children from a competing brand and wish I had just purchased the same for my son as well. The NextFit has some major design flaws that need reworking. Forward facing may not have these issues but my son will be rear-facing for awhile longer so I'm stuck dealing with this for a while.
Date published: 2014-01-27
Rated

2

out of

5
by
tiredofthestrap
from
The strap doesn't work
No matter how much pulling or jockeying you do with the strap and seat, it is very difficult to get the shoulder straps tight enough on your child. If you take the seat out of the vehicle the straps work just fine.
Date published: 2014-01-24
Rated

5

out of

5
by
Mammie82
from
The only car seat I will ever buy or recommend!!!
Dear Chicco, Yesterday evening my entire family was involved in a severe auto accident. A man ran the red light as we were making a left hand turn & t-boned us at 60mph +. My 18 mo old son was rear facing in the middle & the impact of the crash turned his seat sideways, however the anchors never detached & he was still strapped in as snug as a bug!!! Because of the way his seat turned it actually shielded him & my daughter, who is 12, from all of the broken glass & debris. Both of my babies were discharged from the ER with no injuries. The first thing my husband said was, " that car seat saved his life... We will never put him in anything else!!!" No words can explain the overwhelming emotion of realizing how much worse it could've been had he not been in this car seat! We are purchasing the same seat as soon as we are able to get out & about. You cannot put a dollar amount on having that peace of mind knowing that if we are ever in a future accident my babies life will be saved...all because of such a superior product your company has engineered & designed! "THANK YOU"seems to be an understatement at this point. This is the only car seat I will ever use or recommend!!! Carmen Stafford
Date published: 2014-01-19
Rated

5

out of

5
by
Bsmommy
from
OMG so happy to have a CHICCO again!
Just got this seat. My daughter had grown out of her keyfit 30 seat so I thought I would save money by buying a Graco convertible. WRONG. I did it this time. The Graco wouldnt tighten and it took about an hour to install having to use towels to make sure the angle was right and blah blah blah. So my mom picked up a chicco for my daughter. I installed it in maybe 10 minutes, if that long. It took me longer to get the old seat out than to get the nextfit in. I just feel like saying AHHHHHH were home again with Chicco. You pay for what you get and I learned that the hard way. No more Cheap, just Chicco. :)
Date published: 2014-01-18
Rated

3

out of

5
by
Sara
from
Very disappointed with the straps
The straps easily tighten without a child in the carseat, but I fight with them every time I put my daughter in it. I also need all my weight to try and tighten the straps. In fact, I don't think that it tightens enough and am unsure that she is safe. Very disappointed. I was very happy with the Keyfit 30, which is why I bought this product, but due to the struggle I have with the straps every time I put her in it, I cannot recommend this product.
Date published: 2014-01-03
Rated

5

out of

5
by
aoses
from
love it
My husband and I both needed new Carseats for our 1 year old. She outgrew the carrying type. We looked around and researched and loved the design. We just took at 900 mile road trip and she slept well in the Carseat for most of the trip. Very pleased with our purchase
Date published: 2013-12-31
Rated

5

out of

5
by
Elyse
from
Great car seat!
I bought this car seat as soon as it came out. I used it for my daughter for a few months before deciding to buy another one for my son. My daughter is forward facing and my son is rear facing. I will say, in the rear facing position it is much more difficult to tighten the straps, but I have had multiple different car seats (britax boulevard, safety first) and in my experience, they are all difficult in this position. Good news though, once they are forward facing, tightening the straps is a breeze! Other than that, this car seat is amazing. By far the easiest to install. Both kids look so comfortable in their seat. Love chicco!!!!
Date published: 2013-12-30
Rated

3

out of

5
by
holleybaby
from
Shoulder pads are awful!
I loved the Chicco KeyFit infant seat so I bought the NextFit. My only complaint is the shoulder pads. They have this awful rubber-backing on them which creates resistance with the straps when my son is in the seat, so I can't tighten the straps. If he's not in the seat, the straps tighten just fine. They are also too big. If Chicco had put on the shoulder pads from the KeyFit, there wouldn't be any problems with the NextFit.
Date published: 2013-11-27
Rated

3

out of

5
by
holleybaby
from
Shoulder pads are awful!
I loved the Chicco KeyFit infant seat so I bought the NextFit. My only complaint is the shoulder pads. They have this awful rubber-backing on them which creates resistance with the straps when my son is in the seat, so I can't tighten the straps. If he's not in the seat, the straps tighten just fine. They are also too big. If Chicco had put on the shoulder pads from the KeyFit, there wouldn't be any problems with the NextFit.
Date published: 2013-11-27
bvseo_sdk, dw_cartridge, 16.1.1, p_sdk_3.2.0
CLOUD, getContent, 29ms
reviews, product
Questions
bvseo_sdk, dw_cartridge, 16.1.1, p_sdk_3.2.0
CLOUD, getContent, 16ms
questions, product
bvseo-msg: Unsuccessful GET. status = '{0}', msg = {1};
You May Also Like