Details
Fit2 Infant & Toddler Car Seat - Legato
Promotions
Special Offer
Discount only applies to qualifying fashions and will be automatically calculated at the time of checkout. Offer is only available at chiccousa.com. Offer valid only while supplies last and not applicable due to canceled orders or due to out-of-stock merchandise. Discount does not apply to taxes, shipping and handling charges, or other similar charges. Discount not applicable with returned merchandise; total discount will be deducted from the value of any returned item to which the discount applied. Cannot be combined with any other promotional offer nor is this offer valid on previous purchases. Customer is responsible for all shipping costs for returned merchandise. Shipping only available within the Continental United States. Chiccousa.com reserves the right to modify this offer without prior notice.
Details
Additional Information
Features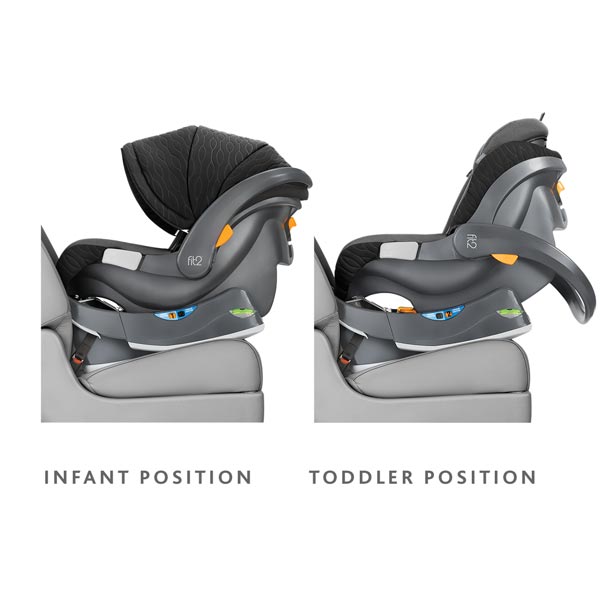 2-Stage Base
Converts from Infant Position to Toddler Position, making it easy to stay rear-facing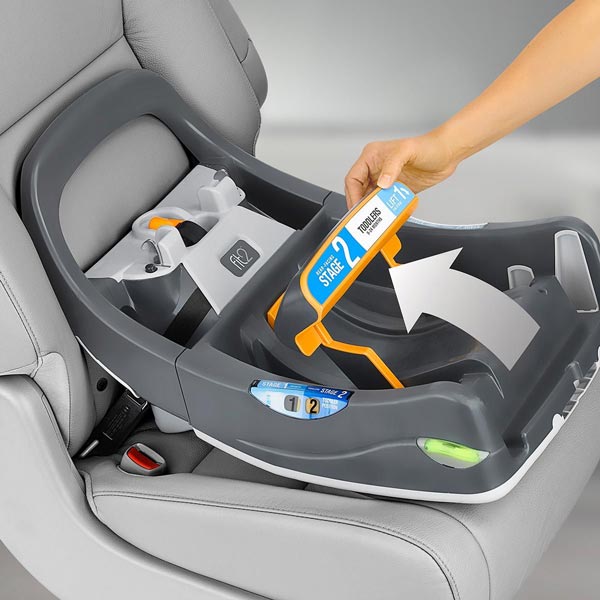 Converts Easily
Stage-position lever lifts easily to convert the base with one motion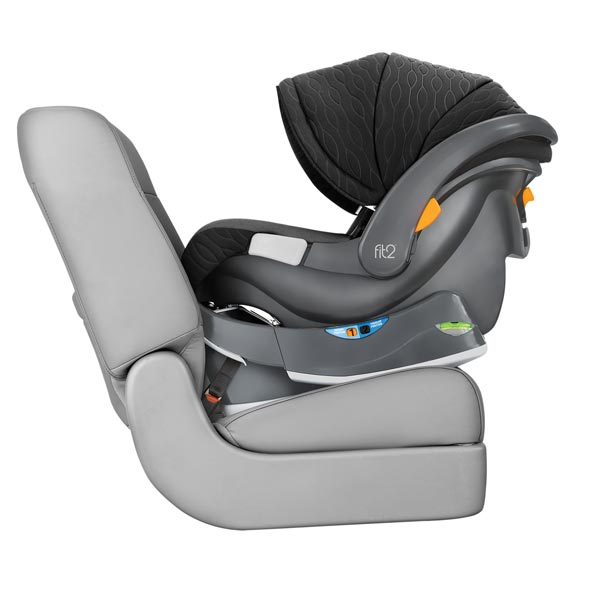 Infant Position
More reclined seating for newborns and infants 0-12m/4-35 lbs and up to 35"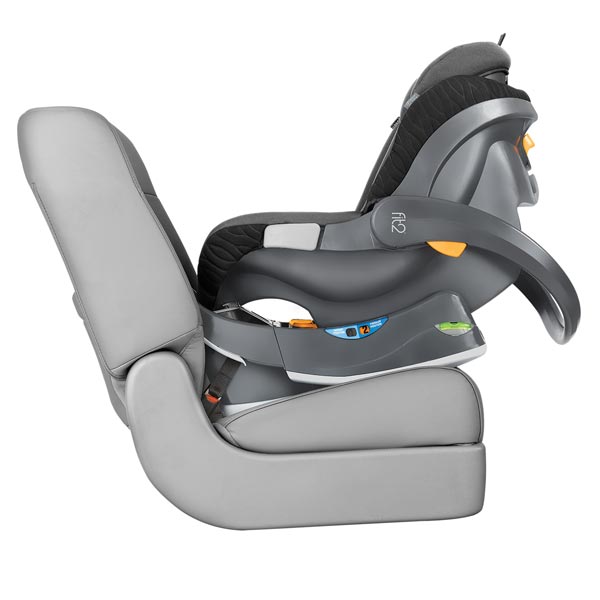 Toddler Position
Extra leg room and more upright seating from 9-24m/15-35 lbs, and up to 35"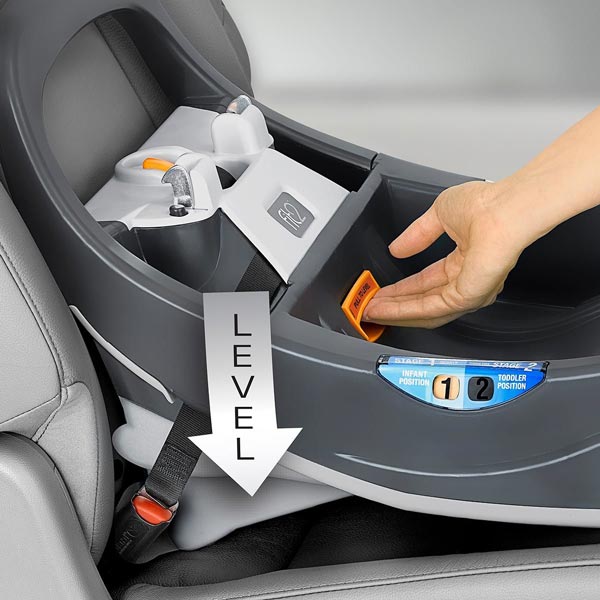 One-Hand Leveling
Spring-loaded leveling foot helps achieve proper base angle during installation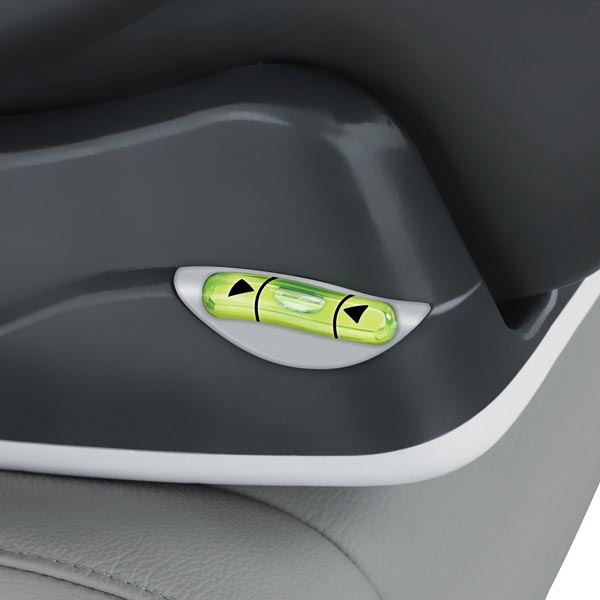 Level-Indicators
Two easy-to-read bubble levels accurately verify base angle during installation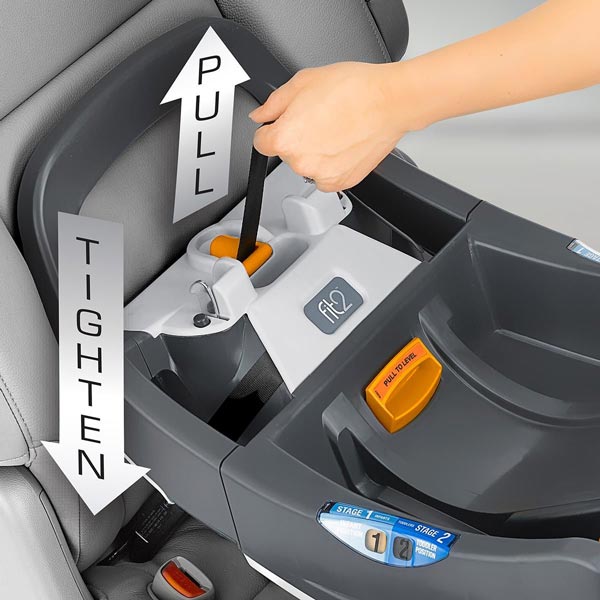 SuperCinch Tightener
Force-multiplying LATCH tightener helps achieve a tight and secure fit with less effort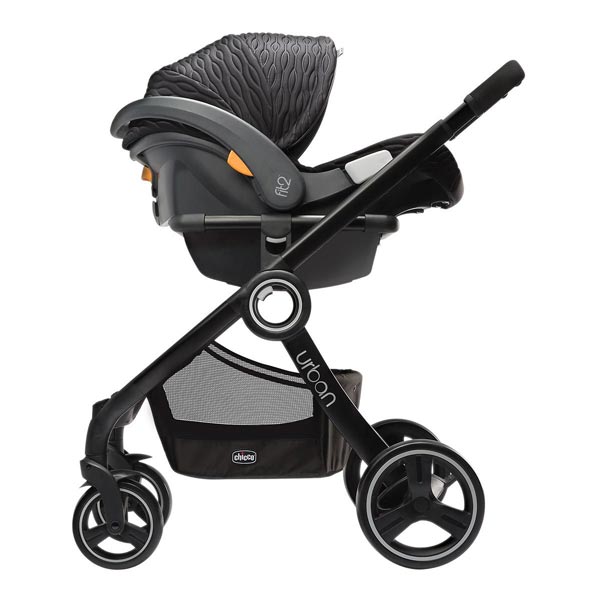 Clicks into Strollers
Compatible with Chicco strollers to extend travel system convenience into year 2
Videos
Description
Rear-Facing from Day 1 to Year 2
The Fit2® is a first-of-its-kind rear-facing car seat designed with two unique positions to accommodate infants and toddlers, making it easy to stay rear-facing for the first two years. A built in stage-position lever lifts easily to convert the car seat base from Stage 1 to Stage 2 with one motion, creating extended leg room and more upright, spacious seating for growing toddlers.
Two Unique Positions for Infants & Toddlers
In Stage 1, the Fit2® functions like a traditional rear-facing infant car seat, offering more reclined seating with removable head and body support to accommodate newborns and smaller infants from birth to 12 months. In Stage 2, the Fit2® easily transitions into a rear-facing toddler car seat, offering a more mature seating position for toddlers from 9 to 24 months – without taking up extra space in the vehicle! A 7-position headrest and padded no-rethread harness provide adjustability to accommodate growth throughout both stages.
Easiest to Install Correctly
From the makers of the #1-rated KeyFit®, the Fit2® is designed with smart functionality that makes it the easiest to install simply, accurately, and securely, every time. The base features a one-hand-operated ReclineSure® leveling foot and two RideRight® bubble level-indicators to achieve and verify proper angle in the vehicle seat. Premium LATCH connectors and a force-multiplying SuperCinch® tightener help achieve a secure fit with a fraction of the effort! Plus, an integrated stabilizer bar increases surface contact between the base and vehicle seat, providing added support and leverage for a secure install. The base is also designed with easy belt routing and integrated lock-offs for alternate installation with the vehicle seat belt. An enclosed underside helps protect vehicle seats from damage.
Built for Everyday Convenience
The Fit2® features easy one-hand adjustment for the carry handle, harness tightener, and headrest. The Fit2® is also designed for travel system use with Chicco strollers, offering extended click-in carrier functionality with a reassuring audible click and one-hand release.
From Italy with Love
Made in Italy with premium Italian fabrics that are both comfortable and sophisticated, the Fit2® has a chic, modern aesthetic for fashion-forward parents. The seat pad is removable, machine-washable, and lined with dual-density foam cushioning for added comfort. The canopy is also adjustable and removable.
For improved impact protection, the carrier shell is lined with EPS energy-absorbing foam
2-Stage base converts from Infant Position to Toddler Position, making it easy to stay rear-facing for the first 2 years
Provides extended leg room and more upright, spacious seating with adjustability for toddlers 9-24m – without taking up extra space in the vehicle!
Built-in stage-position lever lifts easily to convert the base with one motion
7-position headrest and padded, no-rethread harness accommodate growth throughout both stages
Easiest to install with ReclineSure® leveling foot, RideRight® bubble levels, and SuperCinch® LATCH tightener
Compatible with Chicco strollers for travel system use
Premium Italian fabrics are comfortable, sophisticated, and machine-washable
Easy one-hand adjustment for carry handle, harness tightener, and headrest
Removable head and body support for newborns and smaller infants
From the makers of the #1-rated KeyFit® Infant Car Seat
Usage:
- Stage 1 for infants and toddlers 4-35 lbs and up to 35 inches
- Stage 2 for infants and toddlers 15-35 lbs and up to 35 inches
Care and Maintenance:
Fabrics may be spot-cleaned with mild soap and water, or machine washed in cold water on delicate cycle using mild detergent. Attach hook and loop parts together before washing. Hang to dry. DO NOT BLEACH.
Fashion
With hand-selected fabrics woven right outside Milan, Fit2 fabrics are the perfect blend of comfort and elegance for modern parents who want to travel in style. A soft, textured charcoal knit sets the stage for a sophisticated combination of materials. The Legato fashion features a striking jet black geometric knit for a truly unique look. Premium black leatherette accents and deco stitching capture the essence of thoughtful Italian design.
Specifications
Assembled Dimensions: 28" x 17" x 16"
Product Weight without Base: 11 lbs.
Base Only Dimensions: 21.25" x 15" x 12.5"
Base Only Weight: 9.5 lbs.
Ship Weight: 25.5 lbs.
Carton Dimensions: 17.72" x 15.83" x 29.13"
Product Manuals
---
Reviews
Fit2 Infant & Toddler Car Seat - Legato
is rated out of
5
by
36
.
Rated

1

out of

5
by
Lili2018
from
Good....but uncomfortable
My baby is currently using this seat, even though it's a really nice looking seat and I can only assume it's just as highly rated safety wise as the other Chicco seats, it does have a flaw in my opinion. I don't think it's very comfortable for a child under the age of four or five months, the seat is "sinks in" more than other seats (I hope that makes sense), making the baby just look too "squashed", somewhat bent, it's difficult to explain, the baby just does not look right. The angle at which the baby sits just seams too uncomfortable, it's much too deep, my baby is not happy in it unfortunately. This is not my first baby, I've used two different infant seats in the past, both different brands, and this was not an issue with either. We choose the Fit2 seat for the nice material, the country it's made in, the Euro lap system (which is great when installing the seat without the base), the Chicco safety ratings, the fact that it can be used a bit longer (age and height wise) than other seats, but we now don't think it was a good investment. We are now in the market for a new infant seat, we could buy a convertible but sometimes it can be more convenient to just remove the car seat with the baby in it, convertibles do not offer that ease. I have gone to baby stores to try other seats with my baby, and the difference in the angle at which the baby sits is obviously more comfortable, baby has more of a lay down position in the other seats than in the Fit2. I would assume the seat was made deeper than others in the market to accommodate a heavier and taller child, but as great as that sounds, to us it just turned into an extra expense. We've had the seat two months and are getting a different one so our my child's car ride is less stressful and less uncomfortable, I can't stand seeing the baby in the seat any more. It's a shame, the Fit2 seat is really nice, but it was not for us.
Date published: 2018-05-30
Rated

4

out of

5
by
Jcsilvey
from
LOVE this car seat. Base... not as much
This car seat is amazing. I'm so glad purchased it. It is heavy duty and I know my daughter is safe if we were ever in an accident. The one thing I would change is the base. The latch system is so great but if you drive a larger vehicle the latch straps are not long enough if you have the base in the middle seat. It fits just fine in our car but not our truck. And I don't like strapping the base in with the seatbelt, it doesn't seem as secure. I just wish the would have made the straps for the base even an inch longer! 5 stars for the car seat... 3 for the base.
Date published: 2018-02-18
Rated

5

out of

5
by
MNmomof3
from
This car seat is hands-down the best!! My son was born 6 weeks early and came home at 4lbs 10oz. The harness and padding fit him perfect even being so small. Before we could leave the hospital he had to pass the 'carseat test' and he did with flying colors!! I used the KeyFit30 with my other 2 boys who were born under 6lbs and didn't know if anything could compare...but this is just as amazing and definitely steps up the feasibility. I love the one-handed tilt of the handle and I can't wait to use the 2nd stage setting on the base. The fabric is gorgeous! It is so modern and breathes well. It is also very easy to take off and clean...big deal! It's very comforting to know my child will have a luxurious, comfortable, and SAFE car seat until he turns 2!!
Date published: 2018-02-12
Rated

5

out of

5
by
aray14
from
durability of a tank but comfort of a recliner!
First of all, it ships in one piece so there is no assembly required. It's heavy, but for us that's preferred for an infant seat because we'd rather our little one be encased in armor at all times in the car! The interior of the seat, however, is cushy and cozy- perfect for falling asleep. The best part is that the lining can be removed and the base can be adjusted to transform into a toddler seat. We love that it's meant to last a long time. It was easy to get into the car and secure as well. The instructions were very straightforward. No issues. The car seat also fits seamlessly into the shuttle stroller, securing tightly but very easy to remove. Since the it's also meant for the stroller it has a sun shield that folds down far enough to protect the baby from sun or wind. Overall, a great product, really nice design, but most importantly very sturdy and makes us parents comfortable for car trips.
Date published: 2018-01-22
Rated

5

out of

5
by
MamaY
from
Love this car seat!
This car seat is fantastic! Safety was the most important factor for us as we were looking into car seat options, so seeing the great safety information for this seat was key. Beyond the great safety ratings, this seat is so easy to install, functional, easy to use and maneuver, and is a really good quality. The fabric is soft with a nice design, but also durable (and machine washable, which is the best). We love that the car seat can easily click in to a coordinating stroller, making this system so easy to use when we are on the go. The fact that this seat can transition to the toddler position is even better, because we can use it so much longer than a traditional infant seat! I absolutely recommend this car seat to anyone who is looking! You'll never look at another seat after using this.
Date published: 2018-01-19
Rated

5

out of

5
by
Rosa90
from
Awesome car seat!!
I love this car seat!!! Very well made and high quality. I love how easily it can be switched to toddler stage! My daughter fits nice and snugly in her car seat! Love it!! Highly recommend this care seat! Mommy of 2 babies and I wish they sold this car seat when my son was an infant.
Date published: 2017-10-01
Rated

5

out of

5
by
Katy03
from
Beautiful
I bought this car seat and it is very pretty, high quality material, and the shipping was fast.
Date published: 2017-09-27
Rated

5

out of

5
by
Heatherf
from
Fantastic car seat!
I did a lot of research and shopping around for the perfect car seat that was safe, comfortable and easy to install and the Fit2 Rear Facing Car seat not only met but exceeded all my requirements...and more! The quality is outstanding, as I've found to be the case with all Chicco products. I also love that I will be able to use it throughout my son's first two years and it easily snaps into my Bravo LE stroller. Having a stroller and car seat that are compatible is a must in my opinion. I am very happy with this car seat and would highly recommend it to others.
Date published: 2017-09-18
bvseo_sdk, dw_cartridge, 16.1.1, p_sdk_3.2.0
CLOUD, getContent, 40ms
reviews, product
Questions
When should the newborn headrest and insert be removed?
Only use the Newborn Positoner provided for infants who weigh between 4 and 11 lbs. To provide head support for smaller infants the Head Rest Insert may be used. The Head Rest Insert can be used with or without the Newborn Positioner.
Date published: 2018-08-14
Do you sell just the base for this car seat?
The Fit2 infant car seat base is available to purchase separately.
Date published: 2018-07-27
Is Fit2 a FAA-approved seat to be used on airplanes?
The Fit2 car seat is approved for use in motor vehicle and in aircraft. Please review the instructions in the product manual for installation on an aircraft.
Date published: 2018-06-28
Hi - does this car seat fit Uppababy stroller wheels? 
Chicco car seats are only designed to fit into certain Chicco strollers. To view the Chicco strollers please visit our stroller comparison chart https://www.chiccousa.com/stroller-comparison/.  Chicco does not endorse or warrant using your Chicco car seat in any stroller manufactured by other companies.
Date published: 2018-06-25
Will this car seat work with the Urban stroller?
The Urban stroller will accept the Chicco Keyfit, Keyfit 30, or Fit2 car seat.
Date published: 2018-06-08
My husband just installed this. The base is very snug in place, but when we click the car seat into the base the seat does not seem completely secure. It is clicked in, but when you push on the seat it moves around a bit on the base. Is this normal?
Please contact our customer service department by phone at 1-877-424-4226 for assistance.
Date published: 2018-05-04
When do I know when to convert the seat to stage 2?
The Fit2 base Stage 2 is only for children who are able to crawl or walk, between 9- 24 months of age, and weighs between 15-35 lbs.
Date published: 2018-04-12
How comfortable is this for a toddler (over 1yrs old)? And also is it compatible w/ any jogging/ running strollers?
The Fit2 is designed to hold a child up to 35lbs, or 35 inches (whichever one the child reaches first). In addition the child's head must be at least 1 inches below the top of the head rest. As long as the child is under the maximum weight and height guidelines, you may continue to use the car seat. The Chicco Activ3 and Tre jogging strollers will accept the Fit2 infant car seat. Please visit our stroller comparison chart https://www.chiccousa.com/stroller-comparison/ .
Date published: 2018-04-12
bvseo_sdk, dw_cartridge, 16.1.1, p_sdk_3.2.0
CLOUD, getContent, 11ms
questions, product
You May Also Like