Details
BravoFor2 Standing/Sitting Double Stroller - Zinc
Promotions
Special Offer
Discount only applied to qualifying products and will be automatically calculated at the time of checkout. Offer is only available at ChiccoUSA.com. Offer valid only while supplies last and not applicable due to canceled orders or due to out-of-stock merchandise. Discount does not apply to taxes, shipping and handling charges, or other similar charges. Discount not applicable with returned merchandise; total discount will be deducted from the value of any returned item to which the discount applied. Cannot be combined with any other promotional offer nor is this offer valid on previous purchases. Offer excludes spare parts, accessories and items already on sale. Customer is responsible for all shipping costs for returned merchandise. ChiccoUSA.com reserves the right to modify this offer without prior notice.
Details
Additional Information
Features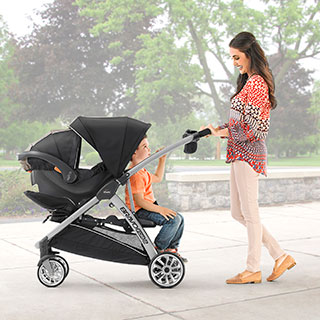 Travel System + Rear Seat
Accommodates KeyFit or Fit2 infant car seat plus bonus rear seat for additional rider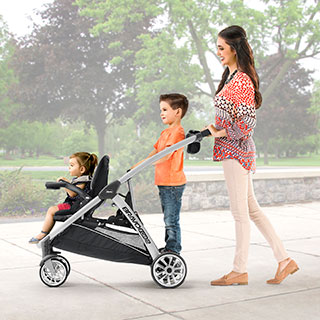 Stroller + Platform
Includes standard stroller seat plus standing platform for additional rider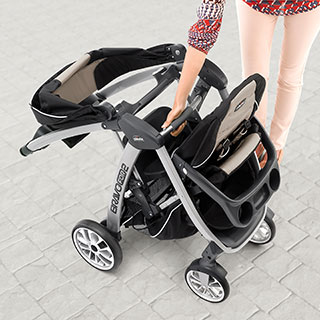 One-Hand Fold
Dual fold/carry handle is easy to reach and activate for a convenient quick fold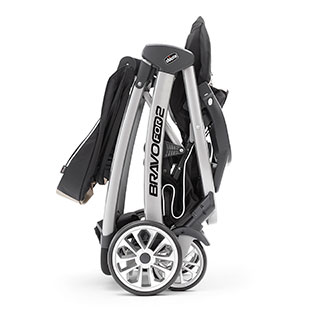 Compact & Travel-Friendly
Ultra compact, free-standing fold with carry handle for easier maneuvering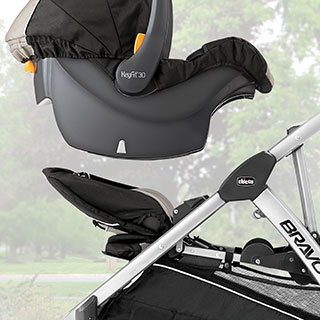 Accepts a Car Seat
Main seat folds forward to accept a KeyFit or Fit2 infant car seat (car seat sold separately)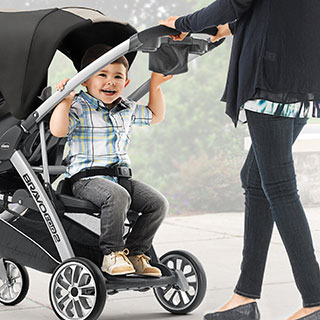 Bonus Rear Seat
Rear seat accommodates second rider and folds away to make room for standing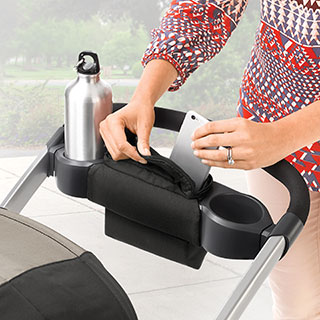 Parent Tray
Two cup holders and zippered storage compartment keep essentials close at hand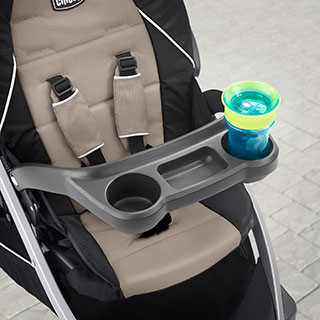 Child Tray
Main stroller seat includes a detachable child tray with two cup holders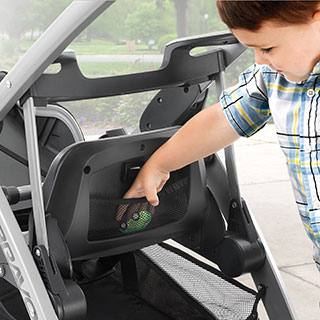 Kid-Sized Storage
Storage pocket makes it easy to carry along big kid necessities for strolls in standing mode
Videos
Description
Bravo! For Versatility
For younger children, BravoFor2® features a traditional padded stroller seat, five-point harness, large adjustable canopy, and removable tray with two cup holders. For infants, the stroller seat folds forward to accept a KeyFit® or Fit2® infant car seat with easy click-in attachment. (car seat not included)
Bravo! For Standing
For older children, BravoFor2® is outfitted with a bonus back seat and platform where big kids can choose to ride rear-facing or stand and face the road ahead! The seat folds away easily when unoccupied and includes a three-point harness for added security. Easy-grip handles provide added stability for standing and a backrest gives extra support.
Bravo! For a Smart Fold
BravoFor2® is designed with a one-hand, ultra-compact quick fold for easier maneuvering and storage. An integrated handle easily activates the fold and simultaneously rotates the front wheels inward to keep the folded unit standing. Once the stroller is closed, the fold handle also doubles as a carry handle.
Bravo! For Convenience
Full suspension and front swivels help maintain a smooth ride for both passengers in every configuration. One-touch brakes keep the stroller in place when parked. A padded push-handle, parent tray with two cup holders, and large storage basket with front and rear access provide added convenience for mom or dad.
Accommodates 2 children: Traditional stroller seat plus back seat/platform for big kids to ride or stand
Main stroller seat folds forward to accept KeyFit® or Fit2® car seat
Main stroller seat includes 5-point harness, adjustable canopy, and detachable child tray
Bonus back seat includes 3-point harness and easily folds away when empty
Standing platform features easy-grip handles and backrest for added support
Innovative fold/carry handle for a one-hand, free-standing, ultra-compact quick fold
Parent tray with 2 cup holders and storage compartment
All-wheel suspension, front swivels, and one-touch rear brakes
Padded push handle
Large storage basket with front and rear access
Usage
For use with two children up to 40 lbs per child
Care and Maintenance
Hand wash in cold water, no bleach, drip dry. Periodically wipe plastic or metal parts clean with a soft damp cloth; towel dry.
Fashion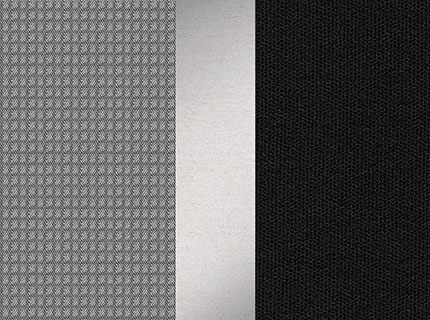 Zinc
Energize your outing with the Zinc fashion from Chicco. Offering a micro-checkered pattern woven in tone-on-tone greys against a lightweight, yet durable sleek black woven and finished off with a silver trim. Simple. Sleek. Smart.
Specifications
Assembled Dimensions : 45" x 23.25" x 42"
Folded Dimensions: 18" x 23.25" x 35"
Front Wheel Diameter: 7"
Rear Wheel Diameter: 9"
Assembled Weight: 26.5 lbs.
Ship Weight: 32.7 lbs.
Carton Dimensions: 19.5" x 34.6" x 12.5"
Product Manuals
---
Reviews
BravoFor2 Standing/Sitting Double Stroller - Zinc
is rated out of
5
by
28
.
Rated

4

out of

5
by
kmgarrett17
from
Great for my 3.5 year old and 6 month old
We've used this stroller since day one when my youngest was born. When we're out and about, my 3 year old is always changing her mind on if she wants to ride in the stroller or walk. The "big sister seat" in the back was the perfect solution. Before my youngest was able to sit up, we would just clip in her Chicco Fit2 infant carrier, which was a total lifesaver. My oldest loved being able to stand and look at her baby sister as we moved along. The fabric is easy to clean and surprisingly stain resistant, and the large canopy is able to cover both of my girls when needed. It's fairly light, folds up easily, the steering is smooth, and it isn't insanely bulky like many other double strollers out there. The only thing that keeps me from giving it 5 stars are two minor complaints: • I wish the undercarriage was a little bit deeper because it's difficult to fit our diaper bag • I wish the front seat would have the option to recline back further so my youngest would nap All in all, I love this stroller. A good double stroller is difficult to find and I would absolutely recommend this one for anyone with kids that are close in age.
Date published: 2018-05-24
Rated

2

out of

5
by
MomOfTwo1
from
I wish it was better! I really wanted to love it.
Bought this stroller about 9 months ago. I have a 9 month old and almost 3 year old. I'll start with the pros, since there are some! It's easy to fold and unfold. Fits in the trunk of my Acadia when all 3 rows are in seat position. It's big enough for my 3 year old to comfortably sit or stand on the back and there is a ton of storage! But, that's about it. . Cons: once your kid has outgrown the infant carseat l, this stroller is essentially useless since the stroller seat doesn't recline at all. Have a sleeping baby? Too bad- they will have to wake up to be seated in the stroller and good luck getting a baby to fall asleep when not on an incline. This is probably my biggest problem with the stroller, it's just not functional at all. The frame feels cheaply made. My wheels are already squeaking and the handlebar foam is already worn and has damage from just normal use. The cup holders are not deep enough to hold any normal size drinks (even a water bottle falls out). I really, really, really wanted to love and use this stroller for at least 2 years. But, as it turns out we pretty much outgrew it after 8 months.
Date published: 2018-02-11
Rated

3

out of

5
by
Anonjab
from
Best of a bunch of bad options - but not good
We have a three-year-old and four-month-old and went looking for a sit 'n' stand stroller before having the second. I happened upon this one, which was pretty new at the time, and compared to everything else on the market it looked like the best option, so we went with it. I still think it's the best option in this category of strollers, but that's mostly a testament to how horrible the available sit 'n' stand options are. It has good elements, but I definitely don't love it. Pros: • My three-year-old is happy with the jump seat and standing board, and actually fits on them without being squashed by the handle bar. This was probably the most important criterion we looked for in a stroller, since there was no point in getting a sit 'n' stand for two kids if one kid wouldn't actually use it due to discomfort. Our oldest (who's tall) definitely has enough room, and that's awesome. • Adult feet don't hit the standing board as they walk! This was a huge issue with other strollers and add-on boards, and was the reason we rejected just getting a board to go on our otherwise beloved City Mini GT. There's no point in getting a sit 'n' stand if you won't use it because you're constantly walking into the stroller, and Chicco did a great job of solving that problem here. • Storage basket. Almost the only thing I hated about the City Mini GT I had for my first child was how much work it was to get a moderately-loaded diaper bag into and out of the storage basket. The Bravo for 2 has access to the basket from the front and back and has a great amount of storage space! • Stands on its own when folded. This is awesome. Cons • Feels low-quality and I have very little confidence it will hold up on city streets and sidewalks over time. Chicco makes a good jogging stroller, so I know the company's capable of making a stroller with rugged wheels and solid framework. This one feels . . . cheap. And flimsy. After just a couple of months the wheels have started making a regular squeaking noise. It can't go over minor dips or breaks in the sidewalk without an adult basically hanging from the handlebar to lift the wheels. The wheels look like they'll be pitted and worn through in about six months. We're not that hard on the thing - walking about ten blocks to school three-ish times a week, and maybe two other outings in the neighborhood in between. But this thing seems like it's only suited for someone who only wants to use it inside a mall. • There is no recline position in the seat. The features say that the seat has two recline positions, but when I assembled it I could only make it do one, so I actually called Chicco. Jean, who I spoke to, said that nope, the only positions are straight up or folded flat down so that you can put your car seat on top of it. She acknowledge this could be "misleading." Uh . . . yup. I'd go so far as to say false advertising. So far my little one's just in the car seat, but I think we'll be majorly limited in using it as the baby gets older because there's no way to recline the seat for a sleeping baby. (For the record, there's room in the stroller frame where the seat could be made to recline more, even without infringing on the older child space - that's why I was so confused when I couldn't get it to lean back further. It just doesn't. Really poor design on Chicco's part.) • The thing maneuvers about as well as an aircraft carrier. I get it, this is a trade-off for having enough space for both kids, and basically every double stroller of any kind maneuvers horrible. But there are strollers out there (like Chicco's own jogger) that are much more responsive to pressure on the handlebar and ride a lot smoother overall. This thing feels like driving a tank. And while it's not the worst I've driven, it leaves A LOT to be desired. • It's heavy when folded. I could accept this more if it were a tradeoff for stability, but as discussed, the stroller doesn't feel all that solid and stable. • The handle bar isn't great. First, it's not adjustable, which was a huge reason we loved and bought our City Mini GT. I'm 5'2" and my husband's 6'4", so it's really awesome to have a handle bar that adjusts to accommodate that difference. We survive with this one, but it would be such a great addition to make it adjustable. Also, the bar is covered in that horrible cheap, dense stroller handle foam that you know will start to break off halfway through its lifespan. Quality rubber would be a much better option, Chicco. • The parent console is useless. The cupholders can't handle a regular Munchkin sippy cup or an adult insulated Camelbak bottle. The zip pouch can take my keys and, with some maneuvering, my regular iPhone 6 in a Lifeproof case. But if you want a place to stash a snack cup or larger wallet, well, nope. I want to use my old Skip and Bee fabric attachable console, but the Chicco one is built in and completely in the way! Trying to see if I can unscrew it without taking apart the whole stroller . . . . So that's my take on this stroller. It hits some of the hardest things to find in a good sit 'n' stand, it's just really, REALLY annoying that in hitting the biggest things it's such a huge miss on some of the small things. We'll probably just muddle through with this until I can rely on my oldest to walk consistently, then go back to the City Mini GT. I just hope this happens before my infant wants to nap in the stroller . . . .
Date published: 2017-10-26
Rated

1

out of

5
by
AjShaneyfelt
from
I wanted to love it
I have had this stroller for 5 months, its convenient for a baby and toddler but the construction is poor. 2 weeks after buying it the wheel started to squeak bad, I figured it wasn't a huge deal. But now the thing is almost impossible to fold and unfold, it just doesn't seem to work right so every time is a struggle. I paid 300.00 for this thing! The quality should be so much better. I have been an avid chicco fan, and recommended products to many people, so to end up with junk like this is super disappointing.
Date published: 2017-09-18
Rated

4

out of

5
by
Addy
from
It's light Weight , easy to fold .
I bought this item 3 months ago , it's great for traveling with my baby and toddler .
Date published: 2017-09-09
Rated

1

out of

5
by
PamelaH
from
Don't buy it with a newborn baby
I bought the stroller six months ago and at the beginning was useful but after several months using it on a daily basis here is my review: When we tried it at the store it was hard to open it and to close it. The person told us it was because it wasn't fully assembled. Now is the same way. It is hard to open it and is hard to close it. Plus the front seat doesn't lay down enough for when baby or toddler nap. When my three old month baby was in the car seat on the front was very hard to reach her and had to move my toddler off the stroller to be able to give her a toy or to take her off from it. The shade is just for one kid which on the rain is hard to use it. Which just happened to us. We weren't expecting a rain and we freaked out with two little ones leaving the museum after it was about to close. Good thing the rain stopped. I use the stroller five from seven days a week. So after almost six months of looking the best of the stroller is very tiring. The seat on the back without recliner is so uncomfortable. My toddler is restless every time we put her in. She prefers the one with recliner on the front. For toddlers is hard to stand because they barely see the front. So of course mine wants to see what is around while she seats or stands. The cup holders are so small that my coffee or water bottles end on the floor every time we put them on. I just wrote an email with this review hoping to have a response. Except you have two little ones older than three years old than don't nap anymore it could be useful. It is not smooth to ride. The space on the basket is so small. And you have to take the toddler off to reach something. So for example I finally put my toddler seating on the seat above the basket and she asks for something that its on the basket. It is a pain to take her off, to reach for the snack or toy that she asked for. And to convince her again to be on the stroller while my other eight month old baby cries during this time in the front. So you moms know what I am talking about. I can go on and on on this review.
Date published: 2017-09-03
Rated

5

out of

5
by
Troymill
from
An amazing stroller
I bought the stroller two weeks ago. Just have to say my wife loves it. My daughter enjoys sitting or standing while riding with her new born brother. Just have to say what an amazing awesome stroller.
Date published: 2017-06-16
Rated

4

out of

5
by
Gbe3
from
Awesome for traveling!!!
This stroller has survived a trip to Europe with my 4 year old and 4 month old!! It was perfect for all the walking on cobblestone, so easy to get in/out of the car many times and was perfect for the 4 year old to ride (either sitting or standing) when she got tired of walking!!! The stroller did not get damaged at all when it was checked with our luggage for the flights! Great stroller for traveling and for everyday use at home-the storage underneath is perfect for bags of any kind!!
Date published: 2017-05-07
bvseo_sdk, dw_cartridge, 16.1.1, p_sdk_3.2.0
CLOUD, getContent, 22ms
reviews, product
Questions
What's the difference between the bravoFor2 and the LE bravoFor2?
To view the Bravofor2/Bravofor2 LE strollers and the features of each stroller, please visit our stroller comparison chart https://www.chiccousa.com/stroller-comparison/
Date published: 2018-11-06
Is this stroller compatible with nuna pipa infant car seat?
The BravoFor2 stroller will only accept the Chicco Keyfit, Keyfit 30, or Fit 2 car seat. It will not accept any other brand of car seat.
Date published: 2018-10-23
Is the car seat attachment piece included? I know some strollers require you purchase a separate piece to attach the car seat. 
The BravoFor2 stroller includes the child's tray which is required to be attached when installing the Keyfit, Keyfit 30, or Fit2 infant car seat.
Date published: 2018-09-25
What car seat goes with this
The BravoFor2 stroller will only accept the Chicco Keyfit, Keyfit 30, or Fit 2 car seat. It will not accept any other brand of car seat.
Date published: 2018-08-10
I have a Graco click connect infant car seat. Would I be able to use a universal car seat adaptor on this stroller and click the car seat in using that? 
The BravoFor2 stroller will only accept the Chicco Keyfit, Keyfit 30, or Fit 2 car seat. It will not accept any other brand of car seat.
Date published: 2018-08-10
Is this stroller compatible with the maxi claim car seat? Or is there an adapter I can purchase?
The BravoFor2 stroller is only designed to accept the Chicco Keyfit, Keyfit 30, or Fit2 car seat. It will not accept a car seat manufactured by another company.
Date published: 2018-08-06
I can accommodate 2 infant car seat?
The BravoFor2 will only accept one Chicco Keyfit, Keyfit 30, or Fit2 infant car seat. Please view our stroller comparison chart on our website www.chiccousa.com/stroller-comparison/
Date published: 2018-06-06
Can I adjust two car seat to the stroller? How do I do it?
The BravoFor2 will only accept one Chicco Keyfit, Keyfit 30, or Fit2 infant car seat. Please view our stroller comparison chart on our website www.chiccousa.com/stroller-comparison/
Date published: 2018-06-06
bvseo_sdk, dw_cartridge, 16.1.1, p_sdk_3.2.0
CLOUD, getContent, 17ms
questions, product
You May Also Like