Details
NextFit iX Zip Luxe Convertible Car Seat - Dolce
Promotions
Special Offer
Discount only applied to qualifying products and will be automatically calculated at the time of checkout. Offer is only available at ChiccoUSA.com. Offer valid only while supplies last and not applicable due to canceled orders or due to out-of-stock merchandise. Discount does not apply to taxes, shipping and handling charges, or other similar charges. Discount not applicable with returned merchandise; total discount will be deducted from the value of any returned item to which the discount applied. Cannot be combined with any other promotional offer nor is this offer valid on previous purchases. Offer excludes spare parts, accessories and items already on sale. Customer is responsible for all shipping costs for returned merchandise. ChiccoUSA.com reserves the right to modify this offer without prior notice.
Details
Additional Information
Features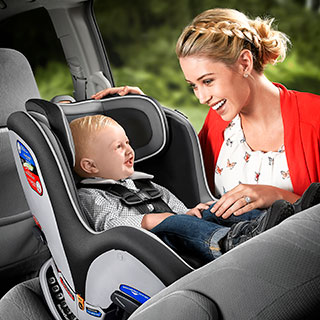 Rear-Facing
Accommodates newborns and growing toddlers in rear-facing position (5-40 lbs)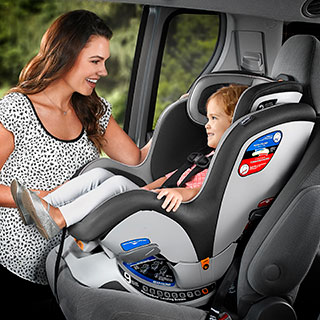 Forward-Facing
Converts to accommodate older children in forward-facing position (22-65 lbs)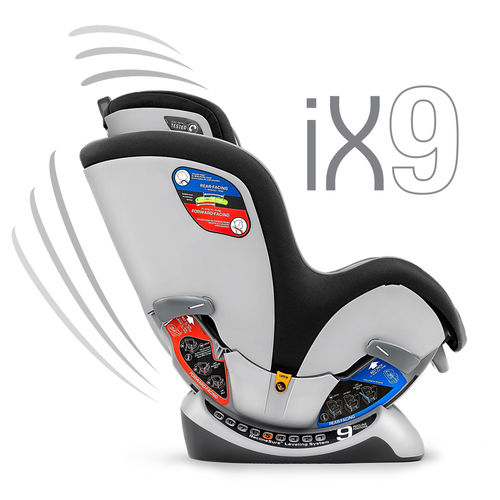 9 Reclines · 9 Heights
Fits your vehicle and fits your child comfortably with less effort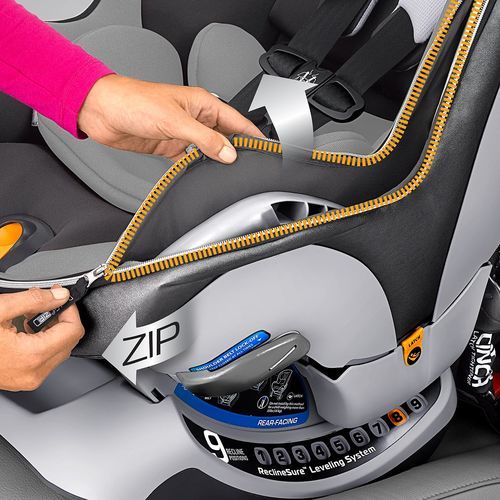 Zip & Wash Fabrics
Seat pad zips off easily and conveniently for machine washing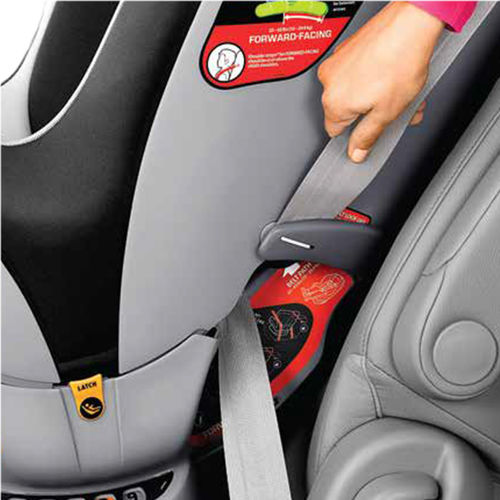 LockSure Belt System
Clear routing and integrated lock-offs for installation with vehicle seat belt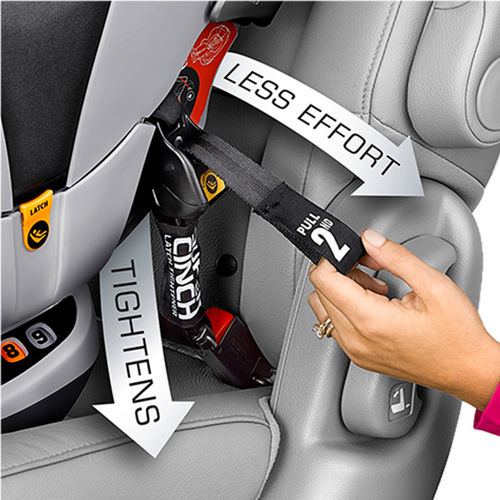 SuperCinch Tightener
Force-multiplying tightener for installation with vehicle LATCH system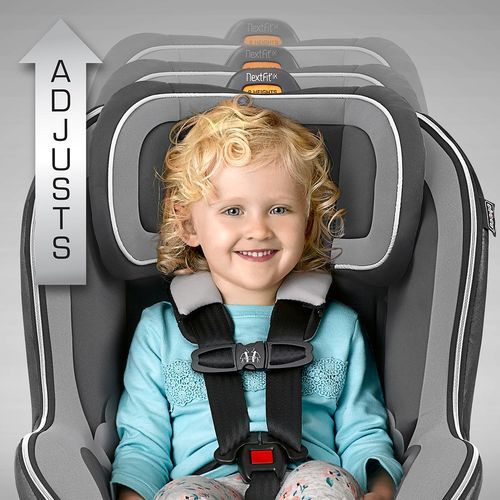 9-Position Headrest
Easy-adjust headrest and no-rethread harness with one-pull tightener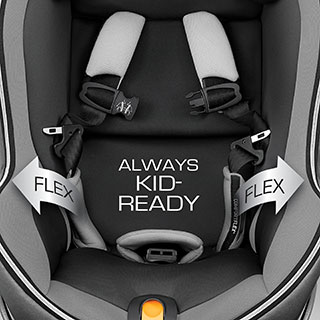 ComfortFlex Harness
Padded, flex-out design holds waist belt out of the way for easy in/out
Videos
Description
Even More to Love!
The NextFit® ​iX fits your vehicle and fits your child with proven SuperCinch®​ ​LATCH functionality and a new LockSureTM vehicle belt-tightening system, plus easy-to-use adjustability designed to comfortably accommodate growing children from 5 to 65 pounds. NextFit®​ iX Zip Luxe also features a zip-off seat pad for machine washing and premium fabrics like buttery-soft knit and color-punched leatherette that add comfort and offer a chic, luxurious aesthetic to complement automotive interiors.
Easiest to Install Correctly
NextFit® ​iX features a 9-position ReclineSure® ​leveling system and dual RideRight® ​ bubble level-indicators to help achieve and verify proper angle in the vehicle seat. For installation with LATCH, premium connectors and a SuperCinch® ​tightener help achieve a secure fit with a fraction of the effort. (When it's time to switch from rear-facing to forward-facing, the LATCH strap passes easily through the built-in slide path for proper repositioning.) For installation with the vehicle seat belt, a LockSure™ belt-tightening system makes it easy to position, tighten and lock the belt into place.
From Newborn through Preschool
NextFit® ​ iX is engineered to last with built-in "fit-ability" for every stage, including a removable infant insert and smooth one-hand headrest adjustment with nine positions. As the headrest is raised, the shoulder strap position also raises and widens to accommodate growing children without re-threading. The harness also features an easy-pull, force-multiplying tightener and removable, machine-washable shoulder pads. For easier in/out, NextFit® ​ iX Zip is equipped with a padded ComfortFlex® ​ harness management system that holds both sides of the waist belt out of the way until the child is ready to be buckled.
NextFit® ​iX has a steel-reinforced frame and is lined with EPS energy-absorbing foam for superior side-impact protection.
ReclineSure® ​ 9-position leveling system for an accurate fit in a wider range of vehicles
Dual RideRight® ​ bubble level-indicators verify seat angle in both rear-facing and forward-facing modes
Premium connectors and a SuperCinch® ​ tightener help achieve a secure installation with LATCH
New! LockSureTM belt-tightening system helps achieve a secure installation with vehicle seat belt
New! 9-position easy-adjust headrest and no-rethread harness accommodate growing children
New! Easy-pull, force-multiplying harness tightener for a snug and secure child fit with less effort
Zip & Wash seat pad easily zips out from shell for machine washing
Premium fabrics offer a chic, luxurious aesthetic to complement automotive interiors
Padded ComfortFlex® ​ harness system keeps both sides of waist belt out of the way for easy in/out!
Steel-reinforced frame with EPS energy-absorbing foam is side-impact tested for superior protection
Usage
- Rear-facing 5-40 lbs
- Forward-facing 22-65 lbs
Care and Maintenance
Fabrics may be spot cleaned. Hand wash using mild soap and water, or machine washed in cold water on delicate cycle using mild detergent. Do not use bleach, hang to dry. For plastics, sponge clean using warm water and mild soap: towel dry. To clean harness, sponge clean using warm water and mild soap; air dry. Do not machine wash harness.
Fashion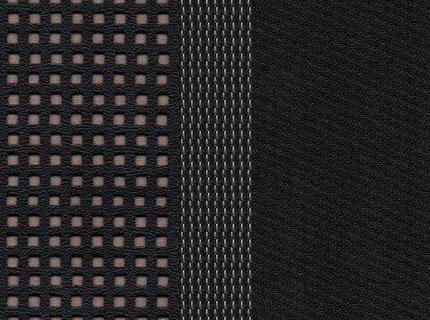 Dolce
Set the standard for automotive elegance with the mindfully designed LUXE collection from Chicco. Showcasing a perforated black leatherette layered over a hint of color, the sheen of a classic bright silver zipper, and all embodied in an exceptionally soft jet black knit, the LUXE collection delivers with every luxurious detail that you'd expect from Chicco. The Dolce fashion features warm taupe.
Specifications
Assembled Product Dimensions: 21" x 19" x 29.2"
Assembled Product Weight: 25.1 lbs.
Ship Weight: 31 lbs
Carton Dimensions: 20.75" x 19.4" x 26.5"
| | |
| --- | --- |
| Harness Mode - Rear-Facing | 5-40 lbs |
| Harness Mode - Forward-Facing | 22-65 lbs |
| Booster Mode - High Back | - |
| Booster Mode - Backless | - |
| LATCH | SuperCinch® |
| Seat Belt Installation | LockSure™ |
| Recline Positions | 9 |
| Product Weight | 25 lbs |
| Product Total Width | 19" |
| Total Harness Slot Height | 17" |
| Total Belt-Positioning Clip Height | - |
| Product Interior Width (Shoulder) | 11.5" |
| Product Interior Width (Hips) | 11" |
| Product Interior Seat Depth | 13.5" |
| Product Max Seated Height | 25" |
| Assembled Product Max Seat Back Height | 26" |
| Product Depth (Footprint) | 17.5" |
| Height Adjust Positions | 9 |
| Crotch Positions | 2 |
Product Manuals
---
Reviews
NextFit iX Zip Luxe Convertible Car Seat - Dolce
is rated out of
5
by
18
.
Rated

4

out of

5
by
Jenni
from
DOES NOT HAVE 3D MESH
I decided to pull the trigger and get the LUXE seat during their anniversary sale! I was very excited, I knew the nextfit was absolutely the car seat for my little one. I absolutely love the keyfit 30 we had for her. One of the major deciding factors on getting the LUXE was that the description also said it had the 3D mesh back panel (the nextfit air was all sold out) I definitely would have purchased the regular nextfit ix, which is cheaper. Over all still very impressed with this carseat but the luxury element was not worth the extra money for me.
Date published: 2018-08-29
Rated

5

out of

5
by
MedleyH
from
This seat is amazing!
I recently won this seat from a contest on Facebook, and I could not be happier with it. It has so many great features such as hassle free cleaning, you can unzip the top part of the car set cover so you can easily wash it and put it back on. The seat has a higher height and weight limit and is designed to stay rear facing for a longer time to protect your little one. You can also hide the anchors that you are not using with secret compartments located on the sides, as well as one for the anchor buckle in the back. The hand book has its own compartment as well so you can easily keep it within reach at all times in case you need to look up any information or need email or phone numbers. The seat has a 5 point safety system, and also adjusts very easily to raise the head rest for the child's growing needs, as well as a insulated cup holder that easily attached and comes off to your preference. The inside of the seat has a extra soft cushion at the top of the belt straps as well as the bottom and crotch area to provide comfort and keep little ones extra snug.This seat has so many amazing features and not to mention the unique style and design! There are no details left out on this seat and my son loves it!! We couldn't have picked a better seat and I am so grateful to Chicco for this wonderful gift!!! Thank you so much!!
Date published: 2018-03-25
Rated

3

out of

5
by
Jason G Hull
from
Better iX Zip versions available
I own three Chicco NextFit car seats and just bought two NextFit iX Zip LUXE. Due to having multiple vehicles, the time it takes to properly install a car seat, and that our youngest son is now too big for the Chicco Keyfit 30, we decided to have two NextFit car seats for each car. We bought two NextFit iX Zip LUXE because we wanted the zip-out liner and we liked the idea of having padding around the crotch and legs to make the restraint more comfortable for long rides. The Chicco Nextfit ix Zip LUXE is a bit of mixed bag. The Postives: 1. Chicco NextFit car seats are tanks! They are heavy, large, well padded, and wrap around the child. They remind me of the seats that you see in Nascar. If adult automobile seats shared similar design, I would imagine traffic fatalities and serious injuries would decrease. I am so impressed by the construction that I would not even consider buying another brand of car seat. 2. Leveling the seat properly is extraordinarily easy due to the adjustable base and built in leveling bubbles. Even people who are not handy, not technically savvy, and unable to hang pictures straight on their wall will still be able to position this car seat appropriately. 3. The child harnessing adjustments are extraordinarily easy to use and very intuitive. 4. The latch to attach the car seat to the care provides extraordinary leverage and allows for tightening the car seat in position very securely. I use both the latch and the vehicle seat belts just in case. The two fastening methods do not interfere with each other, at least not in any of my vehicles. 5. The car seat is very easily adaptable to children of multiple sizes and accommodates a large variety of heights and weights. Adjustments for size are easily made. 6. The padding detaches via zipper. Children have a tendency to throw up in the car. On the regular Chicco NextFit, detaching the padding for machine washing is no simple task. The zip out design solves that problem. 7. Instructions provided are very clear and thorough. The Negatives: 1. The zip out design makes installation using the vehicle seat belt more difficult. You have to unzip the lining to work the seat belt through the car seat. In my opinion, this negative is outweighed by the positive that the lining unzips for easy cleaning. 2. The LUXE incorporates leather/synthetic leather into its design in order to achieve its "automotive design" feel. This material is rough to the touch. It may look nice but it is impractical, especially when you are dealing with children who have soft and delicate skin. The LUXE is the most expensive of the NextFit iX Zip line and simultaneously the "automotive design" feature makes the LUXE the worst of the NextFit iX Zip line. I would think that the NextFit iX Air might be worth the money due to the "breathable mesh" but the "automotive design" is actually an undesirable quality. The only reason I bought the LUXE was because AlbeeBaby.com had the jade color on sale for $249.99. Owning two for the price of $500 was too attractive to pass up. I have yet to see whether the rough texturing on this leather will cause issues for my sons. If it does, I will use my old NextFit car seats in the minivan, which we use for long trips, and move the NextFit iX LUXE into my 4 door sedan which is used for shorter and incidental trips. My recommendation is to avoid the LUXE model. 3. Finally, the reason that I give this product 3-stars. The leather/synthetic leather would be enough to move it from 5 stars to 4 stars simply because the other 3 versions of this car seat do not have that drawback and the other three versions easily qualify as five stars, except for this one issue. What is that issue? "Padded ComfortFlex® harness system keeps both sides of waist belt out of the way for easy in/out!" The padded component that wraps around the thighs (not the crotch) has some sort of springy plastic or spring steel that runs through it. This part is what holds the straps apart to make it easy to place your child in the car seat without incidentally sitting them on top of the child restraints. That is great for placing the child in the car seat, however, that is not so good in the event of an accident. If you press firmly against the padding you can easily feel the hard and thin edge of the metal. I can hardly imagine what that might do to a child during an auto accident. Be warned: All of the Chicco NextFit iX Zip models have this component. The good news is that you can easily remove this component. That is exactly what I did. Without that component I would rate all the Chicco NextFit iX Zip models as 5-stars except for the LUXE which I would rate 4-stars. But since they include this component that I think is dangerous to the child in the event of a car crash, at least harmful relative to its absence, I am rating this car seat as 3-stars. If I were not able to remove this component, I would return this product and buy the Chicco NextFit iX instead. Since it can be removed, I will keep the product and deal with the leather component as I mentioned earlier. Pros 1. Built like a tank! 2. Easy to position properly and install. 3. Easy to adjust to children of different sizes. 4. Easy to secure child. 5. Easy to secure car seat. 6. Zip out lining for machine wash. 7. Excellent instructions. Cons 1. "Padded ComfortFlex® harness system keeps both sides of waist belt out of the way for easy in/out!" Huge issue. Spring metal inside of padding is potentially dangerous. Why not just use velcro to hold the straps out of the way? Be sure to remove this component. 2. "Automotive-inspired styling" is uncomfortable to the touch. Avoid the LUXE for a different model of Chicco NextFit iX Zip. 3. Zip lining makes it more difficult to utilize vehicle seatbelt to secure car seat.
Date published: 2018-01-12
Rated

5

out of

5
by
heirloomella
from
Super comfy Captain's Chair
We had to replace our well-loved Keyfit 30 because our 9 month old is just too tall for it. We looked at the leading competitors but honestly the Nextfit was suuuuuuper comfy, gave LO the angles he demanded for sitting up, and fit beautifully in my small car (Scion xD). And the color is smashing, to boot! Son has gone from screaming his head off to only mild annoyance at being strapped in, in less than a week. It's sturdy and sleek, too. LOVE this.
Date published: 2017-10-10
Rated

5

out of

5
by
TomM
from
Lots of options
Started using this carseat a few weeks ago and the baby seems very comfortable! It is very well padded.
Date published: 2017-05-04
Rated

5

out of

5
by
MGibson2015
from
Great Product!
This is a wonderful product! It was super easy to install! My husband and I have a 9 month old son and he was starting to grow out of his infant car seat. This product is made with nice material and seems very comfortable. I believe it gives our son more room and he seems to enjoy it! I would definitely recommend this product!! So far, we are very pleased!
Date published: 2017-04-11
Rated

5

out of

5
by
Jjcm1009
from
Great features!
I just received my new NextFit Luxe carseat and couldn't be happier. Like most parents, my two biggest concerns are comfort and safety. I was thrilled to see that the headrest can be reclined in 9 different positions without taking my daughter out of the seat. This has been especially helpful when she naps in the car, which is often! She appears to be very content in the seat. The fabric is so comfortable and is far superior than any other car seats that we have used in the past. It appears to be durable, but can be zipped out for cleaning. I was also amazed at how easily the car seat could be installed. In the past, I had to rely on my husband to secure the seats and, even then, questioned if they were tight enough. This was not the case with the NextFit Luxe! I feel confident that my daughter is safe and it took less much time and effort when compared to other seats. I am very happy with this purchase!
Date published: 2017-04-10
Rated

5

out of

5
by
ParkersMom
from
Excellent car seat!
Before my daughter was born, I assumed we would keep her in the infant car seat until she reached the weight limit. Unfortunately, as she hit 10 months old and 20 pounds, she and the seat became too heavy to carry around comfortably. I did some research online, and saw that the line of Chicco NextFit car seats had good reviews on several websites so I decided to try one out. I have to say, I wish I would have switched to a NextFit Zip Luxe months ago! My daughter seems to find it much more comfortable than her last car seat. Even though she hadn't outgrown her infant seat, she seemed cramped and uncomfortable in it. She has more room to stretch out in the NextFit now and has been more content during recent car trips. Also, it was a breeze to install in my car. I was nervous about doing it myself, but it wasn't bad after I read thru the directions. I'm also really excited about the zip feature. As a former nanny, I'm well aware of the mess kiddos can make in their car seats. I like that I'll be able easily unzip the cover and wash it when those messes occur. Also doesn't hurt that it is all black, as it won't show stains. While doing comparison shopping, it appeared that most convertible car seats are bulkier than their infant counterparts. I found that to be true of the NextFit, but once I installed it, it seemed to take up about the same amount of space in my car as our old one did. All things considered, I wish I would've skipped the infant car seat and gone straight to this one. It fits itty bitty babies and will fit my kid for several years to come. I don't think you can go wrong with the NextFit ZipLuxe!
Date published: 2017-04-08
bvseo_sdk, dw_cartridge, 16.1.1, p_sdk_3.2.0
CLOUD, getContent, 148ms
reviews, product
Questions
Is there a max height on nextfit jade
The maximum height for all Nextfit and Nextfit iX car seats rear or forward facing is 49 inches.
Date published: 2018-08-19
Does this car seat fit on a stroller?
The Nextfit and Nextfit iX car seats are not compatible with any Chicco stroller.
Date published: 2018-04-06
Do you get a base for these, or do you purchase one for each vehicle? Thanks!
The base is attached to the Nextfit iX car seat and is not removable.
Date published: 2018-08-19
Is the seat pad machine washable?
The seat cover may be machine washed on delicate cycle using cold water, and a mild detergent. Hang to dry. You may view our video "Removing the Seat Padding " on the Product Video tab of our website.
Date published: 2018-08-19
What's the difference between the nextfit zip ix luxe and the nextfit zip ix air?? And which one is better??
The Nextfit iX Zip Luxe has premium luxury edition fabrics. The Nextfit iX Zip Air has 3D AirMesh fabrics.
Date published: 2018-07-29
Does the Nextfit iX Zip Air have a cupholder like the Nextfit Zip?
Yes, the Chicco NextFit® iX Convertible Car Seat does have a thermal-insulated cup holder. Thank you.
Date published: 2018-10-12
bvseo_sdk, dw_cartridge, 16.1.1, p_sdk_3.2.0
CLOUD, getContent, 140ms
questions, product
You May Also Like