Details
Polly Progress Relax Highchair - Genesis
Additional Information
Features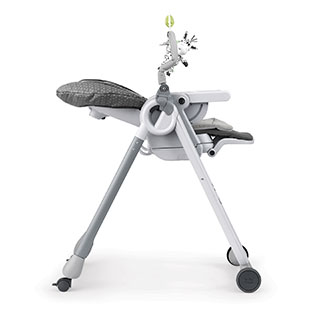 Newborn Recliner
Fully reclined seat and detachable toy bar create a comfortable spot for bottle-feeding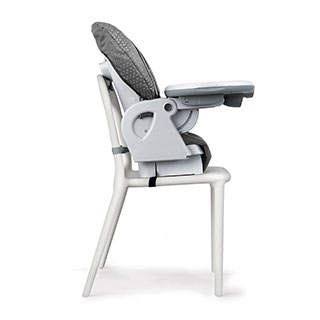 Toddler Booster
Highchair seat is easy to detach from its frame to create a high-back booster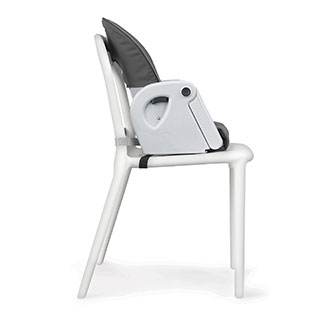 Big Kid Booster
Zip-off extension panel and fold-away armrests convert booster to a smaller, more portable seat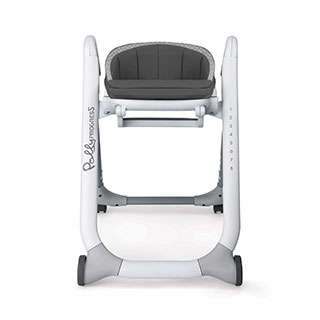 Youth Stool
Highchair frame converts to height-adjustable stool with a padded, snap-on seat for kids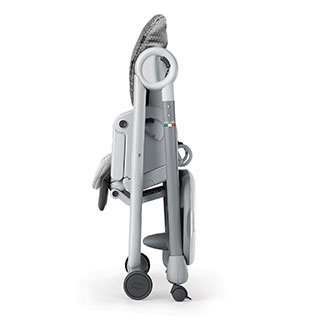 Space-Saving Fold
11.5" fold stows away conveniently for compact storage between meals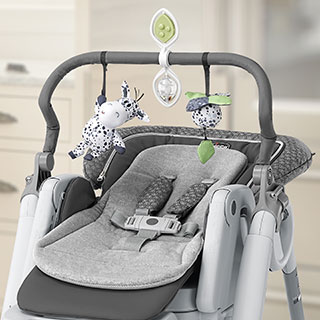 Detachable Toy Bar
Hanging toys create a playful environment for relaxing in the recliner between feedings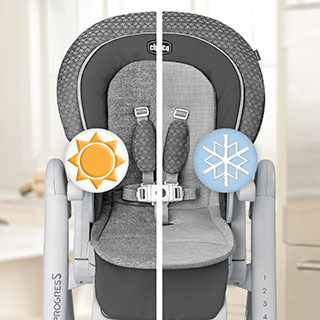 Reversible Cushion
Bonus seat cushion is removable and has reversible knit/mesh fabrics for added comfort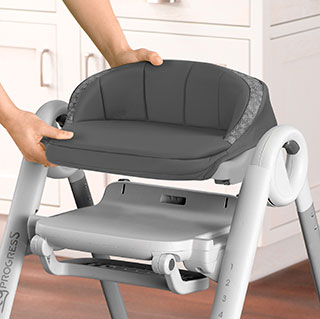 Padded Stool Seat
A deluxe cushion for the snap-on seat provides provides even more comfort in stool configuration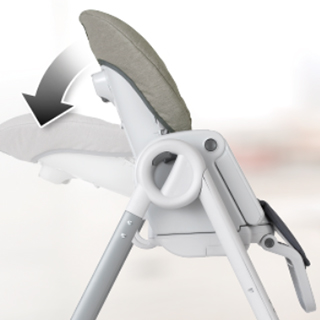 Adjustable Recline
Highchair seat adjusts to 4 recline angles with one hand and doubles as a Newborn Recliner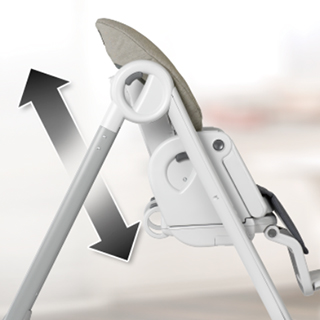 Adjustable Height
8 positions let you switch from bottle-feeding, to snacks in the kitchen, to dinner at the table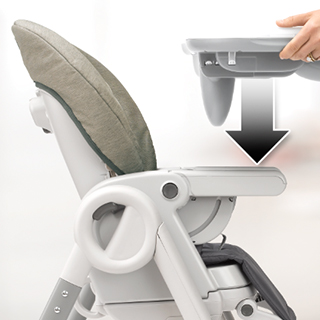 Snap-On Tray
Large tray snaps easily onto the armrests for meals in the highchair or booster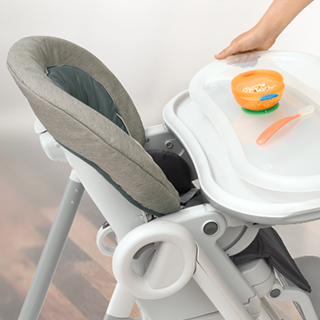 Removable Tray Liner
Cleanup is a breeze with a lift-off tray liner that's easy to remove and wash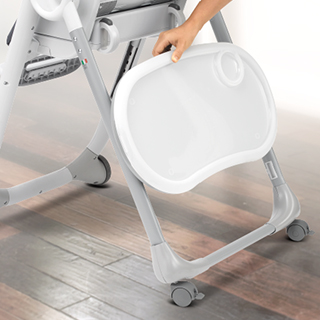 Tray Storage
Tray hangs conveniently on rear highchair legs for storage between meals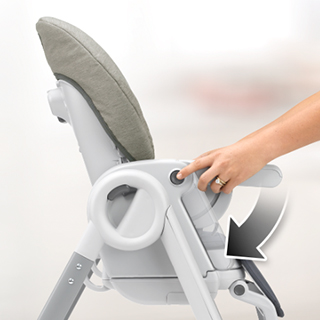 Fold-Away Armrests
Give baby a seat at the table with armrests that fold away and store neatly for meals without the tray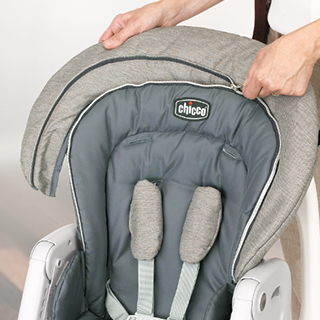 Two Boosters in One
Unique zip-off extension panel converts Toddler Booster to am ore portable Big Kid Booster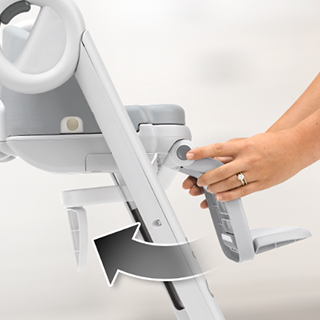 Fold-Away Footrest
After the highchair seat has been removed, the footrest swings out of the way to create the stool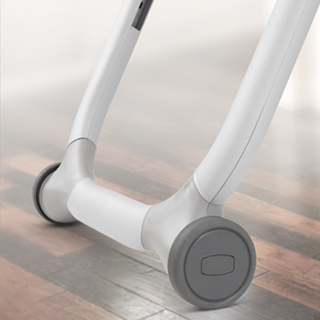 Rubberized Front Wheels
Non-marking, guiding front wheels complement rear locking swivels for smooth navigation
Videos
Description
Five Chairs in One!
The Polly® Progress® is a multichair with five unique configurations for every age and stage: Newborn Recliner, Infant Highchair, Toddler Booster, Big Kid Booster, and Youth Stool. It can even accommodate two children at once: one in the booster, and one in the stool! Progress® Relax also features deluxe fabrics and premium add-ons for happier, more comfortable mealtimes.

Newborn-Friendly
For growing babies, Progress® Relax offers all the convenience of an everyday highchair with a wipeable seat pad, five-point harness, removable tray, eight height positions, and four recline positions. The fully reclined position doubles as a newborn recliner for comfortable bottle feedings. Progress® Relax also includes a bonus seat cushion that is removable and reversible, providing extra padding with cozy knit or breathable mesh. A detachable toy bar creates a playful environment for relaxing in the recliner between feedings.

Multi-Function + Versatility
As baby grows into a toddler, the highchair seat is easy to detach from its frame to create a high-back booster that secures easily to a dining chair for meals with the tray or at the table. A unique zip-off extension panel and fold-away armrests convert the high-back booster to an even more streamlined, portable seat for big kids. For older children, the highchair frame can be used as a height-adjustable stool with a snap-on seat and fold-away footrest. Progress® Relax also includes a deluxe cushion for the snap-on seat to provide even more comfort.

Compact and Convenient
Designed for use in the Infant Highchair and Toddler Booster modes, the tray snaps easily onto the armrests for mealtime and slides onto the rear legs for storage. It also includes a removable liner for easy cleaning. For added convenience, the Progress® Relax has non-marking, guiding front wheels and rear locking swivels. A space-saving 11.5" fold stows away conveniently for compact storage between meals.
Newborn Recliner: Fully reclined seat and detachable toy bar create a comfortable space for newborns
Infant Highchair: All the convenience of an everyday highchair with superior adjustability and functionality
Toddler Booster: Highchair seat detaches from frame to create high-back booster
Big Kid Booster: Zip-off extension panel and fold-away armrests convert booster to a more portable seat
Youth Stool: Highchair frame converts to height-adjustable stool with snap-on seat
4 recline positions with one-hand adjustment
8 height positions make it easy to bring growing children up to the table
Snap-on highchair/booster tray includes removable liner and stores on rear legs
Highchair seat easily detaches from frame to create booster and stool configurations
Includes padded snap-on seat and fold-away footrest to create stool configuration
Space-saving 11.5" fold for storage in between meals
Usage:
Highchair Mode: recommended for children under 40 lbs
Booster Mode: for children up to 50 lbs
Youth Stool: for for children up to 60 lbs
Care and Maintenance:
You may spot clean the seat pad with a damp cloth and mild detergent. Do not use bleach, spray, or wipes on the Pad or plastics parts on this product. Periodically wipe plastic and metal parts clean with a soft damp cloth; towel dry.
Fashion
Reminiscent of a starry sky, the Genesis collection exudes confidence and sophistication. Grounded by a majestic black woven fabric with shimmering silver details and paired with deepening hues of grey; this timeless, yet modern collection will be the perfect look for your new baby's home and on-the-go lifestyles.
Specifications
Assembled Dimensions: 32" x 23.5" x 42"
Folded Dimensions: 11.5" x 23.5" x 39"
Assembled Weight: 26 lbs.
Ship Weight: 30.5 lbs.
Carton Dimensions:13" x 21.75" x 35.5"
Product Manuals
---
Reviews
Polly Progress Relax Highchair - Genesis
is rated out of
5
by
9
.
Rated

3

out of

5
by
Mamaw
from
Reserving judgement
I ordered this from Chicco because I couldn't find it in any store, but I did find the Polly Progress at Babies R Us so I had a pretty good idea what this one was like. I chose to spend the extra $20 for the padded stool. Also, the relax model was cheaper to order online (20% off, free shipping, no tax) than the lower model was at BRU. I hesitated because it was supposed to take 5-10 business days to receive, it was delivered in four days, including the weekend! Now, pros and cons: Attractive, very versatile! Lots of features. I read in one of the reviews that they didn't feel it was very sturdy. I think it is just fine! Cons: Price for sure! I have always bought used and just cleaned and sanitized before, never spending over $30. It's amazing what elbow grease, hot water and bleach can do! LOL Just decided I didn't want to clean someone else's filth for a change. Several reasons for buying this brand and model was the versatility, and the fact it folded and stored standing up, even providing a place for the tray to be stored. Well, it does fold, but falls over unless something is there for it to be leaning against. AND worst of all, the dang tray will NOT stay where it is supposed to be stored! I sent an email to the company complaining. Hoping they have a solution that doesn't entail me sending it back for a refund. Only the two rear wheels swivel and it is awkward because it seems like the swivel should be in the front. I will update after the company replies to my email. But my grandson is six months old and so far loves it! Sat in it for 15 minutes and fell asleep!
Date published: 2017-06-18
Rated

5

out of

5
by
Fantania
from
Great multifunctionality
I was amazed when I found out this high chair can be used since birth, and up to toddlers years.
Date published: 2017-04-06
Rated

4

out of

5
by
mvarenikava
from
Great features and good quality
Our daughter is 5 month old and she is not able to sit freely so we use the highchair as a recliner(1st and 2d lowest positions). I should say that IN COMPARISON to the highchair we have in Europe (not Chicco) this one (1) has less space (not wide enough) (2) cannot be moved around easily as front wheels cannot turn in any direction (not 360 degrees) (3) has no toys basket under the chair (4) has not that big and soft insert and (5) the leg rest in Chicco Polly Progress Relax highchair cannot be adjusted to make a plane surface with the seat itself, as a result the baby is a kind of sliding down from time to time All in all, she liked the other one much more and could spend more time in there yet it was difficult to find something similar in the USA so the Chicco Polly Progress Relax highchair appeared to be a great alternative. Everything else despite the points above is great and I believe that we will enjoy it a lot at every stage of the baby growth!
Date published: 2017-02-23
Rated

1

out of

5
by
Gymrat
from
Wobbly and Poorly made
I bought this highchair thinking it was the the latest, greatest on the market only to be disappointed in how wobbly and poorly made it was. Yes, it can be used for multiple stages of growth but with the many moving parts required for this comes a decline in stability of the highchair. Now it will cost a fortune to return. Should have stuck with the tried and true original Polly highchair.
Date published: 2017-01-28
Rated

5

out of

5
by
aval28
from
Love the Highchair Option
I love having the Polly Progress Highchair in my kitchen. My 5 month old can play and watch while I'm cooking dinner or preparing lunches for the next day. He loves the toys that hang on the bar and will play with them without being fussy.
Date published: 2016-11-22
Rated

5

out of

5
by
kcornely
from
Compact, versatile high chair
This high chair really covers all the bases! I absolutely love how many different ways that it can be used. The most important thing to me is how easily it can be cleaned...the tray removes easily and the clear plastic top to the tray can be lifted off separately and washed off right in the sink. It is super compact when it folds in half which is a nice space saving feature. My 20 month old fit well in the high chair and my older daughter, 3.5, LOVED the stool feature. It really grows with your child. My only recommendation is to read through the manual before trying to put it together. There really isn't any assembly per say, but I was getting confused about how to attach certain pieces and if I had read ahead there wouldn't have been any confusion. Overall, great product!
Date published: 2016-11-21
Rated

5

out of

5
by
Mom Lus
from
Only chair needed for baby/toddler
I love this chair for its versatility, style and its many features. First, when used as a newborn recliner, I love that it provides a seat off the ground. So often before getting this chair I would put our newborn in her recliner seat on the table or counter at dinner, which wasn't very convenient. This seat allows her to be up off the floor which is especially helpful given I have a toddler who cannot always be trusted! Now that we have started food, the highchair setting is getting the most use. The food tray is very large which reduces messes on the floor. The ability to take the toy bar on and off is very helpful. The 5 point harness helps new sitters stay upright. In addition the ability to remove the seat and take it with us to use as a booster is awesome. My toddler has already enjoyed the stool option; the high chair can be removed from it's base and replaced with a padded seat for an older toddler or kid. I would definitely recommend this multi-use highchair!
Date published: 2016-11-03
Rated

5

out of

5
by
chris0601
from
Sleek and Functional Highchair
Quite honestly, I was not looking forward to getting a highchair for my daughter, as the ones I've seen in the past were bulky and unattractive. I was happily surprised when I saw this one! I love the color scheme; the grey and black fabric coordinates with our décor. It is pretty easy to wipe clean. The Polly Progress is great in terms of the amount of space it takes up. Our dining room doesn't have a ton of spare room, but the chair is compact enough to maneuver around. It folds up and stores easily, which has been great when we've had grown-ups only dinners. My favorite part of this high chair is how long it will last my daughter. We currently use it as a newborn recliner when we give her bottles, but it will covert into other configurations as she grows. I'm glad that we were able to get one product that will last us for years!
Date published: 2016-11-03
bvseo_sdk, dw_cartridge, 16.1.1, p_sdk_3.2.0
CLOUD, getContent, 192ms
reviews, product
Questions
Can the straps come off to be cleaned? Everything else is so easily cleaned but the straps are a disaster and I can't see how they could come off?
Please contact our customer service department by phone at 1-877-424-4226 for assistance.
Date published: 2017-10-13
Can you use the pad from the youth chair from the polly progress relax highchair on a normal Polly progress high chair? Also, is the pad sold on it own?
The Polly Progres5 Relax youth stool cover may be used on the Polly Progres5 high chair. Please contact our customer service center at 1-877-424-4226 to order this replacement part.
Date published: 2017-06-13
What is the difference between the Polly Progress and the Polly Progress Relax mode?
The Chicco Polly® Progress™ Relax has premium fabrics and a removable/reversible seat cushion that is soft but wipes like vinyl. Also, it has a detachable toy bar that creates a playful environment between feedings.
Date published: 2017-05-15
do you have separate seat cushions available in different colors
Please contact Chicco Customer Service at http://www.chiccoshop.com/contactus or call at 1-877-424-4226 to determine the correct replacement part for your Polly® Progress™ Highchair. Thank you.
Date published: 2017-04-07
Chicco of travelers may know: 1. Packing products "Polly highchair Progress Relax - Silhouette"? 2. The product packaging snapshot "Polly highchair Progress Relax - Silhouette" customer.
I am sorry, but I do not understand your question. Please contact Chicco Customer Service at http://www.chiccoshop.com/contactus or call at 1-877-424-4226. Thank you.
Date published: 2017-02-21
bvseo_sdk, dw_cartridge, 16.1.1, p_sdk_3.2.0
CLOUD, getContent, 147ms
questions, product
You May Also Like