Chicco Polly Highchair Recall
The U.S. Consumer Product Safety Commission, in cooperation with Artsana USA, announce a voluntary recall of the Chicco Polly Highchair due to laceration hazard.
This recall involves a range of Chicco Polly highchairs with pegs on the back legs intended for tray storage manufactured prior to October 13, 2010. The highchairs have a folding frame for storage and a reclining seat. The model number and date code can be found on a label which is on the underside of the seat close to the footrest. Affected model numbers are listed further down this page.
Incidents/Injuries
Children can fall on or against the pegs on the rear legs of the highchair, resulting in a bruising or laceration injury. The firm is aware of 21 reports of incidents in which a child fell against the peg and received injuries, including four laceration injuries requiring medical closure (stitches, tape or glue) and one scratched cornea.
Sold Through
Retail stores including Babies R Us, Burlington Coat Factory, Buy Buy Baby, Shopko and Toys R Us, as well as online outlets including Albeebaby.com, Amazon.com, Babyage.com, Babysupermart.com, Diapers.com and Target.com for between $100 and $150. About 455,000 affected chairs were sold from 2005 through July 2012.
Request Free Peg Cover Kit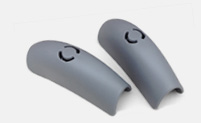 If a consumer has a Chicco Polly Highchair with pegs on the back legs, they should request a free peg cover kit be mailed to them. To help prevent injuries before repair, consumers should store the tray on the pegs when the highchair is not in use. For more information, contact Chicco toll-free at (800) 807-8817 between 8 am - 5 pm ET, Monday - Friday.
---

CPSC
To obtain this news release and product safety information, please visit www.cpsc.gov.
---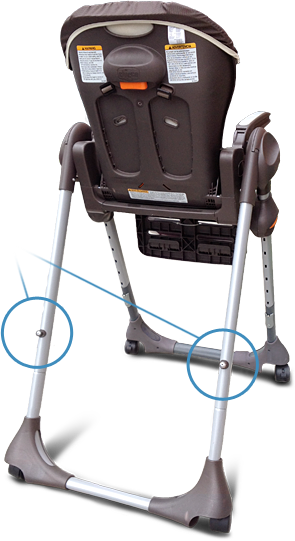 Affected Models
The following model numbers are included in this recall if the date stamp model/serial label on the chair indicates it was manufactured before October 13, 2010. The date code is in the format DDMMYYYY or YYYY-MM-DD.
| | |
| --- | --- |
| 06063803650070 | Polly Double Pad Highchair - Adventure USA |
| 05063803570070 | Polly Double Pad Highchair - Atmosphere USA |
| 00063803490070 | Polly Double Pad Highchair - Bella USA |
| 05063803270070 | Polly Double Pad Highchair - Candy USA |
| 06063803820070 | Polly Double Pad Highchair - Carnevale USA |
| 00063803480070 | Polly Double Pad Highchair - Coventry USA |
| 05063803220070 | Polly Double Pad Highchair - Discovery USA |
| 06063803770070 | Polly Double Pad Highchair - Energy USA |
| 04063803860070 | Polly Double Pad Highchair - Explorer USA |
| 05063803970070 | Polly Double Pad Highchair - Fuego USA |
| 04063803900070 | Polly Double Pad Highchair - Iceberg USA |
| 05063803020070 | Polly Double Pad Highchair - Manhattan USA |
| 04063803630070 | Polly Double Pad Highchair - Midori USA |
| 00063803580070 | Polly Double Pad Highchair - Miro USA |
| 06063803960070 | Polly Double Pad Highchair - Notting Hill USA |
| 07063803780070 | Polly Double Pad Highchair - Race USA |
| 00063803430070 | Polly Double Pad Highchair - Romantic USA |
| 06063803970070 | Polly Double Pad Highchair - Sahara USA |
| 05063803260070 | Polly Double Pad Highchair - Splash USA |
| 05063803660070 | Polly Double Pad Highchair - Safari USA |
| 06063765650070 | Polly Single Pad Highchair - Adventure USA |
| 04063765760070 | Polly Single Pad Highchair - Hazelwood USA |
| 04063765540070 | Polly Single Pad Highchair - Luna USA |
| 06063765970070 | Polly Single Pad Highchair - Pacifica USA |
| 04063765000070 | Polly Single Pad Highchair - Woodstock USA |
| 05063765020070 | Polly Single Pad Highchair - Manhattan USA |