Details
NextFit Zip Air Max Extended-Use Convertible Car Seat
Promotions
Special Offer
Discount only applied to qualifying products and will be automatically calculated at the time of checkout. Offer is only available at ChiccoUSA.com. Offer valid only while supplies last and not applicable due to canceled orders or due to out-of-stock merchandise. Discount does not apply to taxes, shipping and handling charges, or other similar charges. Free shipping excludes Alaska, Hawaii, and Puerto Rico. Discount not applicable with returned merchandise; total discount will be deducted from the value of any returned item to which the discount applied. Cannot be combined with any other promotional offer nor is this offer valid on previous purchases. Offer excludes spare parts and items already on sale. Customer is responsible for all shipping costs for returned merchandise. ChiccoUSA.com reserves the right to modify this offer without prior notice.
Details
Available Accessory
Additional Information
Features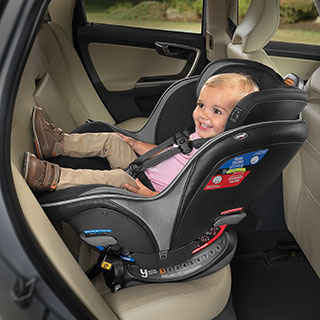 Rear-Facing
Accommodates younger children in rear-facing position longer (from 4-50 lbs)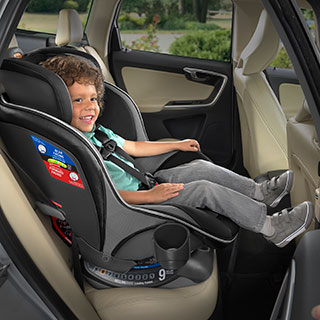 Forward-Facing
Converts to accommodate older children in forward-facing position (from 22-65 lbs)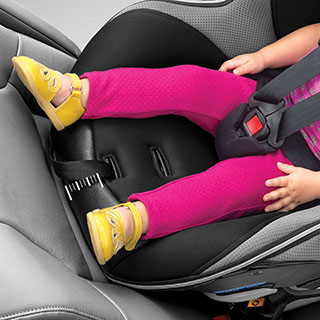 Extended Use
Offers 25% more leg room in rear-facing mode and additional calf support in forward-facing mode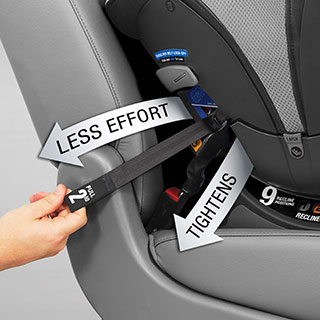 SuperCinch Tightener
Force-multiplying LATCH tightener helps achieve a tight and secure vehicle fit with less effort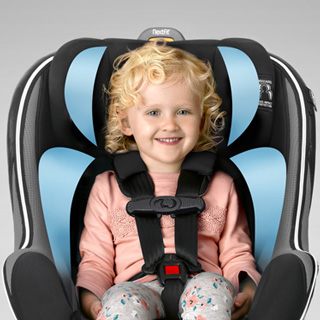 DuoGuard Protection
Deep rigid shell lined with energy-absorbing foam offers protection for the head and torso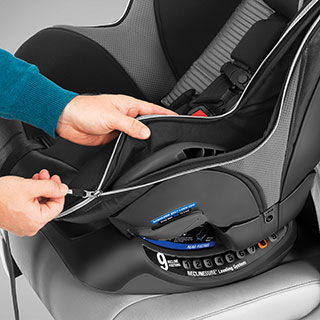 Zip & Wash Fabrics
Machine-washable seat pad with easy zip-off design makes cleanup a breeze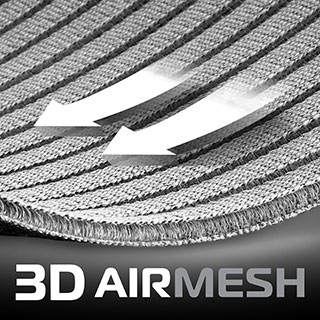 Breathable Backrest
Airflow channels improve ventilation where kids need it most for more comfortable rides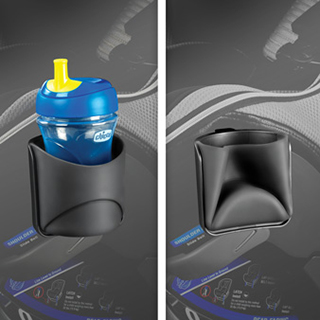 2 CupFolders
Removable, dishwasher-safe cup holders fold out of the way when empty to save space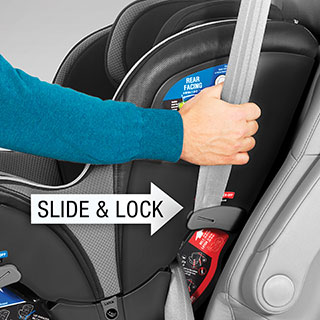 LockSure Belt System
Features clear routing and integrated lock-offs for installation with vehicle seat belt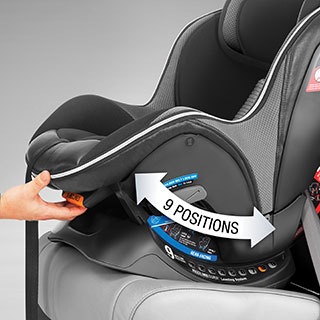 9 Recline Positions
Fits a wider range of vehicles in both rear-facing and forward-facing modes
Description
Extended Use. Maximum Comfort
The NextFit Zip® Max offers 25% more legroom* in Rear-Facing A term used to describe the direction in which a car seat is installed. When rear facing, the child is positioned backwards in the car, with their feet toward the trunk. The American Academy of Pediatrics (AAP) recommends that children ride rear facing in their car seats for as long as possible. Click here for more information. mode, leaving room to grow all the way up to 50 pounds before transitioning forward. Extended calf support in Forward-Facing A term used to describe the direction in which a car seat is installed. When forward-facing, the car seat/child faces the front windshield. mode offers first-class comfort for older children. A full-body , Newborn Positioner A removable piece of padding in car seats that is specifically designed to provide extra support and help ensure proper fit for newborns and smaller babies. 9-position headrest, and padded, No-Rethread Harness The ability to adjust the height of a car seat headrest without having to remove the 5-point harness. In car seats with a "no-rethread harness," the headrest and harness adjust in height simultaneously. accommodate growth throughout both modes.
Easiest to Install Correctly
The NextFit Zip® Max is designed to deliver the confidence of a secure install with remarkably simple leveling and tightening. A SuperCinch® A car seat installation feature that uses force-multiplying technology to tighten the connection between the car seat and the vehicle LATCH hooks to reduce overall car seat movement. force-multiplying tightener and LockSure® A steel-reinforced seat belt locking system for secure installation of 5-point harness car seats. The vehicle belt is guided through an easy-thread belt path and the shoulder belt slides into the built-in lock off. belt-locking system make it easy to achieve a tight fit with LATCH or with the vehicle seat belt. DuoGuard® Side impact protection for convertible and booster car seats. Includes two layers of protection, a rigid shell and EPS energy-absorbing foam, that surround two zones: the head and torso. provides two layers of head and torso protection with a deep rigid shell and . EPS Energy-Absorbing Foam Expanded Polystyrene (EPS) is a high quality, dense foam that is found on many Chicco car seats due to its proven ability to effectively absorb energy. The seat shell is also reinforced with a steel frame.
Engineered for Comfort & Convenience
The seat transitions smoothly from vehicle to vehicle, and between modes, thanks to premium LATCH Connectors Lower Anchors and Tethers for Children, or "LATCH," is a car seat installation method in which the vehicle seat belt is not used. Instead, the car seat LATCH connectors attach to the lower anchors found in the seat bight of your vehicle. Refer to your vehicle's owner manual and your car seat manual for more information. with click-on attachment and push-button release, plus a built-in slide path to re-position the LATCH Strap The webbing strap that connects the LATCH connectors to the car seat. The LATCH strap should be pulled tightly during installation for a secure install and reduced movement. for forward-facing mode.
For added comfort and convenience, the NextFit Zip® Max features a machine-washable, zip-off seat pad and a breathable 3D AirMesh Fabric with mesh filaments and elevated airflow channels designed to improve ventilation where kids need it most: on car seat and stroller backrests & seats. backrest.
25% more legroom* in rear-facing mode and extended calf support in forward-facing mode
9-position ReclineSure®leveling system
SuperCinch® LATCH tightener
LockSure® seat belt locking system
DuoGuard® head & torso protection
Dual-density foam padding
Steel-reinforced frame
Removable, full-body newborn positioner
Zip-and-wash seat pad and breathable 3D AirMesh backrest
9-position easy-adjust headrest
2 dishwasher-safe CupFolders
No-rethread harness w/ one-pull tightener
ComfortFlex® waist belt
Usage
The NextFit® Zip Max is designed for children between 4-50 pounds and 43 inches tall in rear-facing mode and 22-65 pounds and up to 49 inches tall in forward-facing mode.
Care & Maintenance
Fabrics may be spot cleaned, hand-washed, or machine-washed in cold water on delicate cycle using mild detergent. Do not use bleach. Hang to dry. For plastics, sponge clean using warm water and mild soap. Towel dry. Cup holders are dishwasher-safe on top rack only. For complete care and maintenance instructions, refer to the label on the product and to the product's instruction manual.
* than other NextFit® car seats
Videos
Specifications
Assembled Product Dimensions: L 22" x W 19" x H 26"
Assembled Product Weight: 26.5 lbs
Ship Weight: 28.75 lbs
Carton Dimensions: 28" x 21.5" x 18.75"
| | |
| --- | --- |
| Harness Mode - Rear-Facing | 4-50 lbs |
| Harness Mode - Forward-Facing | 22-65 lbs |
| Booster Mode - High Back | - |
| Booster Mode - Backless | - |
| LATCH | SuperCinch® |
| Seat Belt Installation | LockSure™ |
| Recline Positions | 9 |
| Product Weight | 26.5 lbs |
| Product Total Width | 19" |
| Total Harness Slot Height | 17" |
| Total Belt-Positioning Clip Height | - |
| Product Interior Width (Shoulder) | 11.5" |
| Product Interior Width (Hips) | 11" |
| Product Interior Seat Depth | 16.5" |
| Product Max Seated Height | 25" |
| Assembled Product Max Seat Back Height | 31" |
| Product Depth (Footprint) | 22" |
| Height Adjust Positions | 9 |
| Crotch Positions | 2 |
| RF Child Max Height Capacity | 43" |
| FF Child Max Height Capacity | 49" |
| Booster Child Height Capacity | - |
Product Manuals
---
Reviews
Questions
Baby Talk
You May Also Like