Details
FastAsleep Full-Size Travel Playard - Nordic
Promotions
Special Offer
Discount only applies to qualifying product marked with dollar off savings. Offer is only available at ChiccoUSA.com. Offer valid only while supplies last and not applicable due to canceled orders or due to out-of-stock merchandise. Discount does not apply to taxes, shipping and handling charges, or other similar charges. Discount not applicable with returned merchandise; total discount will be deducted from the value of any returned item to which the discount applied. Cannot be combined with any other promotional offer nor is this offer valid on previous purchases. Customer is responsible for all shipping costs for returned merchandise.
Details
FastAsleep® Models
Additional Information
Features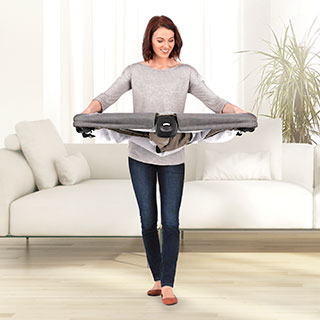 Easy to Open
Folded configuration is compact and easy to open for setup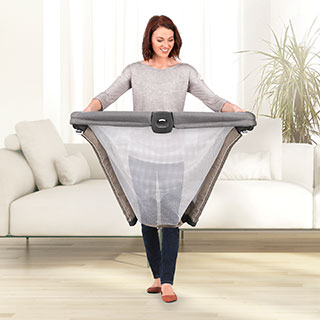 Ready in a Snap!
A simple snap-open motion positions the legs for quick setup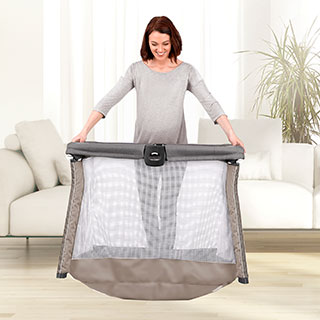 Simple & Roomy
Full-size sleeping area for growing children up to 30 lbs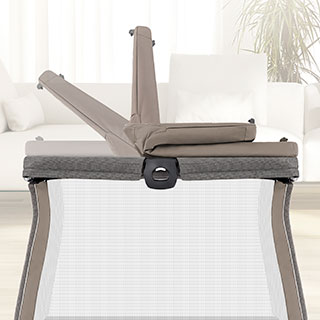 Presto Changer!
2-in-1 changer/napper to switch from diaper changes to naptime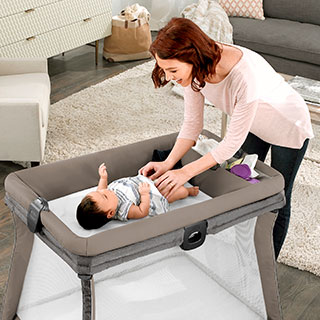 Extra-Large Changer
Full-size changing station for extended use up to 30 lbs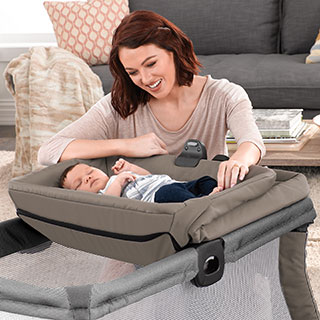 Newborn Napper
Provides a comfortable space for newborns up to 15 lbs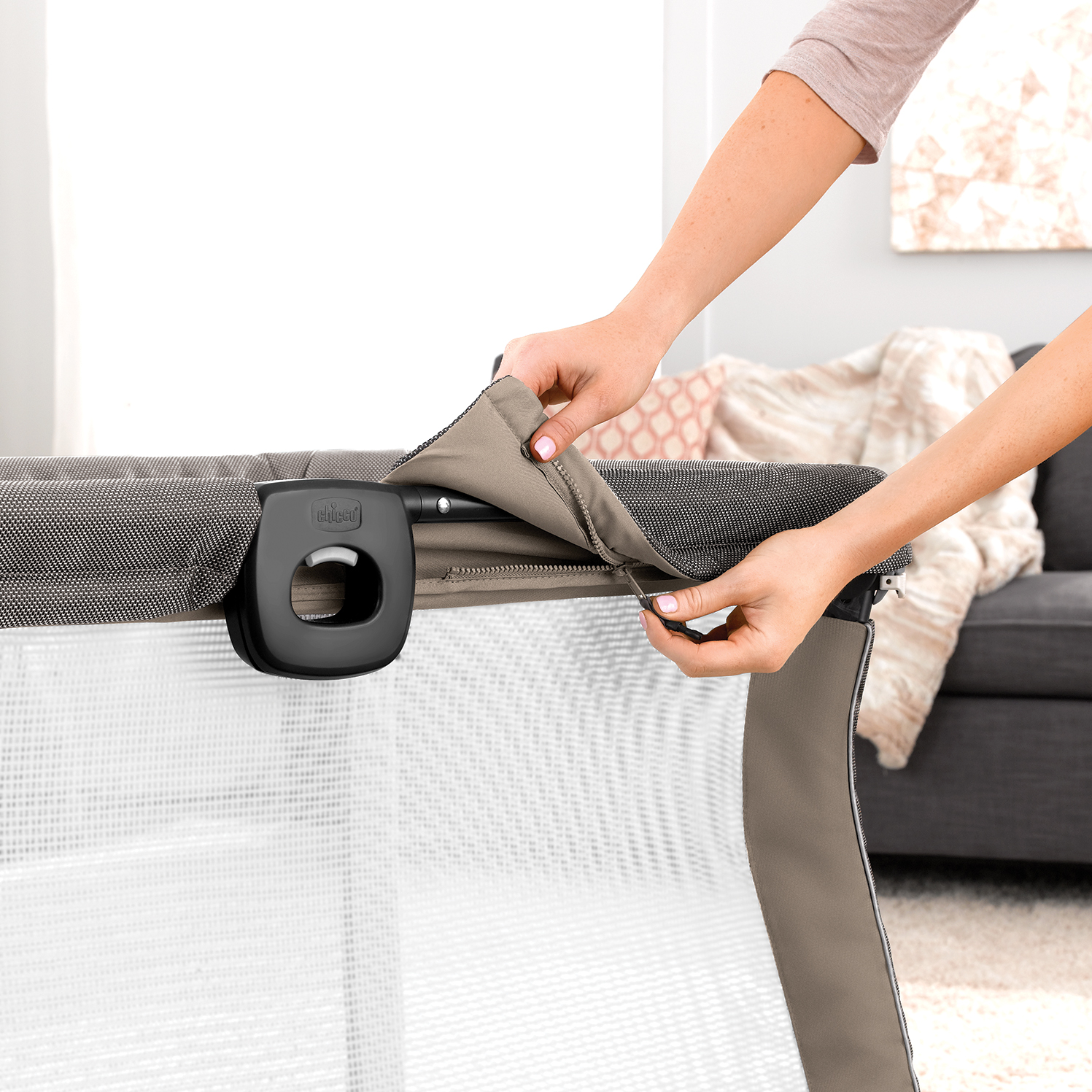 Zip & Wash Fabrics
Playard fabrics easily unzip from frame for machine washing
Videos
Description
Simple, Modern & Roomy
The FastAsleep® is a full-size travel playard with snap-open setup, zip-and-wash fabrics, and a 2-in-1 changer/napper. The napper creates a cozy environment for newborns up to 15 pounds, and the extra-large changer and sleeping area accommodate growing children up to 30 pounds.
Ready in a Snap!
The FastAsleep® comes fully assembled and a simple snap-open motion positions the legs into place for super quick setup. A padded mattress secures onto the floor of the playard to create a comfortable space for naptime or playtime.
Presto Changer
For added convenience, the FastAsleep™ is equipped with an extra-large changer that turns into a newborn napper. The unit clicks easily onto the playard frame and its innovative flippable design makes it simple to switch from diaper changes to naptime.
Ultra Convenient
The FastAsleep™ folds up compactly and fits into its included carry bag for travel. A second carry bag for the changer/napper offers the flexibility to travel light or pack everything. Zip-and-wash fabrics for the playard and mattress make cleanup a breeze.
Ready in seconds! No assembly required + snap-open setup
Presto Changer! 2-in-1 changer/napper
Zip-and-wash fabrics for easy machine washing
Full-size sleeping area for growing children up to 30 lbs
Extra-large changer for extended use up to 30 lbs
Newborn napper for use up to 15 lbs
Padded mattress with zip-and-wash cover
Compact fold
Separate carry bags for playard and changer/napper offer travel flexibility
Usage
For babies and children up to 30 lbs. and 35 inches
Care and Maintenance
Removable fabrics may be machine washed as separates in cold water. Wash on delicate cycle; do not use bleach; drip dry. All other fabrics may be spot cleaned with a damp cloth. Periodically wipe clean plastic parts with a soft damp cloth. Always dry the metal parts to prevent the formation of rust if the playard has come into contact with water.
Fashion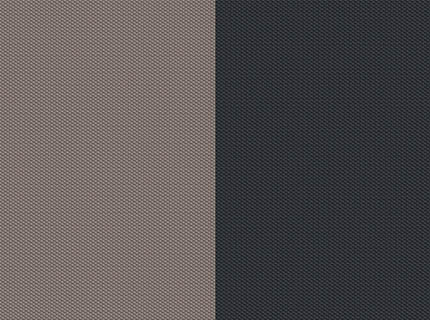 Nordic
Tranquil as sunset in the night sky, the Nordic collection delivers the perfect balance of casual style and fresh color. An inky evening blue blends with sandy beige and a textural trim for a soothing look to enhance both your indoor décor and outdoor adventures.
Specifications
Assembled Dimensions: 38" x 25" x 33"
Folded Dimensions: 25" x 15" x 22"
Assembled Weight: 31 lbs.
Ship Weight: 38 lbs.
Carton Dimensions: 27" x 14.75" x 23.5"
Product Manuals
---
Reviews
FastAsleep Full-Size Travel Playard - Nordic
is rated out of
5
by
30
.
Rated

4

out of

5
by
Rachel30
from
Compared to babyBjorn
I have been researching Play yards for months because we needed to replace ours. Pros - I like the simple and sleek design (graphite color) It's washable Floor resting to eliminate any shaking with movement. Packs smaller then the standard pack n play but still larger bag compared to similar slightly more expensive styles (babyBjorn) Mattress is travel crib size (babyBjorn is slightly narrower and longer) Set up is very easy but crib is significantly heavier/more bulky compared to similar styles (BabyBjorn travel crib). A big attraction to this model was the Napper/changing feature but sadly doesn't come with the graphite color and cannot be purchased separately. Cons - Carry bag is very loose fitting, does not have a zipper closure (this would have been a great added feature making the carry bag more "carry friendly" and less bulky). If the play yard tips over the crib can slip out. Bag is nice but not well designed (babyBjorn is very easy to carry and zips into a snug fitting bag that is much more carry/user friendly) The Napper/changer can not be bought separately only can be purchased in the set and only available in certain colors. Napper /changer does not come in the graphite color option. Making it so that if you purchased this color crib you cannot have the option of the Napper (this doesn't make sense and is disappointing as I prefer this color option. It is the only color that has dark mesh sides). In conclusion this is a very nice play yard (not for flying but for traveling). It has many features which make it comparable to the babyBjorn travel crib and is significantly more affordable. However if you would prefer somthing that packs smaller, is more lightweight, easier to set up and slightly better quality than it might be worth it to spend a little extra and go with a more expensive option.
Date published: 2019-06-04
Rated

5

out of

5
by
Jd23
from
Great Versatility & Value
We are first time expecting parents. As most first time parents, we have researched each and every product our little one might use extensively. We found the Chicco FastAsleep to be perfect product for our future use from a both convenience and safety perspective. The size of the playyard is ideal; Large enough to provide plenty of space for the baby, yet small enough to make extremely portable when on the go. The set-up is simple, making it easy to set-up or breakdown in a short amount of time. We particularly loved the idea of having the changing station/napper attached to the top of the playyard. Assembly is again quick and easy, but at same time you can clearly tell when it has been securely attached. Not having to change the baby on the floor or head upstairs was a major plus, especially for a first-time Dad. In addition, like other Chicco products, we liked the idea of the ease at which the fabric could be cleaned/washed. We plan to use the FastAsleep as a downstairs option at home, as well as when we travel with the baby. Chicco provided this product to me in exchange for an honest opinion.
Date published: 2019-01-25
Rated

5

out of

5
by
girldragon18
from
Great for visiting grandkids
I really like the ease of opening this playyard. Others are so difficult to open or close. Love the fact that the changer can be used for so long. Looking forward to continued use of this product so easy to use. Chicco provided this product to me in exchange for my honest opinion.
Date published: 2019-01-18
Rated

4

out of

5
by
SarahH
from
Love the design
The FastAsleep is easy to set up and I really like the simple design. We will be using this as a downstairs option for changing/sleeping for our little one, and I love the fact that it simply flips over from changer to a sleeper. As others have mentioned, the interior sits on the floor and is pretty far down to reach, luckily my husband and I are both fairly tall, but I can see how this could be an issue for people who are not. Other than that we are really happy with it! Chicco provided this product to me in exchange for my honest opinion.
Date published: 2019-01-16
Rated

5

out of

5
by
Missy713
from
Great product!
We have been using the FastAsleep Playard for our infant. The changing table and napping area have been the only features we have used thus far and we love the convenience of both! The smaller sections on the end are ideal for diapers, wipes, etc. to keep stored for easy, quick access. The changing area wipes clean easily for little messes, however we still use a changing pad under baby to avoid messes on the changing station part. The napping area is super soft and cushioned for our baby to nap. We do not use this area for sleeping for nighttime and keep this in our main living area. The ease of folding the napper over from the changing station is so convenient and functional. When baby gets a bit older, we will use the inner part of the playard, however the playard pad sits low to the floor and seems difficult to bend and lift baby out of when laying so low. I can see this being a little more easy to use when baby is beginning to sit up and stand, so mom doesn't have to bend and reach as low. Assembly was SO easy. It literally came fully assembled...all I had to do was open the box, pop out the legs to lock position and put the pad inside and topper on. When fastening the pad to the bottom of the playard, you have to insert the black button ties through these slots at the bottom of the fabric near the legs and buttom them...I was positive there was a flaw in the product when the instructions said to do this. I could not for the life of me find these "slots". Sure enough, they were there...just have to feel around and look a bit harder. Overall, this product is great and I would recommend purchasing for your baby.
Date published: 2019-01-15
Rated

5

out of

5
by
KLoz
from
Great Pack & Play Option!
This pack n play is very lightweight and portable, easy to setup and it is sturdy compared to other pack n plays we have tried. The mattress and napper is so soft and feels cozy. You can also easily throw the fabric in the wash when needed. Chicco provided this product to me in exchange for my honest opinion.
Date published: 2019-01-14
Rated

5

out of

5
by
nzone1018
from
Easy to Open!
I used the FastAsleep Full Size Travel Playard and love it. The only thing I would change is the height at which it rests. The bottom rests on the floor, I would prefer it to rest a little higher but other than that it is very easy to use. Compact and easy to open. The adjustable top portion allows for easy diaper changes on the go.
Date published: 2019-01-11
Rated

4

out of

5
by
Cdub2011
from
Love with with the exception of 2 flaws...
Having had several other playards over the years, I was in love when I found this one. It is the easiest playard to put up and take down. I love that, unlike many other playards, this one has an edge that is completely covered by fabric, with no plastic pieces sticking out inside the playard, which is the first reason we choose it (our daughter's tooth was damaged by interior plastic on a playard of another brand). The bottom mat comes out and has an easily removable cover, which is also water proof, so the inside stays clean and dry. The entire play cover is removable, which is fantastic, but this is also where one of the flaws comes in. The first time I was removing the cover, I watched a Chicco tutorial on how to do it. It took a little more finagling than it did in the video except for one area that took A LOT of finagling. It did not come off as effortlessly as it did in the video. The top edge of the cover unzips, completely; however, part of it is physically connected where the plastic handles are and it doesn't just come out from around the plastic (which is what I first expected considering the way our Chicco carseat does). I did what the video showed and could not get the side to pop off. My husband tried too. Together, we spent about 10 min trying to get it off in the same way it shows in the video--the plastic WOULD NOT BUDGE--which resulted in the fabric being torn. I was/am very frustrated that Chicco would make this so difficult. Why not just make it so that the fabric slides off from around the plastic piece??? Why would you fashion something in such a way that requires the end-user to pull on it in a manner that could result in damage to the product? By this point, we now had the fabric pulled away and had to figure out how to get the plastic piece off (which is supposed to be permanently attached to the fabric--why Chicco??? WHY???) in order to reattach the cover to it after we were done cleaning it. We determined that, somehow, pulling the fabric is what triggers the release, so my husband and I worked together to slide the edge of a towel under the plastic piece, where the fabric would have been. It took several tries and hard tugging before the plastic piece FINALLY came loose. Detaching the cover from the opposite side was much easier, so perhaps ours was defective? Be very careful when removing the cover from the sides. Other than that, I don't like that it sits on the floor. It is really difficult to lay my sleeping child in it without having to practically dropping her an inch or so. I'm 5'7, so I'm not particularly short. Other than those 2 things, I love this playard.
Date published: 2018-12-08
bvseo_sdk, dw_cartridge, 16.1.1, p_sdk_3.2.0
CLOUD, getContent, 161ms
reviews, product
Questions
Is the newborn napper angled? Or completely flat?
The napper portion is angled in the Fast Asleep playard.
Date published: 2019-08-06
At what age can you switch from the napper to the play pen for sleep? 
The napper creates a cozy environment for newborns up to 15 pounds, and the extra-large changer and sleeping area accommodate growing children up to 30 pounds.
Date published: 2019-07-08
My son threw up on the bassinet. What's the easiest way to get this cleaned up? Is there a way to remove just the fabric portion of the bassinet? 
The changer/napper may be wiped down with a damp cloth and a mild detergent. The mattress cover may be machine washed in cold water on a delicate cycle using a mild detergent. Hang to dry. The fabric frame may be hand washed using a mild soap. Hang to dry. Please view the Product Videos page on our website for video instructions.
Date published: 2018-07-21
Is there a bag that is sold separately that can be used for air travel? 
Where can you buy the carry bag that is available to purchase separately?  I do not see it in anywhere on your chicco products website. 
Date published: 2018-05-25
Are sheets needed for this playard?  If so, which do you recommend?
The padded mattress has a zip-and-wash cover. Sheets are not needed for this playard.
Date published: 2018-06-12
Is there a mattress that goes in it?
The FastAsleep playard comes with a mattress.
Date published: 2018-07-01
Can the changer be wiped down with Clorox/Lysol wipes?
The changer portion of the FastAsleep cannot be wiped down with Clorox/Lysol wipes. We recommend wiping the changer portion using a mild soap and water on a damp cloth.
Date published: 2018-03-31
Can the changer be use as bassinet / for napping?
The changer portion of the changer/napper cannot be used for napping. The Napper portion can be use for napping.
Date published: 2018-02-16
bvseo_sdk, dw_cartridge, 16.1.1, p_sdk_3.2.0
CLOUD, getContent, 112ms
questions, product
You May Also Like