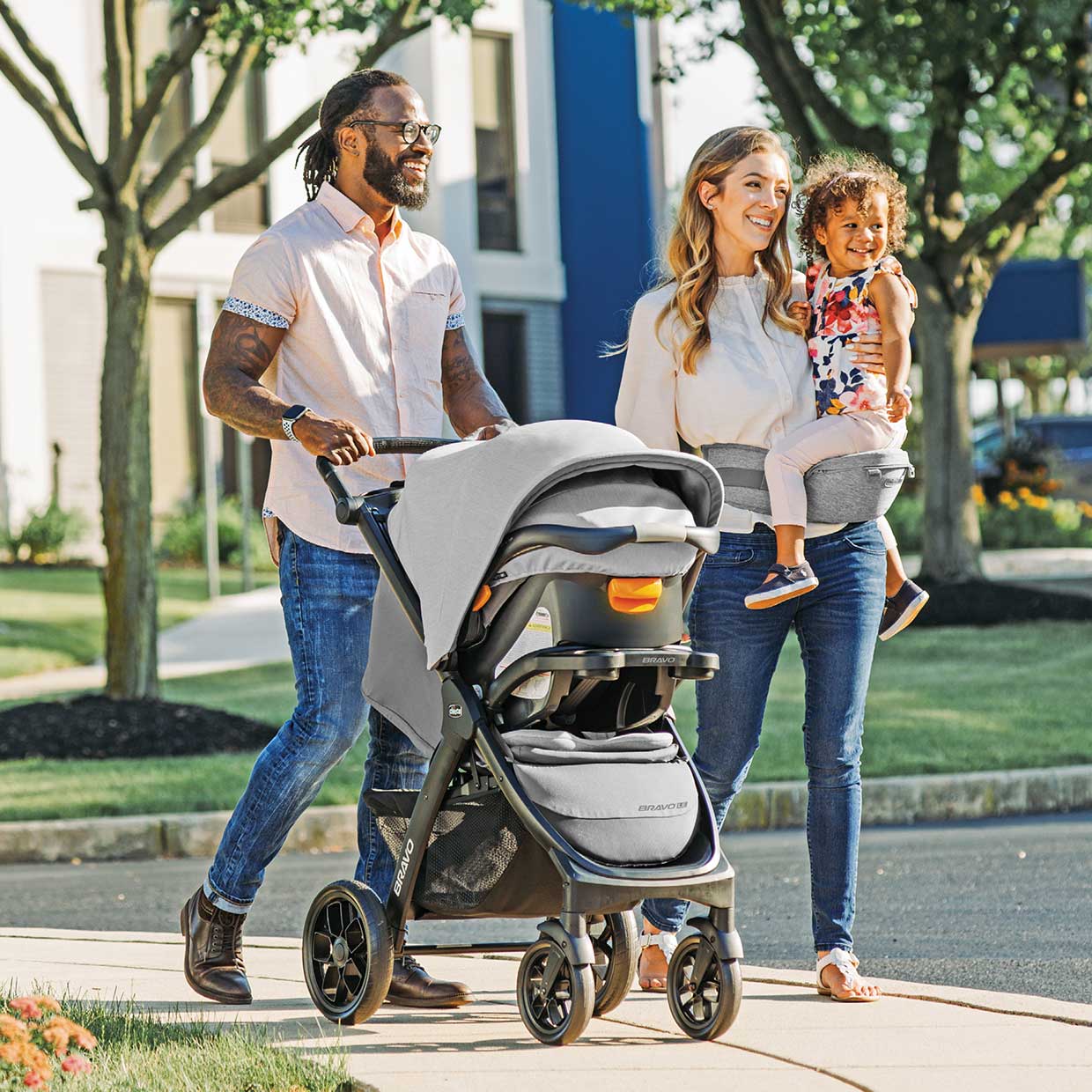 Are you getting ready to travel with your infant? Don't worry. You've got this! The key to success is careful planning to make sure all your bases are covered. We've put together some helpful tips below, complete with a comprehensive baby packing list, so you and your infant have everything you need to make your trip a breeze!
Most doctors agree that infants are better off at home during the first few weeks of their lives. After all, they've been through a lot lately! Infant immune systems aren't yet fully developed and are more susceptible to infection.
If you must travel via air shortly after birth, talk to your pediatrician first and check with your airline about their age restriction policy. While some airlines allow passengers as young as two days old, others require that infants are no less than a week old.
An easy-to-install rear-facing car seat is essential if you're driving and highly recommended if you're flying. According to the American Academy of Pediatrics (AAP), infants and toddlers should travel in rear-facing seats until they reach the maximum height and/or weight allowed by their car safety seat manufacturer. No matter how you choose to travel, make sure you give yourself plenty of time to get to your destination to avoid unnecessary stress.
If your infant hasn't spent much time in a car seat, it's a good idea to take them on a few short car rides before your big trip to ensure they have a chance to get used to the experience and are comfortable in the seat.
If your destination is relatively close by, driving may be your best option but keep in mind that you'll have to factor in rest stops for you and your little one. The nice thing about driving is that you're in complete control of the itinerary, so you can go at your own pace, and stop for some playtime or to eat when your infant needs a change of pace.
If you're traveling a long distance, flying will be more comfortable for both you and your child. Just about every major airline will allow your infant to travel in your lap without a ticket, and some allow parents traveling with infants to use unoccupied seats next to them. Many parents find that having a separate space for their baby during long flights makes for a more convenient and relaxing travel experience. It is a good idea to book a seat for your baby and fly with them strapped into an air-travel-rated car seat. If you plan to use a car seat for your infant during a flight, make sure the following sentence is included on the product labeling:
"This restraint is certified for use in motor vehicles and aircraft."
All Chicco 5-point harness car seats are certified for use in motor vehicles and aircraft. The FAA recommends that a child weighing up to 40 lbs. use a certified, harnessed child seat while traveling on an aircraft. You must purchase a seat for your child on the flight if you decide to use a car seat.
Book direct flights to avoid any stressful layovers or delays. After all, getting through the airport and onto a flight with an infant is no small feat, and knowing you only have to do it once on your big travel day will give you valuable peace of mind.
Another option when flying with a child, is to purchase a Car Seat Travel Bag and check your car seat at baggage check. The Car Seat Travel Bag makes it easy to arrive, move through and depart from the airport and then use your Car Seat after you arrive.
Pro tip: The roar of plane engines can be overwhelming for little ones. One way to make your flight less stressful for your infant and yourself is to limit the noise they'll experience. In the cabin, the rear section and window seats are slightly louder, so choose forward aisle seats when possible. Also, consider investing in child-sized over-ear protection to give your baby a buffer from the noise. Remember to do a few trial runs with them at home, so your baby has a chance to get used to wearing them before you're at altitude.
We recommend bringing both if possible. A lightweight stroller is perfect when you're out and about exploring your destination or if you need a break from the carrier. If you're traveling by air, remember that many airlines allow you to check strollers at the gate and will have them conveniently waiting for you when you deplane (check your airline's carry-on policy). Some lightweight strollers even fold down enough to fit in the overhead compartment.
Wearable baby carriers come in handy when navigating through crowds or tight spaces where strollers aren't practical. They also give you a hands-free advantage for dealing with carry-on luggage, boarding passes, or anything else that comes up. Oftentimes your little one might even prefer being in their infant carrier when traveling through unfamiliar environments.
A good rule of thumb is to pack two outfits for every day you'll be gone and a few extras, just in case. Don't forget warm socks, booties, hats, and jackets if you're traveling during cooler months. If you're traveling somewhere warm, pack light, breathable clothing like cotton onesies and rompers.
Pro Tip: Pack only your baby's most changing-friendly outfits and avoid clothes you aren't familiar with putting on or taking off your baby (especially if they have buttons). You'll save yourself any extra hassle if they need a wardrobe change at a less than opportune time or location.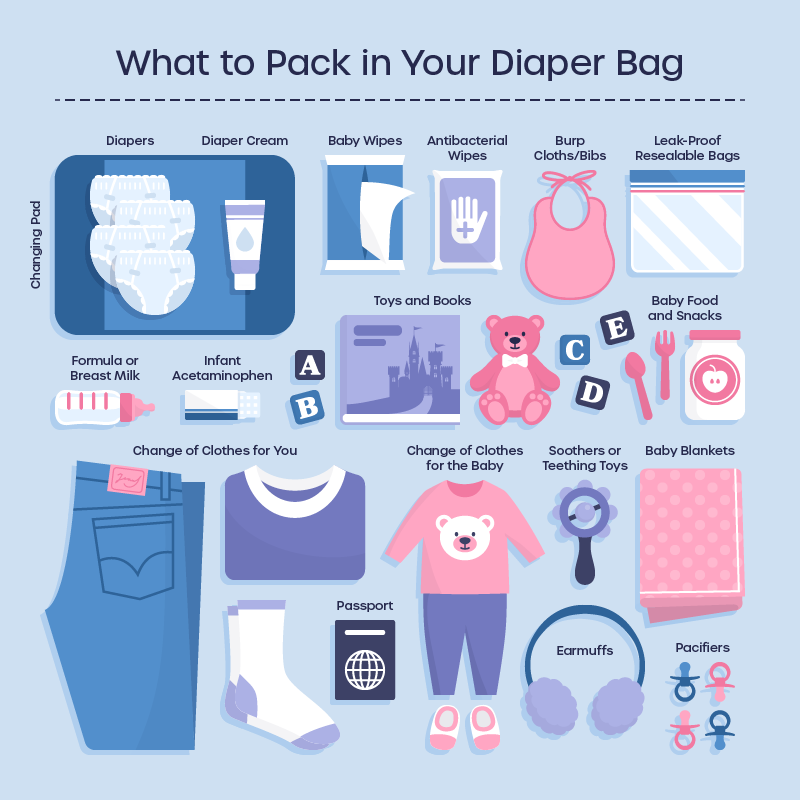 Below, we've compiled a comprehensive list of essential items you'll need at arm's reach during your travels. With this gear on hand, you and your baby will be on track for a smooth, hassle-free trip!
Diapers: Always pack a few more diapers than you think you'll need.
Changing pad: Make sure it's waterproof and wipeable.
Wipes: You simply can't have too many!
Diaper cream: Remember, keep it under 3.4 oz. You don't want to get caught without this essential!
Leak-proof resealable bags: This often overlooked essential is perfect for storing soiled clothes or diapers in your bag.
Pacifiers: Ear pain during takeoff and landing is common in infants and young children. To help alleviate the pain, it's vital to ensure that your child has a pacifier. You may also want to try timing feedings during takeoff and landing. The sucking motion helps to equalize ear pressure and helps reduce the pain.
Burping cloths / bibs: Trust us, you'll need both!
Baby blankets: Keep baby cozy and use the extras as breastfeeding cover-ups or burp cloths.
Change of clothes for your baby: At least two outfits, plus a few extras.
Change of clothes for you: We won't get into the possible scenarios here, but don't forget this one!
Formula or breast milk: Both are exempt from TSA's 3.4 liquid restrictions, but you'll need to screen them separately from your other carry-on, and you might face additional security checks so allow for extra time.
Food: If your baby is eating solids, bring small jars of baby food and easy-to-eat snacks for both baby and you.
Infant acetaminophen: Make sure to check the age requirement on the labels.
Toys and books: Bring a few brand new ones to keep your infant entertained but don't forget the old standbys!
Antibacterial wipes and hand sanitizer: Clean up sticky messes on the go!
Soothers or teething toys: You'll want a few tricks up your sleeve!
Earmuffs: We recommend them to give your little one a break from stressful airplane noise.
Passport: Yes, babies need them to travel internationally.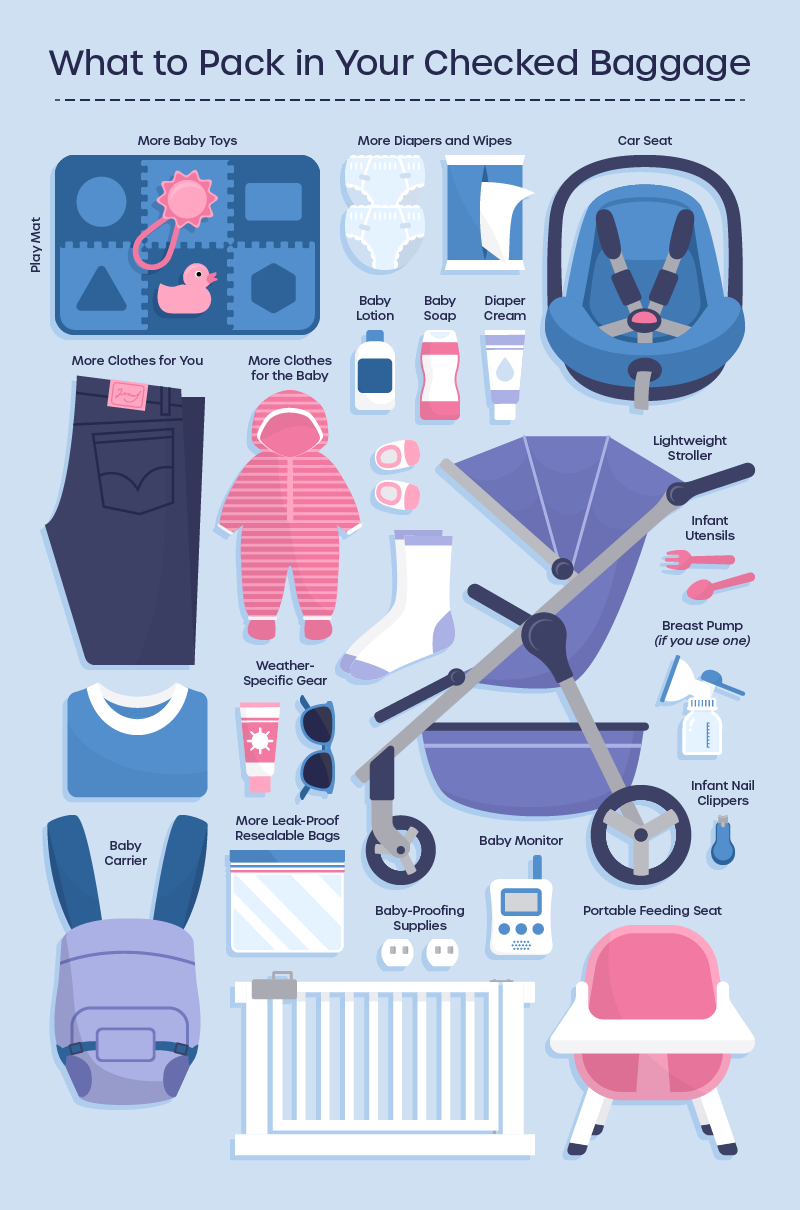 Once your diaper bag is dialed in, it's time to think about your other luggage. When you finally reach your destination, the last thing you'll want to do is go shopping, so it's a good idea to bring everything your baby will need for a comfortable and happy trip.
More diapers and wipes: You don't want to get stuck without your preferred brand if you run out!
Diaper cream: It can be a little harder to change your infant's diaper right away during long trips (even for the most attentive parents), so make sure you're ready for rashes.
Baby lotion: Especially if you're traveling somewhere more arid than where you and your baby live.
Baby soap: During travel isn't the time to switch brands, so be sure to bring plenty of your favorite suds.
Infant nail clippers: (Pack them if you'll be gone for more than a week.)
More leak-proof resealable bags: You never know when they'll come in handy, but they definitely will.
Baby proofing supplies: If your baby is mobile and you're visiting a non-baby household, these can save you a lot of stress.
Breast pump (if you use one): Plus pack storage containers for milk.
Infant utensils: Think sippy cups, baby spoons, and the like.
More clothes: Pack no less than two outfits for each day you'll be away (and some extras).
Weather-specific gear: Sun hats, bathing suits, swim diapers, gloves, winter hats, coats, and anything you might need to keep your baby comfortable in the elements.
Car seat: You'll need it to travel from the airport and get around during your trip.

Pro Tip: Be aware that when flying internationally, U.S. car seats are not certified in many countries abroad. Safety standards vary worldwide so you'll need to ensure your car rental company offers child-safety seats.

Baby carrier: It's nice to have the option and the peace of mind of having your baby attached to you in crowded and chaotic situations.
Lightweight stroller: (If you choose to use a carrier at the airport, you should consider checking the stroller).
Portable feeding seat: These are hard to do without if your baby is eating solids!
Baby monitor: If they're sleeping in a separate room or if you're not ready to go to bed when they are.
Play mat: It's nice knowing you have a nice, clean surface you can put down anywhere for your little one to stretch out.
More baby toys: Soothers, teething toys, books, you can't go wrong with a wide variety.
We know packing for a trip with your little one can be daunting, but we hope this baby travel list makes the process a little easier for you. Remember, the most important thing is to relax and enjoy your time with your little one. After all, they're only little once!
Check out more tips and guides on our blog. Happy travels!