About Our Brand
Wherever There's a Baby
Chicco has become a household name for parents across the United States thanks to products like our top-rated KeyFit® Infant Car Seat, but did you know that we are an Italian brand with over sixty years of worldwide expertise in everything for baby?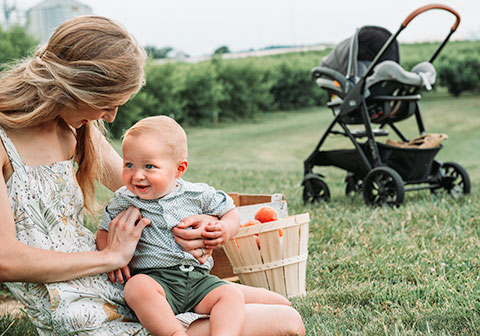 Chicco, pronounced "Kee-ko," was founded in 1958 by an inventor and developer of pharmaceutical devices named Pietro Catelli. After the birth of his son, Mr. Catelli expanded his work into the world of baby products and dedicated himself to creating better solutions for parents and babies. Since then, Chicco has grown into a global brand with a presence in 120 countries, offering everything from baby gear to nursing, toys, apparel, shoes, and baby care products.
Solid Passion for Life
Chicco is a division of the global corporation Artsana, S.p.A. Under the umbrella of the Artsana Group, Chicco proudly stands with our sister brands like Boppy®, Prénatal, and RECARO to offer innovative, quality products designed to enhance your life, not only during childhood and parenthood, but throughout all the other stages as well. To learn more about Chicco worldwide, visit our international site, chicco.com.
An Italian Heartbeat
We're proud of our Italian heritage. It's where we get our name, our rich legacy of quality and innovation, and of course, our chic sense of style. Headquartered less than 30 miles from Milan—a fashion capital of the world—we at Chicco are dedicated to staying ahead of the design curve. Our fashion team travels around the globe to track style trends and scout for new innovations in comfort, performance, and aesthetics. Because we know that style is just as important as functionality when it comes to your baby gear. To learn more, visit our Fashion Story page.
Committed to Families
The Sustainable Parenting Initiative from Chicco is our commitment to act responsibly, respecting people and the environment, with an outlook to future generations. We know that parenting is more than being parents, it is about taking care of the future. Through Sustainable Product, Social Commitment, and a Responsible Value Chain, Chicco is constantly working to produce the best product while reducing our impact and improving our community.
Chicco Research Center
At Chicco we are always innovating, working towards the next "big thing" that's going to revolutionize parenting for the next generation. The Chicco Research Center plays a key role in this effort. Located in Italy, at the heart of our brand, the Chicco Research Center partners with pediatricians, midwives, ergonomists, doulas, parents and – most importantly – babies to learn about how they grow and interact with the world around them. Through the help of the Chicco Research Center, Chicco products are engineered for safety and comfort and designed to accommodate children throughout every stage.