Why the Shape of Your Pacifier Matters
Classic thumb-sucking has taught generations of parents to be wary of allowing babies and infants to self-soothe. But pacifiers offer tremendous benefits and are a go-to choice for parents to help with soothing and sleep routines.
Certain pacifiers are recommended over others for their orthodontic shapes so that babies can continue to enjoy pacifiers with less concern for proper oral development. Orthodontic pacifiers are designed to work with your baby's natural oral development and protect the palate.
Another important factor in choosing your little one's pacifier is if you are breastfeeding. Pacifiers can help encourage a routine after feeding to soothe babies if they become fussy. On the other hand, nipple confusion is a common problem where the baby does not take as well to the mother's breast if a bottle or other sucking tool has been introduced too early. Introducing the right pacifier around a month into breastfeeding can help to avoid nipple confusion so that breastfeeding is established first.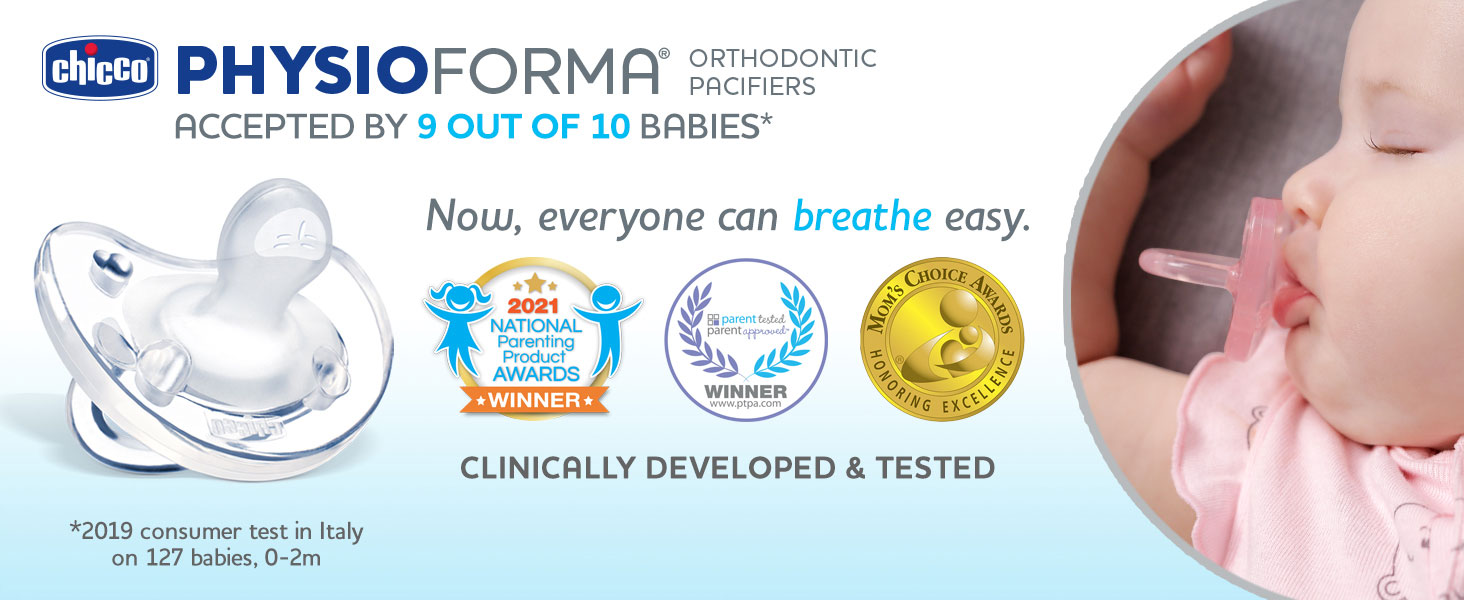 The Two Main Nipple Shapes
The two most common nipple shapes for pacifiers are either rounded or orthodontic.
Rounded pacifier nipples are sometimes easier to take for babies, while orthodontic nipples have a flatter fit in the baby's mouth.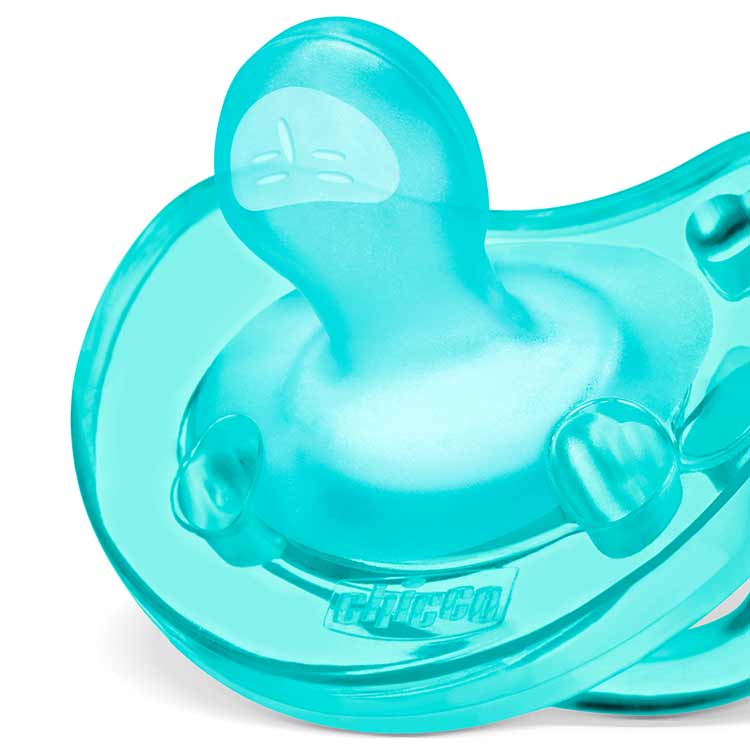 The PhysioForma pacifier from Chicco is an orthodontic pacifier with a unique nipple shape to model the mother's breast. Accepted by 9 out of 10 babies in clinical trials, many parents express how easy it is to switch from a rounded pacifier nipple to the PhysioForma nipple.
Individual brands of pacifiers will have their own unique fits for your baby, so if you prefer sleep and soothing routines while using a pacifier, don't give up on your first try! It could be that your baby prefers a slightly different shape in order for them to enjoy the experience.
The Most Important Pacifier Nipple Features
Not all pacifiers are created equal. The American Academy of Pediatrics offers guidelines on what to look for in the safest and most ideal pacifier:
BPA Free
One-piece structure
While designing the PhysioForma pacifier, Chicco took special care to follow AAP guidelines and added our own unique features to further help parents and babies rest easy. The following are our unique nipple features with the needs of parents and babies closely in mind:
An orthodontic design to allow the baby's mouth palate to form properly
A unique nipple shape that allows the baby's tongue to position forward, allowing an open airway to support physiological breathing
The natural nipple shape allows the baby to keep the pacifier in their mouth for longer through sleep time
Unique ventilation holes help prevent build up of the baby's saliva at the base of the nipple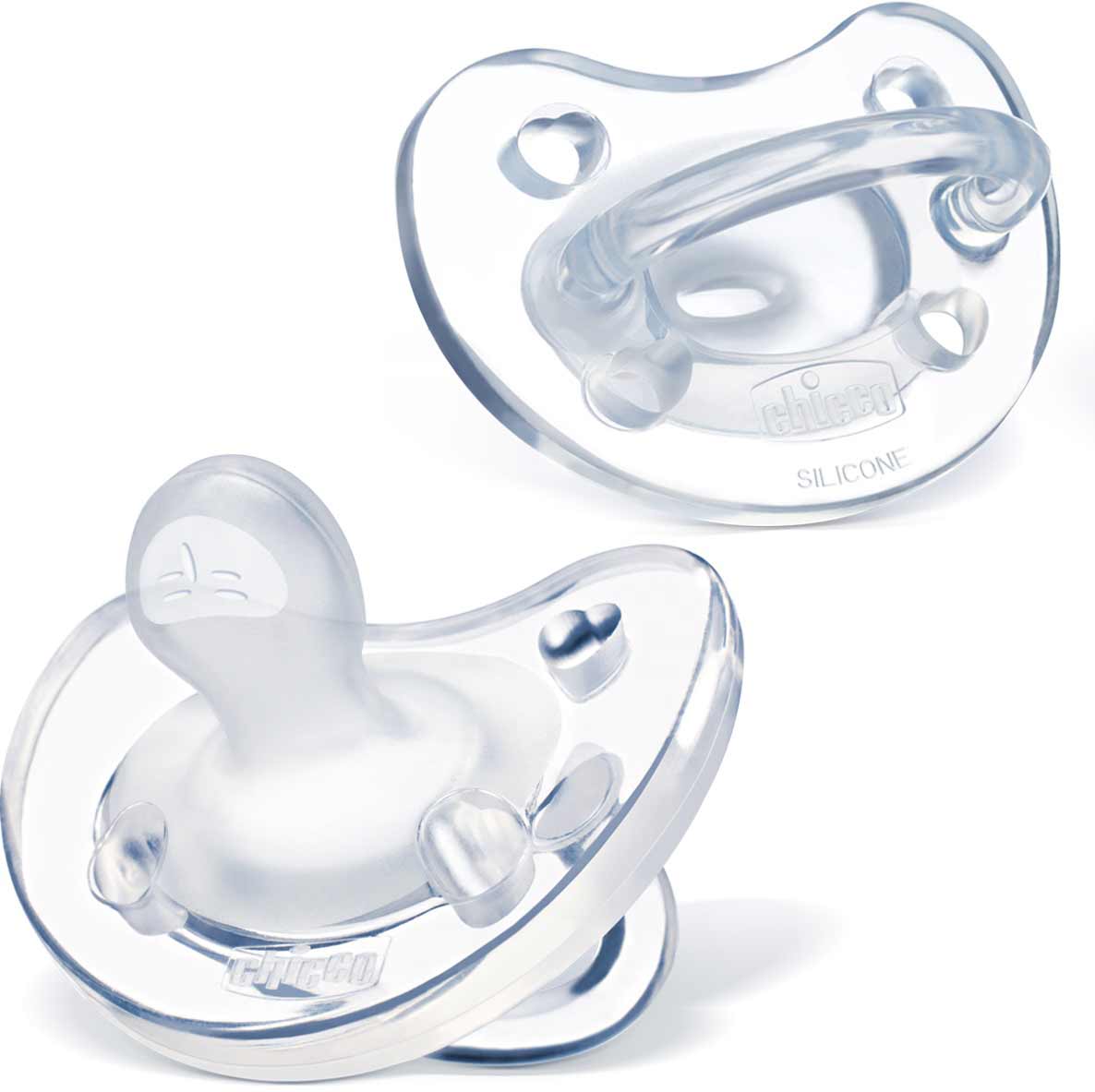 When a baby's physiological breathing is supported, they're able to breathe better during sleep. Thanks to the exclusive design, the PhysioForma pacifier helps with a better night's sleep for both the baby and parents.
The one-piece silicone ring on the PhysioForma pacifier also doubles as a teething ring. Plus, keep the pacifier handy everywhere you go with these adorable Pocket Buddies, featuring plush animals, including an elephant, bunny, bear and fox.
Have you tried the PhysioForma pacifier from Chicco? Browse your options in clear, pink and teal. Order one now to start enjoying an even better night's sleep.