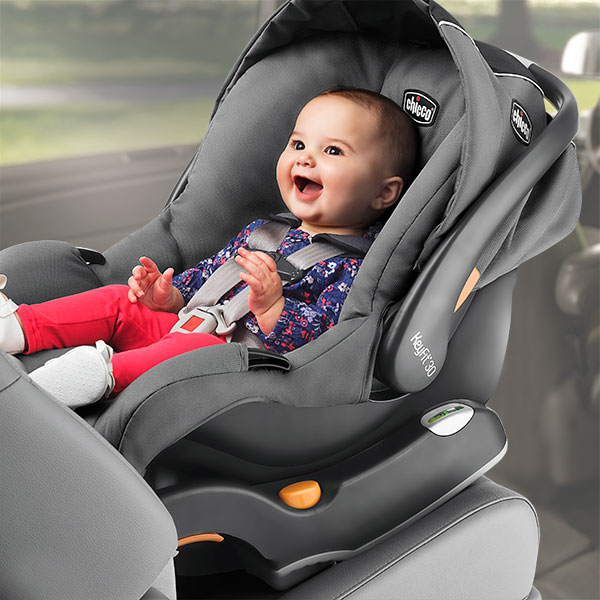 You're anxiously awaiting the arrival of your precious little boy or girl, but with so many decisions to make in preparation, it can be a little overwhelming. Let Chicco take the guesswork out of one of the most important decisions you'll make prior to your baby's arrival: choosing an infant car seat.
Every Chicco infant car seat is designed to deliver comfort, safety, and peace of mind. Don't just take our word for it though; experienced parents and experts agree. In fact, the KeyFit® and KeyFit® 30 have been consistently top-rated across all infant car seats. Our next-generation car seat, the KeyFit® 35 has all of the trusted safety features of KeyFit® plus upgrades designed to keep your little one comfortable and secure as they grow. Because kids grow so fast when they're young, we designed the Fit2®, an innovative two-position car seat that has both infant and toddler modes, comfortably seating rear-facing kids up to two years old.
The KeyFit® and Keyfit 30®
Even though it's been more than a decade since its introduction, the KeyFit® continues to be viewed as the best infant car seat by many parents and car seat experts thanks to its unmatched ease of use. The standard KeyFit® is designed for infants from 4 to twenty-two pounds and up to thirty inches in height. Upgrade to the KeyFit® 30, however, and the maximum weight limit increases to, you guessed it… thirty pounds.
The KeyFit 35®
The KeyFit® 35 is the perfect car seat to keep your little one secure and comfortable during car rides. With an easy-extend headrest system and extra legroom, your child can stay in rear-facing mode for longer. The integrated anti-rebound bar adds extra stability, giving you peace of mind. You can trust in the KeyFit® safety features you know and love, like SuperCinch® LATCH and RideRight™ bubble levels, which ensure your car seat is properly installed. Plus, we've added some thoughtful features, like a UPF 50+ extra-large canopy that shields your little one from the sun. Some models even include zip-open full-coverage privacy shields to keep your baby comfortable in any setting. Designed for infants weighing 4-35 lbs. and up to 32" tall, this car seat is made with both your and your baby's needs in mind.
At Chicco, we know that you have a lot on your plate, which is why we've made the KeyFit® 35 to fit your lifestyle — not the other way around. With its one-hand, click-in attachment that effortlessly connects to compatible Chicco strollers, you can be on your way in no time. When you arrive at your destination, you can easily transition from the car to the stroller without skipping a beat.
The Fit2®
The Fit2® features an adjustable 2-stage base that allows the car seat to grow with your baby from infancy to toddlerhood. The infant stage, for babies zero to twelve months of age, features more reclined seating with newborn head and body support. Then flip the lever on the base and you're ready for another year of rear-facing safety and convenience! Designed for children between 9 and twenty-four months of age, the toddler stage accommodates a more upright seated position and extended leg room. A 7-position headrest accommodates growth throughout both stages. Thanks to these innovative features and an increased weight limit of thirty-five pounds, the Fit2® helps keep your baby rear-facing in the same car seat from day 1 to year 2.
In addition to the benefit of extended use, the Fit2® has smart step-up features for even easier daily use. Chicco understands that you (quite literally) have a lot on your hands, so we recognize the value of one-handed adjustments for things like the carry handle and base leveling to allow you to keep moving throughout your routine with ease.
All Chicco infant car seats are built with user-friendly features that make them easier to use correctly and safely, such as a one-pull harness tightener and remarkably easy leveling and tightening on the base.
A spring-loaded ReclineSure™ leveling system works in tandem with RideRight™ bubble levels located on each side of the base. These visual indicators make it easy to confirm the base is positioned at the correct angle for your vehicle. Lastly, a SuperCinch® LATCH tightener applies force-multiplying technology to facilitate a tight and secure fit with a fraction of the effort.
You'll also notice that key touch points on all Chicco car seats are orange in color. Those eye-catching cues direct your eyes and hands to the most important functions, such as harness loosening, carry handle adjustment and release from base and strollers.
Auditory cues are also used to support proper installation. When the carrier is accurately inserted into the base, you will hear a distinct click. You should listen for this reassuring sound prior to hitting the road each and every time. A simple upward tug on the carry handle will further confirm that the carrier and base (or stroller) are securely connected.
Intended for use with infants as little as 4 pounds, each Chicco infant car seat also features removable head and body support to accommodate newborns and smaller babies.
All four Chicco infant car seat models - KeyFit®, KeyFit® 30, KeyFit® 35, and Fit2® - include the carrier as well as a stay-in-car base. Purchase additional bases (sold separately) to effortlessly transfer your little one from car to car and provide the same convenience to all caregivers. Whether baby is going from Mommy's car to Nana's car, or to a compatible stroller, there's a Chicco infant car seat designed to fit your lifestyle.
The time before your little one arrives is precious, and you should be able to savor it all. Choose an infant car seat from Chicco and spend time enjoying your little one with one less worry in the way. Ready to start shopping? Browse our infant car seats to find the one that works best for your growing family.