Raising a baby is a journey where all parents can choose their own direction for a positive and healthy upbringing. The question of whether or not to introduce a pacifier to your baby depends on your pediatrician's advice, your baby's preferences and your own parenting styles.
The PhysioForma pacifier from Chicco was designed in coordination with an advisory panel of leading neonatologists, pediatricians and orthodontists to address all the top benefits and risks of pacifier use.
Are Pacifiers Safe? Recommendations from Doctors
Pacifier use has a long history. Recent studies have helped shape the pacifier industry and allowed parents to take advantage of benefits that weren't previously known.
The American Academy of Family Physicians has outlined the following benefits of using a pacifier:
Analgesic effects
Shorter hospital stays for preterm infants
A reduction in the risk of Sudden Infant Death Syndrome
Pain relief in newborns and infants undergoing common, minor procedures (e.g., heel sticks and immunizations)
The most notable medical benefit of pacifier use is to help relieve pain. Pacifiers offer babies a way to self-soothe and replicate the comfort of feeding.

Sudden Infant Death Syndrome, or SIDS, is a well-known and distressing issue for many new parents. Pacifiers have been studied and found to help prevent the risk of SIDS. The American Academy of Pediatrics recommends that parents consider offering pacifiers "to infants one month and older at the onset of sleep to reduce the risk of sudden infant death syndrome."
While the benefits are tremendous and can help your baby live a more comfortable life, it's important to note that there are risks to be aware of during pacifier use:
"Potential complications of pacifier use, particularly with prolonged use, include a negative effect on breastfeeding, dental malocclusion, and otitis media. Adverse dental effects can be evident after two years of age, but mainly after four years."
The downsides to pacifier use are most commonly known to affect the oral development of the baby, but can also potentially induce nipple confusion (if given before breastfeeding is established) and issues with the baby's middle ear. Be sure to look out for symptoms in your baby and consult a doctor if the problem persists.
While there are important issues to watch for, pediatricians generally do recommend pacifiers and have found they provide great medical benefits.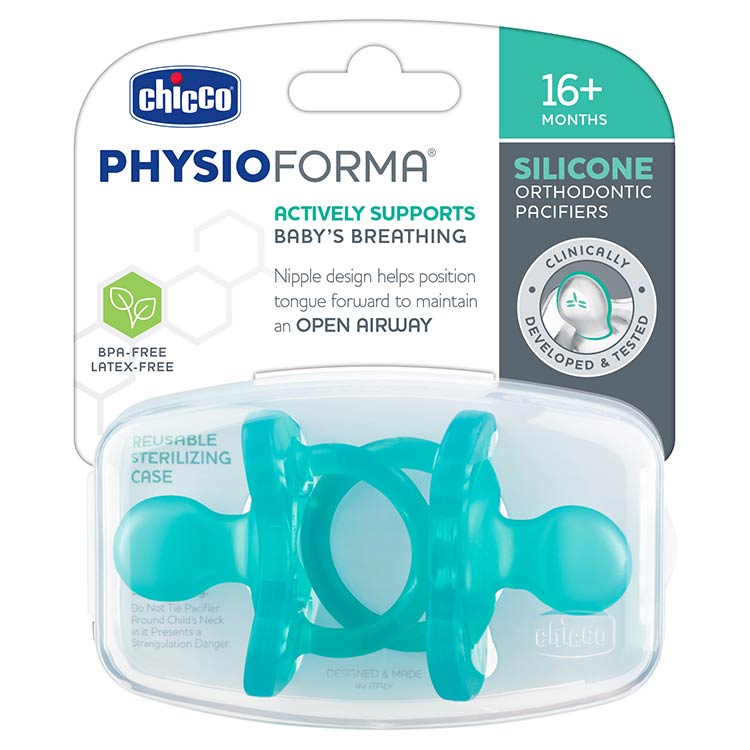 How to Introduce a Pacifier
Not all babies take well to their first pacifier. For many parents, pacifiers are essential to keeping the baby calm and occupied, but for others, pacifiers don't always work as expected. Remember that like anything new, you may need to slowly introduce it several times.
The Chicco PhysioForma pacifier was adopted by 9 out of 10 babies in clinical trials, and many parents have expressed an easy transition from other pacifiers to the PhysioForma pacifier.
Take a look at these common questions when introducing your pacifier:
Can I give my newborn a pacifier?

A: For breastfed babies, it's recommended to wait to offer a pacifier until they are at least one month old or until breastfeeding is established. This is to help reduce the risk of nipple confusion.

Should I remove the pacifier when my baby sleeps?

A: It is safe to allow your baby to sleep with a pacifier. When the pacifier falls from your baby's mouth during sleep, it's generally recommended that you don't have to place it back in the baby's mouth unless they stir awake as it can help them fall back asleep. The PhysioForma pacifier is less likely to fall from the baby's mouth compared to other shapes thanks to its unique design, which helps support physiological breathing and positions the baby's tongue forward to maintain an open airway. The pacifier's skin-like texture also offers more grip and less slip compared to others.

Do pacifiers have an emotional effect?

A: Pacifiers offer babies a soothing effect to help calm them when they feel stressed. Self-soothing is a skill that the baby can learn to help cope with upsetting situations. Some studies have shown that overusing a pacifier whenever baby is upset may result in the baby not learning to self-soothe without it. Be sure to understand what's bothering the baby first.

When to stop pacifier use?

A: Pacifier weaning can start anytime after 12 months, when the risk for SIDS is diminished. It is generally recommended to remove the pacifier by the time the infant is 2 years old to reduce the risk of middle ear infections and potential palate or bite issues. It is always the parent's decision to continue pacifier use when noticing new behaviors and to know it is recommended with certain warning signs to watch for.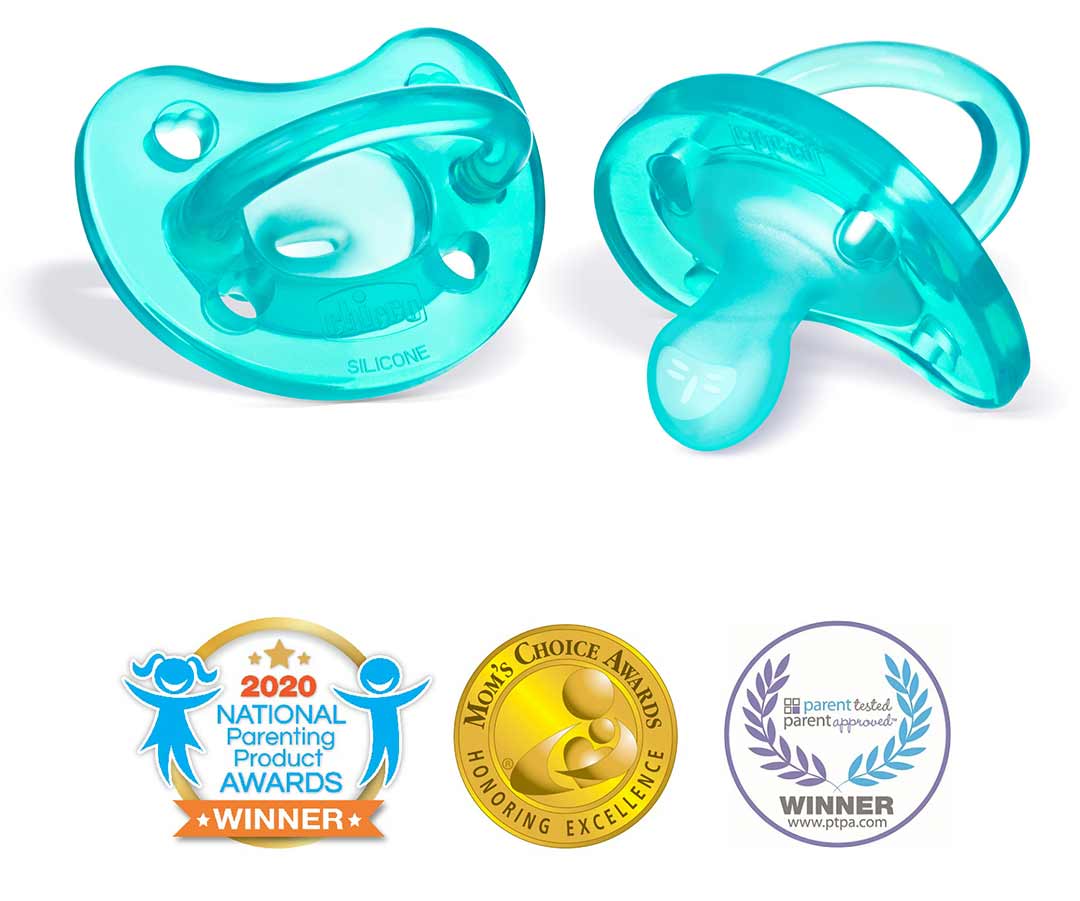 Why Choose the PhysioForma Pacifier?
The one-piece PhysioForma soft silicone BPA-free pacifier adheres to guidelines of the American Academy of Pediatrics.
Most recently, the PhysioForma pacifier won the National Parenting Product Awards for best pacifiers in 2020, among other award recognitions including Mom's Choice and Parent Tested Parent Approved.
Take a look at the top benefits of the PhysioForma pacifier:
Supports your baby's physiological breathing with an exclusive nipple design that helps position the baby's tongue forward to maintain an open airway
Physiological breathing improves the quality of sleep and reduces irritability and respiratory disorders
Supports development of the palate and teeth with an orthodontic design
Baby approved, accepted by 9 out of 10 babies
Has a skin like texture so it has more grip for baby and less slip
The handle can be used to improve motor skills and is easy for parents or baby to grab
Clinically developed, tested and approved in partnership with an advisory panel of leading neonatologists, pediatricians, and orthodontists
Both babies and parents can sleep easier with the PhysioForma pacifier.
Have you tried Chicco's PhysioForma Pacifier? Browse your options in clear, pink and teal. Order one now to start enjoying an even better night's sleep.