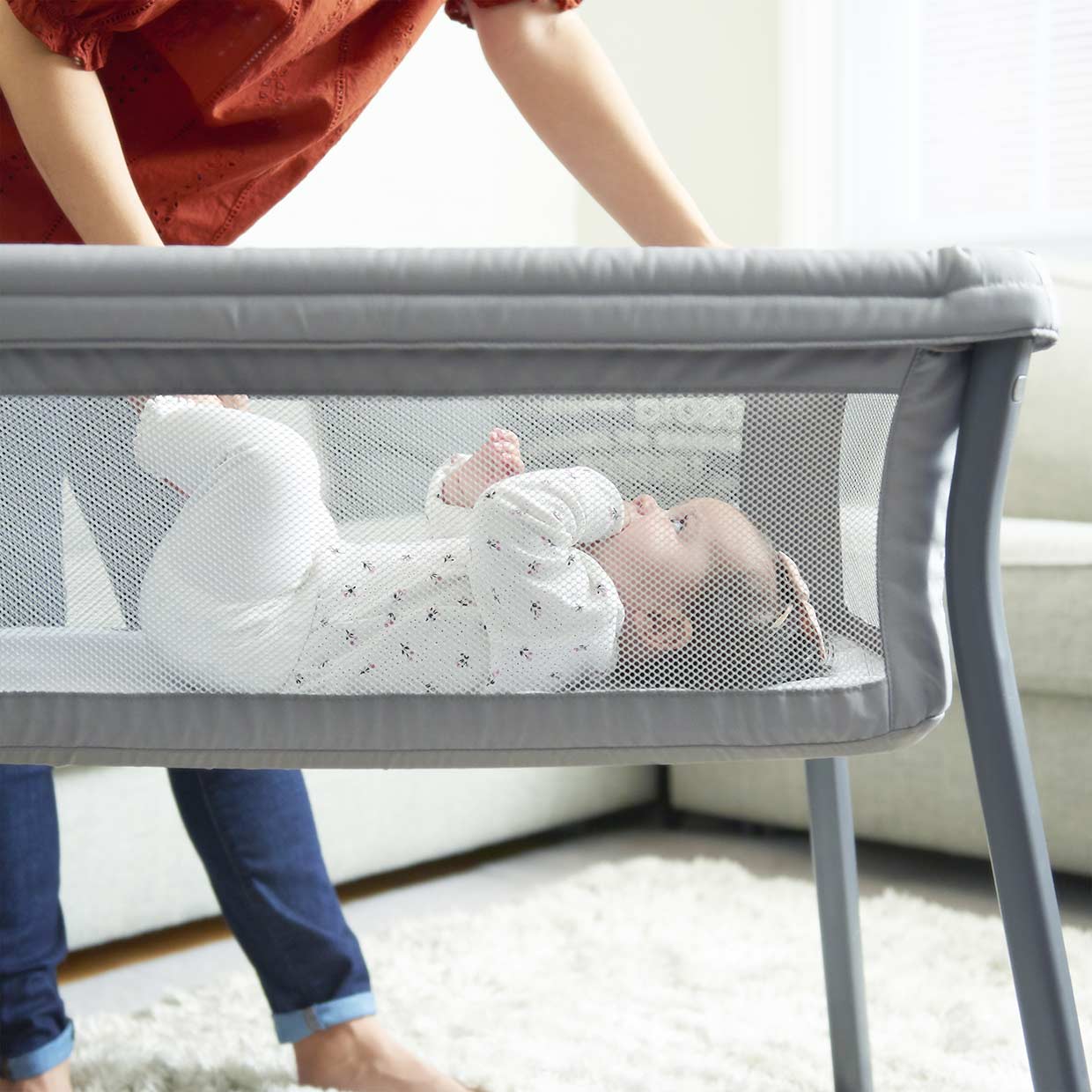 While adorable, it's no secret that babies can be messy. As a parent, you might keep extra hand sanitizer or cleansing wipes on hand, but nothing can prepare you for an unexpected diaper blowout — whether that occurs in the car seat, on your lap, or even in your little one's bassinet. No matter the size (or smell) of the mess, this article will cover step-by-step instructions for how to clean a bassinet so your little one can get back to enjoying their favorite sleeping area in no time at all!
When it comes to cleaning a bassinet, there are numerous methods available. Some bassinets easily come apart for cleaning while others function more like a stroller and don't need to be taken apart after assembly. Between midnight feedings, teething, and other major milestones, finding easy cleaning solutions is at the top of our minds. This is why we thoughtfully designed bassinets like our Close to You Bedside Bassinets and Lullago Bassinets with easy-to-remove softgoods that can be stripped from the frame. Keep reading to learn how to clean a bassinet in nine easy steps.
1. Review Manufacturer's Care Instructions
First things first! Always refer to your bassinet's care instructions for safe handling. Bassinets are available in different materials ranging from wood to plastic to metal and may require special attention.
You can check your manufacturer's instructions to see if your bassinet has any removable washable fabrics and find any specific cleaning notes regarding the mattress pad, canopy, as well as certain cleaning agents to avoid.
If you've misplaced the manual, inspect your bassinet for any instruction tags or see if the manual is available online.
2. Remove Any Inserts or Covers
In general, most bassinets will have some removable elements, such as a bassinet cover, mattress pad, as well as a mattress pad cover or fitted sheet. Using the information you gathered from step one, you can then sort your bassinet items into two categories: hand wash vs. machine washable.
In most cases, you'll find that the bassinet cover, mattress pad cover, and fitted sheet are usually machine washable while the mattress itself is typically not machine washable. Options like our Close to You Bedside Bassinets, LullaGo Anywhere Bassinets, and LullaGlide Bassinet feature waterproof mattresses, which makes it easy to wipe away unexpected spit-up or dribble.
3. Machine Wash Items
Now that you know which items are machine washable, you're ready to start a load! If your manual doesn't provide specific cycle instructions, err on the side of caution and use a delicate cycle and air dry for best results. You can also read any tags for specific instructions. For extra protection, place your fitted sheet or mattress pad cover inside a wash bag.
If you are cleaning your bassinet's softgoods after a major diaper blowout, be sure to wipe away the "evidence" before throwing it all in the wash. Use a wet paper towel with a bit of baby-friendly detergent or soap to clean the surface. You can also target stains with spot treatment for good measure. Just don't scrub the stain, which could drive it deeper into the fabric.
4. Spot Clean Mattress or Padding
Parents are no strangers to multitasking so while your items are in the washing machine, you can use this time to spot-clean the mattress or padding (if it isn't machine-washable).
Grab a washcloth and use a bit of water and mild soap to target stains. Don't use bleach, which can irritate your baby's delicate skin.
5. Dust Bassinet
Even though you may only use your bassinet for the first few months of your baby's life, dust can build up on the bassinet's surface daily. Use a dust cloth to remove any visible dust on the bassinet's surface.
6. Clean Bassinet Mesh and Cover
Your bassinet should have breathable mesh sides and may be machine washable. In the case that your bassinet mesh isn't machine-washable, you can still clean it by hand.
Fill a bowl (or a spray bottle) with baby-friendly detergent and grab a paper towel to wipe the solution over the mesh gently. Dry the entirety of the bassinet with a towel after.
(If you own one of the Close to You Bedside Bassinets or LullaGo Anywhere Bassinets from Chicco, you can skip this step, as they feature zip-and-wash fabrics for easy cleaning!)
7. Clean Bassinet Canopy
If your bassinet comes with a canopy you can spot-treat it for quick cleaning. Simply leave the canopy attached and use the same cleaning solution you used for the bassinet mesh, allowing it to air dry afterward.
8. Sanitize the Bassinet
After cleaning the canopy, don't forget to finish tackling the rest of the bassinet. Use your preferred baby-safe cleaning solution or spray and wipe down the rest of the bassinet, paying special attention to its legs and base.
Plastic and metal materials are much easier to clean compared to more natural materials like wood. In that case, defer to your product manual care instructions.
9. Reassemble the Bassinet
There's nothing better than a freshly cleaned bassinet for your little one! Once your bassinet (including all of the softgoods) is dry to the touch, place the mattress pad cover or sheet back on the mattress and assemble it according to manufacturer instructions. Never place any extra materials into the bassinet like a towel, burp cloth, toy, etc. Only use what came with the bassinet itself.
Use Baby-Friendly Laundry Detergent: Baby-friendly laundry detergent is hypoallergenic and delicate enough for newborns. Avoid using abrasive cleaners or harsh chemicals.
Clean Around Your Baby's Sleep Schedule: Newborns spend much of their day sleeping and may be used to sleeping in their bassinet. You can try working around your baby's sleep schedule or simply have a backup place for them to sleep (like a crib). Rather than doing a one-hour load, many washing machines now have a quick cycle you can use to save time as well.
Clean Your Bassinet Regularly: Just as you clean your baby's clothes after a big blowout, so too should you clean your baby's bassinet. You can also wipe down and sanitize the bassinet occasionally to prevent dust accumulation.
Purchase an Extra Sheet: Keep a few extra sheets on hand so you can easily put on a fresh sheet while your dirty sheet is in the washing machine. Only use the sheet designed for your specific bassinet.
Hopefully, this article has answered your question about how to clean a bassinet. After all, cleaning a bassinet doesn't have to be difficult! Just be sure to tackle all parts of the bassinet, from the mattress pad to the canopy to the mesh covering, and even the legs and base. Shop our selection of bassinets and visit our blog for more helpful parenting guides!