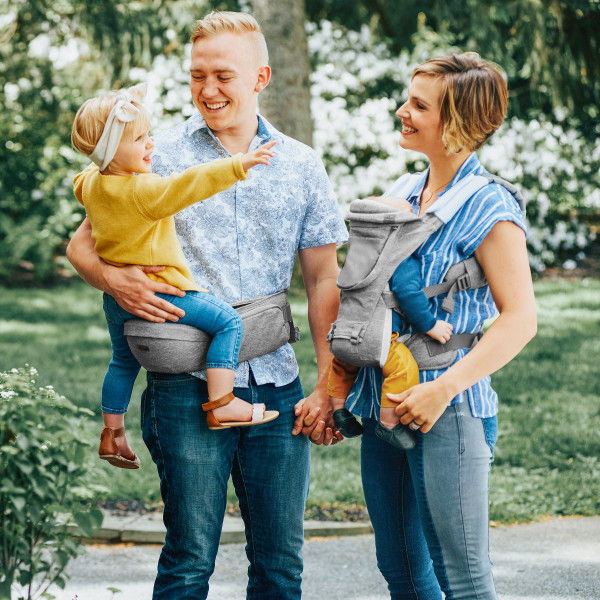 Many parents will tell you that having a baby carrier is a lifesaver. When you need to multitask or have your hands full, being able to strap your little one safely to you provides much-needed convenience. From traveling to hiking to grocery shopping to just getting chores done around the house, the right carrier can help parents continue on with their tasks while babies feel securely held. Plus, having your baby near not only strengthens the bond between parent and child, but greatly soothes little ones, helping both parents and children feel more at peace.
There are several different types of baby carriers to choose from, so how do you choose the right type of baby carrier? Let's break down a few of the most common options, and some of the pros and cons of each to consider.
At the most basic level, there are three baby carrier types: those that secure your child to the front of you, those that secure your child to the back of you, and those that simply help take away some of the weight of holding your child on your hip. Different baby carrier types are appropriate for different child ages and weights, and some require your baby to have neck control. Keep this in mind as we discuss some of the most common options.
1. Soft Structured Carriers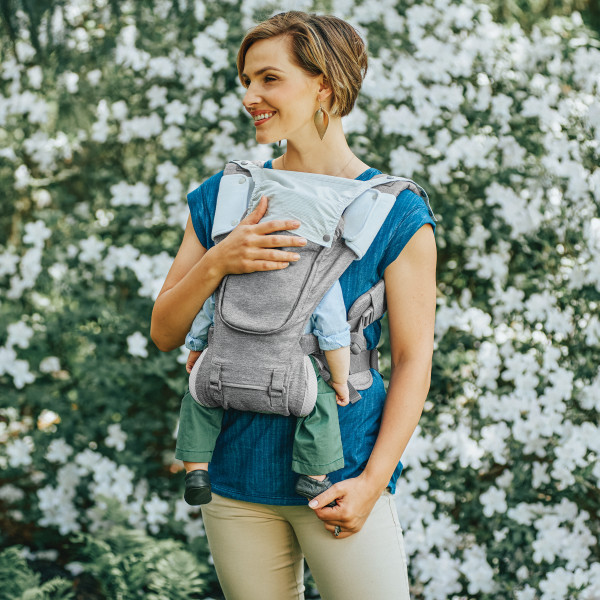 Soft structured carriers (SSC) are likely what you envision when you think of baby carriers. These carriers are designed with padded shoulder straps and a padded band you fasten around your waist, with your baby resting in frog position, which is recommended to prevent hip issues. The straps are adjustable on most designs so you can customize it for you and your baby. This type of baby carrier is often reported as the most comfortable for the wearer, as it provides cushioning and allows the baby's weight to be evenly distributed. You can also wear it on your front or back, with some designs able to be worn on the side, so it's quite versatile.
A common complaint for SSCs is that they tend to be a bit bulkier than some other options, like wraps and slings, which makes it trickier to fold up and put in a diaper bag or purse. Soft structured carriers are often more expensive than wraps and slings as well.
Pros
Easy for first time parents to use
Allows you to carry your baby in multiple carrying positions
Comfortable when wearing for a long amount of time
Cons
May require an infant insert, as they can be too big for infants
Difficult to fold up for on-the-go activities
2. Wrap Baby Carriers
Wrap baby carriers are essentially a long piece of fabric you wrap around you and your baby until the child is secured to your chest, hip, or back. There are a few different ways to maneuver and tie the wrap so that it fits snuggly and is comfortable for the baby. What's great about a wrap is that it's more affordable than some other options, comes in a variety of fabric types and lengths, and allows for versatility in how you want to wear your baby, be it your front, your side, or your back. Wraps are also suitable for a variety of ages, from infants to toddlers. They're lightweight and allow for even distribution, so most wearers find them quite comfortable.
The primary downside to wraps is that they can be difficult to get the hang of, especially for first-time parents. When you're managing a newborn or have your hands full with multiple children out in public, stopping to figure out how to tie the wrap can be cumbersome until you get the hang of it.
Pros
Allows you to complete simple chores around the house
Great for low-intensity activities like grocery shopping or walking
Customizable to secure and support your baby
Cons
Can be complicated and frustrating to wear at first
Not sturdy enough for hiking or biking
3. Baby Sling Carriers
Slings, also called ring slings, are another piece of fabric but with two rings at one end. To fasten a sling, you thread the free end through one ring and then tuck it under the second ring. This allows you to adjust it to your body and baby. Don't worry—the baby's weight keeps the fabric from slipping out of the rings. Slings can be worn in the front or on your hip and are typically made from cotton, linen, or silk. Those who prefer slings tend to highlight that they're easy to adjust, are uncomplicated for new parents, and simplify breastfeeding.
A common complaint for ring slings is that they can add strain to the shoulder. If used for long stretches of time, they can cause shoulder and back pain for the wearer, so they wouldn't be the optimal choice for traveling or long activities.
Pros
Great for hands-free activities
Fits into a small diaper bag and can be taken anywhere
Cons
Can be difficult to get the hang of
4. Mei-Tai Carriers
The Mei-Tai carrier is a bit of a hybrid of baby carrier types. It combines the features of a wrap and soft structured carrier. This type includes long strips of fabric you tie around your body, as well as two shoulder straps and two waist straps. Instead of the buckles you'll find on an SSC, however, Mei-Tai carriers have ties. They're far less complicated to use than a wrap and can easily be adjusted. You can also use them with infants up to toddlers, and you can find designs that have padding for the shoulder straps and waistband.
If you don't want to deal with any kind of learning curve, though, this may not be the best option for you, along with wraps. It takes practice to learn how to tie the wrap-like features in the proper manner to keep the baby safe and evenly distributed.
Pros
Perfect for on-the-go use like running errands
Folds up to fit in a small diaper bag
Offers different carrying positions
Cons
Requires some learning to wear properly
Longer straps on some models can drag on the floor and get dirty easily
5. Backpack Carriers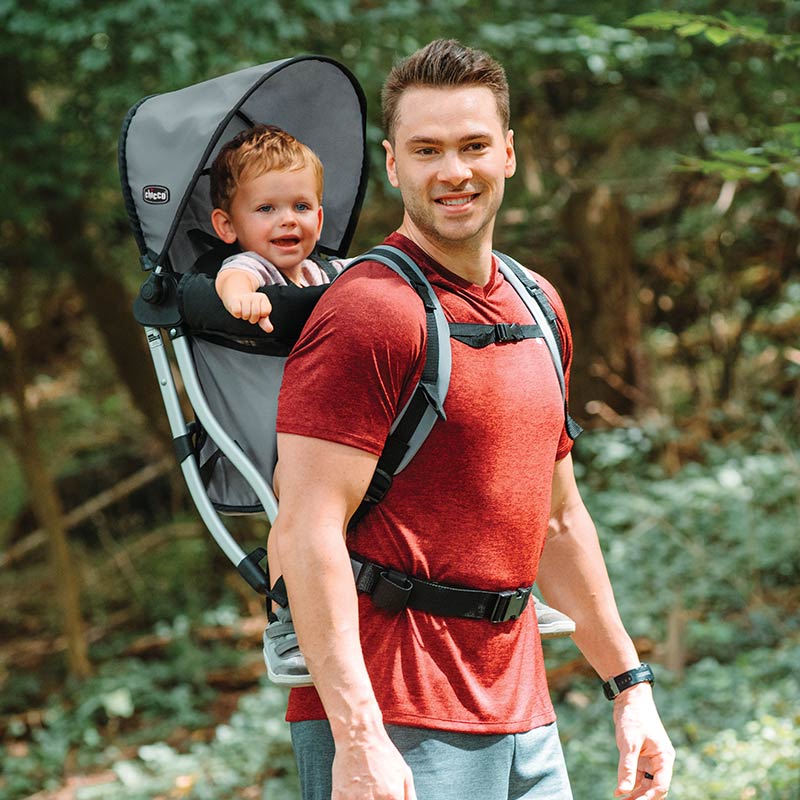 Backpack carriers are just as they sound: They're meant to be worn on your back. They're built with a rigid frame to support your child's weight for longer periods of time, which is easier on your back, hips, and shoulders. Typically, this option will have padded shoulder straps and additional straps to fasten around your waist and chest so the pack doesn't move around too much. These are useful when you need to wear your child for hours at a time, such as when you're on vacation or exploring the outdoors. Some designs are also equipped with storage pouches for snacks, cups, medicine, small toys, wipes, etc. The rigid frame combined with the built-in stand many have make putting your child in and taking them out easier.
The downside to this baby carrier option is that it's the most bulky. This isn't the carrier you put on just run an errand or move around the house. Wearing one is a bit of a commitment to both wear and transport. If you're in a situation in which wearing your baby for hours at a time is necessary, like hiking or touring a new city, a backpack carrier really comes in handy. But if you're just looking for a way to carry your baby while you do the dishes or run to the store, this may not be the right choice for you.
Pros
Great for outdoor longer walks and heavier children
Some models include extra space for gear
Cons
Too bulky for indoor use and quick trips
Can be heavy to wear
6. Hip Seats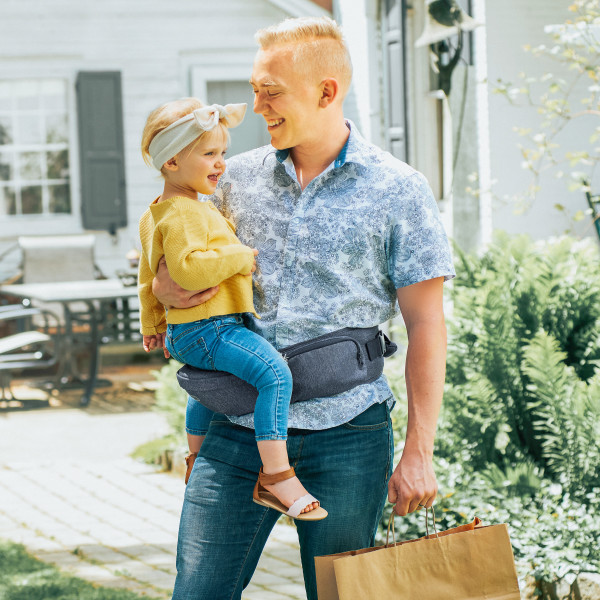 Hip seats are quite different from the other baby carrier types. This option doesn't allow for strapping your child to you. It acts as more of a seat to take some of the weight off of carrying a child on your hip. When you carry a child by hip unsupported, your hip inevitably juts out to support the weight, causing your spine to strain. Not to mention, this is the one option listed here where you have to continuously use your arms to hold your child, which quickly gets tiring. A hip seat makes it easier and less straining to carry your little one while providing cushion for the child. You can easily pick up and set down your child without having to untie or unbuckle anything, and the seat is quick to snap on and off.
The obvious con of hip seats is that you still have to keep one arm in use. Because of that, this isn't the option to get if you're looking for something to free up your hands or use for long periods of time. Neck control is also essential when using a hip seat.
Pros
Great for use around the house and holding your baby, or toddler, for long periods of time without getting tired
Distributes your baby's weight more evenly, reducing strain on your hip
Cons
Requires you to support your child with your arms, preventing hands-free activities
Rigid structure of the hip seat and the supportive belt may limit comfort when you want to sit
When deciding on the right type of baby carrier for you, keep the following in mind:
Child age
Child weight
Child neck control
Adjustability
Ease of use
Fabric
Comfort
Usage needs
Convenience
Price
You may find you need different carriers for the different situations you commonly run into. Luckily, a well-made carrier should last for years, so you can use it repeatedly for one child or as you have more children, making it a good investment. Chicco has several baby carrier types to choose from based on your needs, including the SideKick Plus 3-in-1 which includes both an SSC and hip seat so you can better support two kids at once, or the SnugSupport 4-in-1 Infant Carrier which is versatile by design and can grow with your baby up to 33 lbs! Browse our baby carrier selection to find the right fit for you and your little one.