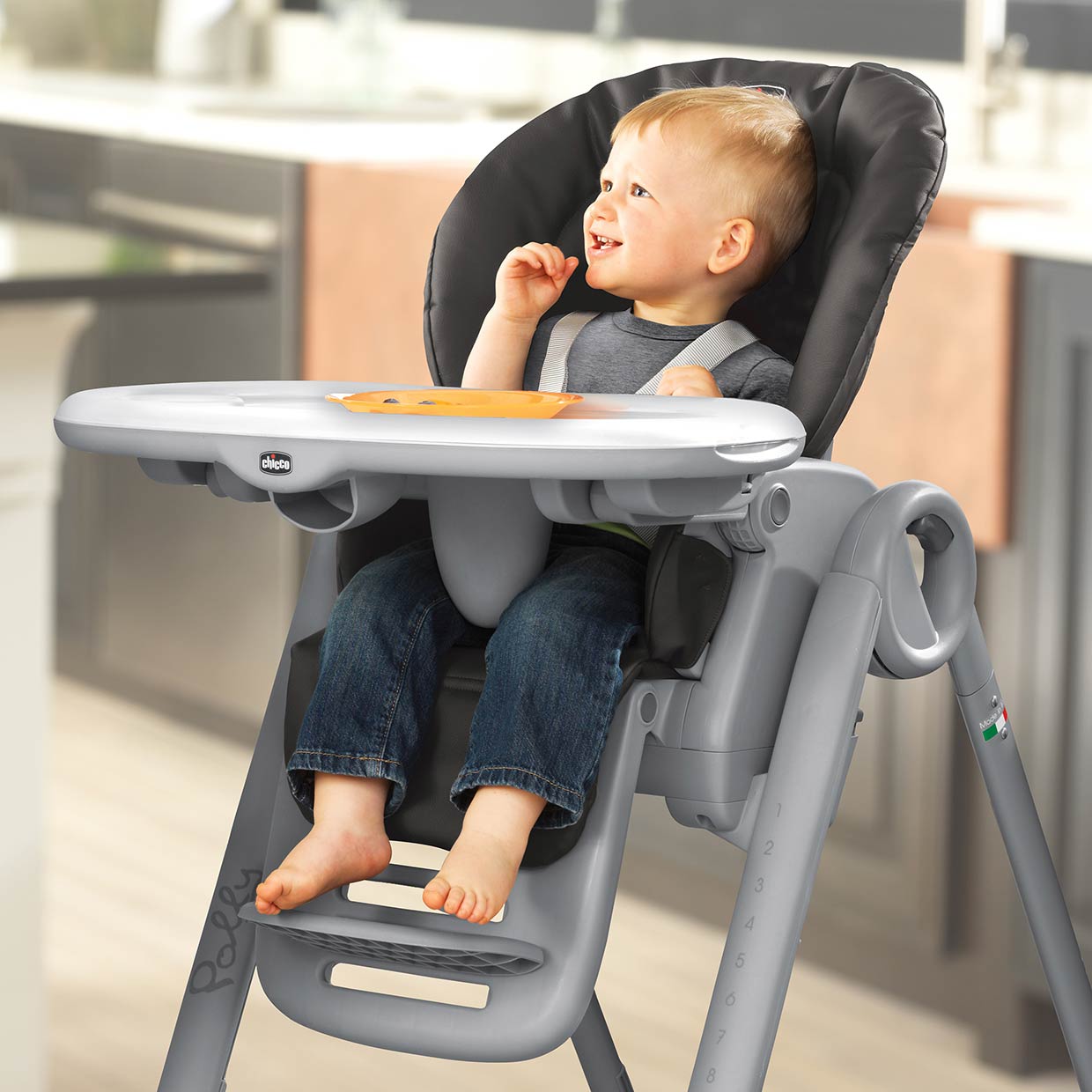 Placing your little one in a high chair for the first time can be an exciting moment! It's a time when you can sprinkle solid food onto their tray and venture into the journey of self-feeding — a.k.a. watching your baby smear applesauce all over their face! Though your baby will surely make a mess, adventuring into this new chapter brings lots of questions like when can your baby safely sit in a high chair or which high chair should you purchase? High chairs help your baby join in on the fun at the dinner table so it's no wonder you might have questions about these topics and more. Keep reading to learn more about when your baby is ready for this next milestone, safety tips to be aware of, high chair alternatives, and more.
If you have a set of twins or if your baby is a wiggle monster, you may already be using a high chair that reclines for bottle feeding and is perfect for newborns. However, this may leave you wondering what milestones your baby needs to reach before they can safely sit up in a high chair. Your little one should be able to sit up on their own and have stable head and neck control to ensure their airway isn't obstructed while seated. Transitioning to an upright position means more independence — but with great freedom comes great responsibility!
Babies need to develop strong enough neck muscles to support the weight of their head and control head movement, which is typically accomplished between four to six months of age (with most babies leaning toward the six-month mark). Your baby may bob their head slightly when they're sitting in their high chair, but overall, they should be able to sit upright comfortably. Once solid foods like cereal are introduced, strong head control lowers the risk of your baby choking on their food.
While head control is the most important factor for when to start using a high chair, additional signs to be on the lookout for include:
Your baby can sit up and maintain good posture (with additional support from their high chair)
Your baby is beginning to eat solid food, which is easier to accomplish when they're in their high chair
If your baby hasn't reached these milestones yet, don't worry! You can give them short tummy time sessions to develop their strength so they can eventually hold their head up on their own and accomplish this next big step. If you're still uncertain whether or not your baby is ready to use a high chair then contact your pediatrician for more advice.
While you may be eager to place your baby in their high chair right away, take time to review the following safety tips first:
Position your high chair correctly. If the high chair has a reclining backrest, position the seatback in its most upright position. Make sure your baby's tush is flush against the back of the seat and their torso is upright.
Thoroughly read through the instruction manual so you can familiarize yourself with the high chair. If anyone else is watching your baby, then they should know how the high chair operates as well.
Choose a high chair that is designed for your baby's age and weight.
Register your high chair with the manufacturer in case of a safety recall. You can register your baby products purchased from Chicco here.
Purchase a JPMA (Juvenile Products Manufacturers Association) certified high chair. JPMA-certified baby products have been independently tested to the most stringent standards.
Before placing your baby into the high chair, make sure to inspect it for any damage or manufacturing defects.
Set up the high chair in the preferred location first. You shouldn't move the high chair while the baby is already sitting in it.
Avoid placing the high chair near "push-off" points like walls, countertops, or chairs. This minimizes the risk of your baby grabbing a dangerous object like a knife off the countertop or accidentally tipping themselves over and causing injury.
Secure your baby in the high chair with safety straps. Every high chair model is different, but all current options have a three-point or five-point safety harness.
If your chair is foldable, make sure the locking mechanism is in place (this goes for the tray too). Some high chairs also have wheels so you should learn where the lock mechanisms are located on those as well.
Always keep an eye on your baby and supervise them at all times while they are in the high chair.
Clean the high chair after every use to prevent bacteria from growing.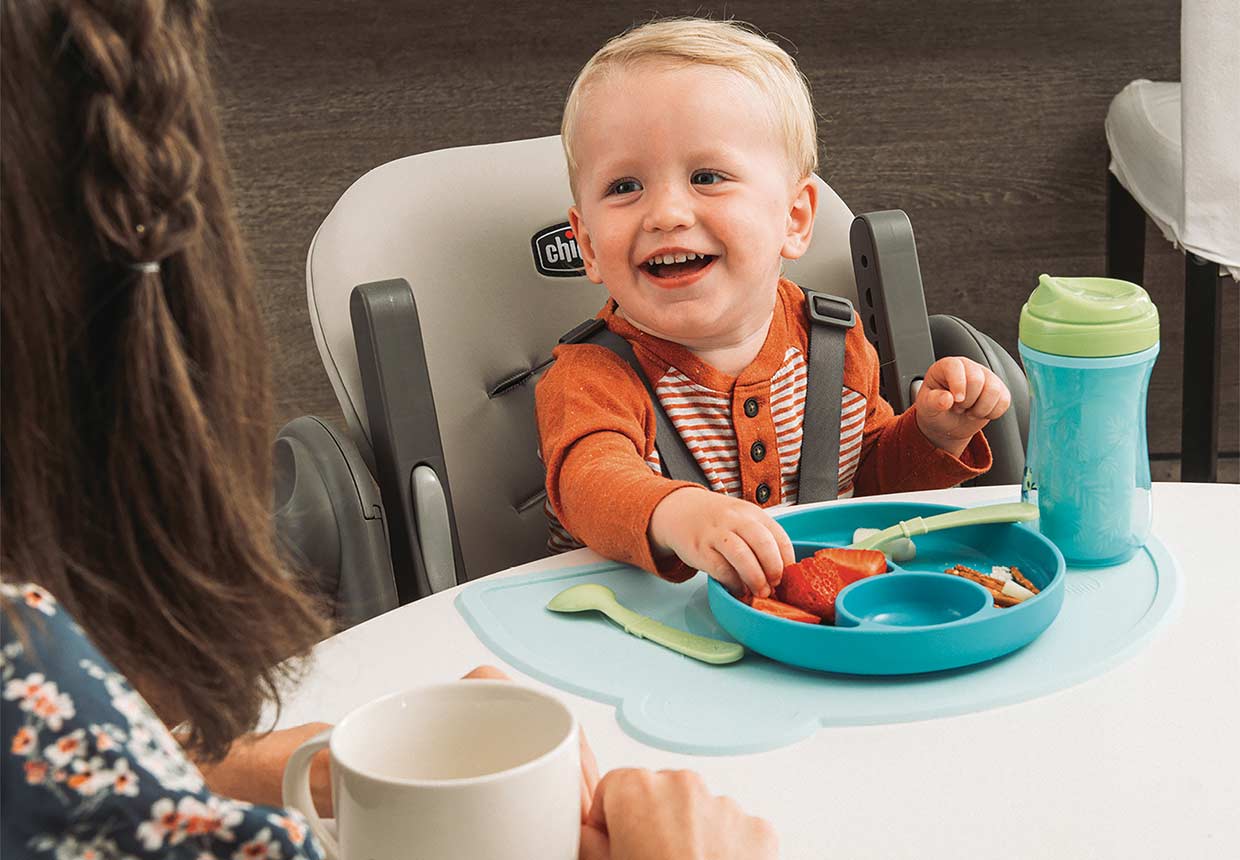 Your baby will probably spend a large part of their day going from crawling on the floor to having snack time in their high chair, going down for a nap time, and then going back in their high chair after. That's why it's important to find a high chair that your baby loves! You'll want to research different high chairs and find one that fits in your space, is easy to use, and has features to simplify mealtime. Check out some of our other deciding factors below.
Versatility: Certain high chairs are more versatile than others and some even grow with your baby. For instance, our Stack® Hi-Lo can be used as a high chair, toddler booster, or youth stool! You may also want wheels on your high chair for easy maneuvering or need it to fold so it can be stored away until you use it again.
Cleanliness: While you may want to snap a picture of your munchkin if they smear food all over their face, messes can often get everywhere — including the floor and their high chair. This means you'll want to choose a high chair that is easy to keep clean. Some high chairs have a removable tray liner that you can easily remove to run under soap and water. Others have a wipeable seat pad to make wiping away messes a breeze.
Child Safety: While your natural instinct as a parent is always to protect your kiddo from danger, the unexpected can occur. To ensure your tiny tot is safe and sound, you'll want to choose a high chair that has been certified and tested for safety. Remember to always use a safety harness, which can prevent your baby from thrusting forward. Choose a high chair that is stable and won't tip over. You can also make sure the high chair has no small pieces that can pose a choking hazard if they break off. Always supervise your child when they are in the high chair.
Height and Weight Requirements: Certain high chair models are designed to grow with your child and can be used for years. You can opt for an adjustable high chair that can be used from six months to 36 months. After all, kids grow up fast but that doesn't mean you shouldn't get the most out of your current high chair.
Comfort: Your baby will spend their mealtime in the high chair, so you want to make sure they are comfortable, supported, and enjoying themselves. Features like a footrest can be a great place for them to rest their kicking feet and features like a padded seat can help your baby enjoy their food or bottle in peace.
Have your eye on a specific high chair or are you considering other options? Check out some of our top Chicco recommendations below:
Upright and Reclining High Chairs
Our selection of standard high chairs comes in a variety of styles to make managing mealtimes a breeze. Our Polly high chairs have reclining seats so your baby stays comfortable for bottle feedings (not when eating solids!). Other features on some of our high chairs include foldaway armrests, extra-large trays, easy-to-clean seat pads, and more!
Newborn High Chairs
Our Polly2Start, Polly Progress, and Polly Progress Relax chairs are newborn-friendly with fully reclined positions for bottle feedings and can be converted to upright positions for babies older than six months. These high chairs grow with your babies and feature snap-on trays, four backrest positions, and eight adjustable height positions. The Polly Progress high chairs also convert to booster seats, toddler chairs, and youth stools.
Hook-On Chairs
Our hook-on and travel high chairs are space-saving and portable. They can be used at home, at family and friend's houses, and in restaurants. Hook-on chairs are easy to cinch into place and easy to store away in between mealtimes.
Feeding Booster Seats
If you're looking for a space-saving alternative to a high chair then consider a booster chair, which allows babies to join the family at the table! Some models exclusively strap to chairs while others can attach to chairs or sit securely on the floor, depending on what your baby prefers. Booster chairs can be strapped to a chair in your home. They also offer a removable tray with a lip to reduce food messes.
You may have blinked and found your baby went from a newborn sleeping in their bassinet to a rockstar ready to sit at the table in their high chair! While you may be eager to transition your child to a high chair, it's important to wait until they have the proper head and neck control and can sit upright without assistance. Keep our list of safety tips in mind and do your best to keep a watchful eye on your little one when they're in their high chair.
Picking a high chair (or alternative option) with practical features can go a long way in making feeding and cleaning a cinch! For more thoughtful parenting guides and tips, visit our blog.