Details
KidFit Zip Air Plus 2-in-1 Belt-Positioning Booster Car Seat - Q Collection
Promotions
Special Offer
Discount only applied to qualifying products and will be automatically calculated at the time of checkout. Offer expires December 3, 2023 at 11:59pm EST. Offer is only available at ChiccoUSA.com. Offer not valid on replacement parts or items already on sale. Offer valid only while supplies last and not applicable to canceled orders due to out-of-stock merchandise. Discount does not apply to taxes, shipping and handling charges, or other similar charges. Discount not applicable with returned merchandise; total discount will be deducted from the value of any returned item to which the discount applied. Customer is responsible for all shipping costs both at the point of purchase as well as for returned merchandise. Cannot be combined with any other promotional offer nor is this offer valid on previous purchases. ChiccoUSA.com reserves the right to modify this offer without prior notice.
Available Accessory
Additional Information
Features
Quick-Release Removal

Premium LATCH connectors stabilize the seat and quick-release LATCH offers easy, one-hand removal

Breathable Fabric

3D AirMesh channels help increase air circulation throughout the backrest and seat

Zip-Off Cushions

Zip & wash, easy-care seat pad and backrest cushions provide extended durability and added comfort

DuoGuard Protection

Head and torso protection with a rigid shell and energy-absorbing EPS foam throughout 10 height positions

Engineered for Comfort

Contoured, ErgoBoost® Plus seat is lined with three layers of foam padding for ultimate comfort

Backless Mode

Backrest is easy to remove to create a portable, backless booster for older kids

Kid Console

Bonus detachable compartment fits into either CupFolder™ to carry big kid necessities

2 CupFolders™

Dishwasher safe, hide-away CupFolders™ fold in to save space when empty
High-Back to Booster: Designed to Grow
From the makers of the IIHS Best Bet Because automobile seat belts are designed for adults, the Insurance Institute for Highway Safety (IIHS) evaluates belt positioning boosters on their ability to provide good lap and shoulder belt fit. "Best Bets" are the highest rating and according to IIHS, they provide good belt fit for typical 4 to 8-year-old children in almost any car, minivan or SUV. KidFit® Booster, the KidFit® Zip Air Plus 2-in-1 Booster boasts premium features like an innovative, quick-release LATCH for grab-and-go convenience and 3D AirMesh Fabric with mesh filaments and elevated airflow channels designed to improve ventilation where kids need it most: on car seat and stroller backrests & seats. fabric for breathability. These features and more combine to make the KidFit® Zip Air Plus one of the most comfortable, trusted and easy-to-use booster seats.
Breathability + Washability
KidFit® Zip Air Plus includes 3D AirMesh channels throughout the backrest and seat for increased air circulation where kids need it most. The extra padding features a convenient zip-off design, making them easy to remove for cleaning while still maintaining use of the standard fabrics underneath. All fabrics, including armrest covers, are removable and machine washable.
Engineered for Comfort
KidFit® Zip Air Plus features a contoured, ErgoBoost® An ergonomically designed contoured seat that features multiple layers of foam for comfort and support. Plus seat with 3 layers of foam padding and a one-of-a-kind zip-on cushioned leg rest for high class comfort. A 2-position backrest adjusts to mimic the vehicle seat position. The backrest is easily removable to create a backless booster for older children.
Customized Protection + Ease of Use
DuoGuard® Includes two layers of protection, a rigid shell and EPS energy-absorbing foam, that surround two zones: the head and torso. offers 2 layers of protection: a rigid shell and high-quality, EPS Energy-Absorbing Foam Expanded Polystyrene (EPS) is a high quality, dense foam that is found on many Chicco car seats due to its proven ability to effectively absorb energy. that surround the head and torso with integrated side wings. The high-back booster easily adjusts throughout 10 height positions to extend protection as kids grow.
Premium LATCH Connectors Lower Anchors and Tethers for Children, or "LATCH," is a car seat installation method in which the vehicle seat belt is not used. Instead, the car seat LATCH connectors attach to the lower anchors found in the seat bight of your vehicle. Refer to your vehicle's owner manual and your car seat manual for more information. and a force-multiplying, SuperCinch® A car seat installation feature that uses force-multiplying technology to tighten the connection between the car seat and the vehicle LATCH hooks to reduce overall car seat movement. one-pull tightener stabilize the seat for easy in/out and keep it secured when unoccupied. The upgraded quick-release LATCH provides convenient one-hand removal from the vehicle LATCH system for easy transfer between seats and vehicles.
One-hand, quick-release LATCH
3D AirMesh channels throughout the seat and backrest
Zip-on cushioned leg rest for extended comfort
DuoGuard® head and torso protection with 10 positions
Integrated side wings
Zip-off, machine-washable seat pad, cushions, and armrest covers
ErgoBoost® Plus contoured seat with triple-foam padding
Converts to a backless booster
2 space-saving CupFolders™
Bonus kid console
Usage
KidFit® Zip Air Plus is designed for children at least 4 years of age, between 38-57" tall, between 40-100 lbs. in high-back mode and 40-110 lbs. in backless mode, and can sit relatively still in the same seated position throughout the car ride.
Care and Maintenance
Machine wash fabrics in cold water on delicate cycle using mild detergent. Hang to dry. For complete care and maintenance instructions, refer to the product's instruction manual.
video.header
Chicco KidFit Zip Air 2-in-1 Belt-Positioning Booster Car Seat
The KidFit® offers head and torso protection with a boost to big kids 4y+ who are ready to make the switch from five-point harness to vehicle seat belt.
Chicco KidFit Zip Air Plus 2-in-1 Belt-Positioning Booster Car Seat
From the makers of the IIHS Best Bet KidFit® Booster, the KidFit® Zip Air Plus 2-in-1 Booster boasts premium features like an innovative, quick-release LATCH for grab-and-go convenience and 3D AirMesh...
Chicco AirTechnology
Chicco engineered 3D AirMesh provides breathability and an added layer of padding that gives your child the experience of traveling on a cushion of air.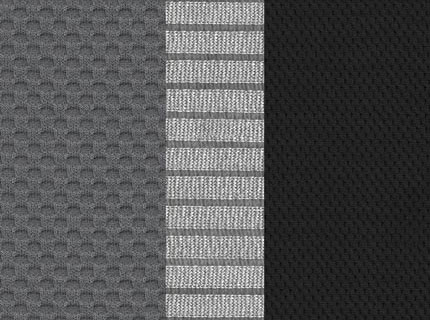 Q Collection
The Q Collection is automotive performance at its best! Surround your child in cool comfort with breathable 3D AirMesh knitted in a stylish silver hue. Layering texture on texture with a solid black micro-pattern knit, a raised geo grey knit, and perforated premium automotive black leatherette accents, Q Collection delivers a cool, comfortable ride with a premium automotive trim design.
Fabric Content
Seatpad: 100% Polyester

Chemical Statement
The KidFit Zip Air Plus 2-in-1 Belt Positioning Booster Car Seat is produced without the use of intentionally added brominated or chlorinated fire retardant chemical treatments, PFAS, BPA and phthalates.
Color Statement
Actual color may vary from product photos due to differences in computer and mobile screen settings.
Assembled Dimensions (L x W x H): 20" x 17" x 26"
Assembled Product Weight: 11 lbs
Carton Dimensions (L x W x H): 11.75" x 19" x 28"
Carton Ship Weight: 15 lbs
| | |
| --- | --- |
| Harness Mode - Rear-Facing | n/a |
| Harness Mode - Forward-Facing | n/a |
| Booster Mode - High Back | 40-100 lbs |
| Booster Mode - Backless | 40-110 lbs |
| Rear-Facing Child Max Height Capacity | n/a |
| Forward-Facing Child Max Height Capacity | n/a |
| Booster Child Height Capacity | 38-57 in |
| LATCH | Quick Release LATCH® |
| Seat Belt Installation | n/a |
| Recline Postions | 2 |
| Product Weight | 11 lbs |
| Product Total Width | 17 in |
| Product Total Height | 26 in |
| Product Depth (Footprint) | 20 in |
| Max Harness Slot Height | n/a |
| Total Belt-Positioning Clip Height | High Back - 19 in / Backless - 27 in |
| Product Interior Width (Shoulder) | 12.5 in |
| Product Interior Width (Hips) | 11.5 in |
| Product Interior Seat Depth | 15 in |
| Product Max Seated Height | 29 in |
| Height Adjust Positions | 10 |
| Crotch Positions | n/a |
Product Manuals
---
You May Also Like