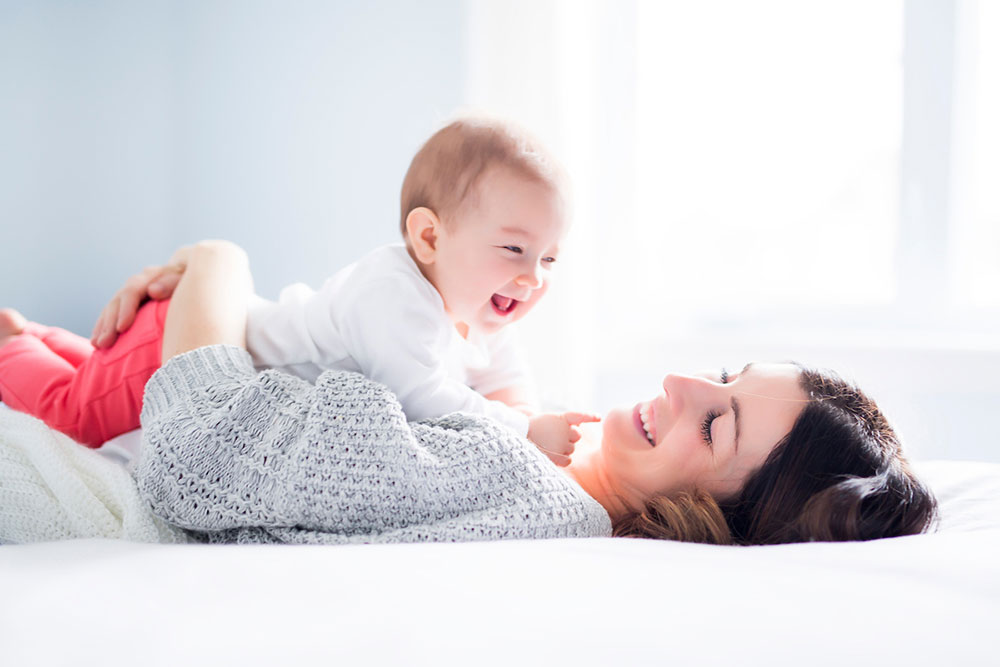 Every parent or guardian wants what's best for their little ones. However, one focus area that may not be first on your mind is indoor air quality. Many household products, including some baby gear, are made with materials that emit gaseous chemicals into the air you breathe. Current research shows that some pose potential health risks. So what's an eco-conscious parent to do?
Shop for baby gear that is GREENGUARD Gold Certified, which is scientifically evaluated for extremely low levels of chemical emissions. At Chicco, we are proud to offer a range of GREENGUARD Gold Certified car seats, bassinets, playards, and strollers—and we want parents to be knowledgeable and confident in what they buy. This article explains what goes into GREENGUARD Certification, breaks down the testing procedure, and offers additional tips to engage in sustainable parenting.
Surprisingly, the majority of the chemicals you and your children are exposed to are in your own home and other indoor environments, like schools and offices. One major contributor is the presence of volatile organic compounds (VOCs) in spaces where certain products are used. In fact, studies performed by the Environmental Protection Agency (EPA) show that concentrations of VOCs are consistently two to five times higher indoors—sometimes eclipsing outdoor concentrations by up to 10 times.
But what are VOCs, anyway? VOCs are compounds made up of a variety of carbon-based organic chemicals commonly used to manufacture and maintain products like building materials, furniture, cleaning supplies, and baby gear. When you bring these products into your home, they emit gaseous VOCs into the air you breathe. According to UL Solutions (UL), the organization behind the GREENGUARD Certification program, there may be as few as 50 and as many as hundreds of VOCs circulating your home at any given moment.
Extensive research done by the EPA reveals that certain VOCs may have long- or short-term health consequences associated with them. Each chemical has its own potential for harm, with toxicity depending on concentration levels, duration of exposure, and individual sensitivities. Some Americans have reported conditions from headaches to memory impairment soon after exposure to VOCs, but not much is known about what health effects occur from typical VOC concentrations in homes. Importantly, infants are more susceptible to these airborne irritants because they breathe a higher volume of air per body weight than adults. That's where the GREENGUARD Certification program matters.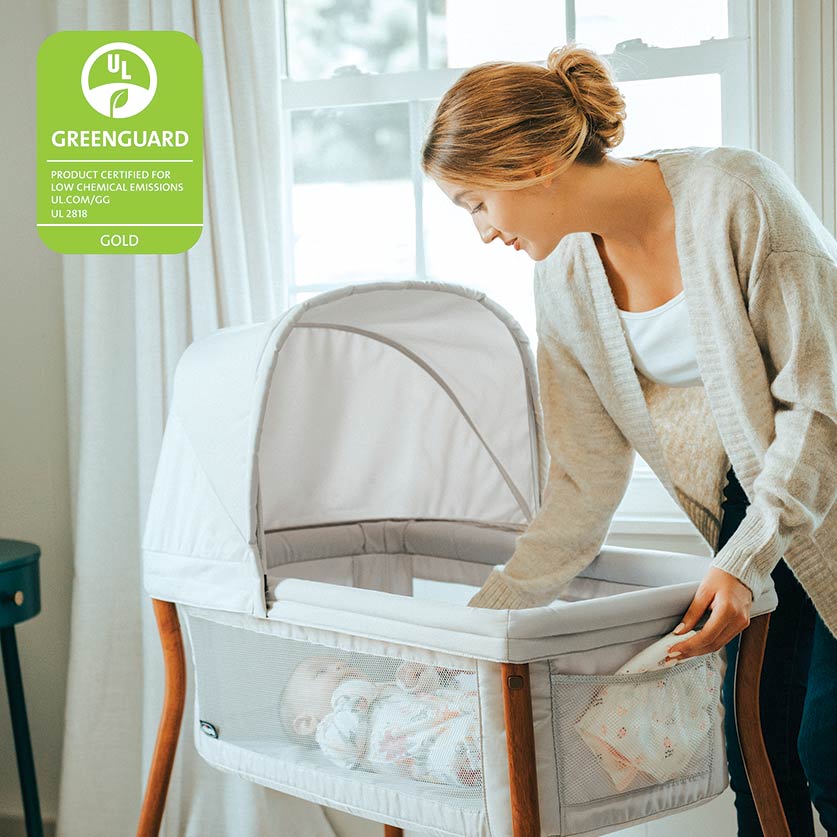 To protect your child's health, it's best to reduce exposure to VOCs and airborne chemicals as much as possible. GREENGUARD is a voluntary third-party program that tests commercial products for chemical and VOC emissions and certifies them for your peace of mind. Certified products undergo rigorous testing to ensure they meet strict criteria for off-gassing before receiving the GREENGUARD Certified badge.
Specifically, there are two levels of certification with varying standards to which products must adhere. Keep reading to learn more about the differences between GREENGUARD and GREENGUARD Gold Certifications.
GREENGUARD Certified
This certification has been the basis for the Leadership in Energy and Environmental Design (LEED) credit for low-emitting furniture since 2002. It was first used by the EPA and State of Washington to set purchasing specifications for furniture and commercial building products. If you're shopping for furniture, GREENGUARD Certification helps to ensure low levels of chemical and VOC emissions.
GREENGUARD Gold Certified
Anything designed for use by at-risk groups like children or the elderly—whether in nurseries, healthcare facilities, or educational settings—must meet stricter emissions standards than products designed for the general public. This higher level of certification is known as GREENGUARD Gold and demonstrates that a product has been scientifically proven to have very low emissions for more than 360 VOCs and 10,000 chemicals.
The Gold tier goes above and beyond the standard GREENGUARD Certification in terms of acceptable emissions levels for all tested substances. Formaldehyde, for example, must be detected at under 50 parts per billion (ppb) to earn the GREENGUARD Certification but under a much lower 7.6 ppb to reach GREENGUARD Gold status.
See this table for the exact emissions tolerances for both GREENGUARD and GREENGUARD Gold Certifications.
When it comes to GREENGUARD Certifications, the proof is in the testing chamber. Across a one- to six-month period, UL follows exacting evaluation and testing procedures that ensure product emissions are at or below their acceptable levels. The rigor that goes into product testing helps to build credibility when you see the GREENGUARD logo on products you're looking to buy.
Everything GREENGUARD analyzes—from laptops and building materials to cribs and infant car seats—is tested in UL's dynamic environmental chambers. These polished stainless steel compartments are controlled for temperature and humidity, so there's no background level of VOCs. As a product sits in the sealed chamber, it emits VOCs just as it would in your own home.
Precision testing equipment picks up levels of the chemicals dispersed by a product, collecting data for review before certification. Products may sit in the chamber for anywhere from one day to two weeks, depending on the complexity of the product and its material makeup.
Product manufacturers can't rest on their laurels even after receiving GREENGUARD Certification. Once a product has been tested, reviewed, and certified, GREENGUARD retests a new version of the product annually to ensure it remains in good standing for the certification.
At Chicco, we're committed to our Sustainable Parenting Initiative—our goal to develop products that meet your everyday needs as a parent while maintaining a positive impact on people and the environment. In addition to buying GREENGUARD Gold Certified baby gear, certain best practices stand out to ensure the cleanest indoor air for you and your bundle of joy.
Ensure proper ventilation. This is especially important while using products that emit VOCs—like painting the walls or off-gassing a new mattress. The concentration of VOCs in your home can temporarily increase to 1,000 times the average outdoor levels during and immediately after events like these. Whenever weather permits, crack windows open to keep fresh air circulating through your space and reduce airborne chemical concentrations.
Decorate with indoor plants. Plants are natural air filters. They pull CO2 and sometimes other chemicals out of the air, returning fresh oxygen to the surrounding environment. NASA's 2009 clean air study revealed that some common varieties like Aloe Vera, peace lilies, and Chinese evergreens are highly effective for absorbing VOCs like benzene, ammonia, trichloroethylene, and Formaldehyde. The full list of plants includes:
English ivy
Peace lily
Chinese evergreen
Bamboo palm
Red-edged or cornstalk dracaena
Weeping fig
Barberton daisy
Florist's chrysanthemum
Use an indoor air quality monitor. Formaldehyde is one of the few VOCs that can be easily measured. Use an air quality monitor to find out if your levels are acceptable, and if not, determine and remove the source from your home.
Always follow product instructions. Products that could be hazardous often include warnings and explicit usage directions to protect the user. Use household products according to the manufacturers' instructions, making sure to heed any warnings about proper ventilation, outdoor use, and keeping out of reach of children.
GREENGUARD Certification is entirely focused on monitoring for chemicals emitted into the air by a product—not the chemicals residing in the actual material itself. As part of the ongoing Sustainable Parenting Initiative at Chicco, we believe in reducing chemical exposure on all fronts by offering GREENGUARD Gold Certified products alongside fabric innovations for both the environment and your baby.
We use advanced textiles that are not only comfortable for your child and easy to clean but free of unnecessary added chemicals. For sustainability-minded parents who want the cleanest, friendliest products for their little ones, ClearTex® products are a must-have. ClearTex® meets federal flammability standards without any added chemical treatments. Its fire resistance is inherent in its polyester fiber construction, so no flame retardants are needed—from fabric to foam, and even the labels.
Additionally, our fabrics derived from organically grown cotton demonstrate our commitment to reducing and eliminating chemical treatments wherever possible—including the growing process. Lightweight and soft by nature, they're an obvious choice for your baby's comfort. What's more, by choosing eco-friendly fabrics like organic cotton, parents can invest not only in their children's comfort today but in their future well-being.
If you're looking for ways to support a healthy environment for your baby to grow up in, improving air quality can be a great place to start. GREENGUARD Gold is an industry-leading certification that offers peace of mind for you and your baby. Parents or guardians can also take it a step further by limiting the VOCs emitted by your baby gear and unnecessary chemicals in the materials used to create them.
At Chicco, our passion for supporting sustainable parenthood runs deep. We are committed to developing safe products, fostering an environment of well-being, and positively impacting social, environmental, and economic scenarios. Learn more about our Sustainable Parenting Initiative here.