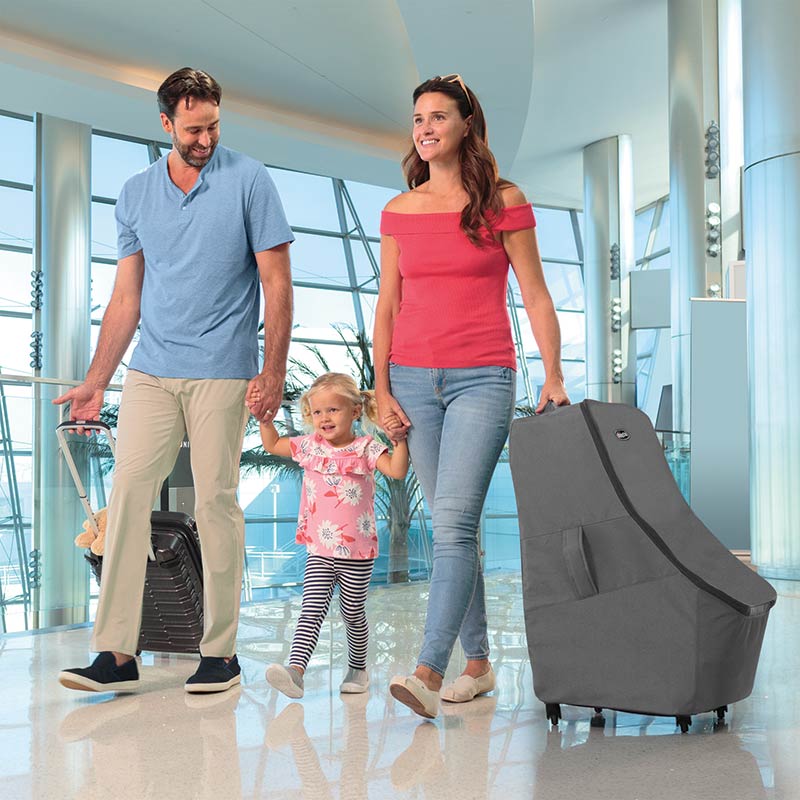 There's already so much for parents, especially new parents, to learn and figure out. And then comes that first trip with your baby or toddler, when you look down at the stroller, car seat, and mountain of luggage you have to get onto the plane and to your destination. It can make a parent want to just stay home, but traveling with children and their necessary accessories is actually highly doable, as long as you plan ahead and know a few things in advance.
Is traveling with a car seat and stroller more cumbersome? Of course. Do different airlines have different policies about these items? Unfortunately. But thankfully, there are some tried-and-true lessons parents have learned, and Chicco is here to offer these tips to make your next experience traveling with strollers and car seats as painless as possible.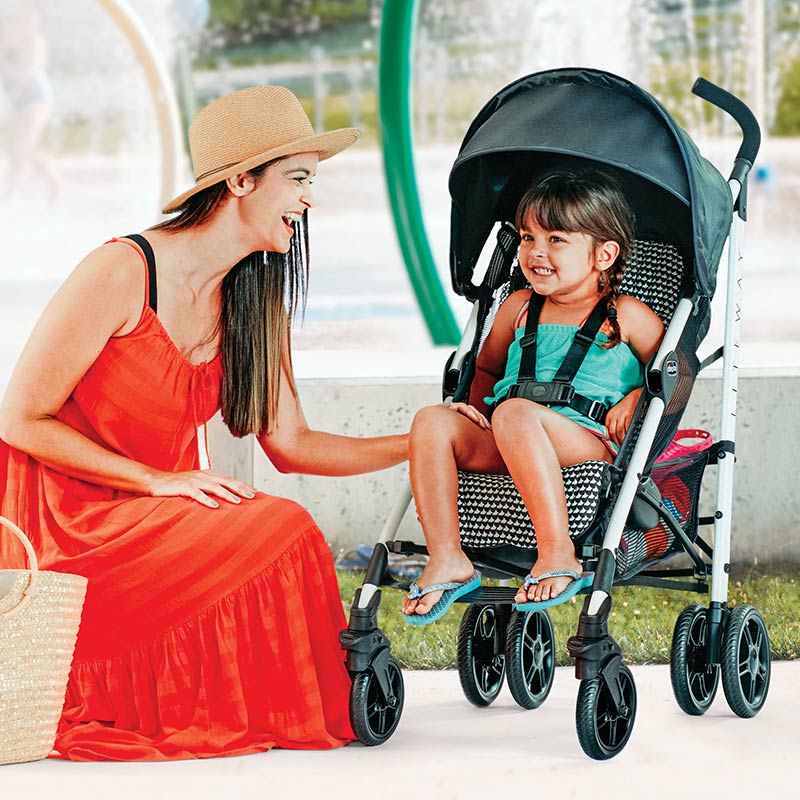 If you're preparing for your first time traveling with your baby or toddler, you may be wondering if it's even necessary to bring along a stroller and/or car seat. A stroller comes in handy at several points in your journey, starting at the airport. If you're flying, you'll be going through at least two airports (more if there are layovers), which means crowds, waiting in lines, and hanging out at your gate. Unless your child is small enough to comfortably strap onto you, you'll be glad you have a stroller. The same likely goes for when you get to your destination. If you're planning any touristy outings or participating in activities that involve a lot of walking or navigating crowds, a stroller is almost a must. Consider bringing a lightweight stroller for better on-the-go capabilities.
Can You Bring a Car Seat on a Plane?
When it comes to car seats, parents do have a choice with most airlines, but the American Academy of Pediatrics and the FAA do recommend a child safety restraint system when flying for young children. Once you get to your destination, it's pretty much guaranteed you'll then be traveling by car to some degree, requiring a car seat.
While there may be the opportunity to rent a stroller or car seat once you arrive wherever you're going, there's no guarantee that one will be available when and how you need it. You may have to wait in long lines to obtain one, you don't know how they've been maintained or cleaned, you aren't used to how they work, and your child isn't familiar with them and will be more likely to get irritable being strapped in. So while traveling with your own items may be a bit of a hassle, there are benefits to doing so.
Luckily, parents all over the world have figured out how to travel with a car seat and stroller and lived to share their tips. Here's what's recommended.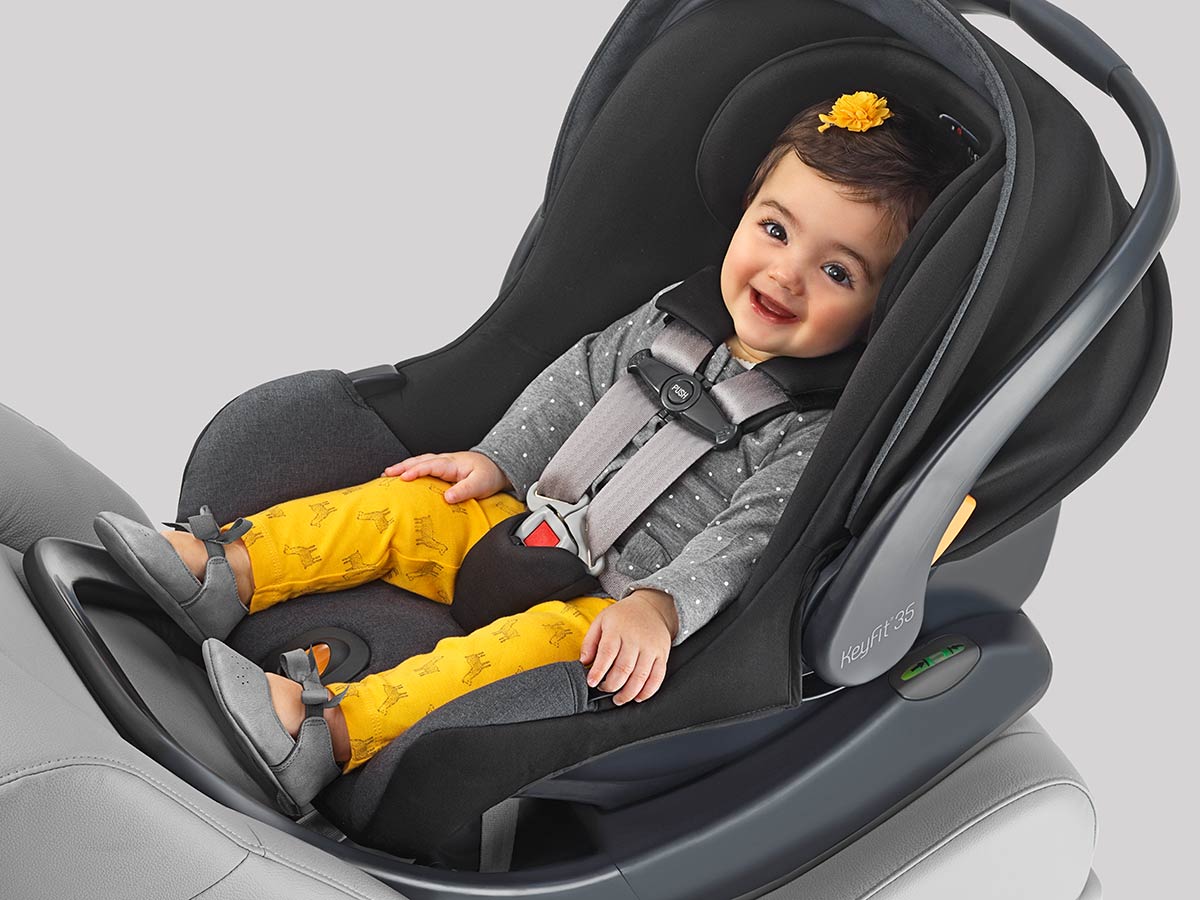 1. Check Your Airline's Regulations for Checked Items & Carry-ons
Every airline has its own rules and size regulations, so be sure to check that your car seat and stroller will be allowed and will fit. If you have multiple car seats or strollers, go with your most compact one, pending it's a good option for your travel needs and the age of your child.
2. Remove Unnecessary Attachments
Removing all toys, securing straps, and detaching any unnecessary elements will make going through the airport and stowing away items much easier, as well as decrease the likelihood of damaging or losing items. You don't want a pacifier or lovie getting yanked off or torn.
3. Get Your Luggage Tag as Soon as You Get to the Gate
Car seats and strollers can be checked just like any other item (at no charge at most airlines). If you do check items either at the ticket counter or gate, get your luggage tag for them straight away. Even if you're not boarding any time soon, attach your luggage tag to your items as soon as possible. If you wait until it's time to board, the attendant may have to go elsewhere to locate tags, or there could be another issue that holds up boarding, which is the last thing you want with kids in the airport.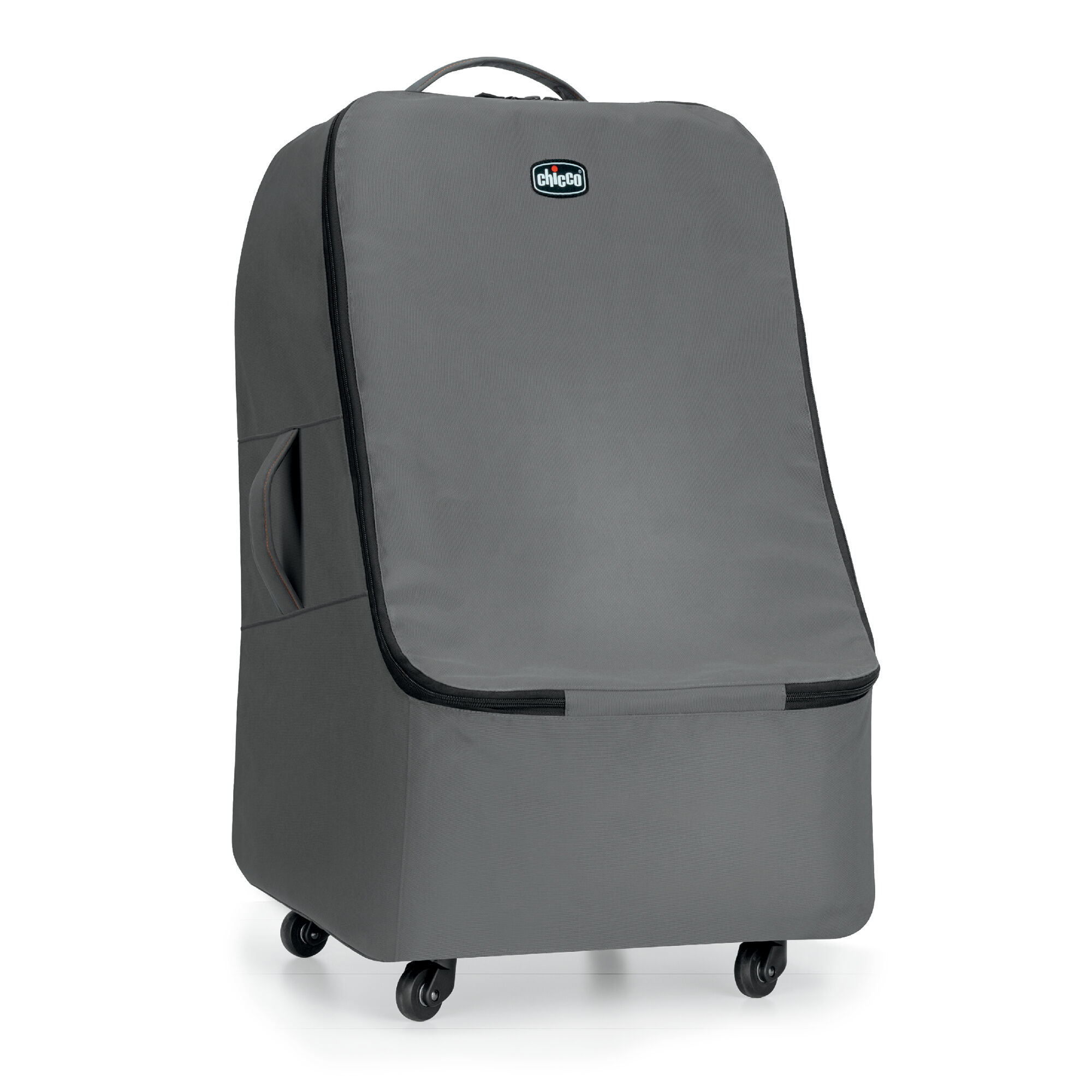 Bonus Tip: If you do check these items, consider putting them in a car seat travel bag or another durable, waterproof option so they're not soiled or scratched in transit. Car seat travel bags are especially useful because they can be wheeled or carried through an airport.
4. Make Sure Your Car Seat Is FAA-Approved
If you're going to use your car seat on the plane, it must be approved by the FAA. A flight attendant will likely ask to see the sticker. For that reason, you want to verify that the sticker is on the car seat long before heading to the airport. Also note that car seats are not allowed in emergency exit rows and can't block other passengers from exiting.
Car seats must also fit in the seat—most coach airplane seats are 16 inches wide. Familiarize yourself with where your FAA approval sticker is, the dimensions of your car seat, and the manufacturer instructions for how to install your car seat before getting on the plane so you're not sweating and frantically trying to figure it out on board.
5. Know What to Expect When You Land
It's a good idea to research and call the airline to find out how you'll collect any checked items after you land. Will they be on the baggage claim carousel or the oversized luggage counter? You don't want to have to hunt them down with a potentially fussy child post-flight. It's also a good idea to take photos of your items before the flight in case they're returned damaged.
6. Have Alternate Plans
Should your car seat or stroller get damaged or lost, go ahead and research in advance where and how you'll get replacements at your destination, the costs involved, etc. so you're not scrambling.
Bonus Tip: You may want to have a sling or wearable baby carrier on hand. Not only will this come in handy post-flight if it takes a while to retrieve your stroller or seat, but it may also be a lifesaver moving through the airport when your items are unavailable or too clunky for the situation.
Be aware that airline policies vary, so what you did for one may not work on the next trip. While this information is subject to change (always reach out to the airline), here's what to expect when flying with car seats and strollers.
Alaska Airlines
When you fly with Alaska Airlines, you can check your stroller free of charge at the gate or with your other baggage at the ticket counter. Same goes for your car seat. If you have not purchased a separate seat but there is an open seat next to you, a lap infant may sit in a car seat free of charge.
American
Each adult can check one stroller and one car seat free of charge. Smaller strollers can be checked at the gate, while larger ones (20 pounds or more) must be checked at the ticket counter. To carry on a car seat, you must have purchased a seat for your child or a free seat must be available next to yours. If there is not an empty seat next to you, a flight attendant will check the car seat to your final destination.
Delta
With Delta, strollers can be checked for free at the curb, gate, or ticket counter. If traveling with a lap infant, you can take advantage of an empty seat next to you as long as your car seat is FAA-approved. If there's no free seat near you, the flight attendant will check it to your destination.
Frontier
Strollers can be checked for free at the gate, and FAA-approved car seats can be used if you've purchased a seat for it. Frontier recommends putting car seats in window seats so they don't impede the aisle.
Hawaiian
Strollers can be checked for free, and any non-collapsible or large (50 pounds or more) strollers must be checked. Rear-facing, FAA-approved car seats can be used if you've purchased a seat for your child. The car seat will not count as a carry-on item in this case.
jetBlue
Strollers, car seats, child carriers/backpacks, and booster car seats can all be checked for free at the gate or ticket counter. They do stress, though, that not all seats can accommodate some car seats, so you need to check with them in advance.
Southwest
One stroller per child can be checked at the curb, gate, or ticket counter for free. Southwest offers infant fares that allow you to purchase a seat for your baby to sit in an FAA-approved car seat.
Spirit
Spirit permits one stroller per child checked free of charge, as well as a double stroller for two children. If you are using a car seat and did not pay for an assigned seat and the seats do not fit the car seat, the airline will try its best to move the parents and child in an aisle that will accommodate the seat, excluding Big Front Seats. Big Front Seats are a premium item available for an extra fee.
United
United permits checking a stroller or foldable wagon for each child at the ticket counter or gate at no additional charge. Small, collapsible strollers can be brought on board free of charge and stowed in the overhead compartments. They also allow customers to check a car seat for each child traveling. United does not reserve space for FAA-approved child seats unless a ticket has been purchased for that seat. If space is available after boarding is completed, customers may use adjacent unused seats for car seats. If space is not available after boarding is completed, the item must be stowed in an approved storage space.
While it may seem like a hassle if it's your first time, traveling and flying with a car seat and stroller doesn't have to be as stressful as you may imagine. The key is to plan ahead and know what to expect from the airline you're traveling with. In addition to using these tips, also make sure your stroller and car seat meet the compliance standards for flying and are comfortable and durable for the trip you're planning. If it's time to buy or upgrade either of these items, Chicco has a variety of car seats, strollers, travel systems, and baby carriers for parents to choose from.