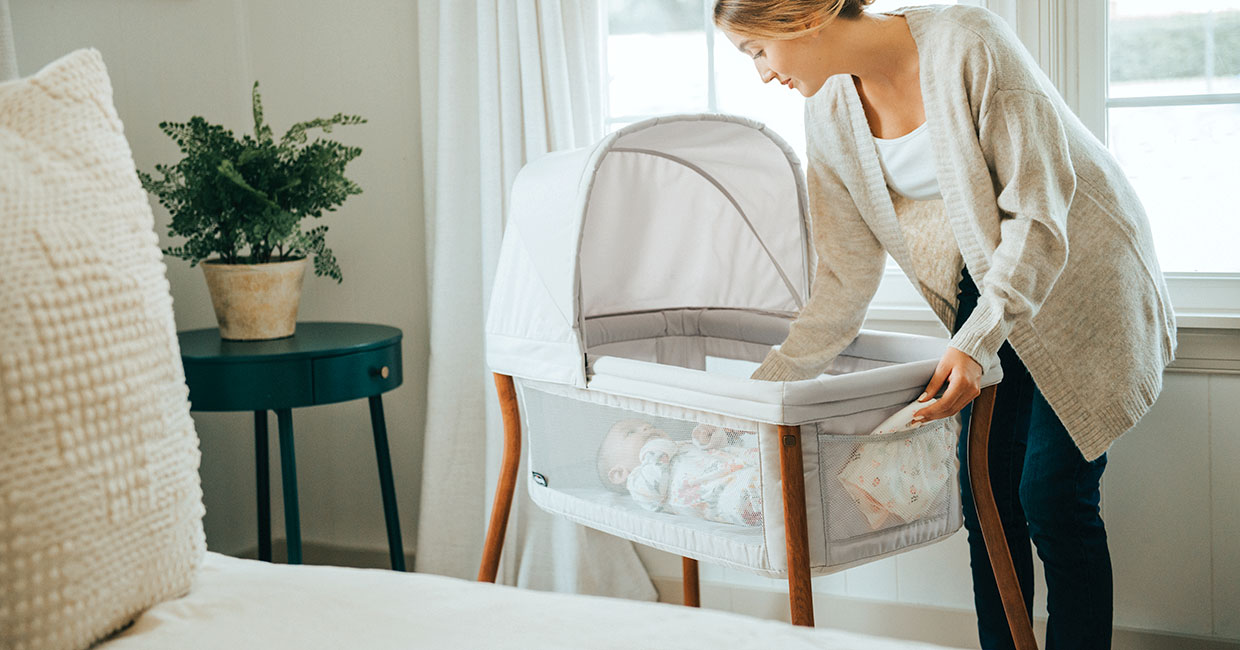 It might be hard to believe, but before you know it, you'll be welcoming a new addition to your family! If you're like most parents-to-be, you'll want to make sure that your baby's nursery is well-equipped and ready for them before they arrive. This checklist will help ensure you have all the nursery essentials you need so that when the big day comes, you can focus on enjoying your new bundle of joy.
A bassinet is a small infant bed ideal for newborns for the first few months after birth. Want to keep your little one close, safe, and secure any time, day or night? Our Close to You Bedside Bassinet is adjustable, portable and long-lasting, giving you plenty of flexibility to transport your baby around the house with you and it easily converts to a height-adjustable changing table which extends the useful life for up to two years. Also, look for a model with a washable mattress cover, breathable side panels and added functionality which extends the useful life of the product.
Once your baby has outgrown their bassinet, they will need a more permanent sleeping solution. A crib is a classic choice for most parents, but there are a few things to keep in mind when you make your selection:
Decide if you want a convertible crib that will grow with your child (some 4-in-1 models will convert all the way up to a double bed) or a traditional style crib (that should serve you into toddlerhood).
Think about the size and weight of the crib. You'll want to ensure that it will fit in your nursery and that you can move it around if needed.
Make sure to choose a crib with solid construction for durability and safety.
If you're planning to bottle feed your baby, you'll need a good supply of bottles and nipples. But with all the options out there, it can be hard to know where to start. Although basic bottles have been around forever, we never stop innovating at Chicco. We're incredibly proud of our revolutionary Duo Hybrid Bottle, the world's first glass-lined plastic baby bottle. Duo Hybrid Bottles combine the safety and light weight of plastic with the purity of glass, so your baby's milk only touches 100% pure glass. Add our INTUI-LATCH® Nipple for breast-like flow and the perfect shape and texture to make latching and feeding a breeze.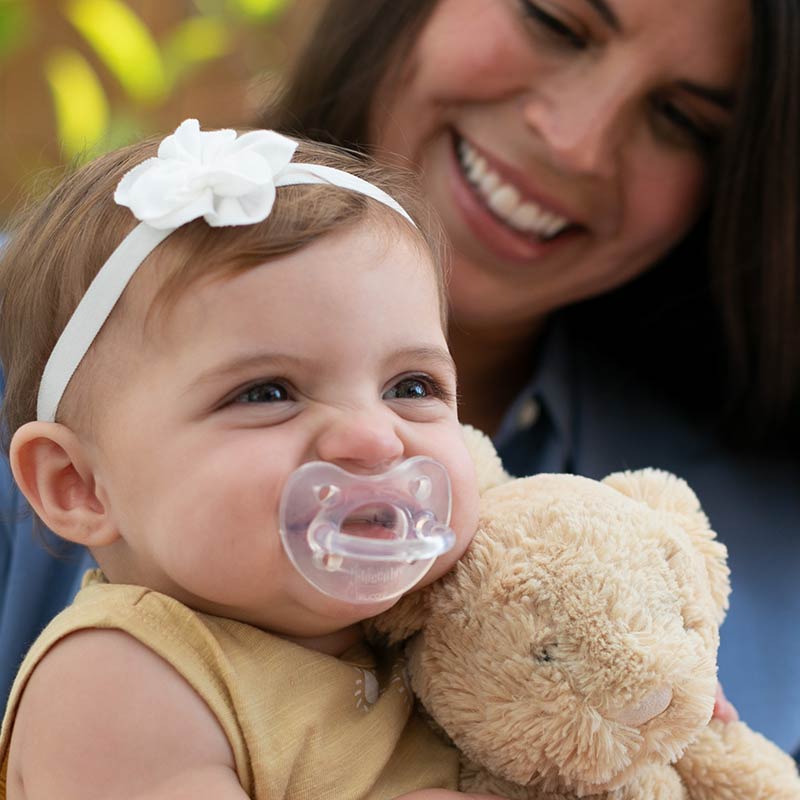 A pacifier can be a lifesaver for both you and your baby. Not only can it help to soothe your little one, but it can also give you a much-needed break. Unfortunately, not all pacifiers are created equal, and poorly designed pacifiers can interfere with your baby's breathing and oral development. That's why we created our full line of PhysioForma® Orthodontic Pacifiers. They're clinically developed, tested, and accepted by 9 out of 10 babies, so you can rest assured that your little one is comfortable and safe. Also, don't forget to check out our soothing pacifier accessories! We've got you covered, from clips and carrying cases to our fun Pocket Buddies.
A changing table is the heart of your baby's nursery. Not only does it provide a comfortable and safe place to change diapers, but it can also help to keep your home organized. A good changing table will have plenty of storage space for diapers, wipes, and other changing supplies. It should also be sturdy and well-made so you can feel confident that your child is safe while on the table. A changing table makes diaper changes quicker and easier, a definite perk for busy parents and their newest family member! The Chicco Close to You 3-in-1 Bedside Bassinet easily converts from bassinet to a portable changing table with gliding casters and a central locking mechanism, allowing you to set up a changing table wherever it's most convenient for you. Add on the Close to You Diaper Caddy to keep diapering essentials within arm's reach for fast and easy changes, and you're all set!
Want your baby snuggled close while you move about hands-free? A baby carrier is one of the most valuable pieces of gear you can own as a new parent. However, with so many different styles and features to choose from, it's important to find the right one for you and your lifestyle. Our SideKick Plus 3-in-1 Hip Seat Carrier has (you guessed it) three different modes so both you and your baby can enjoy maximum comfort from infancy through toddlerhood.
Playpens provide a safe, designated space for your little one to play and explore so you can rest easy knowing they're not getting into anything they shouldn't be. Independent playtime is crucial for your child's development, and it's also an excellent opportunity for you to get some things done or just take a breather. Our Dash Instant Setup Playard is a great option. It features a comfy padded mattress and excellent visibility through the breathable mesh sides. Add the Dash Playard Play Panel with a fun safari animal motif for interactive play and tactile exploration. Your baby will love spending time in their own little space, and you'll love watching them play and learn.
Looking for a safe, comfortable place to put your baby while you take a shower or cook dinner? A bouncer seat is the perfect solution. Our E-Motion Auto-Glider & Bouncer combines the comfort and purity of organic cotton with innovative motion-sensing technology to keep your baby relaxed and happy.
It's no secret that getting newborns to sleep can be a challenge. When you finally get them down for a nap, the last thing you want is for the sun or street noise to wake them up. After all, newborns need a lot of sleep (up to 17 hours a day)! Blackout curtains are a great way to keep your nursery dark and quiet, so your baby can get the rest they need. But blackout curtains are more than just a sleep aid - they can also help to protect your baby's skin from the sun's harmful rays. In addition, they can help keep your nursery cool and comfortable if you live in a hot climate. White noise machines are also a great way to help drown out any external noises that might wake up your baby.
Leaving your baby's side for even a minute can be anxiety-inducing if you're a new parent. Enter the baby monitor. This handy device allows you to hear and see your little one from another room, giving you peace of mind and the freedom to get things done around the house. Some models even come equipped with features like two-way talk, night vision, and temperature monitoring. So whether you're doing laundry or taking a well-deserved nap, a baby monitor can help you stay connected to your little one.
When your little one is napping during the day or sleeping at night, the last thing you want is for them to be disturbed by outside noise. That's where a white noise machine can help. White noise machines create a gentle, constant sound that can help to mask other noises and soothe your baby. Another perk? If your baby is used to sleeping with white noise, it can actually help them sleep better when they're away from home, like at a grandparent's house or on vacation. So if you're looking for a way to create a more serene environment for your baby, a white noise machine might be a game-changer.
Building a nursery for your new arrival can be both exciting and overwhelming. By following our nursery checklist, you can be sure you have everything you need to create a safe and comfortable space for your little one. Your new nursery is essentially your home base to take care of all your baby's needs, so take your time to make it perfect for you and your family. Prepare for your nursery needs by shopping for our products, and check out our blog for more helpful tips.