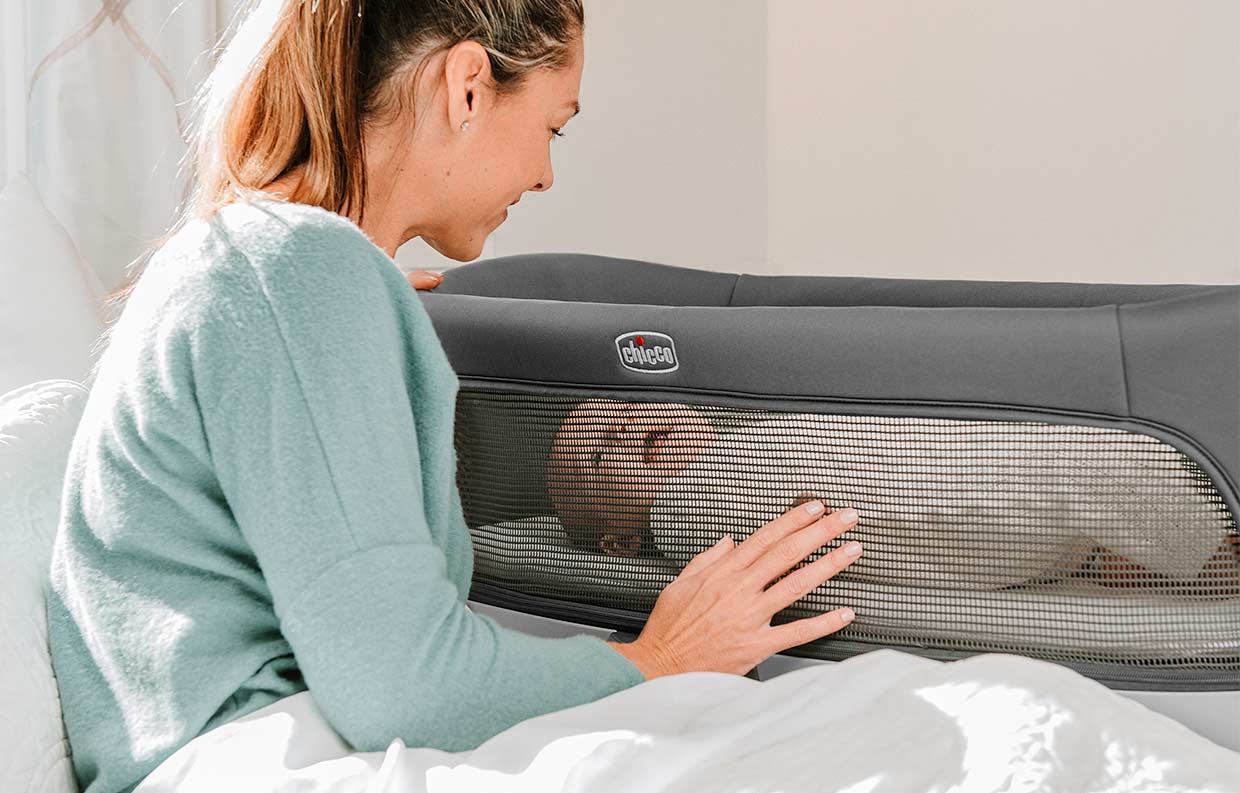 Parents tend to set up a crib in preparation for their baby's arrival. However, most are still unsure whether they need a bassinet or if their baby will use a crib from day one. New parents can be easily overwhelmed by the advice that gets thrown at them from every direction — including whether or not to buy a bassinet. This guide will help you wade through the confusion so you can make the right choice for you and your little one.
A bassinet is a safe sleeping option that offers extra mobility when you bring your newborn home and is the perfect addition to add to your baby registry when you become a new parent. When your baby gets fussy at night or wakes up for night feedings, you can enjoy the added convenience of having them close by instead of in a separate room. Keep reading to learn about the pros and cons of owning a bassinet, the types of bassinets on the market, and answers to any of your FAQs about bassinets.
Bassinets provide a firm, flat sleep area that is specifically designed for newborn use. They are created with mobility in mind so your baby can nap or sleep in them while being close to you. Due to their smaller size, most bassinets can accommodate babies for the first few months of their lives or until they outgrow the bassinet and become more mobile. Most traditional bassinets have an oval shape and come with a comfortable mattress pad. They typically have mesh side panels so airflow isn't restricted.
Unlike cribs, they are small enough to fit next to your bed, allowing you to share a room with your baby. This way you can keep an eye on your baby throughout the night, giving you peace of mind. Some of them have wheels so you can easily push the bassinet from one room to the next as you go about your day. You can place your baby down for a nap, which leaves your hands free to do something else — or grab a nap yourself!
When Can Your Baby Use a Bassinet?
Your baby can use a bassinet from day one, up until they reach the product use limitations of the child's weight, size, or development. Most bassinets can accommodate an infant up to 20 lb. but check the guidelines for the specific bassinet you've purchased. Once your baby starts pushing up on their hands and knees though, it's time to transition them to something else even if they still fit in the bassinet. Once your baby becomes more active, they could risk falling out and injuring themselves.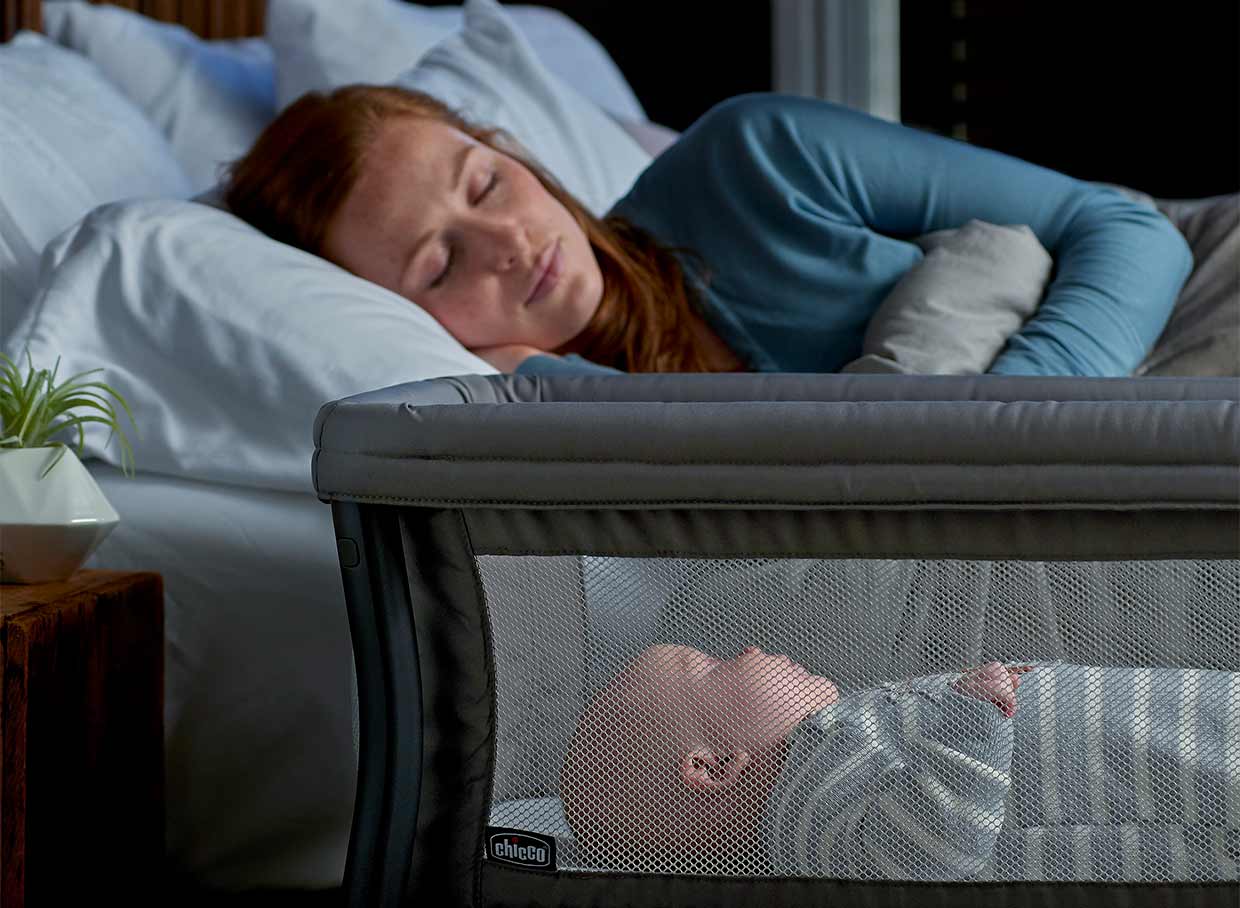 There are multiple benefits to owning a bassinet whether you're a first-time parent or thinking of getting a bassinet for your last baby.
Added Convenience: With a bassinet, you can keep your baby next to your bedside at night. This is great for mothers who have had C-sections and need time to rest and recover while keeping their little ones within easy reach. As your baby wakes up every few hours to feed during the night, you can quickly scoop them up into your arms and tend to their needs.
Easy Mobility: Some bassinets have wheels so you can push them from room to room. Even models without wheels are still very lightweight and can be moved to any room easily.
Room Sharing: The AAP recommends infants sleep in their parent's room, close to their bed, but on a separate sleep surface designed for infants for at least the first six months. Bassinets are smaller than a crib so they can more easily fit in your bedroom. You might also find that your baby simply sleeps better when they are in the same room as you compared to being in their nursery.
Portability: Some bassinets can fold compactly and come with a travel bag to take with you when you're traveling on trips or if your baby is staying at their grandparent's house. Parents don't need to sacrifice safety for portability either, as bassinets are regarded as a safe sleeping option, per the AAP, and are regulated by the CPSC (Consumer Product Safety Commission).
Easy to Clean: It's no secret that babies are messy. Bassinets are easy to wipe down and keep clean. Look for bassinets with waterproof mattresses or ones with fabric covers that zip off and can be thrown in the washing machine.
Value: While your baby can only use a bassinet for a certain amount of time, they do come in handy, especially if you plan on expanding your family down the road.
For some families, bassinets may not be the optimal choice. Some of the cons of bassinets include:
Additional Sleep Accessory: If you're tight on space or simply don't want to make room for an extra baby product in your life, then a bassinet may not be right for you.
Short Lifespan: Your baby will eventually outgrow their bassinet, which means you'll need to transition them to a new sleeping environment.
Expensive: Some bassinets can be expensive. We recommend shopping within your budget so you don't regret your decision down the road.
We offer a variety of bassinets to fit your needs. Our Close to You Bedside Bassinets can glide over your bed for nighttime feedings. They have wheels so you can move them from room to room. They come with waterproof mattresses and machine-washable, zip-off fabrics so cleaning messes is a breeze. Both bassinets are also height adjustable so you can stand while doing diaper changes or lower it to bed height. One of our styles also converts into a changing table and offers music and vibration to lull your baby back to sleep in case they're restless.
Our LullaGo® Bassinets are sturdy and portable. They provide a cozy and comfortable place for your baby to sleep and feature storage pockets so you can store nighttime necessities. Some of our models are equipped with canopies to offer a more comfortable sleeping environment. Mesh sides allow you to watch over your baby and improve airflow. Fabrics are removable and machine-washable for added convenience. When you're not using them, they fold flat and can be placed in their travel bag for overnight trips or storage.
If you're looking for a sleeping area that your baby can get more use out of, then consider a playard, which is a great alternative to a bassinet. Playards can be used at home or for overnight travel. Some of our playards offer all-in-one convenience and can be used with a bassinet, a changer, and as a traditional playard. As your baby grows they can enjoy playing inside the playard, allowing you to relax while they stay preoccupied with their favorite toys.
Below, we break down some of the most common questions about bassinets.
Why Should I Buy a Bassinet for My Newborn?
A bassinet's primary purpose is to provide a safe place for your newborn to sleep, however, they can make life easier for you and your baby. Once your baby goes from womb to world, they may prefer sleeping in a bassinet, which offers a smaller sleeping environment that's reminiscent of a womb.
A bassinet can be a useful tool if your baby is struggling to sleep, which affects your own sleep. Rather than dragging yourself out of bed to tend to your baby, a bassinet allows you to keep your baby within reach so you can comfort them at night. They also allow easy access for night feedings. Overall, bassinets give you more freedom and flexibility regarding where your baby sleeps and portable ones allow you to keep an eye on your little one while getting work done in different rooms.
Are Bassinets Safe to Use?
Bassinets are a safe place for your baby to sleep, so long as you comply with the product use limits. Most bassinets have a 20 lb. weight limit and aren't safe to use once your baby starts pushing up on their hands and knees. Talk to your pediatrician for advice if you're on the fence about using a bassinet. As with a crib, you should always practice safe sleeping habits when using a bassinet. Never place any accessories, blankets, or toys into the bassinet with your baby as they can obstruct their airway.
While bassinets are convenient for sharing a room, you should never sleep in the same bed as your baby. All of our bassinets are JPMA Certified so you can feel confident that our products have been independently tested to the strictest of safety standards.
How Many Bassinets Do I Need?
We recommend one bassinet for your baby. If you have twins, the AAP recommends not letting them sleep together to reduce the risk of SIDS. In this case, purchase two, with one bassinet for each.
Bassinets offer extra convenience, portability, and can make sharing a room easier, along with travel and daytime naps. Find the bassinet that's right for your baby and stock up on fitted sheets for your bassinet or playard. Visit our Baby Talk Blog for more helpful parenting tips.