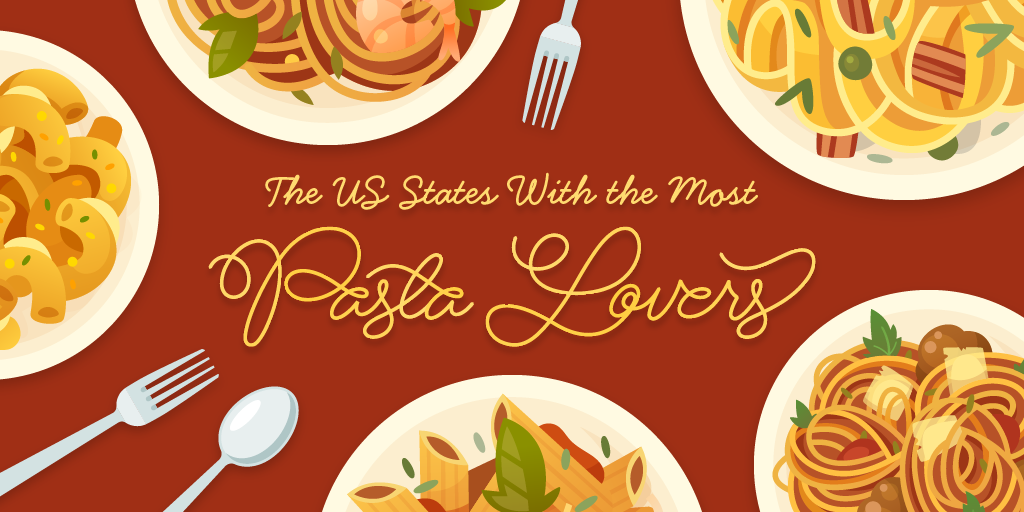 If your child is fussy about food, you're not alone! Every parent of picky eaters has their secret weapon in the ongoing battle to keep their little one's tummy topped off. For many moms and dads, pasta is the go-to. The seemingly endless noodle shapes, sauce, and side combos keep it fun, engaging, and healthy for your little food critic (and the rest of the family). After all, the pasta-bilities are endless!
At Chicco, we're proud of our Italian heritage and are headquartered in Italy (the home of pasta), less than 30 miles from Milan. So as an Italian brand, it's no surprise that Chicco has a particular interest in which states love pasta the most. Read on to see what we found!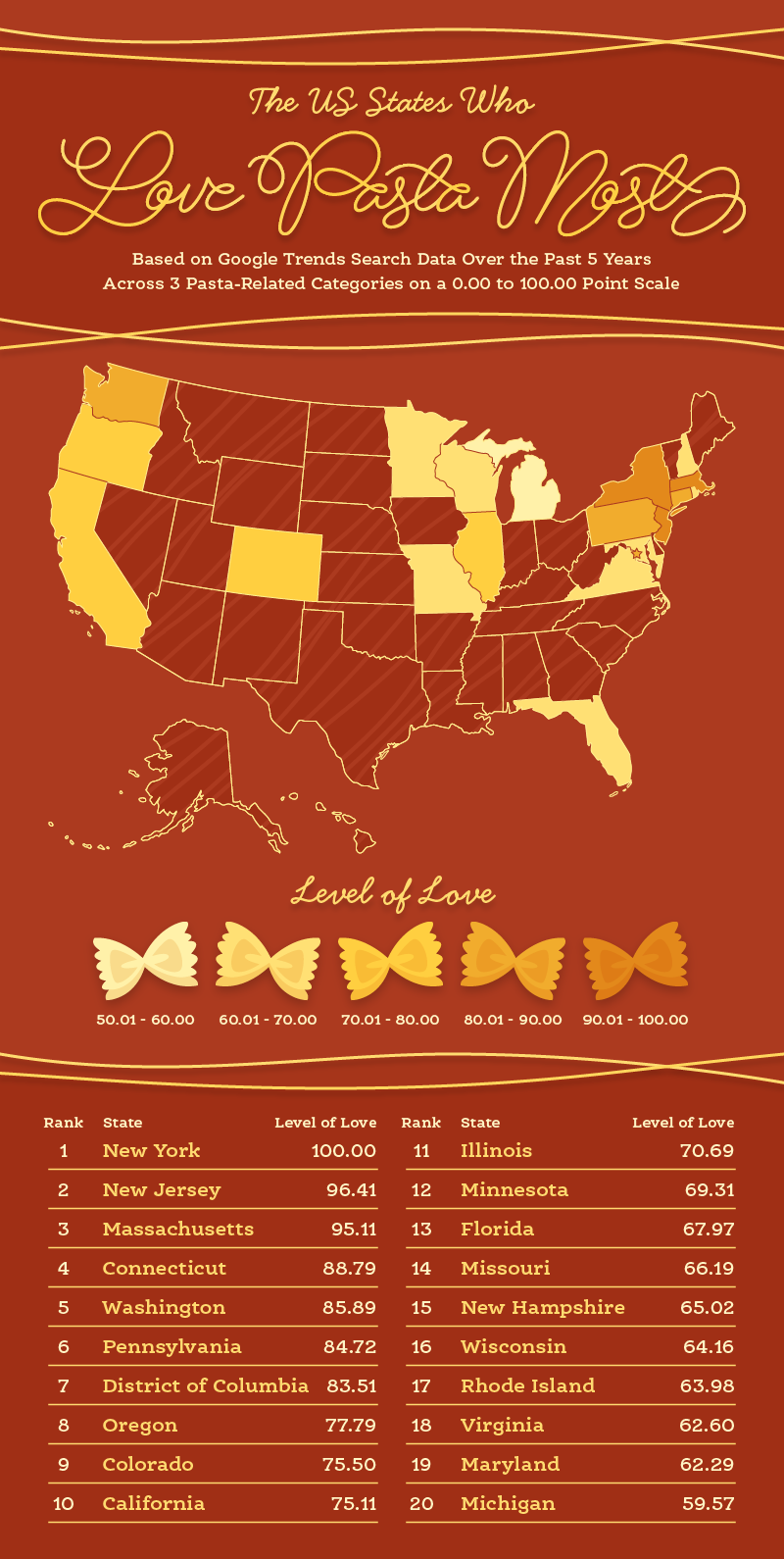 Pasta is extraordinarily popular throughout the United States. But some states in particular just can't get enough of the good stuff! Here are the top 5 pasta-loving states:

Pasta is filling bellies across the United States, popular among adults and children alike! But what kinds of pasta, sauces, and sides are most likely to wind up on the menu? Read on for America's top three favorites in each category:
Overall, macaroni is America's favorite. It can be eaten at an upscale eatery or at the kitchen table — macaroni and cheese is classic comfort food and a favorite of pint-sized picky eaters! Popularized during World War 2 due to the rationing of meat and cheese, the elbow-shaped pasta dish represents the American home-cooking experience.
Capellini comes in at a distant second, winning in four states compared to Macaroni's twelve. Meaning "fine hair" in Italian, it's commonly known as "angel hair pasta". The delicate spaghetti-shaped noodle is versatile and cooks quickly, and we can see why it's a popular choice for busy parents nationwide.
Five other pasta noodles tied for third place, claiming the hearts and satisfying the stomachs of three states each. We would have guessed spaghetti would have outpaced its competitors, but our data clearly shows how diverse U.S. pasta preferences can be from household to household!
Looking to complete your pasta dish with a delicious sauce? Three stand out above the rest:
Marinara: The favorite in 27 states, including Maine, Colorado, and Kentucky, the classic pasta sauce is made with tomatoes, garlic, onions, and herbs. Its versatility and flavor make it the front runner according to Google search interest.
Alfredo: Although it trails behind Marinara by 19 states, Alfredo sauce is a classic in its own right. Alfredo di Leio famously invented the sauce in 1908. According to legend, he whipped up the first batch for his wife, who had lost her appetite during birth. The recipe quickly spread beyond di Leio's native Rome and became a legendary comfort food.
Pesto: Proof that the Renaissance was indeed the age of enlightenment; the sauce hails from Genoa, Italy. Traditionally made from basil, Parmesan cheese, pine nuts, and olive oil, it has a bright and hereby flavor that pasta lovers can't get enough of!
When it comes to favorite pasta sides, garlic bread handily beats out the competition. While we hate to appear biased, not even picky eaters could deny the appeal of a warm, garlic-y hunk of bread to accompany their pasta dish. In close second is a cup of soup. The two paired together make for a hearty and filling meal. Last but not least is the side salad. A simple green salad is a perfect complement to a heavier pasta dish.
While data shows the national favorite is macaroni topped with marinara and a side of garlic bread, we wanted to understand what pasta dinners in each state would look like!
What's the number one pasta in the nation's most pasta-loving state? Drum roll, please! Rigatoni rules the roost in The Empire State! With pesto and garlic knots, the combo scored a perfect 100% level of love among New Yorkers.
Penne pasta with vodka sauce and garlic knots is the pasta dinner of choice in The Garden State! Yep, you read that right! If you've never tried vodka sauce on pasta, you're in for a real treat. It's creamy, flavorful, and definitely worth a try!
Ravioli with Bolognese sauce and garlic bread is the favorite in the third-most pasta-loving state of Massachusetts. Is it any surprise that mini pillows packed with deliciousness (often fresh-caught seafood) would be a top pick in The Bay State? We think not!
Check out the map above to find what combination is most popular in your state.
So there you have it! A comprehensive look at pasta preferences across the United States. Whether you're a fan of classic dishes like spaghetti and meatballs or a more adventurous pasta lover always willing to try something new, we hope this article inspired you to get out there and explore the wonderful world of pasta with your family.
Spaghetti and mac & cheese are easy go-to's for picky eaters, and that's ok! With a little time and a lot of noodles, who knows where their pasta journey will take them? We love pasta for its amazing ability to inspire even the pickiest kids to try new things and get fired up about the joys of food. So the next time you're looking for an easy meal that everyone will love, think pasta!
Need the perfect spot for your little foodie to enjoy their favorite pasta? Chicco offers a complete line of easy-to-use (and clean) highchairs and boosters that are perfect for pasta-loving kiddos of all ages!
To uncover the top U.S. pasta trends, we looked at online search interest for pasta noodles, sauces, and sides over the past 5 years. We explored 54 pasta-related search terms across the three categories to determine the clear winners for each state. We also sourced information from the experts at WebstaurantStore, Jessica Gavin, Uno Casa, and Spruce Eats.