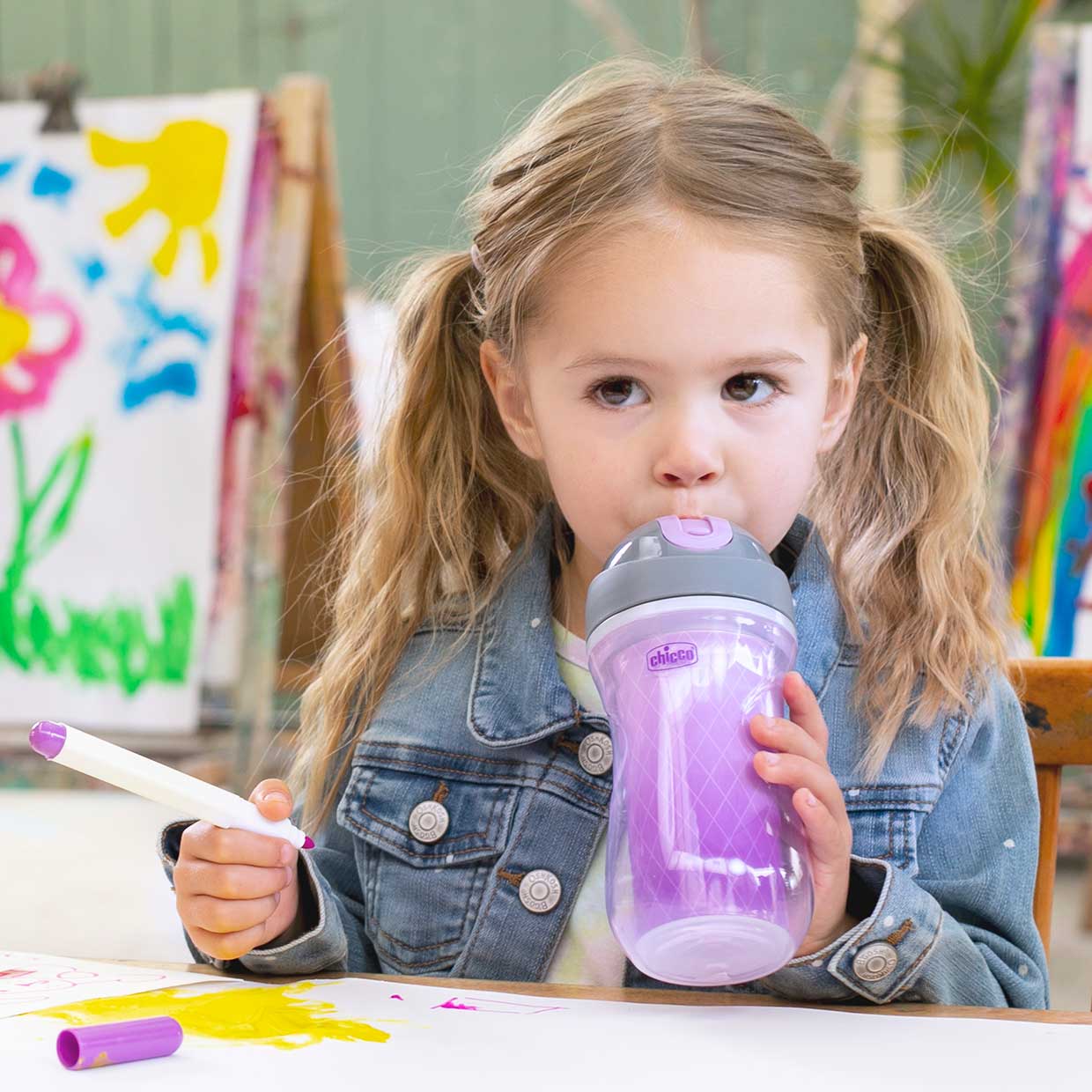 Just as your baby eventually trades in their newborn clothes for a bigger-sized wardrobe, so too will they eventually swap their bottle for a sippy cup! As you notice your baby start to become more independent (a.k.a. developing Hulk-like grip strength) you may be wondering if now is the time to introduce them to a sippy cup. Most sippy cups are designed to be spill-proof, easy for tiny hands to hold, and durable enough to withstand the occasional drop. In this article, we'll guide you through the process of introducing your baby to a sippy cup and offer tips for making the transition as smooth as possible.
Sippy cups are a fantastic training tool for babies. These cups typically feature a screw-on lid and spill-proof design, helping to ease the transition from bottle to cup. Their purpose is to help wean your baby off the bottle and teach them to drink from a cup without a lid in the future or even a cup with a straw.
As a parent, it can be challenging to determine when to introduce your baby to a sippy cup. The truth is, the answer can vary depending on who you ask. Some parents may introduce a sippy cup as early as four months, while others may wait until their baby is closer to nine months. A good rule of thumb is to start introducing a sippy cup when your baby begins having solids, which typically happens around six months of age.
At this point, they should have developed good head and neck control, and be able to sit up on their own, making it easier for them to handle a sippy cup. If your baby is using a highchair, it may be a good indicator that they've hit the appropriate milestones for using a sippy cup.
The AAP recommends introducing a sippy cup at the six-month mark with the guidance to fully transition your baby away from their bottle between 12-18 months. Of course, every baby is different, so give your baby plenty of time if they haven't hit these milestones yet.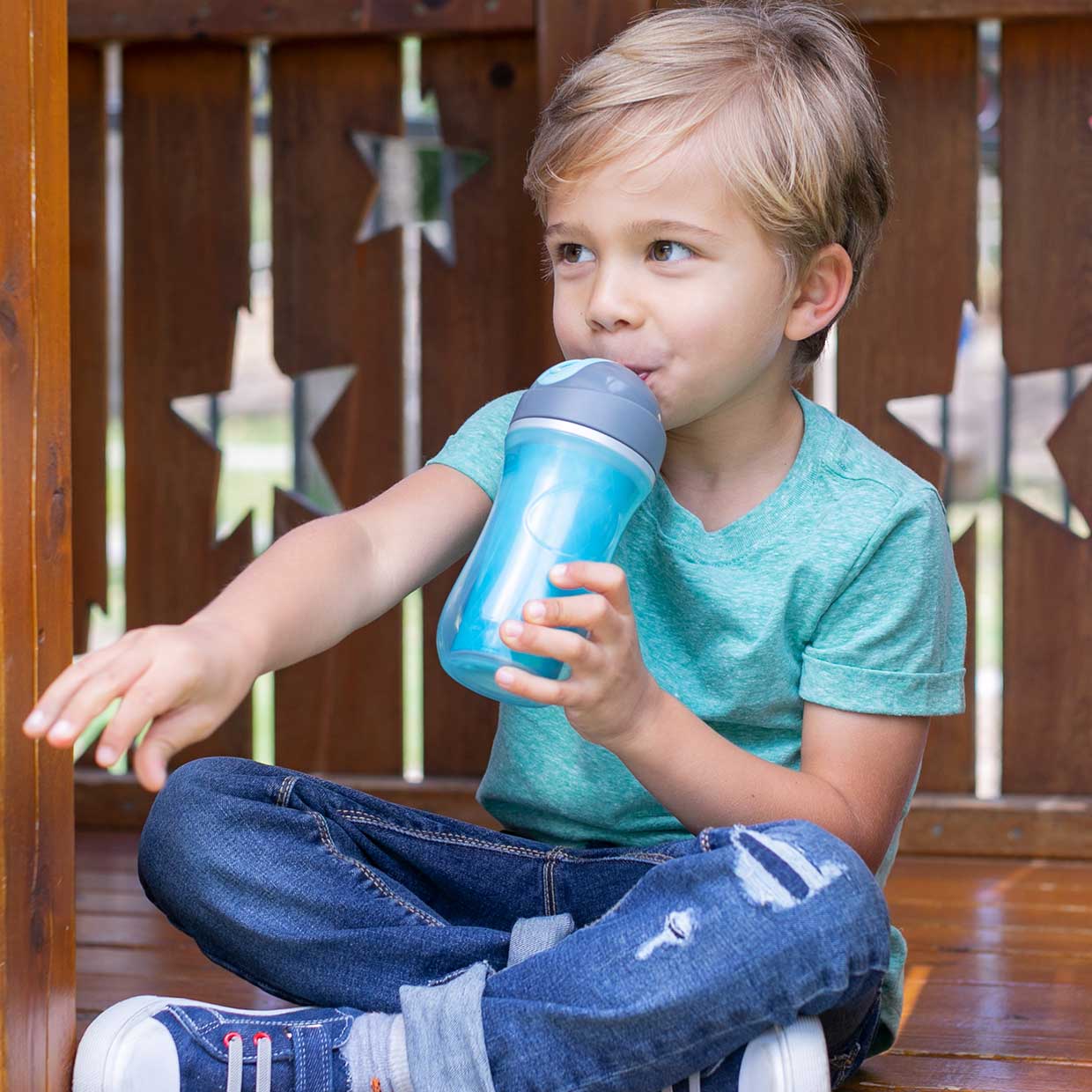 As a parent, you're your baby's biggest fan! Encourage your little one to use a sippy cup with some of our helpful tips below.
Choose Your Cup Carefully: When choosing a sippy cup, opt for one with a soft spout and fun designs to make it more appealing to your baby. It should be spill-proof and lightweight.
Show, Don't Tell: Show your baby how to use the sippy cup first and then gently bring it to their mouth so they can try sucking on the spout. For babies under a year old, breast milk, formula, or water (if they're at least 6 months old) can be given in a sippy cup.
Pick the Right Time: It's a good idea to introduce the sippy cup during specific meals or snack times, starting with swapping a sippy cup for a bottle for one meal and gradually increasing. Keep bottles out of sight, so their attention is focused on the sippy cup alone.
Praise Your Baby: Positive reinforcement is crucial whenever your little one uses the sippy cup. Be sure to clap and encourage them!
Practice Patience: If your baby doesn't take to the sippy cup right away, give them time. Every baby is different, and some may need more time to adjust to the new cup. Remember not to force it, and if your baby turns their head, they are most likely finished drinking from their cup.
There are countless sippy cups out on the market today so it can be a little overwhelming trying to figure out where to start. You'll want to pay close attention to the factors we outlined below.
Age
Just as baby toys have age labels, so do sippy cups. Sippy cups are designed to meet the developmental needs of different age groups and are available in various sizes, each holding a different volume of liquid appropriate for each age range.
4 - 6 months+: Choose a sippy cup with handles and a bottle-like shape, as your little one may be accustomed to drinking from a bottle. Opt for spouts made of silicone that are easy to drink while still being gentle on their gums. These sippy cups hold smaller volumes of liquid (7 oz.).

Our silicone spout transition cups are spill-proof, and feature easy-to-hold handles and a soft spout that's easy to latch onto. The spout has a satin texture and a familiar, rounded breast-like shape, which makes the transition from breastfeeding to a sippy cup easier.

Since babies start to get their teeth around 6 months, our semi-soft spout trainer cups are a great transition option for teethers (a.k.a. little beavers) who bite on their spouts. The bite-resistant spouts are gentle on gums and the cup's handles are removable so your little one can practice holding a "big kid" cup. They also feature snap-on caps, and come in bright, colorful designs!
9 months+: Once your munchkin gets a little older, you can look for sippy cups with straw-shaped spouts. Since your baby will most likely drop their sippy cup from time to time, look for ones with a snap-on lid to keep the spout clean. Opt for easy-to-hold designs and cups that accommodate larger volumes of liquid (9 oz.).

Our sport spout trainer cups come in packs of two and hold 9 oz. of liquid. They feature a semi-firm spout and contain minimal parts so they're easy to clean. These cups have a contoured design that's easy to hold and a snap-on cap so it stays clean in-between sips!
12 months+: Once your baby turns one, they're on their way to mastering bigger and heavier sippy cups. Insulated sippy cups will keep their drinks nice and cold when they're playing outside all day and rim spouts can help teach them how to drink from the rim of a cup!

Try out our insulated rim trainer cup, which is bite-proof and features a spill-free, ergonomic rim spout that's easy to clean. They come in packs of one and two and some have glow-in-the-dark designs.

Our insulated flip-top straw cups come in packs of two and feature silicone bendable straws and double-wall insulation. They're also top-rack dishwasher safe for easy cleaning.
Material
As a parent (a.k.a. a superhero), you know every detail about your little one's life — down to the material of their sippy. Although most new sippy cups are typically free of BPA, latex, and PVC, it's always a good idea to double-check the label. Below, you can learn more about the different materials used in sippy cups.
Glass: While glass sippy cups may be regarded as safe from toxins and chemicals, they are not the most practical choice for sippy cups. Toddlers are known for dropping items and their sippy cup will be no different. Some companies put a silicone sleeve on glass sippy cups to prevent breaking when dropped, but accidents can still happen. They also may not be allowed in certain daycares, as they may have rules regarding what type of sippy cups children can use.
Stainless Steel: Stainless steel sippy cups may seem like a great alternative to plastic, but they do have their downsides. Parents cannot see how much liquid is in the cup, which can be frustrating. More intricate parts also mean there's a higher chance of mold growing, which can be difficult to find and clean. Stainless steel sippy cups often have design flaws like not fitting into cupholders and lid leakage. Overall, they can be heavy and expensive and may not be suitable for kids of all ages.
Plastic: Plastic is one of the most popular choices for sippy cups because it's lightweight and break-proof. Many plastic cups are transparent, allowing parents to monitor their child's fluid intake. Plastic sippy cups are easy to clean and are usually the most cost-effective option. Their lids are easy to attach, preventing spills and leaks. Plastic sippy cups are often considered the safest option while offering the most value and practical features.
Type and Style
When it comes to sippy cups, there are a range of styles to choose from. Some of the popular options include:
Spout Trainer Cups: Spout sippy cups feature a spout that your baby can sip on without worrying about spilling their drink, should they knock it over or hold it upside down. Our cups and spouts are interchangeable so you can easily find a lid and be on your way. Most spout trainer cups have usage requirements starting between 4-6 months.
Straw Trainer Cups: Straw trainer cups help get your little one used to drinking from a straw. Most of these have usage requirements starting between 9-12 months, depending on the design of the straw.
Rim Spout Trainer Cups: Rim spout sippy cups feature a narrow edge for drinking. They take more coordination to use and typically have usage requirements starting at 12 months.
As you're shopping for sippy cups you'll come across a wide range of design features. Insulated sippy cups are available to keep drinks cool for the summer. Some cups are weighted on the bottom to prevent tipping. When choosing a sippy cup, look for one with minimal pieces that can be easily disassembled and labeled dishwasher safe, which makes it easy on caregivers (who already have their hands full). It's important to observe which type of cup your baby prefers to use and see what they're most drawn to.
Curious about which drinks work best for sippy cups? View our recommendations for your little rockstar below.
Breastmilk or Formula: Both breastmilk and formula are great for introducing your baby to their first sippy cup.
Water: Water is appropriate for sippy cups once your baby is around 6 months of age.
Milk or Juice: You can let your little one try new flavors by putting juice or cow's milk in their sippy cup. You should wait until your baby is at least 12 months old to try either.
Soda: Soda and other sugary drinks aren't suitable for sippy cups, as they can lead to tooth decay. Some sippy cups don't handle carbonation well either, making them difficult to drink.
Never send your baby to bed with their sippy cup full of formula, milk, or other sugary drinks, as it can lead to bottle rot and other infections. If you're unsure of what type of new liquids to try or if allergies run in your family, reach out to your pediatrician to see what they recommend. And as always, practice proper teeth brushing to keep your baby's pearly whites shiny.
Introducing your baby to their first sippy cup is simply another step in their independence, however, finding the perfect sippy cup is half the battle! Take time when considering which sippy cup you'd like to buy and give your little one the encouragement they need to switch from their bottle to their sippy cup. Visit our blog for more tips and parenting tricks. Happy sipping!