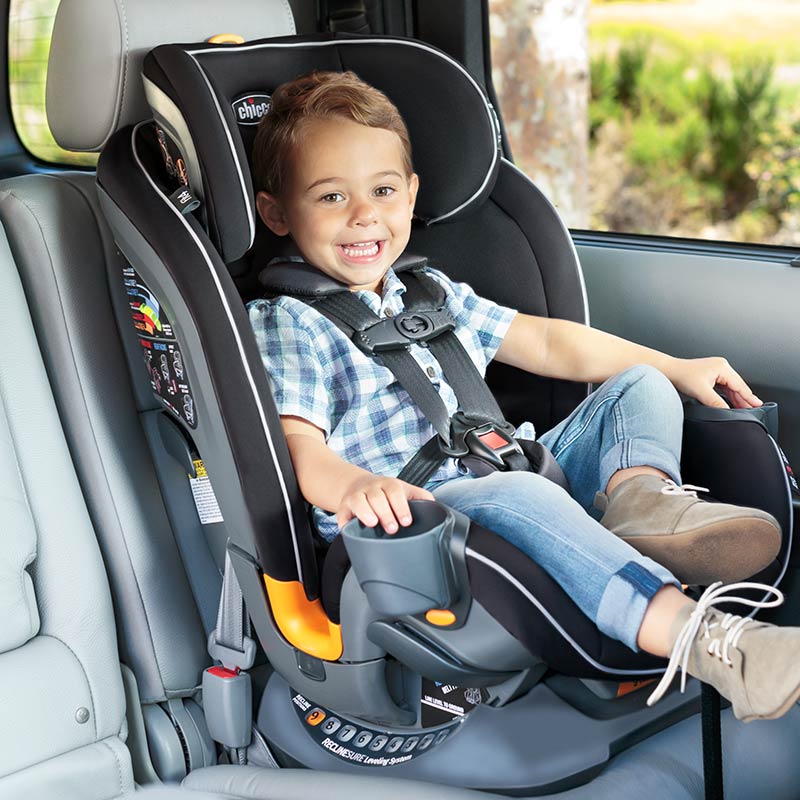 When it comes to car seats, one of the most important decisions you'll make is when to turn your baby's seat around. Let's face it; car seat safety can be confusing. There are an overwhelming variety of car seat types on the market, standards regularly undergo updates, and car seat usage rules vary from state to state. So, based on current standards, when can your baby face forward in their car seat?
When Can a Child Safely Transition to a Forward-Facing Car Seat?
Here's what you need to know: The American Academy of Pediatrics (AAP) recommends that all infants and toddlers remain in a rear-facing car seat for as long as possible, meaning until they reach the maximum weight or height limit set by the car seat manufacturer for your car seat. To ride safely, newborns require an infant car seat (or ones designed for newborns and toddlers like a convertible car seat). Simply put, an infant car seat is a rear-facing car seat specifically designed for infants and toddlers. Most infants and toddlers will outgrow their infant car seat in length (kids younger than two years old are measured by "length" rather than by "height") at the age of 9-18 months (30-35"). But, when your baby begins to outgrow their infant car seat, it's still not time to face them forward.
Replace their infant car seat with a convertible car seat or all-in-one car seat and keep them rear-facing until they reach the rear-facing limit for your specific seat (usually between 40 and 50 lb. or 43"-49"). Only then should you finally face your child's car seat forward. Most children will be at least two years old before they're ready to face forward. When in doubt, look for the label on your child's car seat or refer to the manufacturer's instructions to ensure you're familiar with the specific weight and height limits for your baby's car seat. It's also important to note that some states have laws regarding whether or not a child must ride in a rear-facing or forward-facing car seat until a certain age or weight limit has been reached.
Many parents feel tempted to turn their baby's car seat around too soon. After all, it can sometimes feel inconvenient and counterintuitive to have a baby in a rear-facing seat where you can't easily see them from the driver's seat, but rear-facing car seats are a lot safer for your precious cargo.
Why are rear-facing car seats so much safer? Because they protect your child's head, neck, and spine in the event of a crash by distributing the force of the impact across the entire seat and limiting head and neck movement. This is especially important for babies and toddlers because their heads are larger relative to their bodies, and their necks and spines are still developing.
Let's go over the basics of each type of car seat so you know your options and what to expect as your child grows and gradually transitions to a forward-facing seat.
Infant Car Seats
An infant car seat is rear-facing and offers supreme safety and comfort for newborns and toddlers. Most infant car seats are usually designed for babies ranging from 4-35 lb. and up to 32", however, all car seat models are different so be sure to check the manufacturer's recommendations for usage instructions. Some infant car seats also come with a removable newborn positioner for added support. One of the biggest benefits of infant car seats is that they can be installed with a base. If you have more than one vehicle, you could buy an additional base to make switching between cars easier. Infant car seats can also be used with a frame stroller or purchased as part of a travel system for on-the-go errands.
Convertible Car Seats
A convertible car seat offers rear-facing with harness and forward-facing with harness mode. This car seat allows your baby to ride rear-facing until they reach a certain weight or height (depending on the manufacturer). At that point, the seat "converts" to a forward-facing car seat, and your child can continue using the same seat until they reach the manufacturer's forward-facing height or weight limit. This seat is not portable, rather it stays in your vehicle.
All-in-one Car Seats
Your most versatile option, all-in-one car seats, keep your child safe on the road from birth to booster. This car seat offers rear-facing with harness, forward-facing with harness and booster mode, all-in-one. This seat also stays in your vehicle. It is also a great economical choice if you are a grandparent and are looking for one seat for when the grandchildren visit.
Harness + Booster Car Seats
For bigger kids, harness booster car seats (or combination car seats) are equipped with a forward-facing harness mode (for smaller children) that converts to a belt-positioning booster when the child meets the weight and height requirements.
Looking for a convenient visual aid that breaks down all of the above seat types by estimated age, height, and weight limits? Check out our How To Choose A Car Seat guide.
There are a few important considerations to keep in mind for a safe transition for when you're ready to turn around a car seat and have your child face forward.
Install Your Child's Car Seat Correctly
The above might sound like a no-brainer, but according to the National Highway Traffic Safety Administration (NHTSA), car seat misuse is dangerously common. NHTSA found that 61 percent of forward-facing seats and 49 percent of rear-facing car seats are installed incorrectly by well-meaning parents. Always read the instruction manual that comes with your child's seat and your vehicle owner's manual before installing or using a car seat. Then, if you still feel unsure, set up an appointment with a certified car seat safety technician in your area. You can also check the manufacturer's website for installation videos.
Know When to Change Your Child's Car Seat
Changing your child's car seat at the right time is essential to keeping them safe on the road. Familiarize yourself with weight and height limits for your child's seat and keep tabs on their weight and height, so you know when it's time to upgrade to the next size.
Always Install Car Seats in the Safest Position
Always consider the location where you will install your car seat consistently and accurately every time. Center seats may not accommodate a car seat as well as the outside seats. LATCH (lower anchors and tether for children) should be available for use in at least two seating positions if your car is 2002 or newer. You can generally use LATCH until the combined weight of your child and car seat reaches 65 lb. Your car seat should have a sticker on the side stating what weight that is. Then you will install your car seat with the seat belt. One is not safer than the other although most people find LATCH easier to use than seat belt installation. Check your owner's manual to help you with the different installations.
Consider the NextFit® convertible car seat from Chicco as an example. Most of the models in the series have a rear-facing maximum weight of 40 pounds, while the minimum weight for forward-facing is 22 pounds. You'll notice that there is a significant overlap there: 18 pounds to be exact. (Upgrade to the NextFit® Max Zip Air and the maximum weight limit is increased to 50 pounds with an overlap of 28 pounds.) While you are technically able to turn your child forward-facing when they reach the 22-pound minimum, the AAP suggests that you maximize the rear-facing limit of 40 (or 50) pounds. It's a good idea to make a mental note of your child's height and weight at their next well-visit so you know when it's safest to turn them around.
By following the above tips and guidelines, you can ensure that your child is riding safely in the car, whether you're running errands around town or taking a cross-country road trip. Remember, your child's safety is always the top priority, so take the time to do your research and ensure you're using the right seat for their age, weight, and height. Always read your car seat instruction manual. And, if you ever have any doubts, don't hesitate to call your car seat manufacturer or consult with a certified car seat safety technician in your area. For more car safety advice, check out our blog.