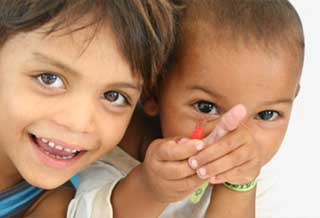 Happiness is like a seed generated by small gestures.
If we cultivate it, it will grow into a plant which sprouts abundant fruit.
Chicco has always been wherever there's a baby. And above all wherever there's a baby who is denied the security and serenity of a family. Chicco is well aware, in fact, that a good parent-child relationship provides the foundations for happiness, especially when they grow up. Happiness which the children living in difficult or inexistent family situations in Italy also have a right to. Chicco has been collaborating for over 10 years with the Ai.Bi. Association an international humanitarian organization that defends the rights of minors and their fundamental rights to have a family. And happiness.
Our wish? To give every child the chance to spend his childhood in the warm arms of a real family.
The Chicco Di Felicità Reinvents Itself and Brightens Up 2013 Making the Dreams Of Many Children a Reality
A new version of the Chicco di Felicità is born, the very charm made famous owing to its supportive nature, which makes 2013 shine, re-affirming itself as a symbol of commitments to children in difficulty.
The decorated charm featuring a bright star, a symbol of the desire of many children to find a family, is applied to an elastic, extremely comfortable bracelet.
Up to the present day, over 150,000 people, have decided to wear the Chicco di Felicità, demonstrating, on a daily basis, the genuine commitment which has secured significant results: 460 children have been adopted, 355 of which with special needs.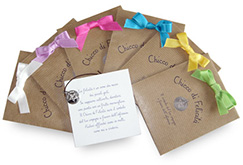 Why choose it
The Chicco di Felicità will mark a fashion icon during 2013 as worn by fans, but primarily, it will continue to bring happiness, blessing many parents and "special" children with a genuine family.
When selecting, wearing or gifting the Chicco di Felicità, you are demonstrating your affinity with the world of children.
Speaking of and raising awareness of the Chicco di Felicità signifies genuinely committing to protecting the Chicchi and raising funds to support "special children": children whose dreaming of having a mother or father is particularly difficult to fulfill as they are children with issues relative to health, age or children with numerous siblings.
THE MORE WE ARE - THE MORE WE CAN DO!
The Chicco and Ai.Bi. Story
The "Chicchi di Felicità (Seeds of Happiness) for special children" project is promoted by Chicco and Ai.Bi Association to support the adoption of children with "special needs". In line with this mission which dates back to 2003, in 2010 Chicco decided to support Ai.Bi. Association in a new project in favour of Special children. The project is aimed at minors in particular situations: children over 7 years of age, large families, children will various health disorders, many of which that can be resolved over time. The search for families which are suited for an adoption of this kind requires a very special type of support that Chicco intends to provide: specific training, psychological support and constant on-hand sustainment from the matching period through to the post-adoption phase.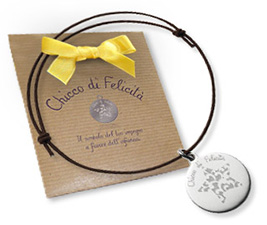 PURCHASE NOW
The symbol of this project is the Chicco di Felicità a stylish medal in chromed metal that can be worn at all times. The Chicco di Felicità is a sign of the pledge to support the world of children and its tangible commitment to help children who have a more difficult life compared to others. Purchase yours to make a donation.