The American Academy of Pediatrics (AAP) recommends that children ride rear-facing in their car seats as long as possible. Because rear-facing is the safest option for growing children whose skeletal systems are still developing, be sure to maximize the height or weight limits of the seat. According to the AAP, "this will include virtually all children under 2 years of age and most children up to age 4."1
Children are flexible. What seems cramped to you is not necessarily uncomfortable for a toddler.
Since kids' bones and joints aren't fully developed yet, they're much more flexible than adults. Even though riding rear-facing longer may require them to cross or prop up their legs, these seating positions are no big deal to a flexible toddler and allow for crucial protection of the head, neck and spine.2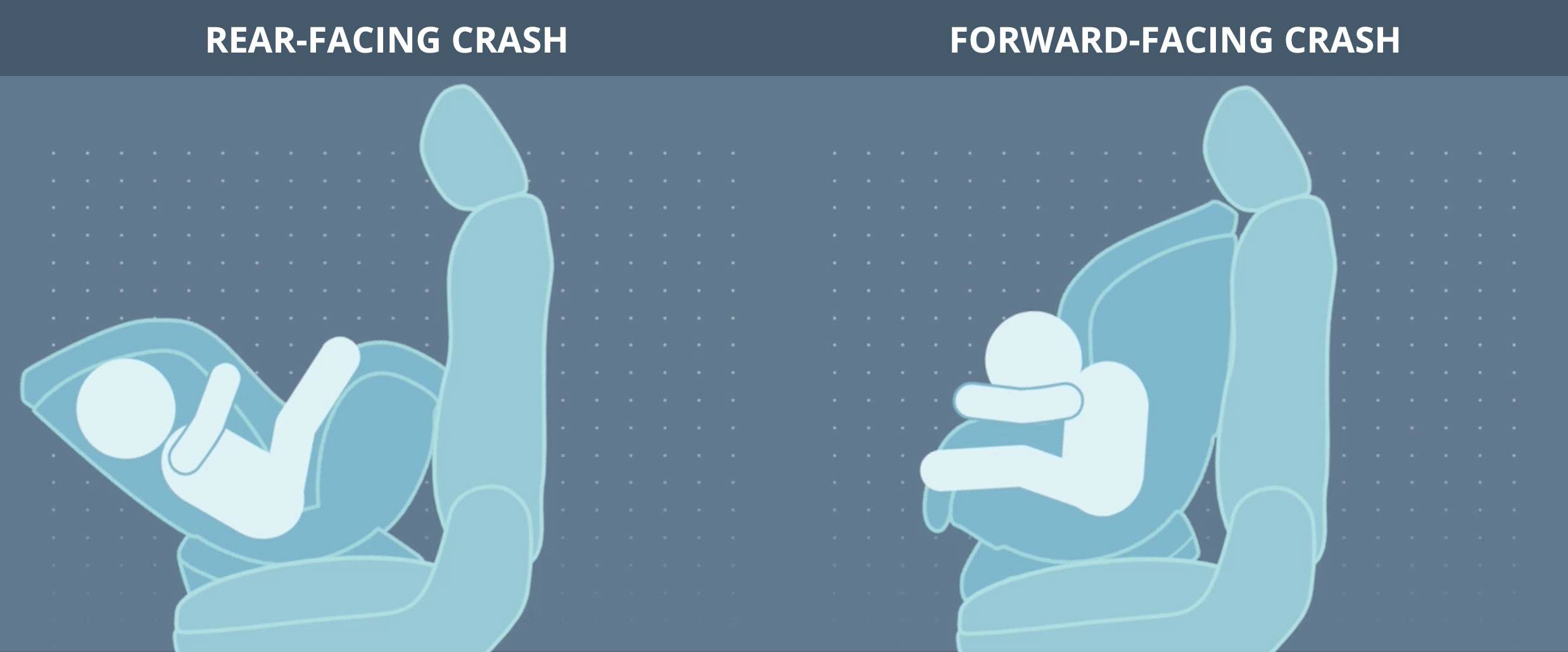 When rear-facing, a child's head, neck and spine are all supported by the car seat during an accident.
1. Pick a Method: LATCH vs. Seat Belt
When installing a car seat in your vehicle, you can use either the vehicle seat belt or LATCH system. (LATCH stands for "lower anchors and tethers for children.") Both methods are equally safe, so choose the one that gives you a confident, tight and secure fit. Check the owner's manual for your vehicle and your child's car seat for details and specific instructions. For forward-facing car seats, always supplement your installation with the top tether.3

LATCH installation is only approved up to a certain weight. Refer to the labels/manual for your child's car seat and switch to seat belt installation when the time comes.
2. Test the Install: The Inch Test
To ensure your installation is secure, do the "inch test" by giving the car seat/base a tug forward and from side to side. If it moves more than one inch in any direction, uninstall and start over.4
3. Getting Help
If you have questions or want hands-on assistance, SafeKids.org can help you find a car seat checkup event in your area or contact a local child passenger safety technician (CPST). You can also get in touch with a nearby CPST via www.nhtsa.gov.
Chicco Fit2 Car Seat - Installing LATCH
Learn how to install LATCH with your Fit2 base
Chicco Fit2 Car Seat - Installing with a seat belt
Learn how to install the Fit2 base using the lap and shoulder belt
Did you know?
Check the seat for a label or imprint indicating the date of the car seat expiration. Often it's 6-10 years after its date of manufacture.5
Car Seat Safety FAQs
When considering where to place your car seat in the vehicle here are some questions to ask:
How much legroom does the driver need? If the driver's vehicle seat has to be positioned farther back and reduces the room of the car seat, then you will need to pick another location.
Do you park your car on the street? If so, then you may want to consider behind the passenger side so that you can take your child out via the sidewalk.
The safest position in your vehicle is where you get the best installation. Often there is a hump or the center seat is not as wide causing a challenging center seat installation.
For all Chicco Car seats they should be installed using the angle indicator. The bubble level needs to be within the lines as dictated by your instruction manual. For more information check out our installation videos.
Grab your car seat at the belt path (This would be where the Lower anchors are located or where the seatbelt path is). Move the seat from side to side and back and forth, it should not move more than an inch. For more information please view our installation videos.
A rear-facing car seat helps to protect a child's head, neck and spine in the event of a crash. Generally, if you are currently using an infant only rear facing car seat like the KeyFit30 you would then transition to either a Convertible like the Nextfit or an All-in-one like the OneFit. The recommendation from the American Academy of Pediatrics is to rear face until you reach either the weight or height limit of the car seat for Rear Facing.
Booster seats help the child fit in the vehicle seat belt correctly. According to the American Academy of Pediatrics you should switch to a booster seat once your child outgrows their harness car seat in weight or height whichever comes first. We recommend a minimum of 4 years old, 40 lbs, 38 inches tall, and have the ability to sit relatively still and properly in a seat belt at all times.
You do not need to use the lower anchors for booster seats. Their purpose is to help keep the car seat in position for your child as they get in and out of the vehicle and to help prevent it from being a projectile in your vehicle in the case of a crash when it is not in use. You should always buckle the seat belt around your booster seat when it is not in use.
You may have the lower anchors too tight. Booster seats do not have to have less than an inch of movement side to side and back and forth. The lower anchors are just helping keep the car seat in place when it is not in use. In a crash the vehicle seat belt and safety systems will do all the work.