Details
MyFit Zip Air Harness + Booster Car Seat - Atmos
Promotions
Special Offer
Discount only applied to qualifying products and will be automatically calculated at the time of checkout. Offer is only available at ChiccoUSA.com. Offer valid only while supplies last and not applicable due to canceled orders or due to out-of-stock merchandise. Discount does not apply to taxes, shipping and handling charges, or other similar charges. Discount not applicable with returned merchandise; total discount will be deducted from the value of any returned item to which the discount applied. Cannot be combined with any other promotional offer nor is this offer valid on previous purchases. Offer excludes spare parts, accessories and items already on sale. Customer is responsible for all shipping costs for returned merchandise. ChiccoUSA.com reserves the right to modify this offer without prior notice.
Details
Additional Information
Features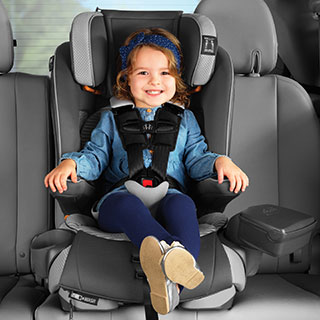 Harness Mode
Padded, no-rethread harness accommodates growing toddlers from 25-65 lbs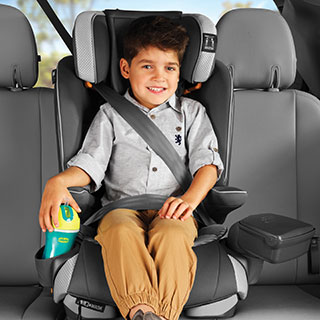 Booster Mode
Converts to belt-positioning booster for big kids from 40-100 lbs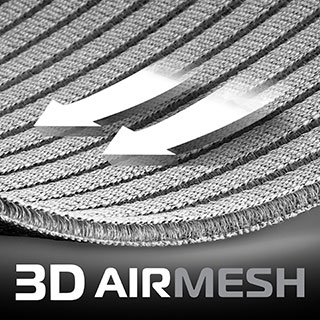 Breathable Backrest
Airflow channels improve ventilation where kids need it most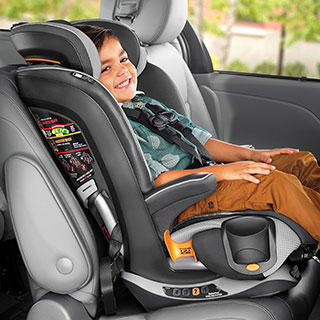 4-Position Recline
Best-in-class recline offers a true range of adjustment for improved child comfort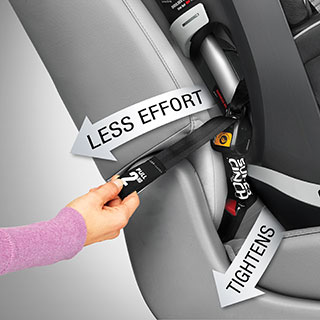 SuperCinch Tightener
One-pull tightener helps achieve a tight, secure fit for installation with LATCH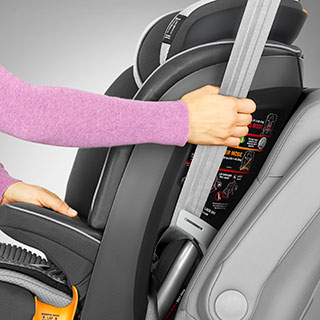 LockSure Belt System
Easy routing and lock-offs simplify installation with the vehicle seat belt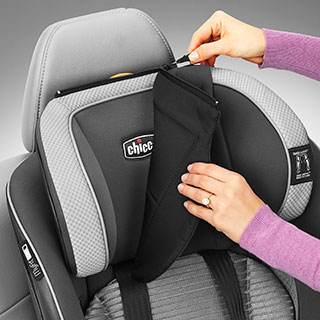 Zip & Wash Fabrics
Bonus machine-washable cushions for seat and backrest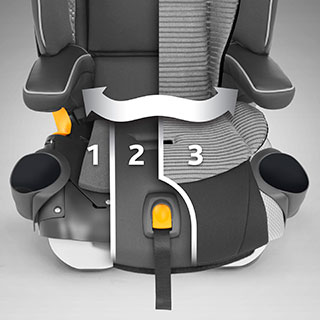 ErgoBoost Comfort
Triple-foam padding and contoured seat provide comfort and support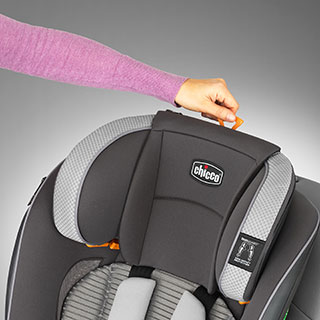 9-Position Headrest
Easy-adjust headrest offers extendable comfort throughout both modes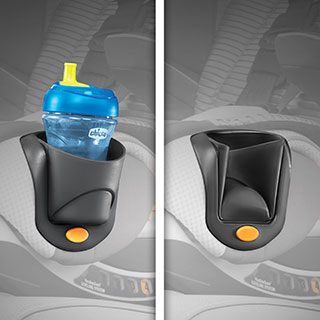 2 CupFolders
Dishwasher-safe CupFolders feature easy push-button removal and space-saving fold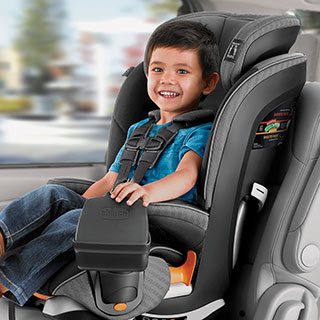 Kid Console
Detachable compartment fits into either cup holder for big kid storage
Videos
Description
2-in-1 Comfort & Security
The Chicco MyFit® Zip Air harness/belt-positioning car seat is designed to grow with children from toddler through big kid with easy transition from five-point harness to vehicle seat belt. Nine headrest positions accommodate growth throughout both modes and work together with a four-position recline to support proper posture. An extra-deep ErgoBoost® seat with dual-density foam padding is sloped and contoured for superior comfort.
Reassuring Protection
DuoGuard® side-impact protection offers two layers of protection for two zones with a rigid shell and EPS energy-absorbing foam that surround the head and torso. The seat shell is also reinforced with a steel frame for superior impact protection
Easiest to Install
The MyFit® Zip Air is designed with smart functionality that makes it the easiest to install simply, accurately, and securely, every time. A four-position ReclineSure™ leveling system and RideRight™ bubble levels help achieve and verify proper angle in the vehicle seat. Premium LATCH connectors with a SuperCinch® tightener and a LockSure® belt-tightening system with wide routing make it easy to achieve a tight and secure fit with LATCH or the vehicle seat belt.
User-Friendly Touchpoints
A five-point, no-rethread harness provides reassuring security for growing toddlers and features a convenient, one-pull tightener and padded waist belt that helps keep the buckles accessible for easy in/out. The harness easily hides away to create a belt-positioning booster with shoulder and lap belt guides for big kids four years and up. Two dishwasher-safe CupFolders™ feature easy push-button removal and fold out of the way to save space when empty. And a bonus storage console fits into either CupFolder™ to carry big kid necessities.
Added Comfort & Convenience
The MyFit® Zip Air includes bonus 3D AirMesh seat/backrest cushions to provide more padding and breathability where kids need it most. Also, their convenient zip-off design makes it easy to remove them for machine washing while still maintaining use of the standard fabrics underneath.
Converts from 5-point harness to belt-positioning booster
4-position, best-in-class recline provides a true range of adjustment
3D AirMesh fabric improves ventilation throughout seat and backrest
Zip-off backrest/seat cushions for extra padding, extended durability, and easy cleaning
DuoGuard® side-impact protection for head and torso + steel-reinforced frame
Deep ErgoBoost® seat with dual-density padding and sloped, contoured design
9-position headrest accommodates growth throughout both modes
RideRight™ bubble levels make it easy to verify angle in vehicle seat
Premium connectors and SuperCinch® tightener for installation with LATCH
LockSure® lock-offs and wide belt routing for installation with seat belt
2 dishwasher-safe CupFolders™ and bonus Kid Console
Usage in Harness Mode
In harness mode, the MyFit® Zip Air is designed for children who are at least 2 years old, between 25-65 pounds, and up to 54 inches tall.
Usage in Booster Mode
In booster mode, the MyFit® Zip Air is designed for children who are at least 4 years old, between 40-100 pounds, and between 38-57 inches tall.
Care & Maintenance
Hand wash fabrics using mild soap and water, or machine wash in cold water on delicate cycle using mild detergent; hang to dry. For complete care and maintenance instructions, refer to the label on the product and to the product's instruction manual.
Fashion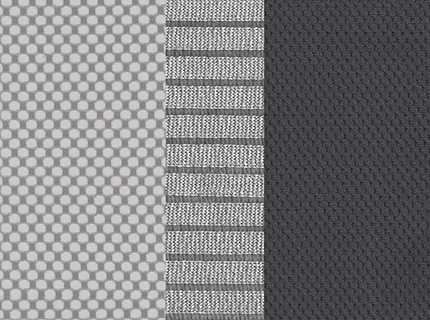 Atmos
The Atmos collection provides textile performance with airy style and function. Surround your child in comfort with breathable 3D AirMesh knitted in a stylish silver hue. Layering texture on texture with a solid charcoal micro-pattern knit, a tone-on-tone grey knit, and premium charcoal leatherette accents, Atmos delivers a comfortable ride with a premium automotive trim design.
Specifications
| | |
| --- | --- |
| Harness Mode - Rear-Facing | - |
| Harness Mode - Forward-Facing | 25-65 lbs |
| Booster Mode - Harness + Booster | 40-100 lbs |
| Booster Mode - Backless | - |
| LATCH | Premium/SuperCinch® |
| Seat Belt Installation | LockSure™ |
| Recline Postions | 4 |
| Product Weight | 25 lbs |
| Product Total Width | 17.5" |
| Total Harness Slot Height | 20" |
| Total Belt-Positioning Clip Height | 21" |
| Product Interior Width (Shoulder) | 12" |
| Product Interior Width (Hips) | 11.5" |
| Product Interior Seat Depth | 15.5" |
| Product Max Seated Height | 29.5" |
| Assembled Product Max Seat Back Height | 27.5" |
| Product Depth (Footprint) | 20" |
| Height Adjust Positions | 9 |
| Crotch Positions | 2 |
Product Manuals
---
Reviews
MyFit Zip Air Harness + Booster Car Seat - Atmos
is rated out of
5
by
11
.
Rated

5

out of

5
by
Wako
from
This saved my baby's life!
We bought this car seat two days ago. And today, a car that is looking away has crashed into our car. And!! on the side where the baby was placed. We stopped at the stop sign, but suddenly a car hit us. We were transported by ambulance, my husband and I had injuly, but my baby was safe!! This car seat protected my baby. This car seat proved to be excellent. I appriciate this car sheet and God for protecting my baby.
Date published: 2019-09-09
Rated

5

out of

5
by
Alleygator21
from
Best car seat I've ever used!
I got this car seat two weeks ago and it has changed the way we get in and out of the car! My son is three and since we switched from his previous seat to this one, he has become so much comfortable in the car! He has an easier time relaxing in it on long drives, he can buckle himself up now, and unbuckling him has become a breeze for me! I am so glad I was able to get this seat and realize what I've been missing out on these previous years!
Date published: 2019-04-22
Rated

5

out of

5
by
Kaitjam
from
Easiest install ever!
I feel like the designers and developers of this car seat are either parents themselves or just really good at their jobs (or both) because this car seat was very thoughtfully designed. First I have to say this was by FAR the easiest car seat I have ever installed (this is our 5th seat). We are currently using it in the harness mode with the latch system for our tall 3 1/2 yr old. I usually put the car seats in as I'm the nervous-Nelly that reads every printed word in the manual and then I need my husband to come over and pull it tight to make it secure. This one was a breeze and I didn't need my husband to tighten it. With my other car seats I feel like I end up in a sweat and ready to pull a muscle after the install, not with this seat, it was super easy! And it has a compartment under the seat to store the manual so when it's time to convert the seat to a booster, I don't have to go on a whole house search! The harness is also incredibly easy to tighten with the child in the seat. When my mom buckles the kids, some of our seats can be tough for her to get tight enough to their chest and I don't have to worry about that with this seat. And it fits in the back seat of our Durango with a rear facing baby seat on one side and a forward Diono seat in the middle. My kids also get car sick so although we haven't had to use this feature yet, I'm betting I'll be pretty thankful for that zip off cover. The seat also sits higher up so I'm hoping it will help her to see out and not feel as nauseous. Chicco provided this product to me in exchange for my honest opinion.
Date published: 2019-04-17
Rated

5

out of

5
by
AP89
from
Exceptional Packaging + fast and easy install!
Upon receiving the Chicco MyFit Zip Air Harness Booster Seat I immediately was impressed by the packaging the car seat came in. The Seat was wrapped in plastic with cardboard hugging the car seat so there was no room for it to move in the package when traveling to our house. Then everything inside was wrapped individually. You can tell just by the weight of the car seat how sturdy and durable this car seat truly is! Considering the weight of the seat, and all the packaging around the outside of the seat Chicco definitely takes care of their products with their extensive packaging. As soon as I took it out of the box both of my kiddos were wanting to test it out! The cinch latch system made this very easy to install, in fact, we have had multiple car seats like this one and this car seat was by far the easiest to install. The buckle and all the straps on this car seat are padded and quick and easy to snap together! The fact that I am able to zip the car seat cover off if my child spills anything is a game changer for me. I have two boys and they can be messy so this made a world of a difference. Rather than having to take the entire car seat apart just to get the seat cover off you just simply unzip and wash and zip back on! I HIGHLY recommend the Chicco MyFit Zip Air Harness Booster Seat. My son absolutely loves this car seat and it is super easy for him to reach his drinks and food in the cupholders provided! This car seat by far is our favorite car seat to date!
Date published: 2019-04-15
Rated

5

out of

5
by
mamaof2
from
Easy care with a slim design
How exciting to take the Chicco MyFit Zip Air Harness and Booster seat out of the box! I was instantly impressed with its slim and sleek design, attractive fabrics and features. Every piece of the seat was appropriately packaged for safe transportation without over-use of packing materials. It was easy to get ready for installation in our car right out of the box. Easy to read instructions, clear pictures and helpful guides were all visible - both printed copies and labeled on the seat itself. The level bubble is located in a great place for easy use. My daughter enjoyed picking between two cup holders or a kid console for either side of her seat. The zip features on this seat will be a huge lifesaver for easy clean up. It has zippers for separate removal of the top and bottom pieces of fabric which are machine washable- perfect! I also appreciate that the cup holders are removable and dishwasher safe for cleaning up after snacking or a sticky drink. I also really like that they designed the fabric slit for the tightening button low enough between the legs that crumbs and leftover snacks wont get trapped making a mess. Not only is the fabric easy to clean and attractive, it is also soft and breathable. My daughter is typically warm so the airmesh material will be a lifesaver. A seat with lots of padding for protection and comfort without being stiff and hot. The slim design of this seat fits so nicely in both of our cars - one with second row bucket seats and the other with a second row bench. Its not bulky or wide like some other seats - but still offers plenty of space for my children to fit comfortably. Because of the weight of this seat, you can feel how safe it is. The steel frame and added padding make me confident that my child is safe riding in this seat. The harness to booster feature is game-changing since it can grow with my child. My daughter can ride with the safely of a five point harness while being comfortable in a booster seat until she is ready for the seat belt. The adjustable 4 position feature is helpful to ensure it is easily in the perfect setting for her size. The orange plastic indicators direct the seat belts location for proper use. One seat fitting many different sizes of children for many years of growth without the hassle of purchasing and getting used to a new seat. Overall, I feel confident having my child riding in this car seat. It is substantial in weight and certainly provides a strong protection while being comfortable, versatile and durable. So many great features all in one seat! Chicco provided this product to me in exchange for my honest review.
Date published: 2019-04-15
Rated

5

out of

5
by
Nancy8
from
Your kids will feel safe,
The Chicco MyFit Zip Air Harness Booster Seat is as solid of a car seat as I've come across. You can tell instantly the moment you remove the seat from the clean and organized packaging. The seat was wrapped in plastic with all accessories (two cup holders and a snack box) individually wrapped and strapped to the seat using the harness. The weight of the seat made it feel strong and sturdy, which makes sense since the seat is reinforced with a steel frame. Although it is heavier than other seats I've used in the past, it wasn't too heavy to maneuver. The seat does offer a handle on either side to help with lifting and transferring. However, it's probably not the best seat if you need to transfer seats between cars daily. For us that isn't an issue so this booster seat is fantastic. Installation only took a couple of minutes. This cinch latch system is similar other Chicco seats I've had and makes it as effortless as possible to stabilize the seat. These are by far my favorite seats to install. I haven't had to remove the seat yet, but the quick release on the cinch latch makes it easy. Depending on how you are installing the booster seat, there are storage compartments for the latches and back of the seat strap built in to the-booster. Overall this seat is a substantial upgrade in safety and flexibility compared to the average brand. Chicco provided this item to me in exchange for my honest opinion.
Date published: 2019-04-15
Rated

5

out of

5
by
Jodi C
from
Best. Seat. Ever.
When I was looking for my next seat for my son I had a few pieces of criteria I wanted. Safety, Longevity, Easy-To-Clean. First and foremost: Safety. This car seat has that. It's padded all over but not bulky. Even the harness has pads, which is a bonus for us, my son's neck was always red from past belts. They aren't joking when they say "Easiest to Install", I had the seat out of the box and in the car in a few minutes, feels super secure in the car. Criteria 2: I wanted it to last. This seat is good for us all the way through his car seat/booster days and it will change with him. I'm looking forward to that. That is why we purchased an additional one for our other car. Criteria 3: I wanted to be able to clean it easily. Thank you for zip-off fabrics. So easy to clean. This seat hit all my criteria and then some. My son tends to be a sweaty kid in the seat, so thankful for airflow fabric. We have this is our stroller and it makes a difference in the summer. If you have a kid who sweats... it's a must. My son also likes the independence of being able to have his drink in a nearby cup holder and snacks/toys in the console. He was so excited when I showed him how he could use them. If you are looking for a seat to last and not have to buy another one in a few years, this is the one. Thank you, Chicco. Chicco provided this product to me in exchange for my honest opinion.
Date published: 2019-04-12
Rated

5

out of

5
by
LacrosseMomof4
from
My kids fight over this seat
I installed the MyFit Zip Air seat into my car and have two kids who are at the age to use it. The new struggle when leaving the house is who gets this seat. It took no longer than 1 minute to install this seat. All the safety harnesses are clearly labeled for effortless install. I'm able to easily adjust the height of the seat within seconds to properly fit whichever child jumps into it first, which is a huge benefit to my family. It's not heavy to switch from one car to another but it also feels very solid and safe. My 3 year old is obsessed with the additional storage compartment that attaches to the seat. The 3 year old uses it to keep his toy cars safe during the trip, while the 4 year old thinks it's primary purpose is to hold his snacks. It's an amazing car seat and they both said it's very comfortable. On a long trip this past weekend I was able to recline my vehicle seat slightly and then adjust the recline of the car seat prior to leaving, which kept my sons head properly back instead of falling forward when he fell asleep. Chicco, you've done it again! Chicco provided this product to me in exchange for my honest opinion.
Date published: 2019-04-10
bvseo_sdk, dw_cartridge, 16.1.1, p_sdk_3.2.0
CLOUD, getContent, 13ms
reviews, product
Questions
Can you tell me the measurements for the crotch belt positions. My daughter is 39 lbs and 40 inches tall turning 3 in October. Too young for a booster but she pushes the limit of comfort for a harness. Thanks
Please call customer service at 1-877-424-4226 for assistance. We are available Monday - Friday 8am - 5pm Eastern time.
Date published: 2019-08-13
Can you use this with a 13 month old?
The MyFit may be used in harness mode for children at least 2 years old who weigh between 25 and 65 pounds, and height is 54 inches tall or less. The MyFit may be used in booster mode for children at least 4 years old who weigh between 40 and 100 pounds, and height is 38 to 57 inches.
Date published: 2019-06-10
Do the harness straps adjust up or down independent of the headrest? I see how to adjust the crotch strap but not the harness straps.
To raise the height of the shoulder straps raise the headrest. Please call our customer service department at 1-877-424-4226 for further assistance. We are available Monday through Friday from 8am – 5pm, Eastern Standard Time. One of our customer service representatives will be happy to assist you .
Date published: 2019-05-03
Are the armrest removes or it retractable?
Please call our customer service department at 1-877-424-4226 for further assistance. We are available Monday through Friday from 8am – 5pm, Eastern Standard Time. One of our customer service representatives will be happy to assist you .
Date published: 2019-04-29
bvseo_sdk, dw_cartridge, 16.1.1, p_sdk_3.2.0
CLOUD, getContent, 11ms
questions, product
You May Also Like