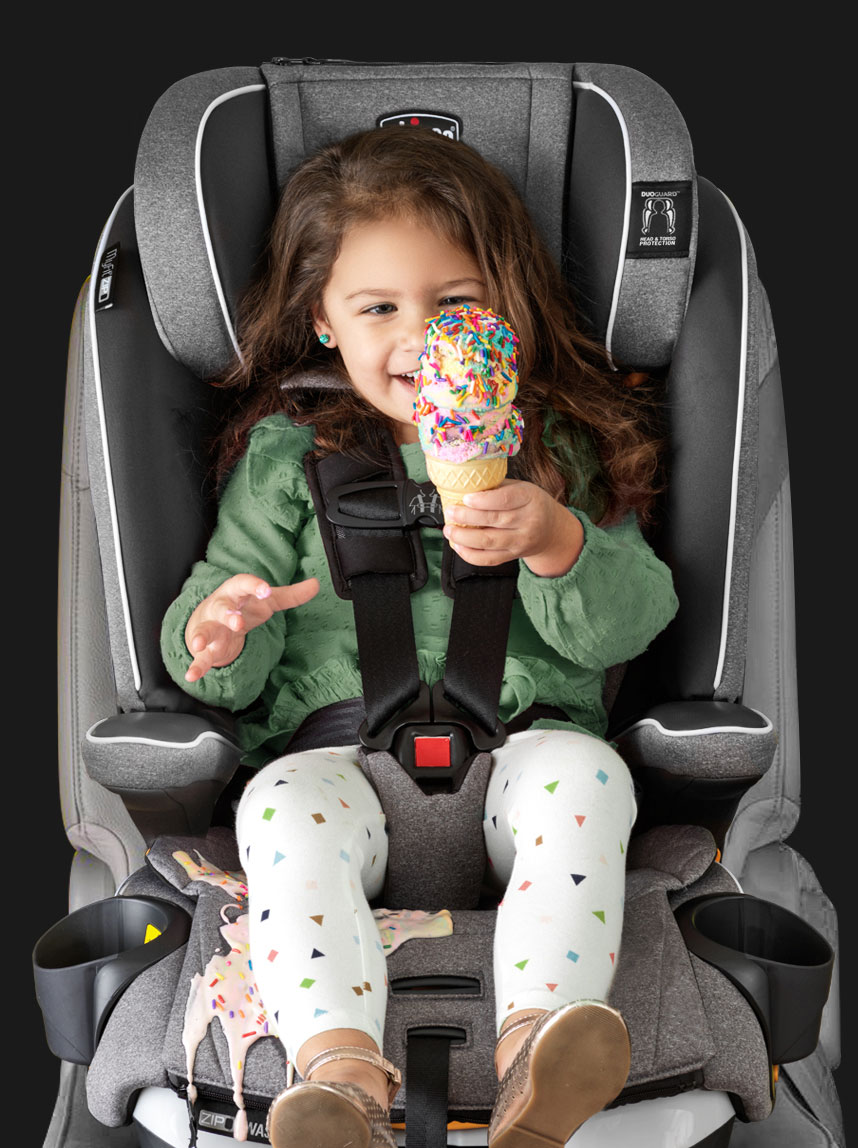 Parents can do it all. From juggling groceries and a newborn to just knowing when something isn't right, new and experienced parents alike have incredible instincts that allow them to spring into action and care for their children no matter the circumstances. But when it comes to how to clean a car seat, some parents feel like they don't have it all figured out.
Babies don't just ride in car seats like precious little angels (but how cute are they when they do!)—they eat, drool, soil their diapers, and throw up in them, too. When they get a little older, they spill juice boxes on them, grind cracker dust into the seams, and generally cause mayhem in the back seat of your car.
But if you can care for your little one(s), you can do anything—including following proper car seat cleaning techniques. Even the least-experienced parent can learn how to get stains out of car seats at home—all you need is time, know-how, and everyday household supplies. Let's get started.
Before we get into disassembling and deep cleaning your car seat—more on that later—the best case scenario is to remove spills as soon as they happen. Spot cleaning your car seat requires far less time and effort than uninstalling, deep-cleaning, and reinstalling it in your vehicle. Here's how to get stains out of car seats.
Car Seat Deep Clean vs. Spot Treatment
For thicker spills like yogurt or yuck, don't reach for a rag right away—this will simply result in pressing the contaminants into your car seat's fabric, foam, threads, nooks, and crannies. Instead, it helps to spoon off the bulk of the mess before cleaning the stain with another method. Otherwise, spot-clean the area with warm water and mild soap.
But of course, no parent can swoop in and clean up immediately after every juice box explosion or applesauce smear. You might have both hands on the wheel, full of toys, or carrying a second infant when things go awry. We outlined the following process for deep cleaning your car seat for such occasions.
While the overall process of cleaning a car seat isn't very complicated, it's essential to be prepared. You should know precisely what you're doing any time you disassemble or otherwise alter any product that is designed specifically to save your child's life.
Read the Car Seat Manual
It's crucial to read the car seat manual for your seat's make and model before starting the cleaning process. If you've misplaced the printed version that came with your car seat, don't worry. Most manufacturers make their manuals available for digital download on their websites.
Look for a section on how to clean your car seat, including any practices to follow or avoid that might be particular to your model specifically. The manual should also include the appropriate steps for disassembling and reassembling the seat covers and/or harness straps of your car seat, which is extremely important for your child's safety.
Note: While the following car seat cleaning process is well-vetted and works on most car seats, it was not designed with the quirks of your particular model in mind. If you read conflicting advice in your car seat manual, follow the manufacturer's recommendations instead.
Pick the Right Time
Because caring for a child is a 24/7 affair, it's important to pick the right time to clean your car seat. The job can take up to 24 hours from removal from your vehicle to reinstallation due to extensive drying times for various fabric components. You won't be actively cleaning for that whole time, but your car seat will be out of commission while it dries. Make sure you either have a spare car seat handy or plan the work where you aren't likely to need to transport your child for a day or so.
Avoid Using Chemicals
Harsh chemicals like bleach, solvents, or household cleaners can weaken your car seat's plastics and straps. Additionally, anything you put on your car seat will transfer to your baby's skin, and we believe fewer chemicals are better. That's why we created ClearTex®, a fabric with no added chemical treatments for peace of mind from head to toe. Many of our car seats are also GREENGUARD Gold Certified, passing stringent eco-friendly certification requirements.
You probably found a list of substances to avoid in the car seat manual you read earlier, so avoid those! Then add anything you wouldn't want near your baby's skin. We recommend airing on the side of safety and steering clear of harsh chemicals.
Having read the manual and found the appropriate household cleaners, you're ready to clean a car seat. Everything you need to clean a car seat is inexpensive, easy to find, and probably in your pantry already. Gather and organize your supplies, determine the right area for cleaning your car seat, and follow the six-step process below on how to clean a car seat!
Supplies
You'll need:
Your car seat
Your car seat's instruction manual
A vacuum with a precision attachment
Mild soap or baby shampoo
A bucket of warm water
A terry cloth
Step 1: Remove the car seat and disassemble it
Remove the car seat from the vehicle. Once it's free from the car, remove the car seat cover and as much of the padding as possible. If it's difficult, don't fret. The cover can be extra tight from the factory and stubbornly cling to the frame during the first removal. Set the padding aside for now, as we'll be cleaning that later in step five.
Most veteran parents can easily disassemble a car seat, but the process is touch and go for some newer parents. If you're still getting comfortable with the way your car seat operates, don't be shy to take sequential photos of the removal process. Having a visual reference for replacing the cover and reinstalling the seat in your car will be critical to peace of mind. And if you get really stuck, most manufacturers have excellent customer service to help you through this process.
Step 2: Vacuum the crumbs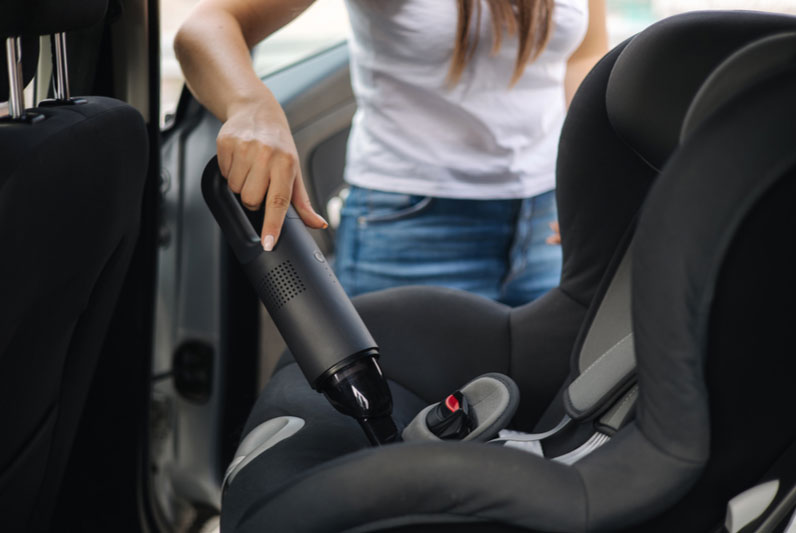 Now that you have better access to the cracks and crevices of your car seat, vacuum out the crumbs and dry debris in the cup holders, seat bed, and other likely places. Use either a hand vacuum or a long, thin vacuum attachment that allows for precision use to make this step easier.
Step 3. Scrub away debris
With most loose crumbs removed, go back in and scrub away the rest. For the plastics and base of your car seat, use a sponge with warm water and mild soap. Pay special attention to problematic areas and tight spots in the frame or base.
Towel dry to the best of your ability, but remember that the car seat still needs to air dry completely. To speed this process up, use only as much moisture as you need and work outside on a sunny day if convenient.
Step 4. Spot Clean the Straps and Buckles
Different manufacturers have different procedures to follow regarding this step, so check your manual to see what you should do. Some straps are removable, and some aren't, like the LATCH (Lower Anchors and Tethers for Children) straps and hardware on our Chicco car seats. Additionally, check your seat's instruction manual as you may or may not be able to submerge your straps in water or use specific cleaning agents.
If you clean a car seat from Chicco, sponge clean the harness using warm water and mild soap, but do not machine wash. Spot clean remaining straps with warm water and mild soap. Do not use soap or any other lubricants for the harness buckle and other strap hardware. Instead, clean with a sponge and warm water only.
Step 5. Wash the cover and padding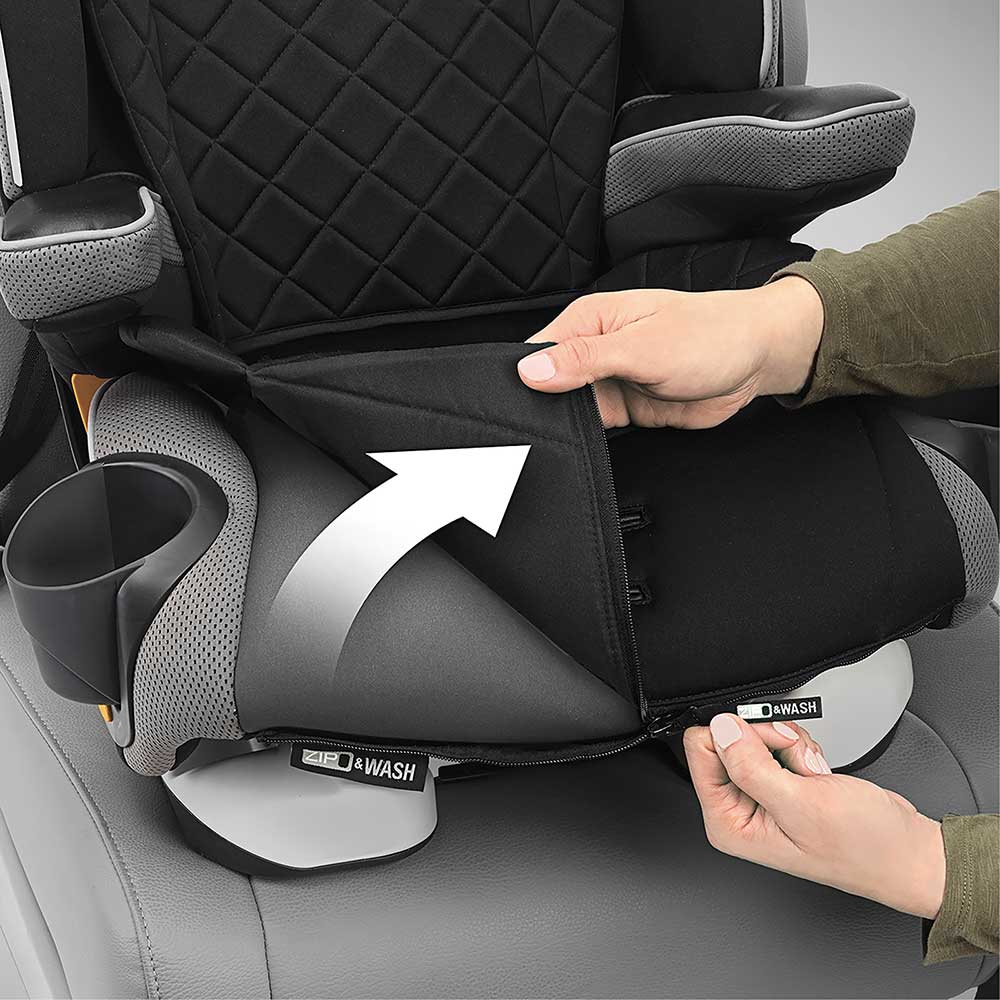 Before washing any fabrics or padding, check your manufacturer's manual to see if machine washing is allowed. If so, great! A variety of Chicco car seats, for example, are outfitted with Zip fabric covers and seat pads, which easily zip off the cover and frame. Once removed, they're machine-washable in cold water on the most delicate cycle using a mild detergent.
If your padding is not machine-washable, spot clean them the best you can with mild soap and warm water. Once washed, hang it over a chair back or railing to air dry. Do not put the cover in the dryer, which could cause damage to some materials.
Step 6. Reassemble and install
And you're done with the cleaning part! That wasn't so bad, was it? The final step is to put the car seat back together, making sure to reference the user manual and any photos you took during the disassembly process often. If you're having trouble, search the manufacturer's website for helpful videos on re-assembling your car seat after a thorough cleaning.
Pro Tip: This is a great time to review your manual and ensure no pieces of your car seat are missing. If you don't have everything described in the manual, car seat replacement parts are available from most manufacturers.
Whether you're a brand new parent fumbling through this new and exciting stage in your life, or a veteran who simply needs a refresher on keeping your equipment in top-notch condition, Chicco is here for you on your journey. We hope you found this guide helpful and learned something new about how to clean a car seat. Explore our site for more practical resources, like how to choose a car seat and how to install a car seat for safe travels.
Car Seat Cleaning FAQs
On a regular basis, brush out crumbs and spot clean regularly to avoid set-in stains and extend the life of your car seat. Deep clean after long road trips and before putting your car seat in storage so it will be fresh and ready to go for the next trip or younger sibling.
Though it may be challenging with little ones, limiting snacks and drinks during trips will help keep your car seat tidy. Remove dirty shoes after playing at a park to reduce fabric messes and wear. For when things do get messy, Chicco also offers a full line of Zip products with zip-off, machine-washable covers and seat pads for hassle-free cleaning.
Choose mild, fragrance-free detergents like those you use to launder your child's clothing. Avoid harsh chemicals such as bleach or automotive cleaners that could damage the fabrics or components of your car seat. Always refer to your car seat manual to confirm recommended products and whether machine washing is permitted.