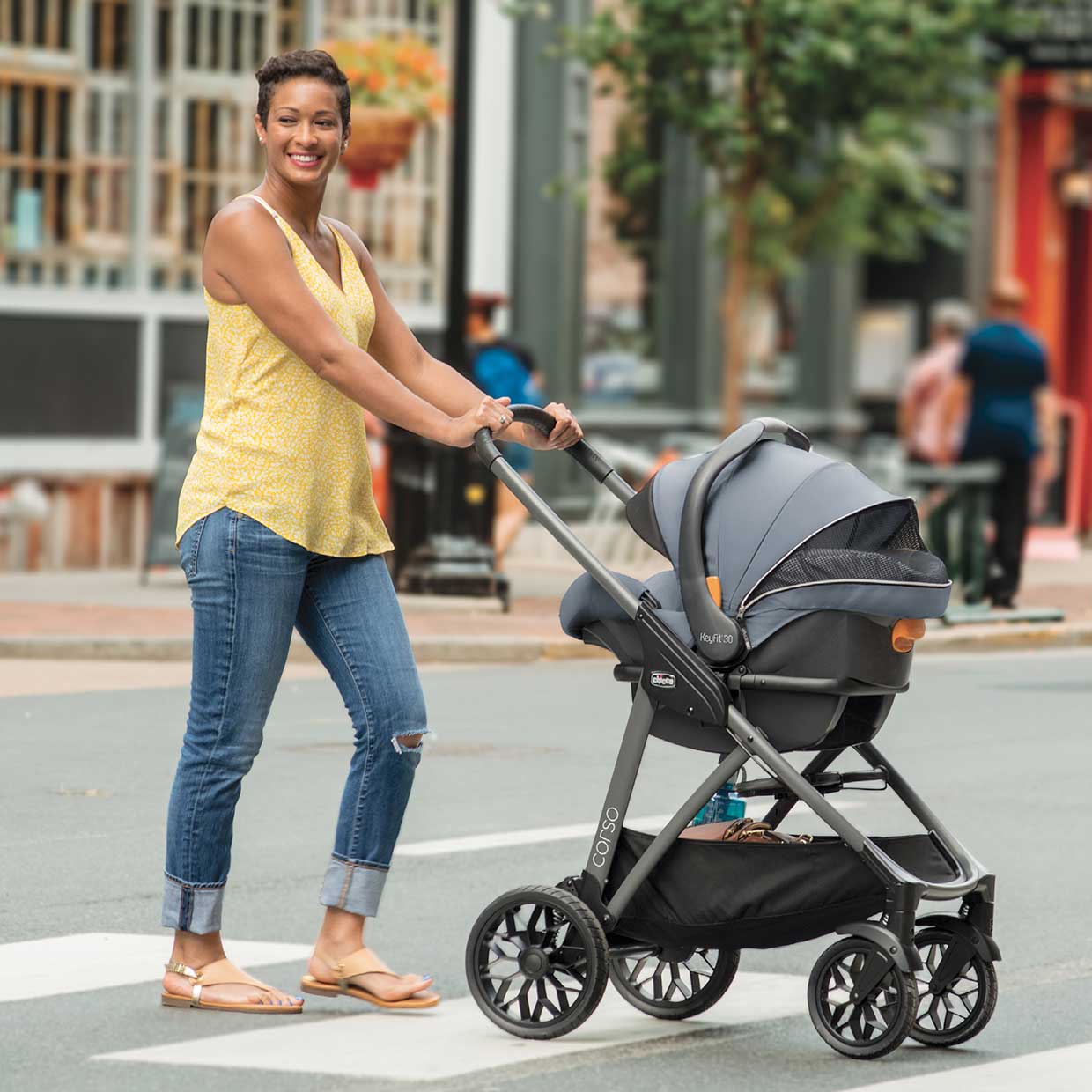 Planning even the simplest of outings with your little one in tow can be daunting, but thankfully, travel systems offer a convenient way to allow your newborn to stay in their infant car seat and to move from the car to the stroller seamlessly without disturbing them. Whether you're spending the day visiting a new city or simply taking your baby to the local park down the road, travel systems provide an easy way of getting smoothly from point A to point B. They become even more important when planning major road trips where you'll be making frequent stops. Plus, a travel system is an easy way to run errands with your baby without skipping a beat.
Keep reading to learn more about how you and your baby can benefit from this all-in-one travel solution, and to see our curated list of top travel systems designed to meet your unique needs.
A true travel system contains three components in the same box: an infant car seat, an infant car seat base, and a stroller. All of the components you receive work seamlessly together — including any additional car seat adapters, if needed. The allure of travel systems is that compatible infant car seats click into the stroller, allowing you to easily transition your baby from the car to their stroller (and vice versa) without needing to remove them from their car seat.
The infant car seat that comes with a travel system can be used for your baby from Day 1 until they outgrow their infant car seat. The stroller can be used with the car seat so long as the child is within the height and weight requirements of their infant car seat. Since travel system strollers can also be used with or without an infant car seat, most parents transition their baby into the stroller at around 6 months of age, but some choose to use the car seat for as long as possible. No matter when you transition your baby to the stroller, it's designed to grow with them through their toddler years.
Pro tip: Consider buying an additional infant car seat base if you frequently travel with your baby in two different cars. While the infant car seat can be installed in a vehicle without a base, additional bases allow you to have the same convenient click-in attachment of the car seat.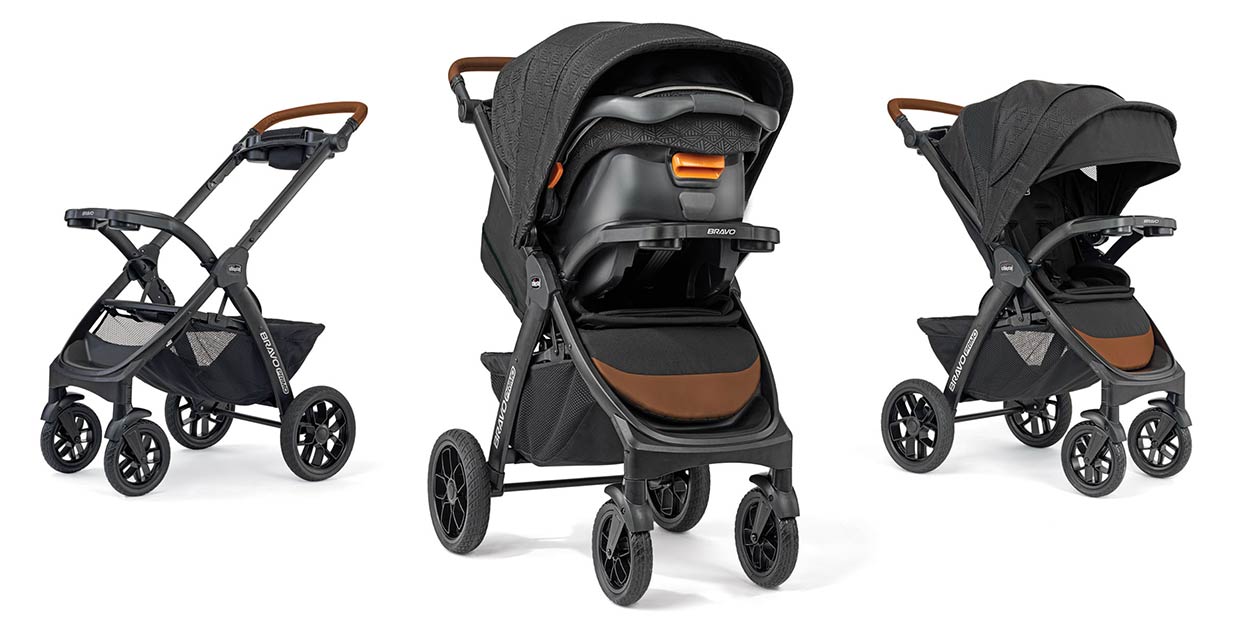 There are multiple advantages to owning a travel system. Travel systems are prized for their overall convenience, as they allow you easily to move your baby from the car to their stroller without skipping a beat. You don't need to worry about unbuckling your baby and getting them re-situated into a new environment. Many of our strollers also contain plenty of added features, such as a one-hand smart fold design, extendable canopy, cup holders, and storage.
If that wasn't enough, travel systems can also be a cost-effective option since purchasing all of the components at once is usually cheaper than buying each product individually. The stroller can also be used without the car seat once your baby grows into their toddler years. To purchase the next stage car seat once your baby outgrows their infant car seat, check out our selection of convertible and all-in-one car seats, designed to fit your baby as they grow.
If you're not quite sold on the travel system idea, but still desire an easy way to transport your baby, there are other choices to consider. One great option is our frame stroller, which can be used with all Chicco infant car seats. Our frame stroller is ultra-lightweight and folds compactly so it doesn't take up too much space in your trunk. It also features a parent tray with cup holders and a storage basket.
You might also consider a baby carrier to keep your baby close to you on walks or other outdoor activities. Just be sure to check the age and weight recommendations for each type of carrier to make sure it's safe to use at your baby's particular stage.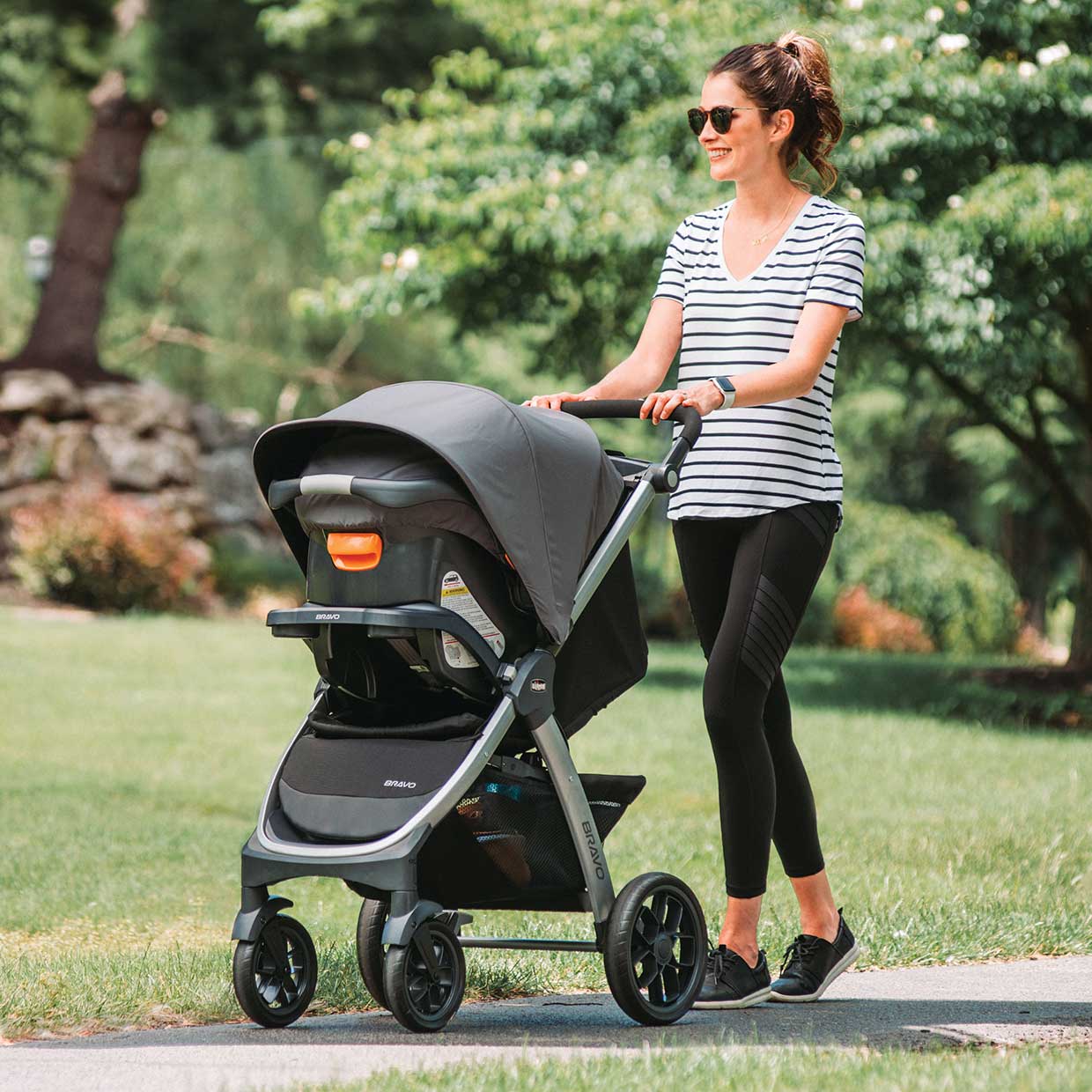 Prior to purchasing a travel system, consider the following factors:
Decide on an infant car seat: The infant car seat you love can be prioritized first when shopping for a travel system, and then the travel system can be chosen accordingly. For instance, if you're interested in the KeyFit 35 Infant Car Seat, you might choose a travel system that includes it, such as the Corso LE Modular Travel System.
Special features: Not all travel systems are created equal. Look for travel systems with convenient features like additional storage or easy-to-clean fabric, so you can get the most out of them.
Type of terrain it handles: Some travel system strollers have wheels that are more conducive to pavement, while others can handle tougher terrain. Pick the one that's right for your lifestyle.
Size and weight: Keep in mind how heavy or lightweight the stroller is. Opt for a travel system that is easy to load and unload from your car.
Price: Choose a travel system that works well for you and your family's budget. They can also be good investments if you're thinking of expanding your family down the road.
While all of our travel systems can help you get around easily, we broke down some of our best-selling styles into specific categories so you can find the best one for your family's needs!
The Best Travel System for Outdoor Adventures
From bumpy city sidewalks to rough outdoor terrain, the Activ3 Jogging Stroller Travel System is perfect for all types of activities. Its foam-filled tires allow for a smooth ride over sand, gravel, grass, and more! The stroller itself has a compact fold so it's easy to pack in your trunk and take out when you arrive at your destination. Overall, the Activ3 Jogging Stroller can keep up with your long-distance runs and daily walks, all while providing your child with a safe and comfortable ride.
This travel system comes with the KeyFit 30 Infant Car Seat, which is lightweight and has a large, removable canopy. The base also has bubble level indicators and a spring-loaded leveling foot to help achieve a proper installation.
The Most Budget-Friendly Travel Systems
You won't miss out on convenient features with our budget-friendly Mini Bravo Plus Travel Systems. The Mini Bravo Plus Stroller is easy to maneuver, sturdy, and perfect for running errands. The stroller includes a parent tray, cupholders, and basket storage to hold your diaper bag and other necessities. The Mini Bravo Plus Travel System doesn't have all of the bells and whistles of our other models, but they are definitely high-quality and provide a convenient way to get from point A to point B with your baby. This travel system comes with the top-rated KeyFit 30 Infant Car Seat.
The Most Versatile Travel Systems
Our Corso Modular Travel Systems are stylish, simple, and versatile. These travel systems offer both parent-facing and forward-facing strolling modes so your baby can watch you or enjoy the outward scenery. The Corso Modular Travel Systems also come with sleek features, such as multi-position reclining seats, zip canopies, and extra-large storage baskets. The Corso Modular Travel System comes with the KeyFit 30 Zip Infant Car Seat, the Corso LE Modular Travel System comes with the KeyFit 35 Infant Car Seat for extended rear-facing use, and the Corso Primo ClearTex® Travel System comes with the KeyFit 35 Infant Car Seat Zip ClearTex for extended rear-facing use.
The Best Overall Travel System
While each of our travel systems have its own unique niche, one series reigns supreme. Our Bravo Travel Systems are top-rated for features like their one-hand smart fold design and other practical aspects like a child tray and storage basket with pockets. What truly sets the Bravo Travel Systems apart, however, is they're a Trio — meaning it can be used as a travel system, a toddler stroller, and a frame stroller. The toddler seat and canopy can be removed to convert the stroller into a lightweight frame stroller so you and your baby can use this for their first months. As your baby grows, you can switch to travel system mode or toddler stroller and use this for years to come!
The Bravo Travel Systems feature a range of infant car seats, including the KeyFit 30 Infant Car Seat, the KeyFit 30 Zip Infant Car Seat, or the KeyFit 35 Zip Extended-Use Infant Car Seat, depending on the model you choose.
Travel systems can give you one less thing to worry about as a new parent. You can easily transition from the stroller to the car and be on your way in no time. View all of our Travel Systems so you can narrow down the perfect fit for you and your baby and read our Baby Talk Blog for helpful information on parenting and more!