HOW TO CHOOSE A CAR SEAT
What is a harness booster car seat?
A harness + booster combination seat transitions from a toddler to big kid car seat. Use the integrated 5-point harness until your child is big enough—at least 4 years old—to buckle up using the vehicle seat belt. Belt-positioning guides ensure a proper fit in booster mode, every time.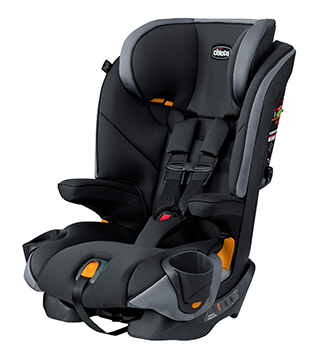 MyFit™
LEARN MORE
Harness Booster Car Seat Checklist

Keep your growing toddler comfortable and content in a big-kid style seat that's equipped with the reassuring security of a five-point harness

Maintain five-point harness protection for as long as possible with a seat that converts; you choose when to transition to belt-positioning mode ( Before you transition, make sure your big kid is at least 4 years old and mature enough to buckle in using the seat belt )

Free up your convertible car seat for a younger sibling without rushing big brother/sister to the vehicle seat belt before you're ready

Harness+Booster car seats from Chicco do not have a removable backrest to create a backless booster
Make sure your big kid is at least 4 years old, between 38-57" tall and at least 40 lbs in booster mode You know your child best, so don't make the switch until you're confident your growing child will sit still and safely without a full harness.
Some retailers might allow you to test the fit of a car seat before purchasing but most have displays that allow you to check out the car seat in-store to research the features that make installation simple like bubble level indicators and multiple recline angles.You can also measure your backseat in advance and double check the specs on car seat manufacturer websites.
Harness booster car seats are designed to transition your child from toddler to big kid car seat as your child grows. Harness booster car seats are used for kids who weigh at least 25 lbs and are at least two years old and as a belt-positioning booster, for kids weighing up to 100 lbs and around 8+ years of age.
A car seat's expiration date varies by the type of seat. You can find the expiration date for your Chicco car seat located on the underside of the car seat or on the car seat base, printed on an adhesive manufacturer label.