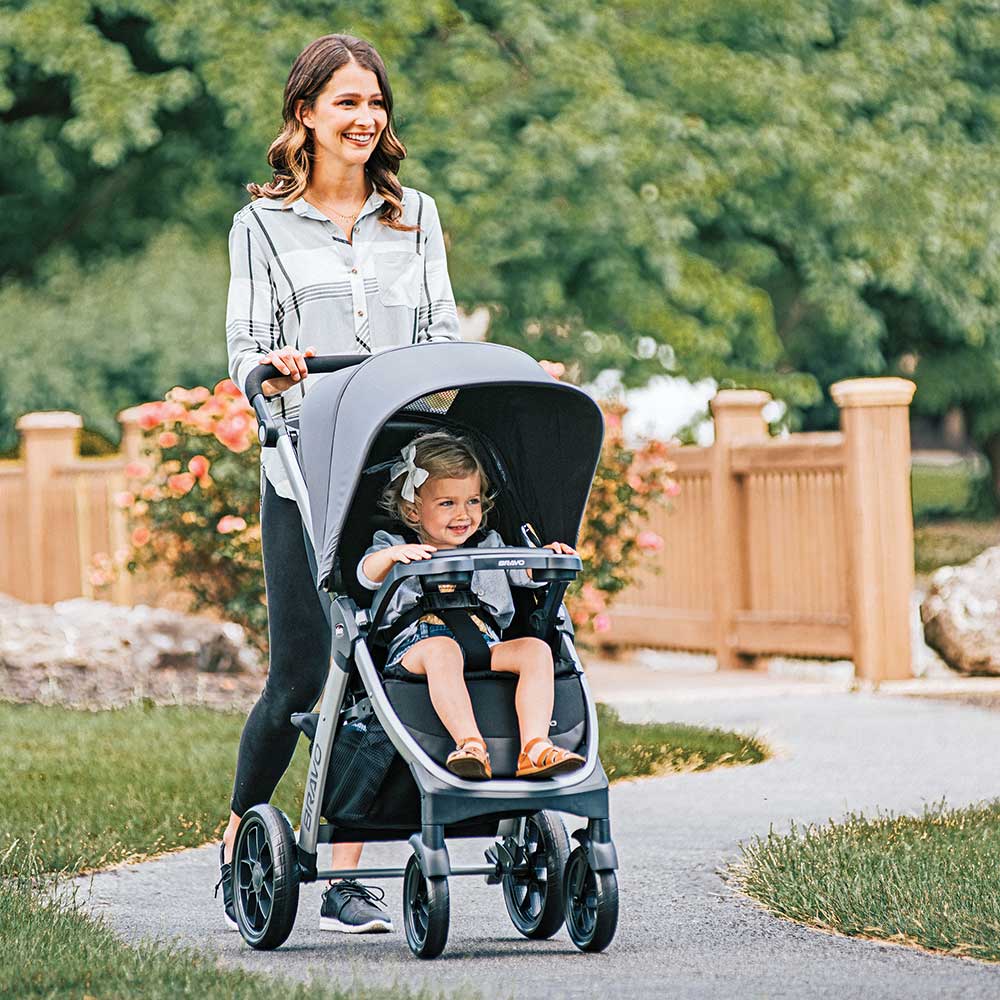 A stroller is one of the most rewarding pieces of baby gear you'll purchase. It can also be one of the most stressful. While it's a blessing to have almost countless options and features to choose from, it can feel overwhelming to know what to buy.
The right stroller makes all the difference when carting your baby around town and between playdates—but your ultimate stroller probably isn't the same as the parents' from down the block. So how do you know which model is suitable for your lifestyle, personality, and, more importantly, your little one?
At Chicco, we want to help you decide what's best for your child. We broke it all down in this easy-to-follow stroller buying guide to help you skip the stress and select a great stroller with ease and confidence. We'll cover stroller types, important features, and even what to test for before purchasing—so you can stroll with peace of mind.
When it comes to the style and features, no single stroller will check all the boxes for every parent or guardian. Whether you lead an active lifestyle or typically navigate tight indoor spaces can dramatically change which model is right for you. Or maybe one model doesn't cover all your bases, and that's ok, too. Some parents prefer a reliable all-rounder that can take their baby everywhere it needs to, while other families want multiple specialized strollers instead.
There are many types of strollers, each with its unique benefits and limitations. Before we talk about how to choose the best stroller for you, we explain all the differences below.
---
Full-Size Strollers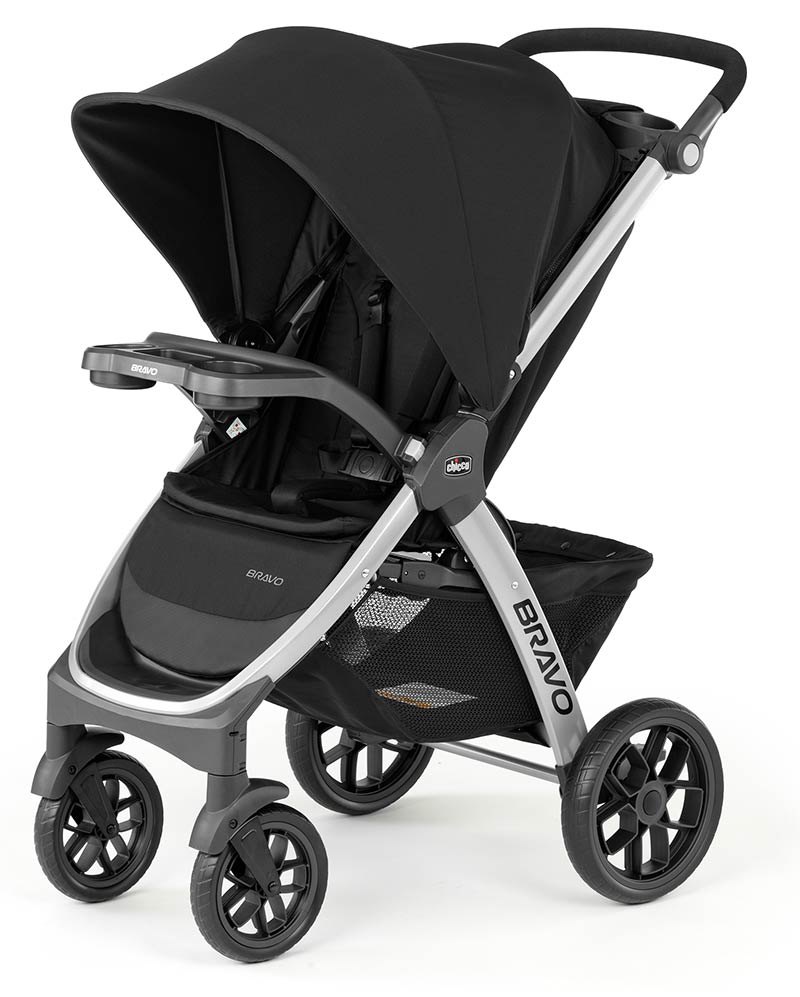 The Swiss Army knife of strollers, this variety offers a little bit of everything. Even though full-size strollers aren't the lightest or most compact, they're durable, comfortable for your baby, and capable of navigating everything from interior flooring to pavement and light natural terrain.
Full-Size Stroller Benefits
Because this is an all-purpose stroller, we can't name all the possible features—but it's precisely that versatility that makes it a wise investment. Depending on your needs, you can get a fully reclining seat, car seat compatibility, and access to many comfort features which are often not found on lightweight strollers. Not to mention, full-size strollers boast larger canopies and more convenient storage spaces than their streamlined counterparts.
Full-Size Stroller Limitations
A full-size anything isn't going to be the most compact version. It's no different for strollers, with full-size options being bulkier and heavier than streamlined models. If you don't have much space in your car or home, you may encounter difficulties with this option. Still, if you have the room, it's a small price to pay for all the versatility you get here.
Who Is a Full-Size Stroller For?
Look into full-size strollers if you want a jack-of-all-trades product that will confidently take on a variety of voyages from the first months through the toddler years. And rest assured; you're in good company as most parents select a full-size stroller for their first or primary stroller.
---
Lightweight Strollers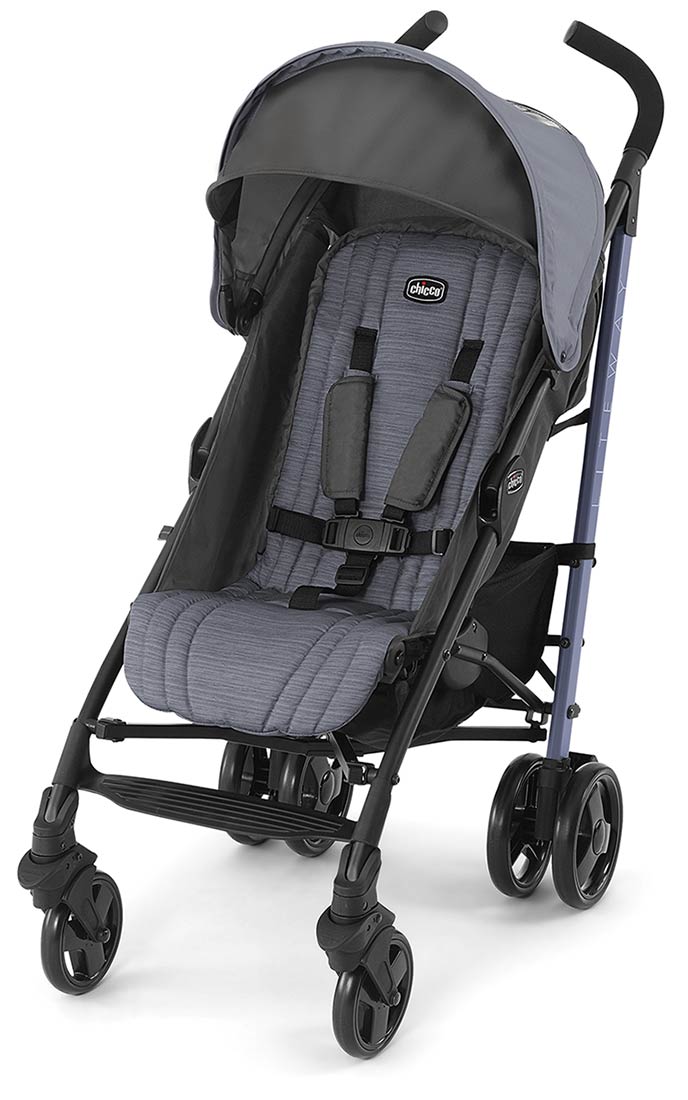 Often weighing in at under 15 pounds, this lighter option is portable and sleek. You probably don't know how much you want lightweight baby gear until you've experienced the physical demands of parenting.
Lightweight Stroller Benefits
These strollers are lightweight, convenient, and foldable for compact storage and easy transportation. They're a breeze to take on vacation or quick errands, making them an invaluable asset if you already have a larger stroller.
Lightweight Stroller Limitations
Most lightweight strollers are unsuitable for newborns because they have little to no recline. However, some models do accept a limited range of car seats. Also, older children can feel a little cramped in lightweight options. Depending on the model, you may find thin material, stiffer suspension, or small wheels that impede your child's comfort.
Exceptions include the Chicco Mini Bravo Plus, which is comfortable and compatible with infant car seats for an easy-breezy strolling solution from day one through toddlerhood.
Who Is a Lightweight Stroller For?
Don't have a lot of room in your apartment? Plan to take public transportation? A lightweight stroller is likely the best stroller for you. It's also an excellent option for a secondary stroller to leave at Grandma and Grandpa's house for when they babysit on date night.
---
Jogging Strollers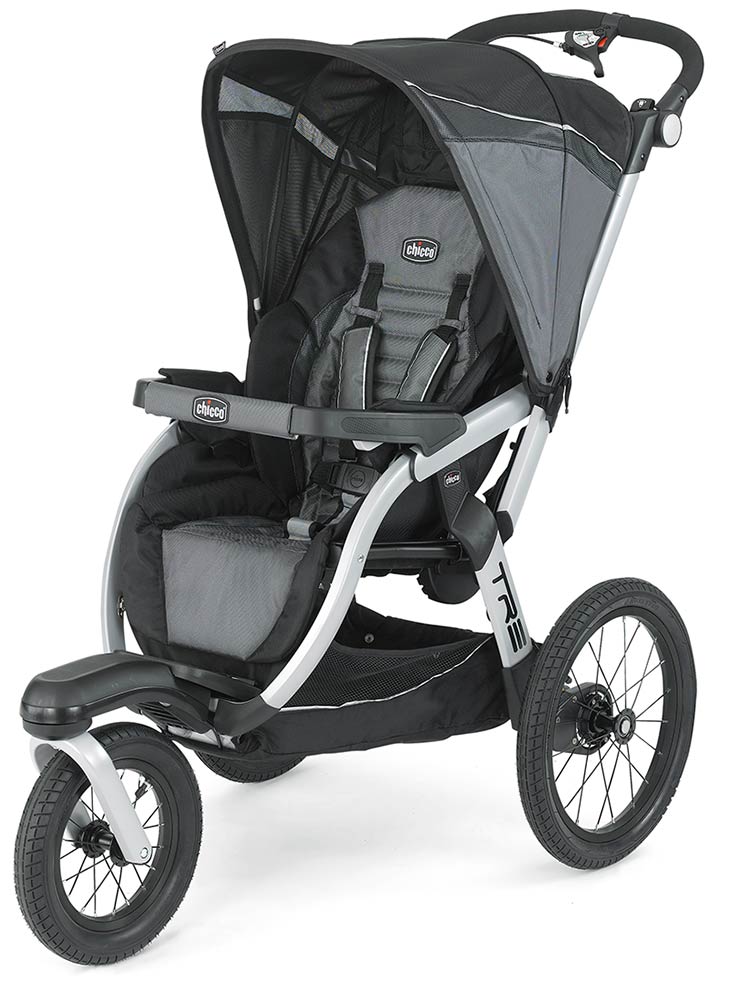 Big wheels and air-filled tires are often a dead giveaway for jogging strollers. All about locomotion, these maneuverable strollers often feature a large front wheel that can fully swivel for increased handling or be locked straight for stability. When combined with even larger rear wheels, this helps to keep the stroller steady when you're cruising at speed.
Jogging Stroller Benefits
It's all in the name. Jogging strollers are rugged and stable, offering peace of mind that your child is secure while you jog or run. They employ souped-up suspension to keep your child comfortable over any bumps or cracks and often feature safety functionality like a handbrake and five-point safety harness.
Jogging Stroller Limitations
Due to the advanced equipment onboard, jogging strollers can be larger, heavier, and more cumbersome than other types of strollers. Jogging strollers can also be wider than full-size options, which is understandable since they're designed for the open air rather than supermarket aisles. Additionally, air-filled tires require periodic maintenance to keep their air pressure within specifications.
These attributes certainly aren't something you'll notice while jogging full-tilt around the lake or through your favorite park with baby in tow, but they are something to consider if you're hoping to make a jogging stroller your daily driver.
Who Is a Jogging Stroller for?
If you have a highly active lifestyle and want a specialized stroller to include your baby in outdoor activities, consider adding a jogging stroller to the stable. Consider it for your primary stroller if you have a large vehicle, or if you often run with your baby and traverse uneven surfaces with your stroller.
---
Frame Strollers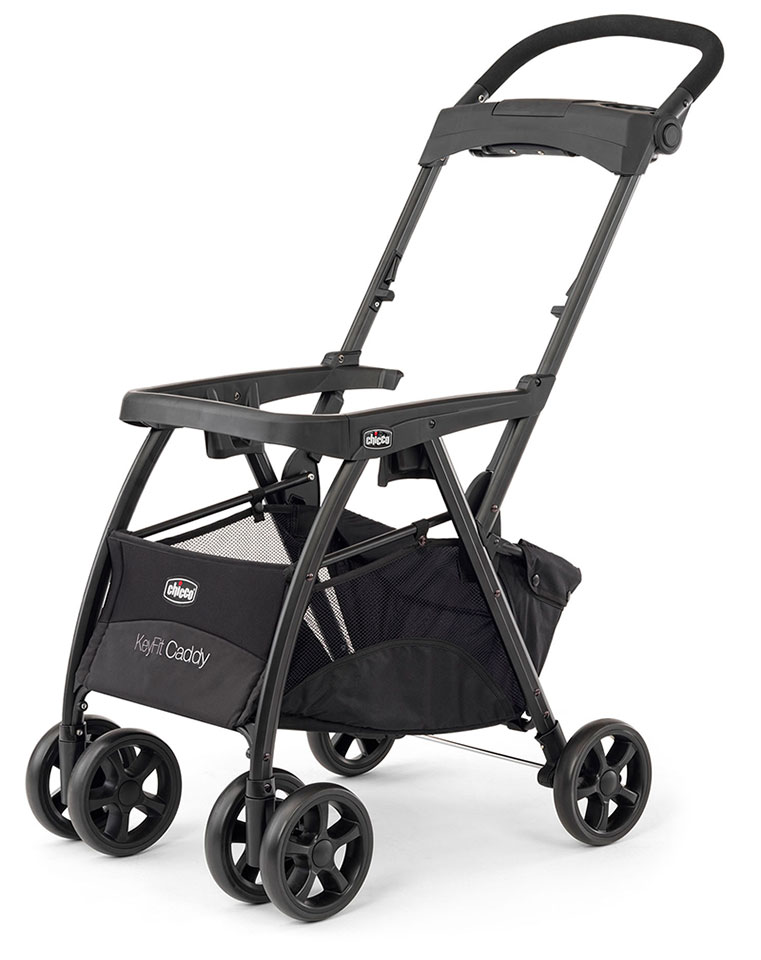 Frame strollers, also known as car seat carriers, are lightweight frames on wheels that do not have a seat of their own. Instead, you attach your own infant car seat, which easily clicks into place on most brand-name models. Universal frame strollers can have unwieldy strap mechanisms for attaching car seats that are difficult to use in a pinch.
Frame Stroller Benefits
The allure is the sheer convenience of it all. These travel-friendly units are lightweight by design, so they're easy to maneuver, fold, carry, and store. Because the baby never leaves the car seat, the transition from the car to the stroller is a breeze for parents. In other words, you get the benefits of a travel system without the extra weight. Aside from the appeal of the stroller itself, frame strollers are often more economical compared to other options.
Frame Stroller Limitations
Your child will have to graduate from their frame stroller when they outgrow their infant car seat. For many, this tradeoff is worth the convenience that frame strollers provide early on in their parenting careers, but is something you should consider nonetheless.
Consider the Bravo and Corso strollers for the best of both worlds. These models can be used in three convenient ways—as a frame carrier, a travel system, and even a full-size stroller.
Who Is a Frame Stroller For?
Those who want to travel light or are shopping on a budget and don't mind upgrading to a larger stroller later will love the ease of combining their stroller and car seat into one. Additionally, if you're unsure of the type of primary stroller that best fits your needs at the outset of parenthood, a frame stroller can get you mobile for 9 to 18 months while you gain parenting experience and better gauge which stroller type is right for you.
---
Travel Systems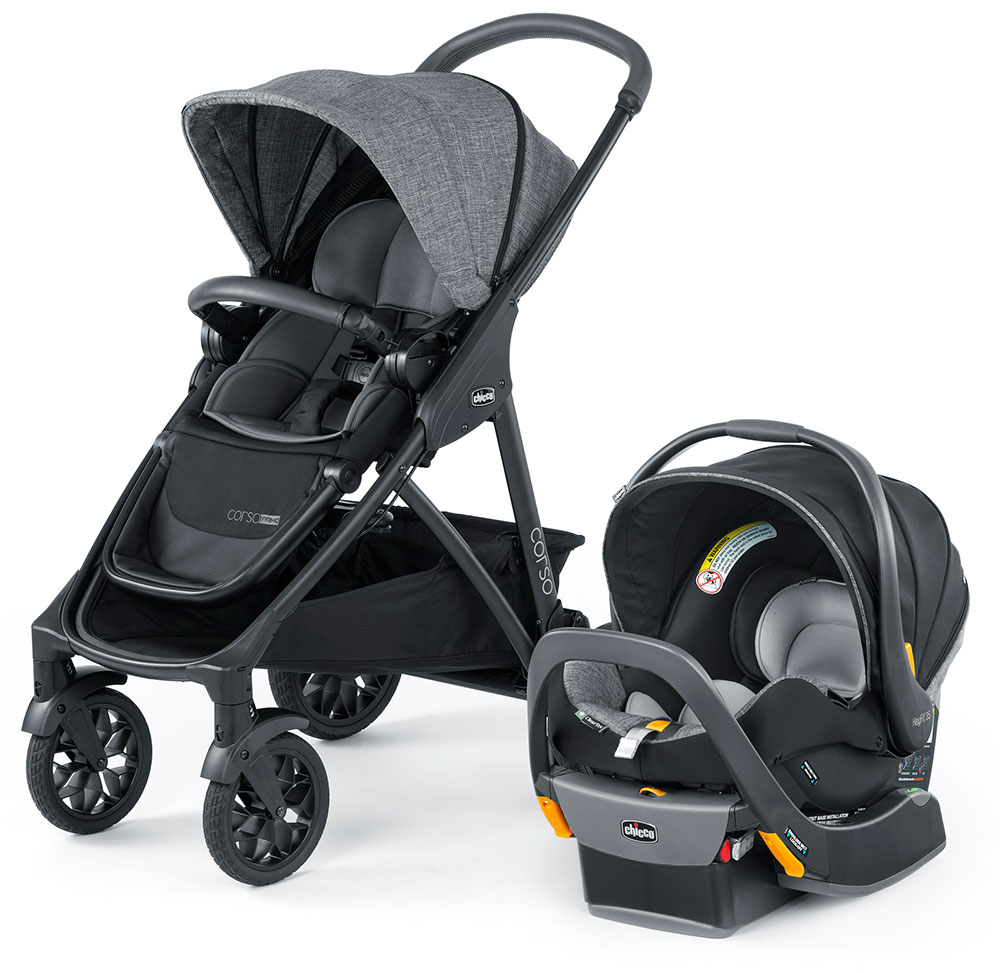 A travel system includes a stroller, car seat, and car seat base to meet all of your traveling needs. The car seat fits securely into the stroller for safety during infant months and can function as a standalone stroller for the toddler years.
Travel System Benefits
It's easy to transfer your baby from the car to the stroller and back since the car seat is compatible with the stroller and base. If you need both a stroller and a car seat, bundling them together in a travel system can save you money.
Travel System Limitations
While the stroller will be the only one you need (for a single child), it pairs with an infant car seat that your baby will outgrow. Also, because travel systems can incorporate anything from lightweight to full-size strollers, it is important for families to look for a travel system that fits their unique needs for stroller size and car seat requirements.
Who Is a Travel System For?
Those who want an all-in-one purchase that covers all the bases should look into these stroller and car seat combos.
---
Double Strollers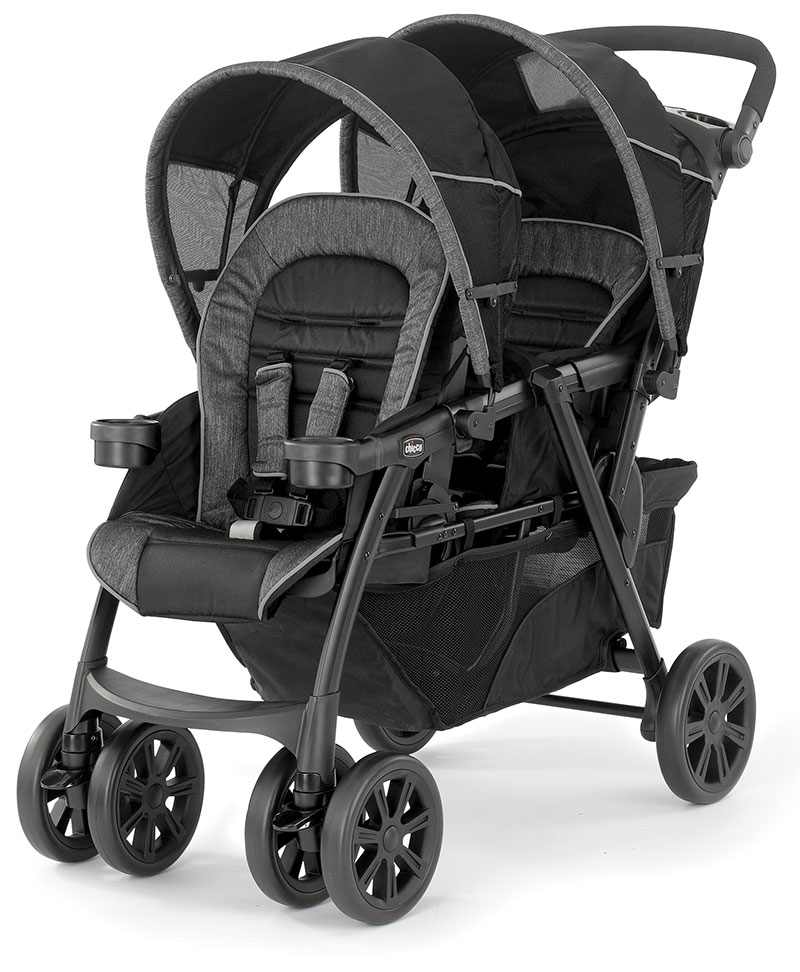 If you have or plan to have two kids, get ready to enter the world of double stroller varieties—each of which has room for two or can be expanded for two.
Tandem strollers have in-line seats with one child sitting behind the other, while side-by-side strollers are oriented precisely how you think.
Sit and stand strollers, like the BravoFor2, allow a younger child to sit in an infant car seat or regular stroller seat while a toddler stands behind them.
Convertible strollers allow you to add secondary seating—another stroller seat, a car seat, or a bassinet—onto a single stroller, doubling its occupancy space. Although the latter can be cumbersome when you need to transform it quickly.
Double Stroller Benefits
Of course, you only have two hands, and double strollers make it possible to take two children where you need to go. With their larger size, double strollers often have ample cubbies and storage space to take along as much baby gear as you need. Some models, like our Cortina Together, accept two car seats.
Double Stroller Limitations
Side-by-side double strollers can sometimes have handling issues unless both occupants are of similar size and weight, be challenging to steer, or are simply too cumbersome for your liking.
Who Is a Double Stroller For?
Double strollers are for parents with two children or who are planning to welcome a second infant into the family soon. If your children are not similarly aged, a tandem double stroller will provide the best handling.
Wow, that's a lot of options! Not all stroller types are suitable for everyone, but in the end, there will be a stroller or strollers that are right for you. You may even be swaying one way or another already, but there are a few additional considerations to walk through that will ultimately help you pick the best stroller for your child, lifestyle, and budget.
Newborn Friendliness
If your baby doesn't have complete neck control, a development that typically occurs around six months of age, you'll need a stroller that allows the child to recline fully. Newborn-friendly strollers feature a bassinet mode. Other strollers accept infant car seats, effectively achieving the same goal. Once your child can sit up independently, your options vastly increase.
A travel system might be for you if you're looking for a one-and-done option that can take your kid from first days through toddlerhood. Or, you can take advantage of a frame stroller or car seat carrier during the early days and spend more time choosing (or saving for) the right stroller to buy for toddlerhood.
Location, Location, Location
Will you be sticking to narrow city sidewalks and parking lots or taking on jogging trails, parks, and playgrounds? For the former, a sleek and slender model will squeak through tight spaces and have just enough onboard room for a diaper bag and other bare essentials. Adventurous parent-baby duos will get more use from increased storage for diaper bags and durable, air-filled tires to soak up bumps.
Aside from storage, consider suspension and wheels. Like buying a new bike or a pair of shoes, the level of capability you need depends on your intended use. If you're branching out into various terrain types, look for large wheels with air-filled rubber tires and all-wheel suspension. Jogging strollers excel in this category.
Lifestyle
Different parents expect different things from their strollers. You may only plan to use your stroller for the occasional errand or playdate, or maybe you have consistent outdoor activity for your baby on the books. Either way, consider where you plan to store your stroller, how much room you have in your car, and what activities you intend to use it for when navigating the push and pull of compact and convenient versus full-size and feature-rich.
Additionally, you may find that your needs don't fit squarely into a box that any single stroller can check off. Some parents may find that they want a lightweight stroller for "just running to the store" and a jogging stroller for outdoor activities and playtime in parks.
Family Size
Do you have—or plan to have—more than one child? If so, you'll need multiple strollers, a double stroller, or both to accommodate. Remember that some side-by-side strollers can pull to one side without even weight distribution, which isn't a concern for twins or similarly-aged children but not something you want to fight against when transporting a newborn and a two-year-old.
Cost
With a wide variety of stroller types with varying features, there isn't a solid benchmark price you should be paying. It depends on what kind of stroller you get and what you can afford. You can find inexpensive umbrella or frame strollers for less than $100 all the way up to luxury strollers costing more than $1,000.
A more realistic and reasonable approach is to buy the best baby stroller you can afford without going over your budget or into debt. Better yet, first-time parents can put a fancy stroller model on their baby registry for family and friends to chip in on. That way, you get a nicer stroller than you'd otherwise buy for yourselves and your loved ones get to feel like they contributed to an important piece of early parenthood.
In general, higher price points come with better features like additional carrying room, innovative folding mechanisms, or sturdy tires and suspension. While your specific stroller mileage may vary, you want equipment that's comfortable for your child and convenient for you.
Online research is incredible for narrowing down your list to the top strollers you want to consider. But before taking a specific model home with you, it's important to get first-hand experience with it. Is it as easy to fold up as advertised? Does the storage compartment fit your gear? How does it handle for you, specifically? These are questions best answered by a test drive.
Inspect the frame. The frame matters, whether it's a small lightweight stroller or a jogger juggernaut. Ensure the construction is solid and well-made.
Check the brakes. Ensure they are easy to operate and that the physical mechanisms don't get in the way of your feet while you push.
Push it at load. Strollers can handle differently without your precious cargo. Bring something that resembles your child's size and weight to take the stroller for a spin around the store.
Fold and carry the stroller. You'll feel like you do this a zillion times a day, so make sure the motions are easy and convenient for you—with both hands and with one hand only. Is it awkward to carry or easy to pull from trunk to sidewalk?
Measure for trunk clearance. Some sellers may allow you to take the stroller outside and test for fitment in your trunk. If not, measure the dimensions of both stroller and trunk to gauge the best you can.
We have mentioned various stroller features throughout this guide, which enhance a stroller's safety, convenience, comfort, or a combination of all three. Many strollers accept add-ons and accessories to increase functionality as needed. For example, rubber wheels can provide additional traction to a stroller that isn't handling how you'd like. Or, look into parent trays and cup holders for added creature comforts that make each stroll a luxurious one. Here are some popular stroller features to be aware of now.
Five-point safety harness. Look for a five-point safety harness, common on most models except for some skimpier strollers. It attaches above the shoulders, around the waist, and between the legs for maximum safety. The best harnesses are fully adjustable and offer a snug fit. A good safety harness will keep them in place over sudden bumps and prevent escapees from escaping while you're not looking.
Braking systems. Whether you want your baby to stay put while you zip your coat or you need to cut all momentum in a hurry, you don't want to skimp on stroller brakes. It's important to have a braking system you can get comfortable with using and doesn't chew up your toes as you stroll. Different brands and models use different mechanisms like a foot bar across the back, individual pedals above the rear wheels, or, less commonly, hand-operated systems.
Canopies with UPF. Stroller canopies are essential for protecting babies from harmful UV light from the sun, as infants are far more sensitive to light than adults. The best baby stroller canopies feature UPF 50 protection, which blocks at least 98 percent of UV rays. UPF protection can be inherent to the canopy material due to its construction, weight, or color, or added via special treatment. Canopies with UPF are included on many strollers from full size to lightweight. Various canopy lengths offer differing amounts of shade, and some include provisions for waterproof rain covers, insect netting, and more.
Fabrics. Strollers for infants will stay relatively clean and free of messes, while your toddler's stroller will go through a whirlwind of crumbs and drink spills daily. Do your research and ensure that your stroller features innovative fabric durable enough to last for years but easy to clean quickly.
Folding mechanisms. Many strollers fold for compact storage, but not always in the same way. You want one that can fold and unfold in seconds without struggle. We award bonus points to folding mechanisms that parents can efficiently operate with just one hand.
Wheels and suspension. Wheels range in size and quality—from plastic to air-filled and foam-filled tires. Plastic wheels are a budget option that delivers lightness and durability, while larger wheels and air-filled tires offer a plush ride to the baby on board. Foam-filled tires provide similar benefits to air-filled ones without the added maintenance chore of keeping the tire pressure within specified limits.
Most strollers have some form of suspension, typically shock-absorbing springs near the wheel assembly itself. Consider the type of activity you'll be doing and test this out for yourself in-store to get the suspension system that works for you.
Storage. Most strollers have some storage capacity, however specific usefulness varies widely. Roomy storage baskets underneath full-size strollers accommodate grocery bags, diaper bags, and more. Cup holders also frequently appear on larger models, both for the parent and child. Parent organizers are an excellent place to store everyday items like your phone, wallet, or keys. Because each stroller is different, explore the ones you're interested in for pouches and cubbies where you can stash valuable baby gear for the road ahead.
Now that you have a handle on the stroller offerings available and which features fit your needs best, we hope it is less overwhelming—even fun—to pick the right one for you. And although we created this guide with thoroughness in mind, we understand if you are still in the research phase. That's why we have additional resources on choosing the right stroller, and If you want a nitty-gritty comparison between every stroller in our own stable, we got you covered there, too.
All travel systems include three main components: (1) a stroller, (2) an infant car seat and (3) an infant car seat base for the car. Designed for on-the-go convenience, the infant car seat carrier clicks securely into both the base and the stroller. If you want the same convenience for multiple vehicles, additional infant car seat bases may be purchased separately.
There is no "right" tire, but there may be a best tire for your stroller needs. Foam tires are lightweight and a durable all-around option, ideal for trips to the store, leisurely strolls and travel. Air-filled rubber tires provide a nice smooth ride on uneven terrain but, like bicycle tires, are a bit heavier and do require maintenance to keep the tire pressure in check.
Unfortunately, no. Not all strollers hold an infant car seat. If an undisturbed transition for your baby from car to stroller sounds appealing, make sure to purchase a stroller that accepts an infant seat. Also, mixing one brand of car seat with a different stroller brand could require an adapter (sometimes sold separately) or not work at all. For that reason, we do not recommend using a Chicco car seat in a stroller made by another company.

Chicco strollers configured for infant car seats are compatible with ANY Chicco infant seat by clicking into the frame or into the provided adapter.
No. Infant car seats are designed to click directly into a stroller. While convertible car seats have a lot of different benefits, they are also larger and heavier than an infant seat and do not click directly into a stroller.
Yes, there is an expiration date listed on all car seats and bases. Before using a car seat or base with your child, always check for its expiration date.
Conventional strollers usually have a forward-facing, fixed seat built into the stroller. For conventional strollers that accept infant seats, the infant seat attaches parent facing so you can maintain eye contact with your baby.
Modular strollers have seats that can be installed in different directions so that your child can ride either forward- or parent-facing, a popular option for some parents. However, since a modular stroller has multiple configurations, there may be more individual components or adapters to keep track of.