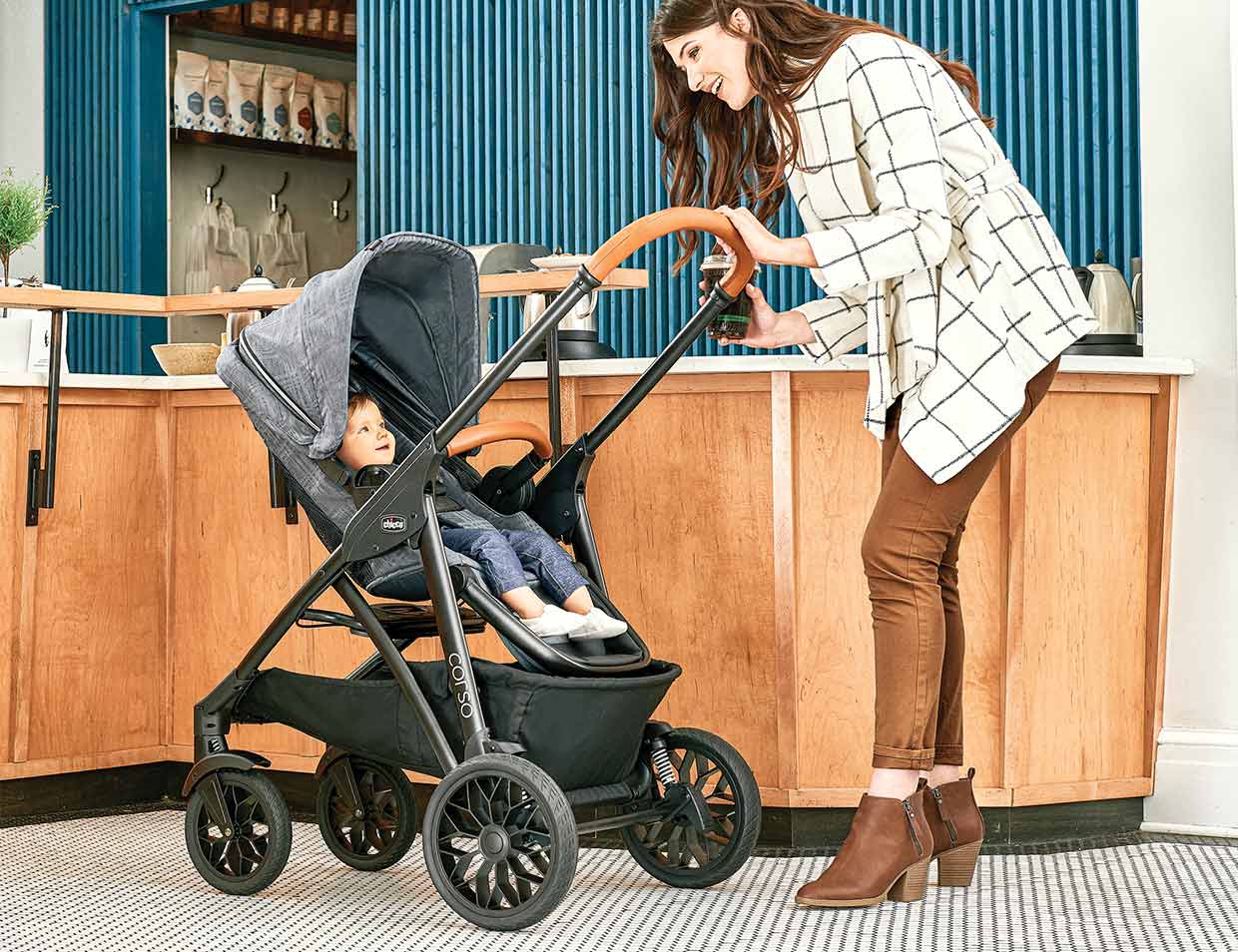 Once you welcome your newborn home, getting fresh air and going on walks offers a bit of reprieve from being indoors. It's also the perfect opportunity to bond with your baby, but as they continue to get older you may be eager to transition them to an upright sitting position so they can continue exploring the world alongside you in their stroller.
This guide will help you to learn when your baby is ready to safely sit up in their stroller with proper head and neck control, what kind of stroller is right for your baby's age, what to consider when buying one, and other safety tips to be aware of.
If you have ever held a baby before then you know it's vital to support their head and neck, as newborns lack the strength to pick their heads up on their own. Newborns don't possess strong enough neck muscles to hold up their heads, which means their heads will flop if they're not supported. Typically, new babies can tilt their heads from side to side but can't do much else until their muscles grow stronger. Due to this, newborns should only be placed in strollers where their neck is fully supported, such as a stroller with bassinet, a fully reclining seat with harness, or an infant car seat.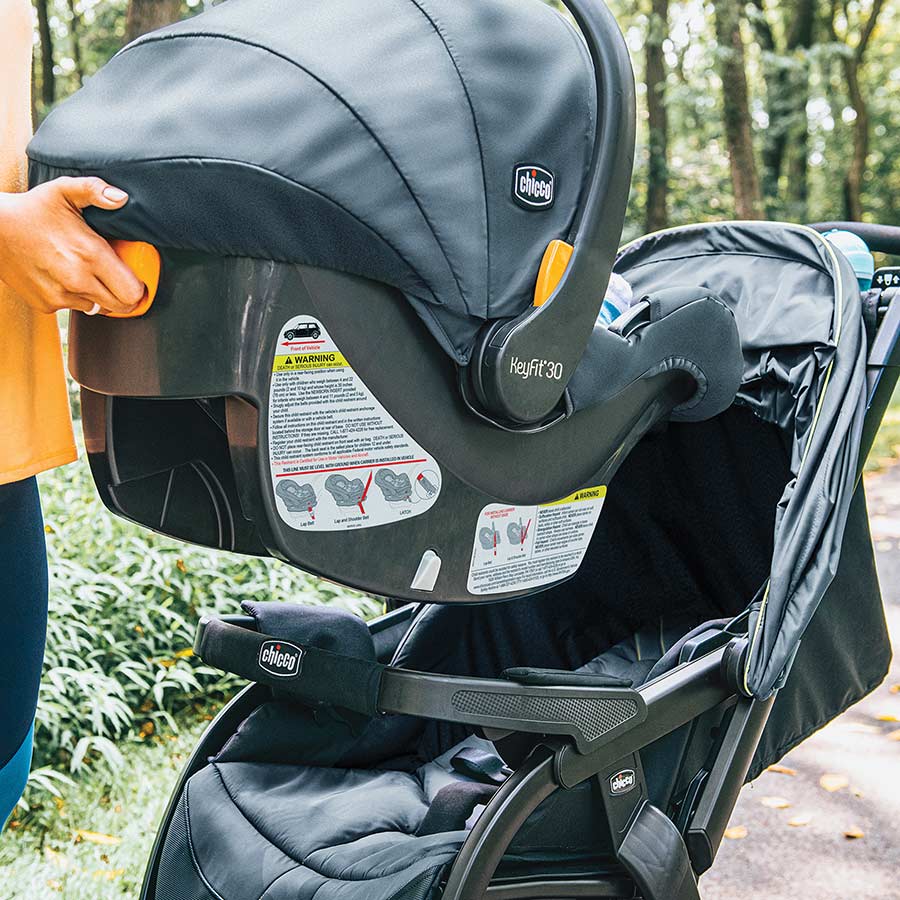 We know that babies can use a stroller from the day they are born so long as it is paired with an infant car seat or a model specifically designed to accommodate an infant (like a bassinet stroller), but the ability to sit up in a stroller in the traditional sense depends on head and neck control. Most importantly, your baby must be able to support their head on their own before being placed directly in a stroller. This usually begins closer to 6 months of age but can differ between babies. Not only should your baby be able to control their head and neck, but your baby should also be able to sit without assistance so they don't fall forward.
As you will be pushing your baby from behind, you should feel confident that they won't tip their head too far forward and risk compromising their airway. To avoid that, make sure the seat harness is properly adjusted and the baby is secured in their seat. The seat recline should also be adjusted to a comfortable position.
Options like our Corso Modular Strollers transform into lightweight frame strollers by removing the toddler seats and using an infant car seat. Your baby can ride comfortably either forward-facing or parent-facing, depending on what they prefer. Plus, as your baby grows, you can transition them to the stroller seat once they're ready.
We don't recommend letting any infant sleep in their stroller, as it could cause them to suffocate if they twist into a certain position. Strollers also have weight or age limits so be sure to review the product use limits for whichever stroller you purchase. Before advancing to sitting in a stroller, you can talk to your baby's pediatrician about any concerns you may have.
While you may be eager to purchase a stroller, make sure it's the right fit for you and your baby first by considering some of the factors below. This can give you a good place to start when picking out the perfect stroller for your little one.
Age and Weight Limitations
Every stroller has weight limits and some have recommendations related to when babies can safely support their own head and neck (and the age at which this usually occurs) that will help you determine whether or not it's appropriate for your child. If your baby is less than 6 months old or doesn't possess enough head or neck strength, then it's important to choose a stroller that either accepts an infant car seat, a bassinet, or a fully reclining seat with harness. Travel systems come with an infant car seat, base, and stroller so you can easily transition from the car to the stroller with a simple click.
Portability and Maneuverability
As you will be taking your baby out on many adventures, it's vital to consider both portability and maneuverability. A stroller with a hefty build may be difficult to fold up and take into tight spaces like restaurants or stores. If you know you'll be traveling up and down stairs, then a lightweight stroller provides the perfect solution. Another lightweight alternative for daily outings is a frame stroller, which is used with an infant car seat and allows you the ability to quickly get your child in and out of the car without lugging a fully-loaded stroller around. A double stroller is also convenient to use if you're out and about with both a newborn and a toddler or older child. Since your hands are usually full, look for a one-hand smart fold design, which is available with many of our strollers, such as our Bravo Quick-Fold 3-in-1 Strollers.
Wheels and Brakes
Another important area of focus is the wheels and parking brakes. All strollers must meet the same federal brake test, regardless of their design. Still, there are a few different brake options you can consider. You might lean toward foot pedal brakes that are convenient when your hands are full or a hand-operated parking brake that is friendly to use with open-toe shoes. You can test out both and see which one works best.
Different types of strollers are designed with wheels for special purposes. For instance, certain everyday strollers are outfitted with wheels with treaded tires that not only provide a smooth experience for your baby but will also ensure that the stroller itself remains stable and secure. If you're going off the beaten path, you may notice jogging strollers have larger rubber wheels to adapt to varied terrain. Overall, it's a good idea to choose a stroller with front wheels that can be locked straight, which can be convenient for trips to the doctor or the grocery store.
Your Overall Lifestyle
You should consider your overall lifestyle when making a decision on which stroller to buy for your baby. If you live an active lifestyle, frequently use public transportation, or are constantly on the go, then you'll want to tailor your stroller to meet your needs — not the other way around. Ensure the stroller you purchase can easily fold up and fit in the back of your trunk or can handle any terrain you throw at it. For more help narrowing down your decision, check out our blog on how to choose a stroller to discover the various benefits and conveniences each one has to offer.
Whether it's your first time using a stroller or you're shopping for one for your second child, take time to review some of our safety tips below.
Before using the stroller, make sure to have a full understanding of how everything works and carefully read through the directions. Review any height, age, and weight requirements.
Make sure to securely buckle or strap your baby into the stroller. The safety harness should be used at all times.
Always use the parking brake when you come to a stop or anytime your hands leave the handles. Even if you bend down to tie your shoelace for a second, it's always a smart idea to use the brakes.
Don't hang any items from the handles, as this can cause the stroller to tip over. You can place items in the storage basket below, but we recommend items no heavier than 10 lbs.
Now that you know a little bit more about when your baby can sit in a stroller, we hope you feel more knowledgeable about the type of stroller you and your child will love and when it's the appropriate time for them to move to an upright sitting position. Remember, your baby needs to develop muscle and neck control and meet the proper requirements of any stroller they use. Check out our blog for additional guides and parenting tips. Happy strolling!