Stage 1: Rear-Facing Car Seats
When it comes to car seat stages, you've probably seen car seats installed both ways, rear-facing and forward-facing, but how do you know which is correct for your little one? The AAP recommends that all infants and toddlers ride in a rear-facing car seat for as long as possible because it's the safest option for growing children whose skeletal systems are still developing. This amounts to most children under the age of 2 riding rear-facing.
Infants can ride in three different types of rear-facing car seats, including an infant car seat, a convertible car seat set in rear-facing mode, or an all-in-one car seat set in rear-facing mode. The maximum weight range for rear-facing car seats varies from 22-50 lb., depending on the car seat type. You can use any of these rear-facing options from the time you bring your little one home from the hospital to when they reach the weight or height limits for the specific model you're using. If you start with an infant only car seat you will have to move to a convertible or all-in-one to continue rear facing.
Why is the Rear-Facing Seat Stage Important?
Using a rear-facing car seat is important because your little one's skeletal system isn't fully formed yet and their bones need time to fuse as they grow. For this reason, car seat progression should not be rushed, as babies need more support to protect their delicate bodies, including their head, neck, and spine. As shown in the graphic below, the rear-facing car seat is designed to provide crucial support for the neck and head in the event of an accident.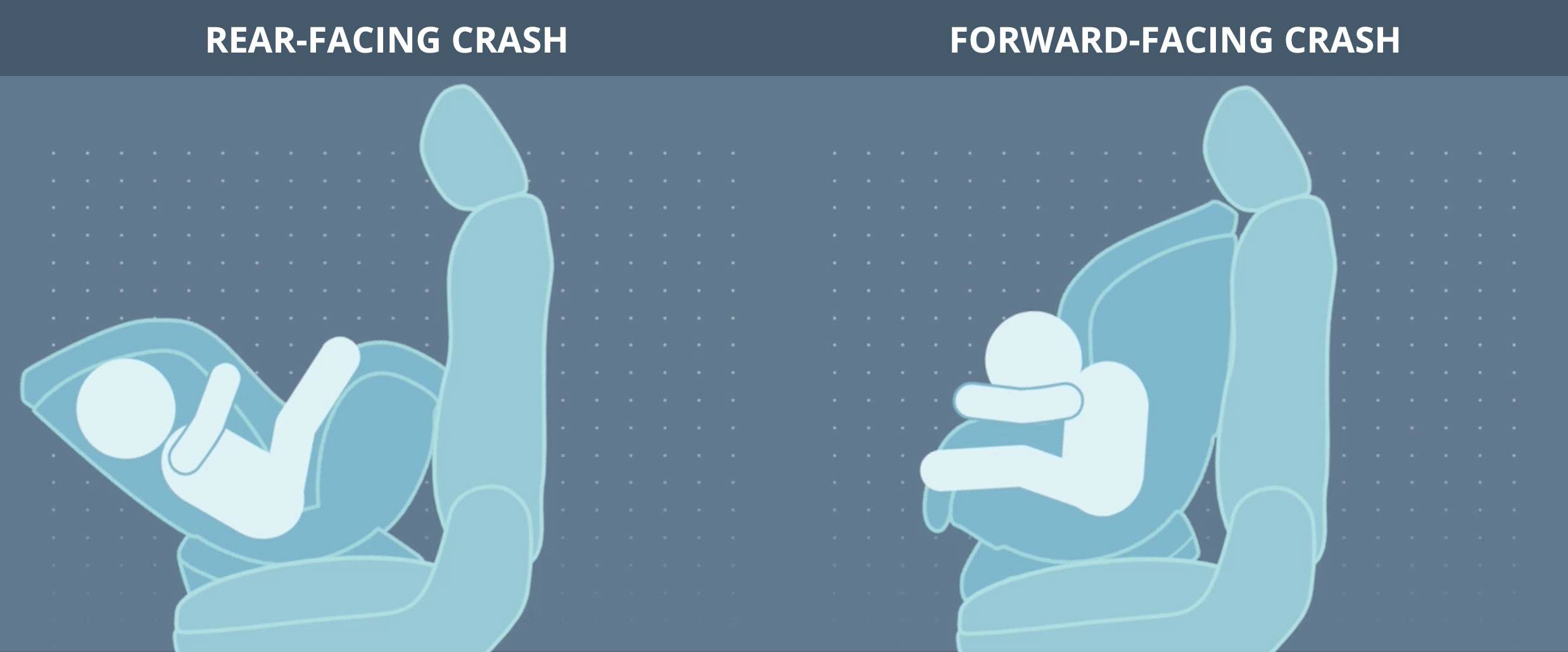 When rear-facing, a child's head, neck and spine are all supported by the car seat during an accident.
Stage 2: Forward-Facing Seats
Exactly how long a child's car seat should be rear-facing is "as long as possible". Unfortunately, there is no universal rule, but that's because the AAP (and Chicco) recognizes that each child grows differently and at their own pace. To keep your child as safe as possible, you'll need to consult the manufacturer's usage requirements for your specific car seat and keep them rear-facing until the maximum height or weight limits have been reached. Only then should you consider switching to a forward-facing car seat.
According to the AAP, "this will include virtually all children under 2 years of age." Always refer to your product's instruction manual for specifics on proper use and keep in mind that car seat laws vary from state to state, so be sure to stay informed on the most up-to-date requirements for your state.
While you may start to see your growing toddler getting a little cramped back there, don't consider that your cue to switch to a forward-facing car seat. The developing joints of a young child are much more flexible than an adult's, making that "crisscross applesauce" position a lot more comfortable than it may seem!
When the time comes, you can easily transition your convertible car seat, such as the NextFit®, or your OneFit™ to forward-facing mode. At Chicco, we also offer the MyFit® harness + booster car seat, which grows with your child from toddler through big kid. It's a forward-facing car seat that you can start using at age 2 and 25lbs with a maximum weight limit of sixty-five pounds in harness mode. The MyFit has one of the highest harness heights on the market and will allow you to take advantage of the safety of a 5 point harness longer then most car seats. You can then transition it to a belt-positioning booster once your child reaches 54" or the harness slots go below their shoulder for extended use up to a hundred pounds!
Stage 3: Booster Seats
Congratulations! You survived the foggy newborn stage and even the active toddler stage! You appreciated the convenience of the rear-facing infant car seat and eventually witnessed your growing kiddo enjoying a world of new views in their forward-facing car seat. Now, your not-so-little one has reached the maximum height and weight limits for the convertible seat and may be ready to transition to a booster seat. If you have an all-in-one car seat or a harness + booster car seat, all you'll need to do is transition your car seat from harness mode to booster mode.
Every child is different, but little ones can often make the switch to a booster seat when they are at least 4 years old, between 38-57" tall, and at least 40 lbs. The transition to the vehicle seat belt, however, is not just about height and weight; maturity matters too. Ensure that your big kid can sit relatively still during every trip to keep the seat belt in the proper position.
We offer a variety of belt-positioning booster car seats designed to give your kiddo a boost so that the vehicle seat belt is positioned for proper use.
The KidFit® 2-in-1 Booster offers ten height positions that provide head and shoulder protection for every stage. However, you still have the option to go backless, giving you the best of both worlds.
As your child becomes older and rushing from activity to activity is the norm, on-the-go convenience is more important than ever. The built-in carry handle on our GoFit® Backless Boosters is the perfect solution for busy families.
Stage 4: Vehicle Seats
Before you know it, you blink and your "little one" is now in the double digits and the end of their car seat journey is in sight. You'll know if your big kid is ready to graduate from the booster to the vehicle seat when their back and bottom are pushed all the way against the backrest and:
The knees bend naturally at the end of the seat and feet touch the floor
The vehicle lap belt fits across the thighs
Every child is different, but most kids graduate to the vehicle seat between the ages of 8 to 12, per the NHTSA. As your child grows, they may become anxious to ride in the vehicle seat like their older sibling, but there is no need to rush and skip crucial car seat stages. A well-fitted and properly installed car seat is the safest way to transport your precious cargo.
Visit our Car Seat Safety page for more tips and instructional videos and SafeKids.org to find a car seat checkup event near you.