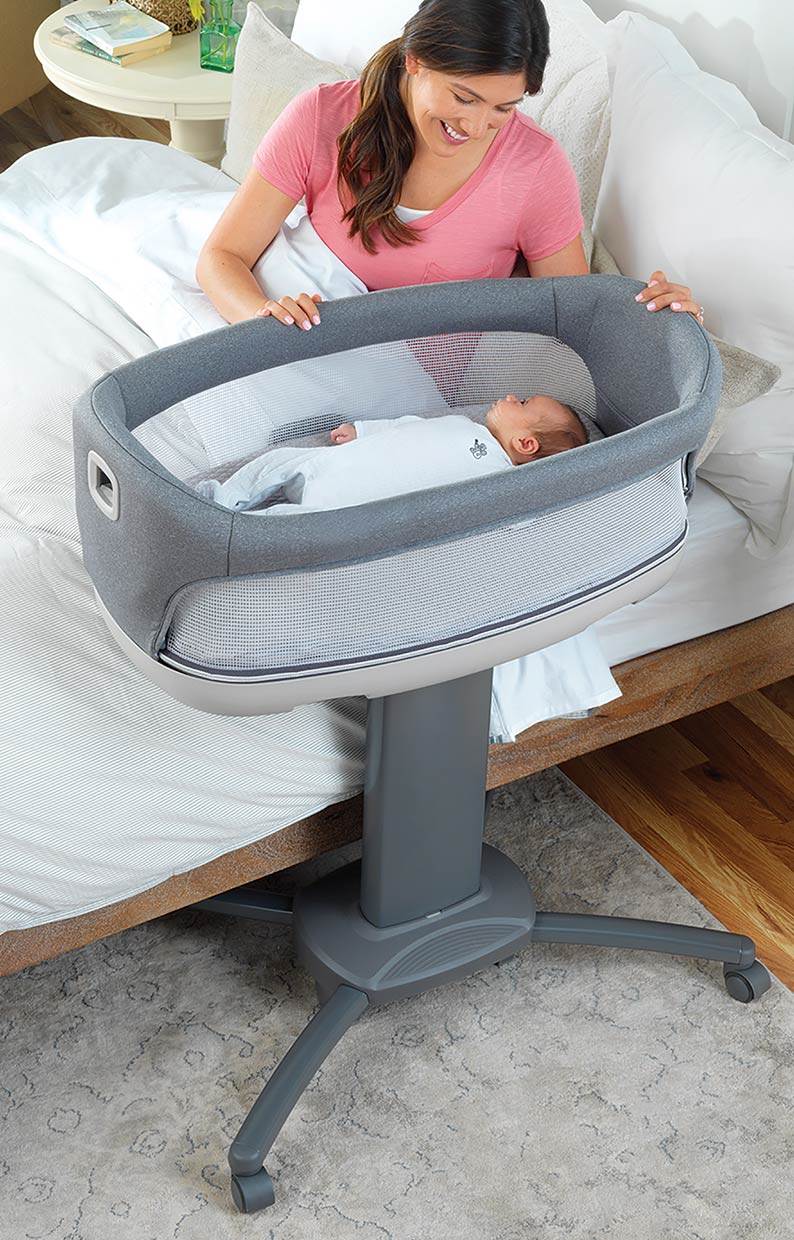 Transitions are a huge part of raising a baby. It happens like this: one moment they're in your arms relying on you to feed and soothe them, and before you know it they're walking around the house, playing and having a blast! Your job as a parent is to help your baby become independent and one of the first big moves they'll make is transitioning out of their bassinet. When your newborn first comes home from the hospital, it's no question that bassinets are lifesavers. However, after a certain point, your little peanut will grow and need something new. We put together this helpful guide so you know when it's time to put your bassinet into storage and break out the crib or playard instead!
If you're expecting and putting together a baby registry list, then you might have come across bassinets before. If you're not too familiar with them, allow us to explain!
A bassinet is a compact sleeping place that is designed for infants from birth and should never be used past the 6-month mark. Typically bassinets are raised from the ground and are lightweight, however, there are many bassinet designs to fit various parenting needs. Bassinets allow you to keep your baby nearby throughout the night and offer a convenient and safe place for your little one to sleep.
They're helpful for night feedings and provide you with an added sense of security knowing your precious newborn can be in the same room as you. Sharing a room with your baby until they're at least 6 months old reduces the risk of SIDS, per the CDC.
Bassinets also come in handy not just overnight but during the day too. This is especially true as you move from room to room and want to keep a watchful eye over your little one. Our Close to You Bedside Bassinets have wheels and are perfect for this! You can also wheel the bassinet closer or farther away from your bed. These bassinets are also height adjustable and feature a waterproof mattress to make cleaning any messes a breeze.
Our lightweight LullaGo Bassinets are perfect for home or travel and feature washable fabrics, storage pockets, and fold flat to take with you on the go!
Just as kiddie rides in an amusement park have multiple limits (think both age and weight limits), so do bassinets! Below, we broke down four vital limits your baby must not exceed in order to use a bassinet safely.
Weight: Your baby can't safely use a bassinet if they are not within the weight limits. Most bassinets have a 15-20 lb. weight limit, but be sure to follow the limits on the particular bassinet you've purchased.
Roll: If your baby is starting to roll over, this is a sign that they will probably be able to push themselves up very soon and should transition to a crib or playard asap. This is common around 4 months of age.
Push: If your baby can push themselves up on their hands and knees, it's time to transition to a crib or playard, even if they are within the weight limit. By 6 months, most babies can sit up on their own for at least a couple of seconds. Bassinets are shallow and your baby could fall out.
Pull: If your baby can pull themselves up by grabbing onto the sides, this increases the risk of them falling out. The sides of bassinets are not extremely high (like a playard or crib), which means your little one could injure themself if they fall out.
In general, most babies transition from a bassinet to a crib or playard between 3-6 months. However, every baby is different so some may meet these limits earlier than others. This isn't a bad thing! It simply means your baby is ready for their next sleeping adventure!
Keep in mind how fast your baby is growing too. If your baby is squished in their bassinet then that's a sign to transition them to something roomier where they'll be more comfortable! (We have more on that below.)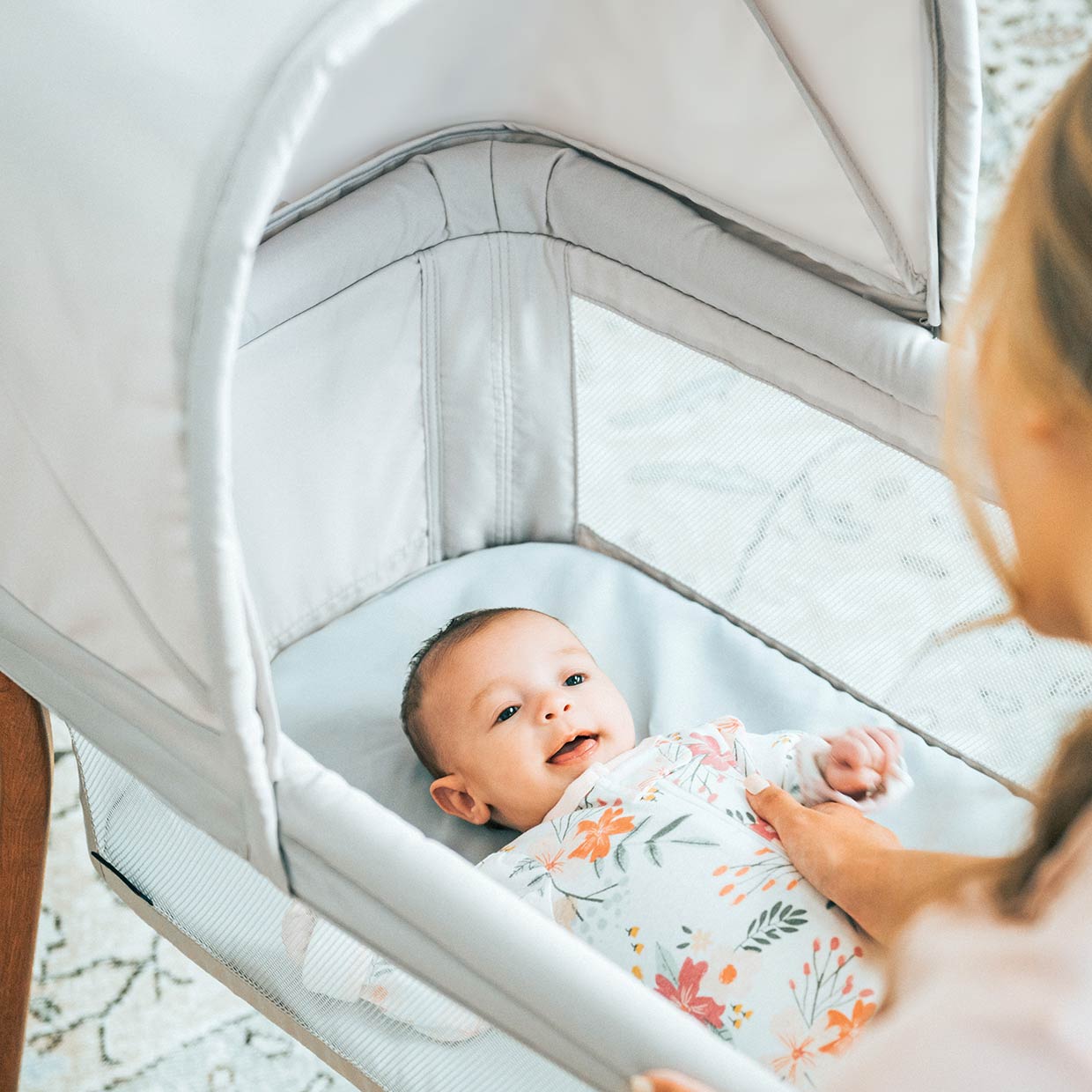 Once your baby outgrows their bassinet, you may be wondering what you should transition to next. Thankfully, there are a few different options to choose from. You may choose to use a crib and set it up in your baby's nursery. However, if you still want to keep your baby close to you during the day and at night, playpens and playards make great alternatives to a crib! They offer some of the same benefits as bassinets, but are much bigger and have taller sides, allowing your baby a safe place to nap, sleep, or play!
Playards are foldable, lightweight sleeping areas with mesh sides. They are mostly rectangular in shape. You can keep a playard in your bedroom so you can quickly tend to your baby at night. While most parents set a crib up in their baby's nursery, a playard can prolong room sharing without taking up as much space as a crib.
Our Lullaby Playards include a bassinet (up to 15 lb.), changer (up to 20 lb.), and an extra-large sleep space (up to 30 lb.). They feature a zip and wash mattress cover for easy cleaning and come with a carry bag so you can take your playard with you on overnight stays at a hotel or family member's house.
Playpens are another great sleeping option once your little one can no longer use a bassinet. They are spacious areas where your baby can play or safely nap in an enclosed space. The Tot Quad Portable Playpen is lightweight and has a compact fold for when you want to travel or simply store away when not in use. It also features a padded mattress so your tiny tot stays cozy and comfortable.
Tips for Transitioning Your Baby From a Bassinet to Their New Sleeping Area
Once your baby is ready to make the move from a bassinet to their new crib, playpen, or playard, follow these tips below for a smoother transition.
Create a Soothing Sleep Environment: You can dim the lights and use a white noise machine to lull your baby off to dreamland.
Use a Baby Monitor: Since you are used to having your baby in your room at night, you can use a baby monitor to keep an eye on them. This way you can check on them, should they need you.
Follow Safe Sleeping Practices: Don't place anything additional in your baby's crib or sleeping area. Only use what came with the crib itself.
We hope you have a better understanding of when it's time to safely transition your baby out of their bassinet and into a new, safe sleeping option. If you have any questions or concerns, contact your pediatrician for more advice. For more insightful parenting guides, check out our blog.