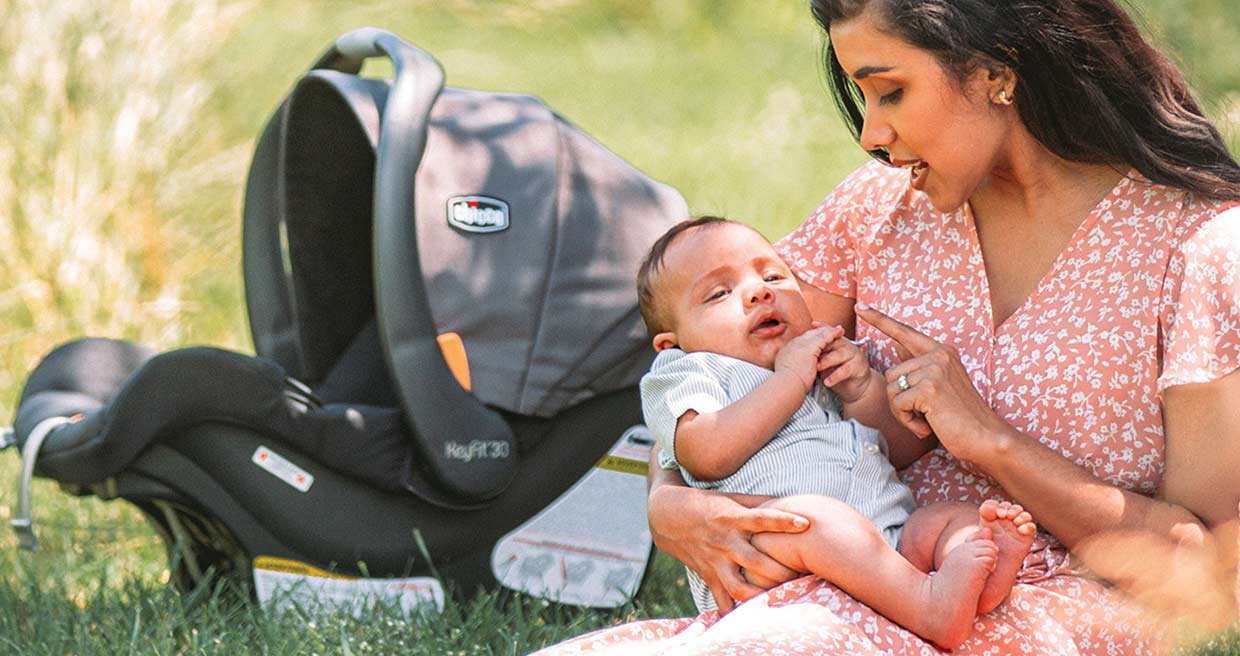 As more brands introduce car seats that are marketed as non-toxic, many new parents and guardians may be wondering: "What exactly is a non-toxic car seat, and what does that mean for me and my existing car seat?"
Typically, the phrase "non-toxic car seat" refers to a flame retardant-free car seat—one that was manufactured without the use of a group of potentially hazardous chemicals called flame retardants. This, however, doesn't mean you should immediately toss out your existing car seat (as long as it hasn't expired).
At Chicco, we want new parents and veterans alike to be well-informed on the use of chemicals in car seats. We'll explain which chemicals are typically found in car seats, why they're used, the potential risks you may encounter, and what non-toxic car seat options are available. From there, you'll be equipped to make your own well-informed decision. But first…
Before delving into the issue of flame retardants in car seat materials, we want to address the more immediate need—protecting your baby in a crash. While the use of flame retardants may be an important consideration for you, a car seat's first order of importance is providing protection to your child in the event of a crash.
So, the most important thing is to choose a car seat that is rated for the age and growth stage of your child passenger from a manufacturer you can trust. Only then should you consider non-toxic car seat options. Here are a few things to think about when shopping:
Choose a car seat made by a reputable manufacturer for that extra peace of mind that the highest level of care went into its design and manufacture.
Confirm that the height and weight limits for the car seat are appropriate for your child's height and weight or age and size.
Ensure it is easy to install, fits your vehicle, and keeps your baby properly secured for every ride.
Check NHTSA car seat safety ratings for added decision-making power, but note that results do vary by vehicle make and model.
That said, parents and guardians have more options today than ever before when it comes to buying a non-toxic car seat that passes all National Highway Traffic Safety Administration (NHTSA) safety regulations—so what's the deal with chemicals in car seats anyway?
According to the National Institutes of Health (NIH) offshoot, the National Institute of Environmental Health Sciences, flame retardants are chemicals that are applied to certain materials to prevent or slow the spread of fire. They're applied to foam, upholstery, wires, cables, and many other materials found in furnishings, electronics, building and construction materials, and transportation products. Because they are subject to a federal flammability standard, child car seats are also among the many products treated with flame retardants.
Flame retardants come in hundreds of forms, with various categories found more commonly in some industries than others. The two main categories of fire retardants are halogenated, which uses chlorine and bromine, and phosphorus-based. Brominated flame retardants are perhaps the most common across the board, appearing in many consumer goods and furniture items. However, scientific studies have linked these chemicals to endocrine disruption among other health consequences.
Polybrominated diphenyl ethers (PBDEs) are prevalent in the furniture industry but were phased out of use in car seats in 2013 due to their proven inability to break down in the environment and potential to slowly accumulate in people and animals. They've also been found to lower birth weight and length of children and impair neurological function.
Yet, despite this ban, a 2018 study in Environmental Science & Technology Letters revealed that 75 percent of tested car seat samples still retained modest levels (0.24 μg/g) of the chemicals. One microgram, or μg, is equal to one millionth of a gram, suggesting that the levels of PBDEs found are quite small. That said, the accumulation of PBDE is suggested to be three to nine times higher in infants and toddlers than in adults.
However, it is important to note that much work is still needed to fully understand the toxicity concerns surrounding flame retardants. For that reason, an interagency NIEHS testing program, dubbed the National Toxicity Program, has received many nominations to study these chemicals in depth.
Per- and poly-fluoroalkyl substances (PFAs) are found in a wide variety of items that humans (and little ones) interact with on a daily basis—including food, water, dust, soil, and consumer products. In car seats, some manufacturers use PFAs to make the fabrics resistant to stains, water, and sticky substances.
However, there is a growing concern that humans may face adverse health effects if they are exposed to PFAs through ingestion or dermal pathways. According to a review in the journal Toxicology, PFAs have been linked to immunological, developmental, reproductive, hormonal, and carcinogenic effects in humans. That said, as with flame retardants, there remain gaps in our scientific understanding of PFA exposure and risks. Further research is needed to fully understand the relationship between exposure levels and potential health effects.
One final note on the subject of flame retardants in car seats: the vast majority of USA child car seats in use and available in the market are treated with the most up-to-date flame retardant compounds and all must comply with the same federal regulations. So if you're using a car seat or considering the purchase of a car seat that has conventional flame retardant treatment, governmental regulatory agencies have evaluated these treatments and deemed them to be effective and acceptable.
Well, everyone is at risk due to the ubiquitous nature of flame retardants in our environment and the products we rely on daily. More specifically, people are exposed through transportation, whether by car, train, or plane, consumer products in the home, dust from most indoor environments, and even their diet.
A growing body of evidence suggests that negative health effects may occur in humans due to exposure to flame retardants. Studies show that—under the right circumstances—flame retardants may cause cancer, neurologic dysfunction, and disruption of the endocrine system, immune system, and fetal development.
Children, however, are the smallest and most vulnerable humans to many of life's risks—and it's no different when it comes to chemicals in car seats. With their growing organs and brain still early in development, they're more at risk of the impacts of potentially toxic substances.
What's more, hand-to-mouth behavior is more present in children, leading to more exposure orally. This is backed by research, which shows that some children have higher bodily concentrations of flame retardants than adults.
The concern with PFAs is that they may transfer from the fabric itself into human sweat. If children are exposed to these chemicals dermally, there is potential for harm. Additionally, the breakdown of PFAs by UV light is thought to contribute to major environmental damage.
Knowing the risks outlined above, you might wonder why these chemicals are even used in car seats. The National Highway Traffic Safety Administration established the Federal Motor Vehicle Safety Standard (FMVSS) 302 in 1969, requiring anything designed for the interior of a vehicle to meet federal fire safety standards. NHTSA's regulations for passenger vehicles were carried over to children's car safety seats in 1981.
The simplest and most economical way for most juvenile car seat manufacturers to meet this federal safety standard is to use flame retardants in their products. But as mounting evidence reveals the potential risks associated with certain flame retardants, manufacturers phase out their use and some are even banned by governments. Then, newer chemical compounds marketed as safer alternatives take their place. But juvenile car seat manufacturers can meet the FMVSS 302 federal flammability standard in other ways—and some are beginning to make the switch to non-toxic car seats.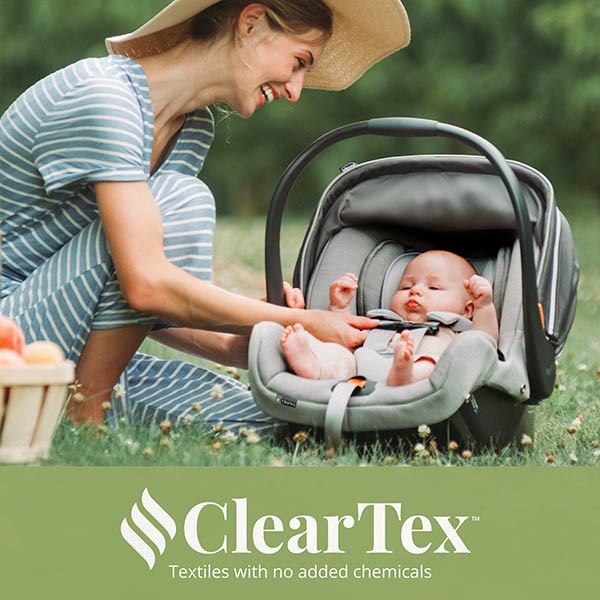 The best way to make flame retardant-free car seats that meet the federal flammability standard is to use different materials that possess inherent fire resistance or by using materials that can be manufactured in ways that make them fire-resistant. And that is exactly what some car seat manufacturers, like Chicco, are doing.
To do our part to support sustainable parenting and act responsibly in the new age of non-toxic car seats, we developed ClearTex®. ClearTex® is our innovative fabric that's free from added flame retardants while still meeting federal flammability standards.
To accomplish this, we start with polyester fibers that are knitted together in a particular way to create fire-resistant fabric, eliminating the need for flame retardants. The fabric, foam, newborn insert—even the labels—are all manufactured to meet federal flammability safety standards without additional flame retardants. Products made with ClearTex fabrics are free of chemicals that can migrate into the environment. Furthermore, with flame retardancy inherent in the fabric, ClearTex® ensures fire resistance for the life of the product—that is, it can never be washed out.
Additionally, we're proud to offer an array of GREENGUARD Gold Certified car seats, bassinets, playards, and strollers. When a product bears the badge of GREENGUARD Certification, consumers can be sure it went through rigorous third-party annual testing to ensure low levels of chemical off-gassing. This is one more way we care about not only the safety of your child but also the purity of the air they breathe.
For more information, check out our full primer on GREENGUARD Gold Certification.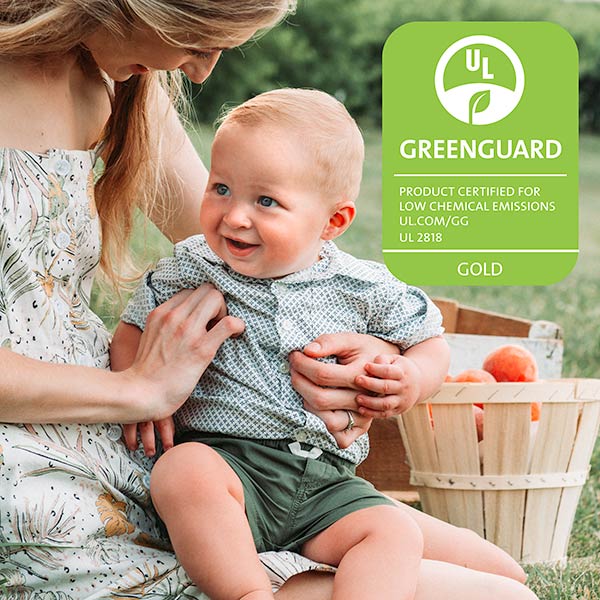 We hope the information in this article helps you as you consider both child safety and child well-being in making decisions about your child's car seat needs. Physical safety is a must, but it's also good to be conscious of the potentially harmful chemicals that your child could be exposed to. Ultimately, the scientific jury is still out on how much of an issue this presents, but with all the information at your fingertips, you can make informed parenting decisions that are right for your growing family!
Explore our range of GREENGUARD Gold Certified car seats and fabric innovations like flame-retardant-free ClearTex and machine-washable Zip performance fabric to get the safety you expect from Chicco with additional benefits for your child's wellbeing. To find out more about how we support the future of the next generation, check out our Sustainable Parenting Initiative.