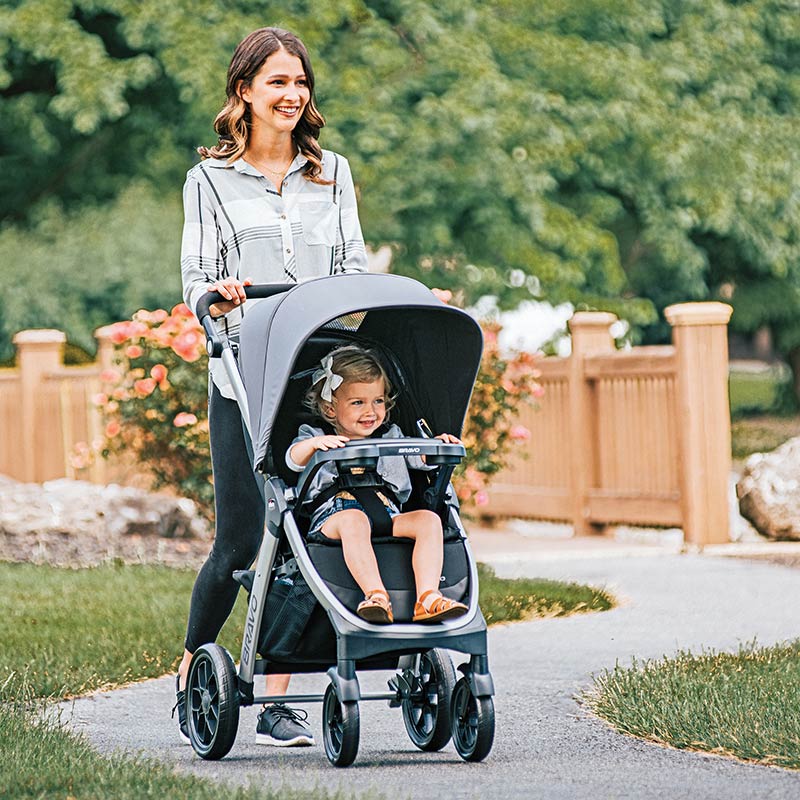 Are you in the process of deciding on the perfect stroller for you and your baby? Then you know there are many factors to consider, like size, weight, features, foldability, price, and brand — even whether you want a 3-wheel or a 4-wheel stroller. With so many styles and features on the market, it can be tough to decide on one type of stroller. To help you in your decision-making, we're going to delve into the subject of 3-wheel and 4-wheel strollers. We'll explain the differences between 3-wheel and 4-wheel strollers below so you can decide which type best suits your needs — or whether you need both to ensure you cover all your strolling bases.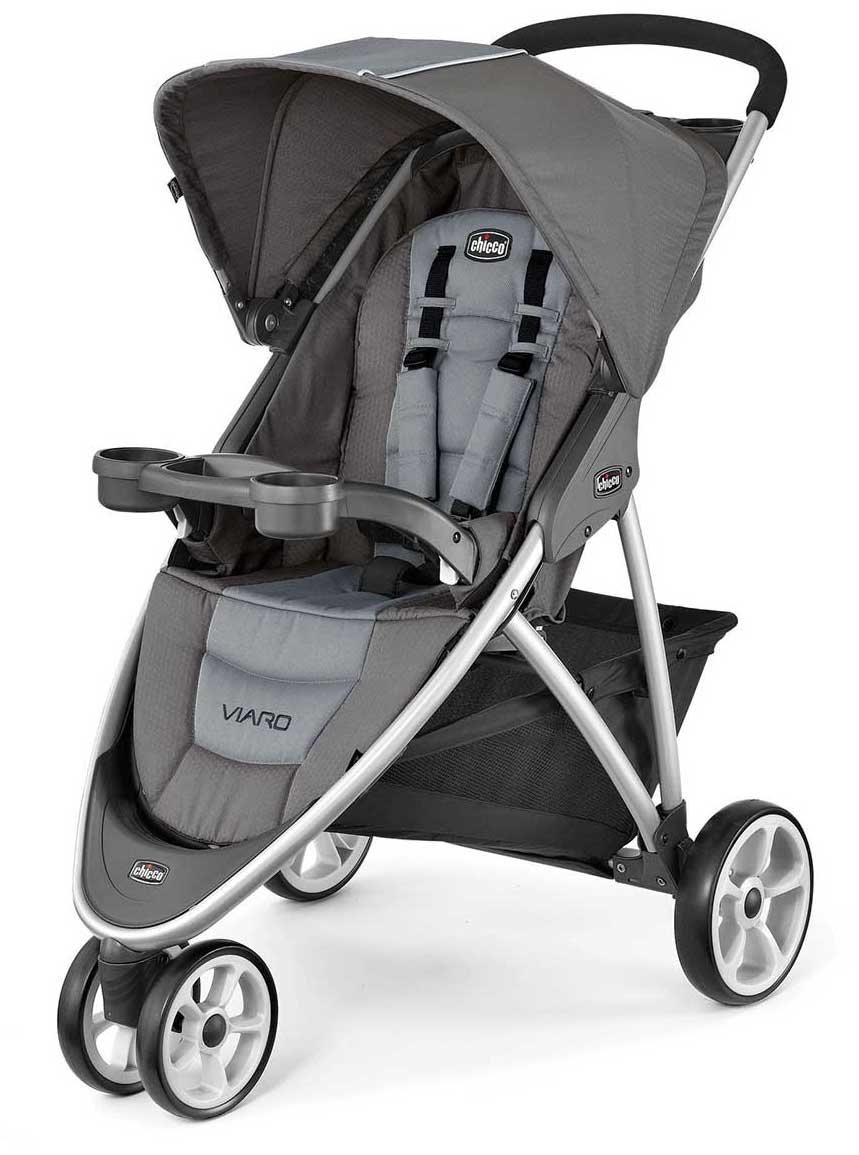 3-wheel full-size strollers like the Viaro have two back wheels and a single front wheel position in a sleek, lightweight design. Most three-wheel strollers have similar convenient features to other 4-wheel strollers like a storage basket, parent tray, child tray, adjustable canopy, and more — the main difference comes down to its 3-wheel functionality.
Despite our 4-wheel strollers' great performance, our 3-wheel full-size strollers' front-wheel design makes moving around easier! The Viaro model is perfect for taking strolls around the neighborhood or taking trips to the mall where weaving around tight corners or through crowds may be more common. Some customers also find that the 3-wheel full-size strollers' one front wheel saves additional space in their car's trunk.
A stroller like the Viaro may fit the needs of parents and guardians who want a little more maneuverability than 4-wheel strollers offer, but aren't traveling off-road, where a jogging stroller may be necessary.
While not every 3-wheel stroller is considered a jogging stroller, every jogging stroller does feature 3-wheels. Keep reading to learn more about our selection of jogging strollers below.
If you plan on going off the beaten path while pushing your little passenger, jogging strollers, which are 3 wheels, might be a perfect fit. These 3-wheel strollers have two large wheels at the back and one large swivel wheel in front. A good jogging stroller should have treaded rubber air or foam-filled tires, which, together with the larger wheel size, make for smooth travel over uneven or bumpy terrain, trails, gravel roads, or grassy parks. Thanks to the single swivel front wheel, jogging strollers are incredibly easy to maneuver. If maneuverability is important to you, steer clear of models with a fixed front wheel that is designed specifically for jogging.
Jogging strollers offer parents some serious upsides, but when deciding between a jogging stroller vs. a 4-wheel stroller, there are a few things to consider:
Many jogging strollers are heavier than their 4-wheeled counterparts unless they feature an aluminum frame.
Due to their all-terrain-ready design, jogging strollers boast a more rugged construction than many 4-wheel models. As a result, they often carry a heftier price tag.
Many jogging strollers are still quite bulky and awkward even after folding them down due to large wheels that, in many cases, aren't removable. As a result, they can be difficult to stow in your trunk.
Chicco offers two different jogging stroller models for active parents, Activ3 and TRE. Both feature lightweight, foldable aluminum frames, an extendable three-panel canopy, and our fully adjustable FlexCore suspension. Both are one-hand foldable with quick-release wheels for an extremely low-profile storage footprint.
Whether you choose the Viaro, Activ3, or TRE, you'll find that all of them serve unique purposes and can accommodate infant car seats.
Wondering which model is best for you? See the features side by side on our Chicco stroller comparison guide.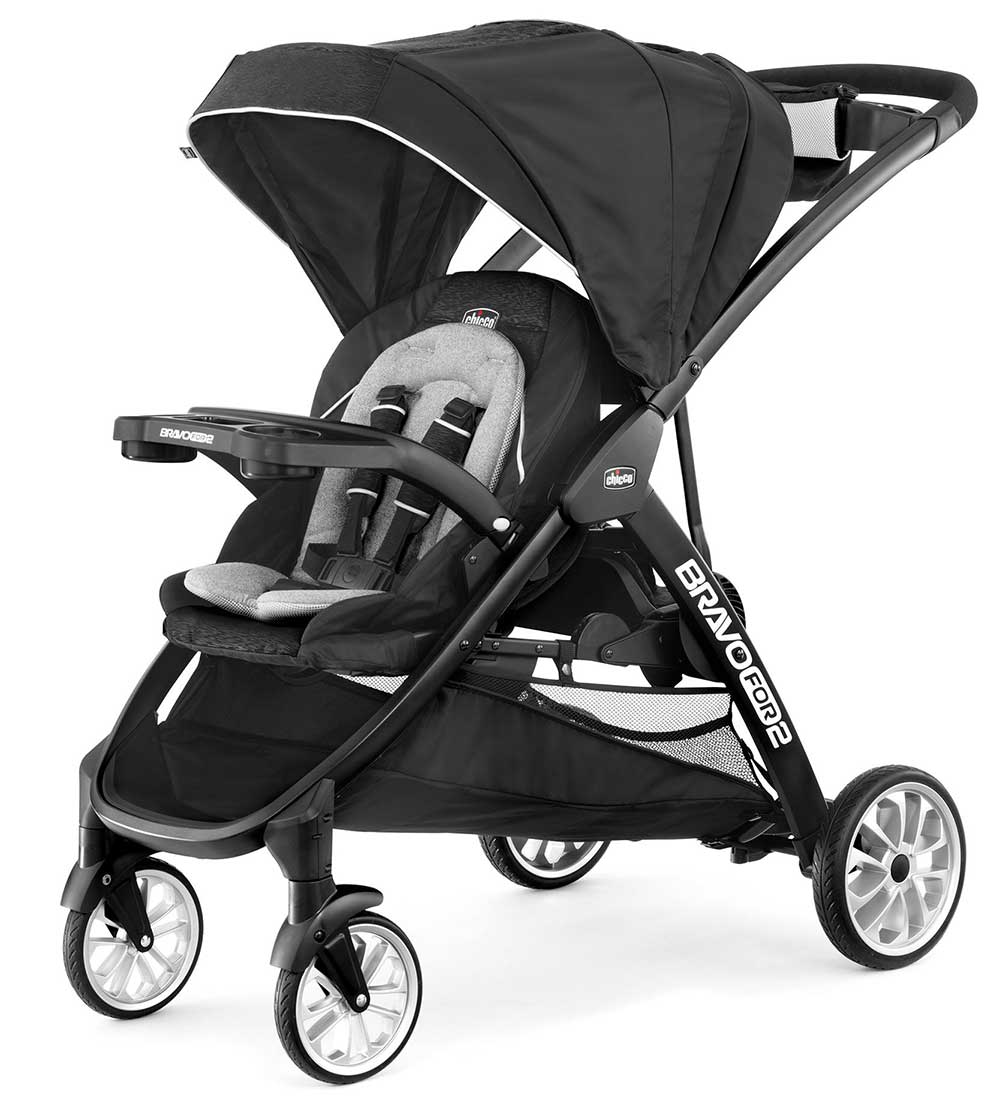 The good news? With 4-wheeled strollers, you have a huge variety of styles and options to choose from, especially if you're looking for a car-seat-compatible stroller. 4-wheel strollers are more stable and tend to be more compact when folded. So, if you live in an urban area or plan on sticking to well-maintained, paved surfaces like sidewalks, paved walking paths, and shopping mall floors, a 4-wheel stroller is an excellent choice.
There are four main categories of 4-wheeled strollers, and Chicco manufactures various options in each category to suit your diverse needs.
A full-size stroller is the best way to go if you're looking for maximum features and adjustability with ample storage options. Shop our complete line of full-size strollers. All Chicco full-size stroller models allow you to simply click in a Chicco infant car seat during your baby's first year, then use the adjustable stroller seat as your child grows.
Want lightweight convenience without sacrificing your baby's comfort? Chicco lightweight strollers are highly maneuverable with a compact, and easy-to-stow fold that makes them perfect for travel. Shop our complete line of lightweight strollers. Perfect as a second stroller option, certain models even accept an infant car seat to make travel a breeze from birth through toddlerhood.
Need room for two? Chicco double strollers offer the versatility of multiple seating configurations with independent canopies to suit both of your little ones, whether they're twin infants or several years apart. Shop our complete line of double strollers.
Need time to decide on the perfect toddler stroller, or just want the lightest stroller option that will accept an infant seat option? Chicco frame strollers are an ultra-lightweight, compact, and affordable option for your baby's first year of life. Shop our complete line of frame strollers. Simply unfold, click in your infant car seat, and go!
Both foam and air-filled tires look identical, but there are some key differences to be aware of if you're considering a jogging stroller. Foam-filled (or foam core) tires eliminate any worries about a flat tire during your outing. Foam core means your tire contains a foam filler that's literally flat-proof and never needs pumping up. Even though foam-filled wheels are relatively maintenance-free on most surfaces, they cannot be adjusted to accommodate more uneven terrain like air-filled tires. So if you want a truly all-terrain stroller, conventional air-filled wheels are your go-to. Remember, you can always stash a lightweight mini bike pump in your stroller's cargo area if you want to be extra prepared.
Frequently Asked Questions
Yes, a 3-wheel stroller must meet the same stability regulations and standards as a 4-wheel stroller, while 3-wheel activity and jogging strollers can provide additional stability from a larger footprint.
Yes, 4-wheeled strollers are easy to maneuver as the front 2 wheels swivel 360 degrees. They may also feature adjustable suspension to help navigate uneven terrain.
Both 3- and 4-wheeled strollers offer a compact fold that may also allow for the stroller to be free-standing when folded. Some 3-wheeled strollers have quick-release wheels that provide an even more compact fold.
The best stroller for you is ultimately the one that fits your unique lifestyle. Many parents even opt for more than one stroller (for example, a jogging stroller for off-road adventure and a lightweight stroller for travel). No matter your needs, Chicco has a stroller that will make your life easier and give your baby a comfortable ride. For more help selecting the perfect stroller, check out our handy How to Choose A Stroller guide. Whatever stroller you choose, we hope you and your baby enjoy years of happy strolling!