Chicco Fit4 4-In-1 Car Seat – FitKit System
The Chicco Fit4 4-In-1 Convertible Car Seat, FitKit System provides the best fit with the most comfort at every stage.
The Fit4® Convertible Car Seat is conveniently divided into 4 stages through use of an innovative FitKit™ System. The multi-stage construction and easy-to-remove layers of FitKit™ provide the best fit with the most comfort through each unique stage. To help guide you, every component of the FitKit™ System features a fabric tag that indicates the stage number and the designated weight range for that stage. These tags are also color coded, so you can easily find stage-specific information in the instruction manual, online or even on the side of the car seat.
You will also find a QR code on the side of your Fit4® Convertible Car Seat. Scan this code with your smart phone at any point throughout the 10 years of use and you'll be directed to our Fit4® resource page: www.Fit4stages.com. Visit this site to view short, stage-specific videos that quickly walk you through the simple steps to get from one stage to the next. This helpful website also enables you to easily register your Fit4®, learn how to install it correctly in your vehicle and even find guidance on how to remove and replace fabrics for easy washing.
The following is a brief overview of each stage and what you'll need to do to properly transition your Fit4® Convertible Car Seat. For full instructions, you can consult the instruction manual or www.Fit4stages.com for complete installation and transition information.
Stage 1: Infant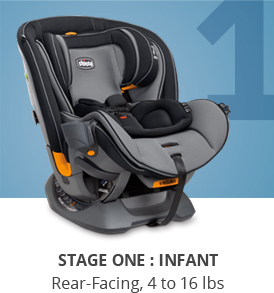 Stage 1 is designed for rear-facing use by infants weighing 4-16 pounds. It offers more reclined seating for infants that do not yet have proper head control. While Fit4® is designed to accommodate newborns, some hospitals require you to use an infant car seat upon departure. Ask your doctor or nurse at your next appointment what their policy is.
As with any car seat, it's a good idea to install it prior to your little one's arrival. To set up the Fit4® in Stage 1, you'll want to install the convertible car seat in the rear-facing position – using either LATCH or the vehicle seat belt. Then, ensure that all the attachment points on the FitKit™ Stage 1 positioner are secured and that the crotch buckle is in the rear-most position. It's also good practice at every transition to check that the backrest is flat.
With any infant car seat or convertible car seat installed in the rear-facing position, the harness straps should be at or slightly below your child's shoulders. If you find that the harness straps and headrest are too low after placing your child in the seat, pull up on the headrest adjustment tab to reposition the harness straps.
Stage 2: Toddler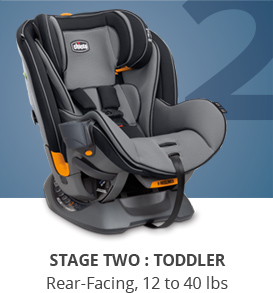 Stage 2 is designed for rear-facing use by children weighing 12-40 pounds or up to 43" tall. Stage 2 allows a more upright seating position for toddlers who display proper head control.
For proper setup in Stage 2, start by removing the FitKit™ Stage 1 positioner. Then, confirm that the Stage 2 head and body insert is secured correctly by checking each attachment point and adjust the crotch buckle if needed.
As recommended by the American Academy of Pediatrics, keep your child rear-facing for as long as possible to protect their head, neck and spine in the event of a crash. Your child is ready to transition to the forward-facing Stage 3 when they approach the Stage 2 weight or height limit and meet the minimum requirements for Stage 3.
Stage 3: Preschool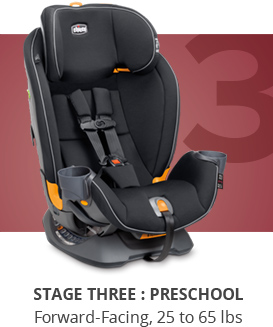 Stage 3 is designed for forward-facing use by children weighing 25-65 pounds and less than 54" tall.
To convert your Fit4® to Stage 3, follow the instructions in the manual to install the convertible car seat in the forward-facing position. Then, remove the FitKit™ Stage 2 head insert and positioner pad. You will also likely need to move the crotch buckle to the front-most position to provide more room for your growing toddler.
Now that your convertible car seat is forward-facing, the harness straps should sit at or slightly above your child's shoulders.
Stage 4: Big Kid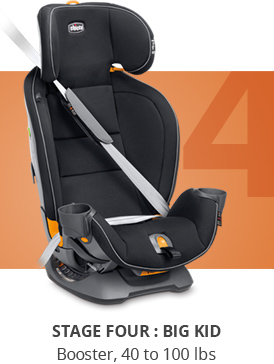 The big kid booster is designed for use by children who are at least 4 years old, weigh between 40 and 100 pounds and are 38" to 57" tall. With the transition to use of the vehicle seat belt in Stage 4, your child should be able to sit relatively still and properly in a seat belt at all times.
To transition to Stage 4, stow the chest clip and buckle tongues in the harness compartment at the bottom of the seat back. You'll also find a compartment for crotch buckle. Then, attach the FitKit™ Stage 4 shoulder belt pad on the vehicle seat belt for your child's comfort.
The good news is that you don't have to remember all this information. In addition to the resources stated above, the Chicco customer service team is available to support you. Chicco customer service team members are certified Child Passenger Safety Technicians and are trained on all Chicco products. Our team is ready to help answer whatever questions arise as you continue in your parenting journey. Chicco customer service can be reached any time via email at info.usa@artsana.com, via chat session on our web site ChiccoUSA.com or by telephone at 1-877-4CHICCO Monday through Friday, from 8AM to 5PM Eastern.