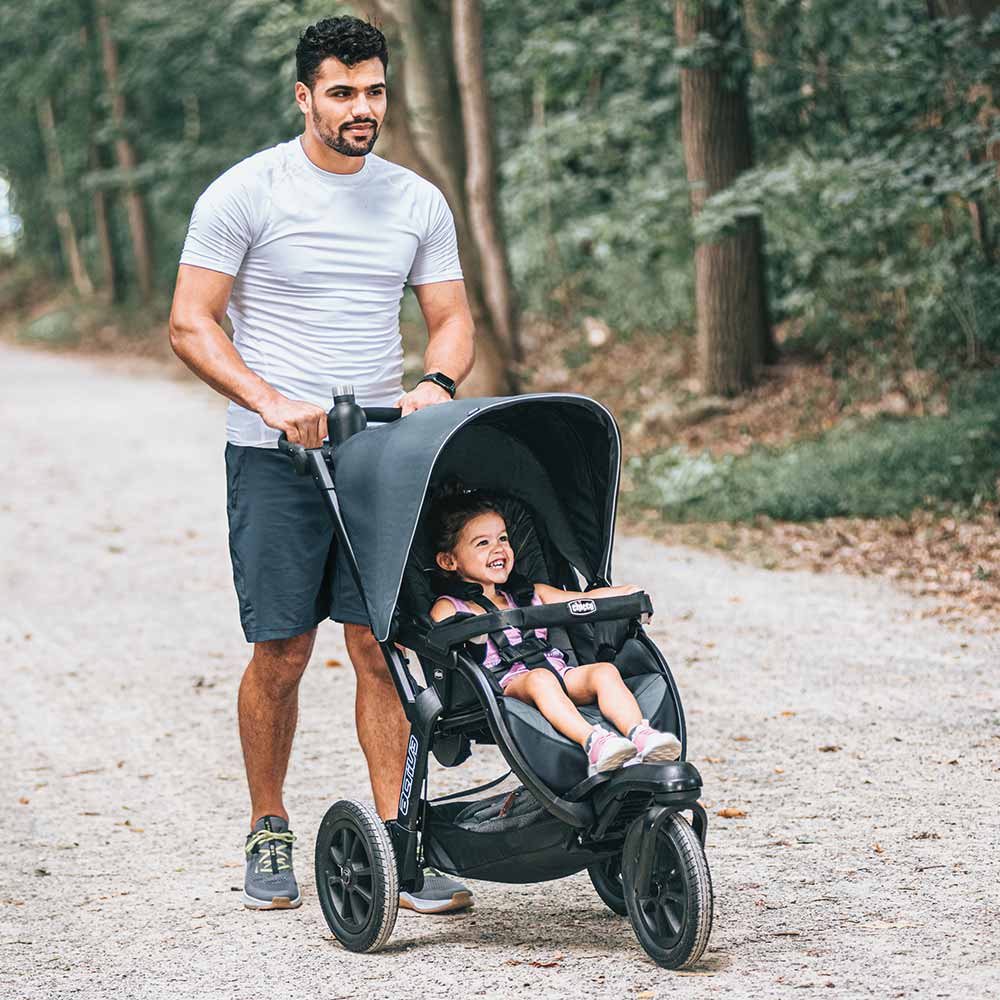 Buying a stroller can feel daunting. It's one of the larger purchases you'll make at the beginning of parenthood, and the number of options and market terminology can easily overwhelm novice caregivers.
But if you lead an active lifestyle and want your baby to take in the world's sights and sounds alongside you, you're likely considering a jogging stroller as one option on your shortlist. Then again, they're on the bulkier and pricier side—coming in at $110 to $550 on average—so it's understandable that you want to be sure it's the right fit for you and your baby.
This article will help you answer important questions like: What is a jogging stroller? Is it the correct type of stroller for you? If so, what should you look for in a model that fits your needs?
Let's get started.
A jogging stroller is a large, rugged stroller that keeps your baby comfortable as you and your baby travel long distances over potentially challenging terrain. These strollers include features like larger wheels and a suspension system that are designed to keep your baby comfortable and offer you peace of mind while you run, jog, or hike with your child.
The most obvious difference between a jogging stroller and a full-size stroller is the number, size, and quality of wheels. Jogging models sport three large wheels instead of four, often wrapped in air-filled rubber tires that soak up any bumps you encounter off the beaten path. On most models, the front wheel locks in a straight position for proper wheel tracking at high speeds.
Jogging Stroller Pros
Traditional strollers are more than enough for traversing well-paved sidewalks, but a heartier design helps when upping the speed or terrain difficulty. The great thing about jogging strollers is that they offer practicality for both scenarios. Caretakers can cover ground on their favorite hiking trails just as easily as a sidewalk in the city park.
Runners, joggers, and anyone who likes to be challenged by the great outdoors will likely enjoy the freedom that a jogging stroller can provide. The air-filled tires and lockable front wheel encourage thrilling adventures for you and baby, but jogging strollers are also safe and comfortable for their tiny passengers.
Some models accept car seats to keep up with families with smaller babies. This keeps toted tots secure during leisurely strolls and makes it incredibly easy to transition from your vehicle to your next stroll. But keep in mind that high-speed activity like jogging or running may be unsafe for babies under 12 months, even when using a car seat. Consult your pediatrician prior to first use. When your child is ready, he or she will grow into a five-point safety harness for top-notch security no matter what nature throws your way.
Jogging strollers also have a deceleration brake for controlled stopping maneuvers and a parking brake that prevents unwanted movement from a standstill. They typically have a substantial handle, too, and can be equipped with a variety of all-weather gear so you and baby can bond through rain or shine.
Overall, jogging strollers offer a fun activity to do with your baby outside while showing them the world – what better way to bond than to go adventuring together? Raising a child is also time-consuming (shocker), so jogging with your baby can help you retain your exercise regimen without hiring a sitter or doing bicep curls with the groceries.
Jogging Stroller Cons
Of course, jogging strollers aren't sunshine and rainbows for every type of parent—even if you cruise underneath both on your best adventures. Those who lead a sedentary or even a hybrid lifestyle, where adventure and everyday utility are both prioritized, may find some of the potential jogging stroller drawbacks to be dealbreakers. Here are some reasons why a jogging stroller might not be suitable for you, especially if you're looking for one model that can do it all.
The elephant in the room is the elongated frame, large wheels, and oversized canopy that are typical of most jogging strollers. They can be more challenging to fold or unfold, usually requiring two hands. Due to their beefier components, jogging strollers can also take up more space while folded, necessitating a larger vehicle or storage area. Plus, the stretched frame can impact handling in tight spaces. This is partially mitigated by unlocking the front wheel to swivel, but a jogging stroller isn't going to be your first choice in a crowded department store.
It's also important to note that some jogging strollers offer minimum age guidelines for their occupants. If your child doesn't meet the stroller's specifications, it may be unsafe for use. Typically, this means that a baby should be in a car seat for the first six months of life, and you should not jog or run with your child as an occupant until they are at least 12 months of age. Of course, babies develop at different rates, so check with your pediatrician for advice.
Since all children develop at different rates, you should always consult your pediatrician to confirm your child is ready to ride safely and comfortably in a jogging stroller. Your Chicco jogging stroller can be used for walking only from newborn – 6 months when used as a travel system with an infant car seat. When your child is at least 6 months old and can sit properly, they may transition to the toddler seat for leisurely walks. Once your child reaches that 1 year mark and you've cleared it with your pediatrician, you're ready to jog or hit the trails for an offroad adventure!
Of course, the only person who can judge whether a jogging stroller is right for you—is you. But, with the information above, we think you can make an informed choice.
Jogging strollers are specialized cruisers that shine when used for their intended purpose and are outclassed by other options when they aren't in their element. For this reason, some budding families choose to purchase a convenient and nimble lightweight stroller along with their jogging stroller for a well-rounded stroller combo.
Others go for a single full-size stroller that packs some jogging stroller features without fully committing to that particular lifestyle. The Chicco Activ3, for example, has three large wheels outfitted with adjustable suspension for tackling variable terrain.
If you're still unsure what stroller is right for you, visit our guide to choosing a jogging stroller or our complete stroller buying guide for more information on all stroller categories. If you feel confident that a jogging stroller fits the bill, keep reading to find out what to look for in a model that fits your needs.
Not all jogging strollers have the same feature set for comfort and safety, so we developed a list of essential things to look for when comparing models.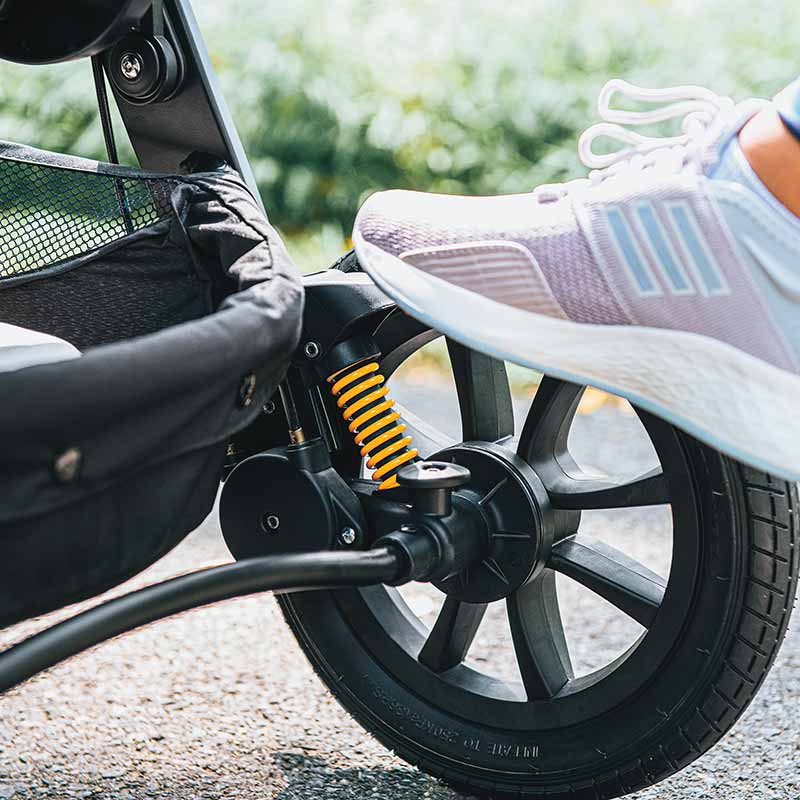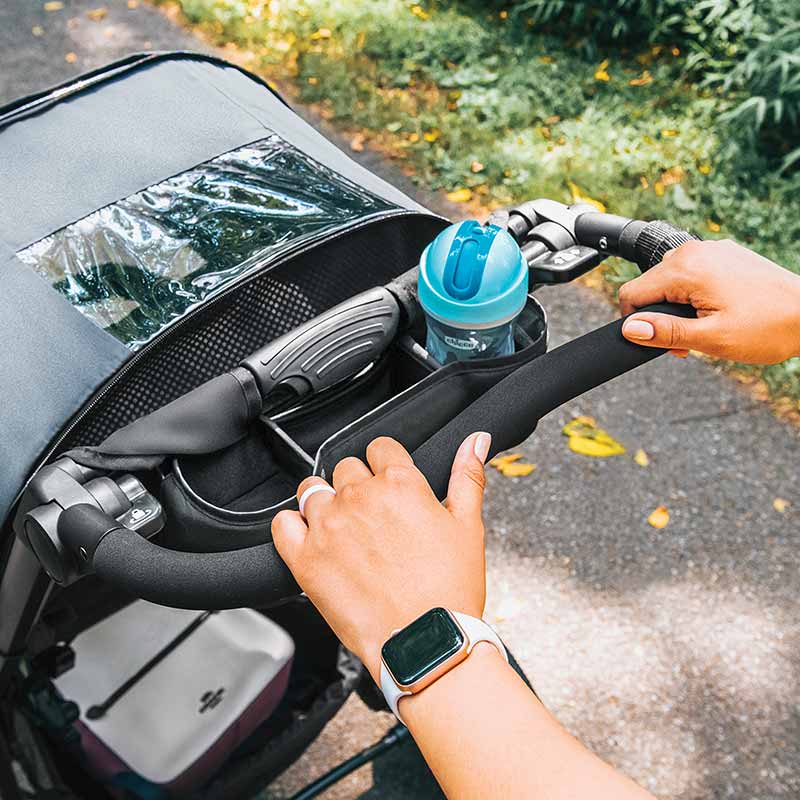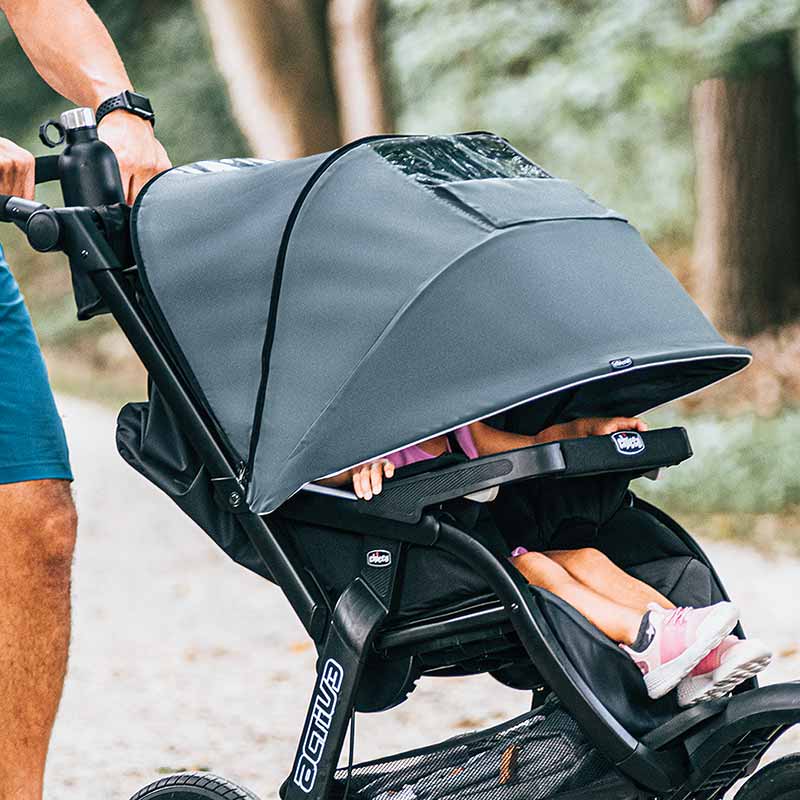 Weight
Jogging strollers are on the heavier side in general but still range in weight. According to Consumer Reports, they can be anywhere from 24 to 43 lb. Jogging strollers from Chicco are at the low end of that spectrum, with options from just 27.5 lb, making activities less cumbersome and more enjoyable.
Wheels and Suspension
As previously mentioned, a trio of proper wheels is deeply integrated into jogging stroller DNA. Look for large wheels with air-filled rubber tires and a front pivot that locks for stability on straightaways. For extra convenience, the Chicco TRE jogging stroller offers a hand-operated swivel that allows you to seamlessly switch from stability to maneuverability and back again.
It's also important that those wheels are matched with high-quality suspension, preferably adjustable. When you can adjust the preload for your stroller's shocks, you can ensure your baby has the plushest ride over every terrain.
Brakes
It's essential to stop smoothly and efficiently in every situation, so don't overlook the need for quality brakes. A parking brake should come standard and is necessary to prevent your stroller from rolling away inadvertently. In addition to a parking brake, look for a deceleration break. Deceleration brakes come in a few varieties on jogging strollers, so make sure it is comfortable for you to use.
Hand-operated brakes work similarly to bicycle brakes and are generally the most responsive. They also help keep the foot area free and clear for your jogging stride. Our TRE jogging stroller boasts dual hand-operated deceleration and parking brakes for unmatched braking performance.
Safety Harness
You also want to look for optimal restraints for your precious cargo. The best jogging strollers include a five-point harness to keep your tot comfortable and your mind at ease. This type of harness has two shoulder straps, a waist belt, and a crotch strap that all buckle together.
Handlebar
The handlebar is one of the components you'll interact with most and is more important than you might think. Get a feel for the handle quality, positioning, and features while testing various jogging strollers. For example, is the handle adjustable? Does it feature a wrist strap to prevent it from rolling away? Is it spaced appropriately from the bulk of the stroller to give you room for your stride while jogging or running?
Weather Protection
A jogging stroller that gives you the freedom to explore the outdoors should also protect your child from the elements. Luckily, jogging strollers are often fitted with an expansive canopy to shield your child from rain or snow. Bonus points if it's UPF (ultraviolet protection factor)-rated, like the extendable canopy with peek-a-boo windows on the Chicco Activ3 jogging stroller.
Buying a stroller can feel like an uncertain and expensive adventure—one that you need to get right from the start. And, different stroller types indeed mesh better with some lifestyles than others. But now that you know a thing or two about jogging strollers, we hope you can make your choice with confidence. And if you're looking for more practical stroller guidance or just fresh ideas for outdoor activities to do with your baby, we have you covered on the Baby Talk blog.